The fastest way to take your live stream church service to the next level is to add multiple cameras. Many churches start with one fixed camera covering all the action. This works fine, and easy to set up, but has  certain limitations:
No closeup shots
The problem with one fixed camera is that it becomes challenging to get anything but a wide shot. With a wide shot, the camera needs to be far enough away or zoomed out far enough to capture everything happening on the stage or chancel. This means no closeup shots. With nothing but wide shots, it can be challenging for viewers to feel intimately connected to the worship service elements. Especially if they are viewing on a smaller display, they miss out on the nuances like the expression on the preacher's face.
Difficult to keep viewers' attention
People have grown accustomed to watching programs shot with multiple cameras. The frequent camera angle changes and quick transitions keep viewers engaged. Multiple cameras also make it easier to get closeup shots connecting the audience and drawing them into the worship service.
Of course, you may be worried about the budget. I assure you that it is not as expensive as you think, it is an affordable and high-quality multi-camera setup for your church.
Cameras
There seem to be endless options for cameras at all price points on the market. But before you start buying a camera, you must consider the following four points:
Clean HDMI out
Power supply / AC adapter-ready
Unlimited runtime
No overheating
WHAT IS A GOOD CAMERA FOR LIVE STREAMING?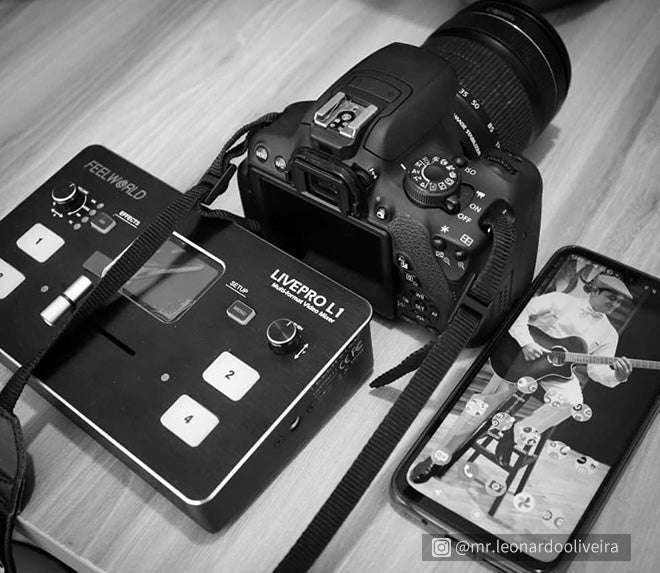 Camera connections
With a single camera setup, the connection is not really a problem. If you use a mobile phone to shoot, then you can directly stream to YouTube or Facebook Live via WiFi. There are multiple cameras for live streaming church services, and you need to connect them with a physical or software-based switcher to switch between the cameras and other multimedia features such as lyrics, images, and video. The camera can be connected via USB, SDI, HDMI or even Ethernet. Some cameras have multiple simultaneous outputs, which can provide you with multiple connection options on a single camera. Before deciding which connections are needed, you need to consider which type of switcher you will use.
Choosing a video switcher for your church
There are two basic types of video switchers for church applications, hardware, and software. Hardware switchers are dedicated, freestanding devices with simple buttons that perform video switching functions. Whereas software switchers run on a laptop or desktop PC or Mac. Hardware switchers offer incredible reliability because they are purpose-built to provide video switching between HDMI or HD-SDI sources. Many churches rely of hardware video switchers because they also offer the lowest possible latency for image magnification when sending video sources to a projection screen or network of LCD TVs. When you are thinking about image magnification you always want to have the least amount of video devices between the source and the destination in order to reduce latency. Nothing is worse than a video production system that creates too much latency when projected up on a large screen. It can be confusing for church members to see the images on the screen happen after the sounds that they are hearing in the room.
SOFTWARE OR HARDWARE VIDEO SWITCHER FOR LIVE STREAMING?
The following is a hardware switcher we recommend: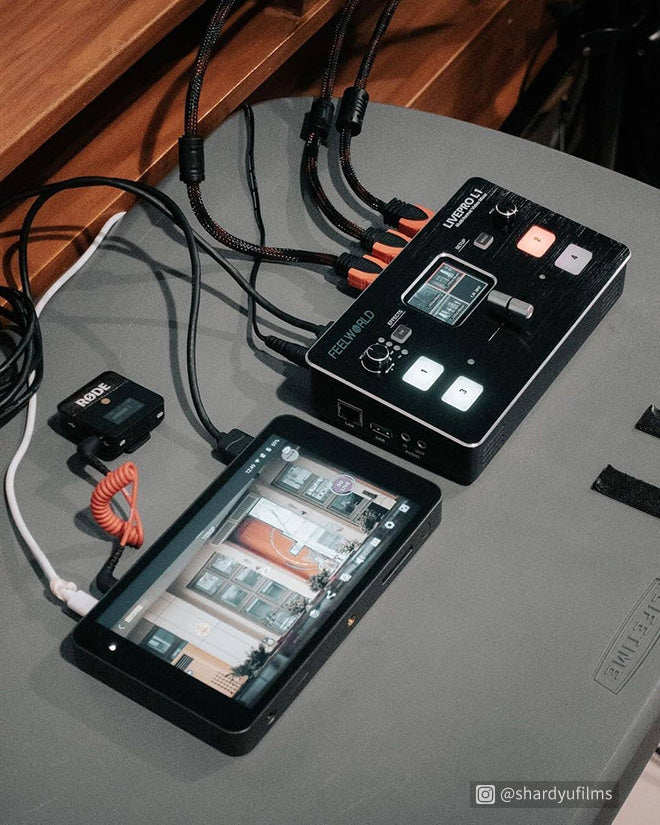 Here is the feature:
【Live Streaming】The USB 3.0 output of LIVEPRO L1 connects to any computer and looks like a built in webcam, so all streaming software for social media platforms work! With up to 4 HDMI inputs you can set up multiple camera angles, view and stream images from different angles.
【Exquisite and Flexible Control Panel】The 4 buttons are for selecting input signals. From the 2" LCD screen, we can preview 4 HDMI signals and easily do menu setting. The T-Bar of LIVEPRO L1 support 14 transition effects and signal switching.
【USB 3.0 Live Streaming】Multifunctional, dramatically better quality images. USB3.0 interface can connect to PC and smart phone that as a simple webcam source, can works with software and platforms make live streaming more convenient and fast.
【APP Control】Download the APP on smart phone or connecting the LAN port to the computer, can remotely control the switcher. Achieve the control room be separated from the performance or interview area.
Putting it All Together
Once you have all of the pieces for your multi-camera live stream church service, it just becomes a matter of putting it all together and testing it out. Whether you are using a hardware switcher or software, live camera operators or remote-controlled PTZ cameras, it will take some trial and error to get everything right. You will need to experiment with camera angles and zoom levels and get a feel for the right timing on switching from one camera to another. Once you get it all together, your congregation will experience a much more intimate, engaging live stream church service.