Are you ready to try live streaming? Live streaming is going fast, in fact, 63% of people ages 18-34 are watching live-streaming content regularly.
Even older target markets like people aged 35-54 are using and creating their own live-stream videos! But as a beginner, where to start? What is a basic streaming setup?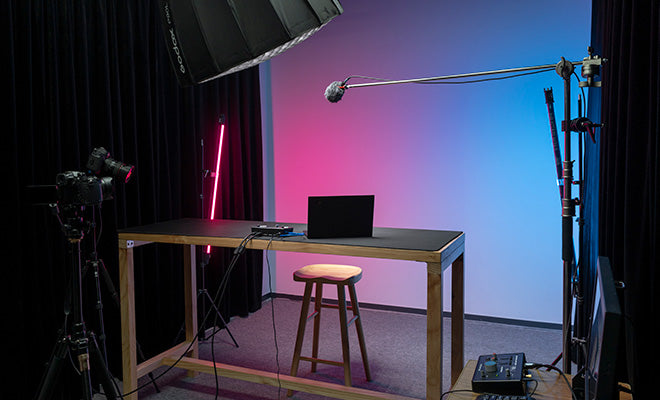 As a beginner, you need four things to go live: a camera, a microphone, streaming software, and a good internet connection. You can also add accessories that will drastically improve the quality of your live stream without too much effort.
Let's start with camera.
Which cameras are suitable for live streaming?
How do you know a camera is good for live streaming? Can you use the one you already own? There are many features you should consider when choosing a camera for streaming. While some features are nice to have in a streaming camera, there are four that are simply essential.
Clean HDMI out.
To live stream from a camera, you have to capture the signal coming directly from its HDMI or SDI out port. Along with the video feed, some cameras will also send all the user interface (UI) elements visible on the display (e.g., battery life, exposure, aperture). To be suitable for live streaming, your camera has to be capable of sending a "clean" signal over HDMI, i.e., a signal without any UI elements visible. Unless it's clean by default, there should be a menu setting you can toggle.
Power supply / AC adapter-ready.
Live streams can run for hours. Most internal batteries can only last for about 20 minutes. Make sure there's an option to get an AC power adapter for your camera (and get it!).
Unlimited runtime.
For safety and battery conservation reasons, some cameras (especially DSLR models) will automatically shut off after about 30 minutes of inactivity. Automatic shutoff will not be acceptable for longer live streams. Check to see if your camera has this safety feature and whether there's a way to disable it in settings.
No overheating.
If you are planning to stream for over an hour, camera overheating may become an issue. Some mirrorless and DSLR cameras can overheat, especially when powered over USB. One way to prevent this is to use something called a dummy battery and an AC power adapter instead of USB power. Even so, some cameras are just more prone to overheating than others. Be sure to research this before buying.
Be it a DSLR, a camcorder, cinema, mirrorless, or any other type, if your camera meets these four criteria, your camera is ready for live streaming. Webcams, on the other hand, are designed specifically for streaming, so it's safe to assume that most of them come out of the box ready to live stream.
As you see, we use Sony a7 III for live streaming. Why? Because we had it and don't have to spend any more. Just kidding. You can put your Sony Alpha cameras to great use as a MUCH higher quality source than the webcams built into your computer, Just about every Sony camera, including all of the Alpha series full-frame (α7x/ α9x) and APS-C (α6xxx) models, as well as the RX line (RX1, RX10, RX100) can be used to stream – they just need to have an HDMI output port. In order to do this, you'll need to do two things – connect your Alpha camera to your computer, and find software that let's you start a stream.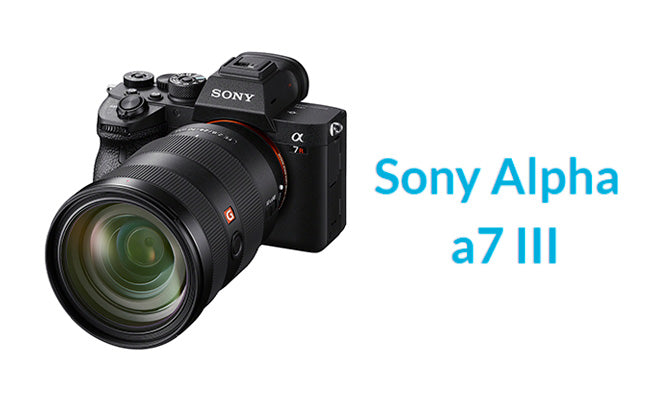 Of course you must have found this little guy on the camera, a camera external monitor which can let you see more details when you start shooting video on a pocket-sized camera or DSLR. A rear LCD screen on the camera is difficult for you to view details like zebra patterning and focus peaking. External monitors connect to your camera via an HDMI (or SDI) connection and, once connected, the view your camera is seeing is shown on the monitor. The larger display of an external monitor allows you to see more details. More advanced monitors, such as those by FEELWORLD Design, will allow you to see details such as zebra patterning, histograms, focus peaking and a range of grids and guides.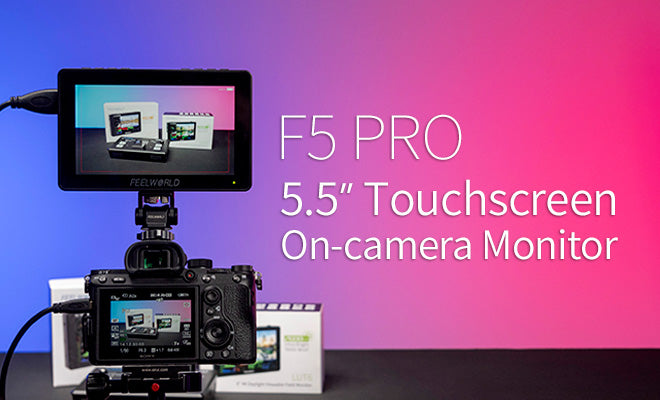 This sounds a bit novel but it's really very useful, especially when you need to adjust the picture in time during the live broadcast.
The above is about the camera sharing, if you want to know more live broadcast equipment, please continue to pay attention to us.
If you have any question, feel free contact us, we glad to help you.
You can contact us via the email: doris@feelworld.cn