Flexible for Your Creative
FEELWORLD Field Monitors simplify the way you film by helping you monitor what you're shooting, keeping your subjects in focus, and allows you to adjust exposures with confidence. More new release details >>
More info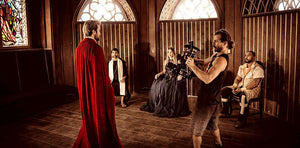 Beautiful Images And Precise Focus for Filmmaking
The movie "King of Kopas" talks about love and passion. So we wanted every aspect of the movie to express this. In the feelworld monitors we find what we are looking for. An extremely quality product made by a company that conveys passion for what it does. The FH7 4K monitor gave us beautiful images and a precise focus to achieve the result. Film "King of Kopas", directed by Vitor Barankiewicz. Producer DAVINCI Films. Photo by Greta Helena. More new release details >>
More info
The Livepro L1V1 Switcher is an excellent piece of equipment. We use it for live-streaming our Sunday and mid-week church services. So far, we're only using one camera in HDMI-1 and a computer feed of PowerPoint for Scripture readings and songs at HDMI-2. The crossfade is very smooth. We especially like the HDMI output with its four source images, preview and program for our 22" ViewSonic monitor. Features that would be helpful include: 1) an angled bottom so the full top of the device can be seen from a few feet away instead of having the user directly above; 2) individual buttons or numerical access to the switch functions (fade, swipe, etc.).
Dick H
SEETEC ATEM-156 provided exactly what I needed with our Atem Mini from Black Magic Design. Makes the work glow much better.
John o.
The Feelworld FW759 field monitor is awesome! I've already used it several times on video shoots and it works great. I'm a freelance videographer and needed this monitor instead looking at the small screen on my Canon 60D. I bought the battery pack too and was on a video shoot yesterday for over 10 hours and only had to swap out the battery once. Not bad. This is a must item for any videographers and I highly recommend it.
John P.
This LUT6 is AWESOME! I got this for its brightness since I tend to shoot more outside in the sun for run and gun purposes and it's perfect! Adding your own luts is just icing on the cake. The features are great and I love how the menu is super simple to access via touchscreen. I also love the 6' size vs the 5' & the 7'. I believe 6' is perfect, not too big or small and fits well on smaller gimbals. I highly suggest this monitor for the price, you won't regret it!
Alex G.
The Feelworld Lut7 monitor is a great find for this price. The 2200nit Touch Screen is a MUST HAVE. I have been able to use it on bright, sunny, beach days without the need for an additional sun-hood because of how bright it gets. That brightness will also save you on those cloudy, overcast days. On-camera monitors tend to throw back a harsh, almost mirror-like, reflection where the Feelworld Lut7 is clean and easy to see (see video for an example and an unboxing). The 7inch screen is nice because it allows you to pull up other items like RGB Parade, Vectorscopes, Grids, Audio Levels, etc. and still have plenty of room to monitor your video (again see video example). This monitor has a lot of the professional features you would find on much pricier models at a more affordable price. False Colors, RGB Parade, Wave, Vectorscope, Audio Bars, Audio and HMDI Out, LUT support...I could go on an on. Again, for this price range it is a great monitor!
William E.
This is my second on camera monitor after SmallHd 702, before purchasing FeelWorld 6plus, I searched and watched many reviews online and decided to buy it, when I received my first Feelworld, monitor everything worked except for the Swing arm it was extremely stiff and wasn't turning at all, therefore, I had to send that back and within few days I received another one which works absolutely like it should. I must say this monitor is well made and has so many features that all those other expensive on camera monitors have. I would highly recommend it, if you are on a budget and looking for a good on camera monitor.
Michael P.