FEELWORLD LUT7 PRO 7 Inch 2200nits DSLR Camera Field Monitor LUT Touch F970 External Kit HDMI
Product image 1
Product image 2
Product image 3
Product image 4
Product image 5
Product image 6
Product image 7
Product image 8
 . Stock in US, EU, JP, AU, CA, RU local warehouse

US/ CA/ RU: 3-7 days delivery
EU/ AU: 3-10 days delivery
JP: 2-3 days delivery
. Shiping Worldwide 200+ Country
7-10 days delivery.
. Warranty: One year warranty time and 14 days return and refund for US, EU, JP, AU, RU.
. VAT for EU customers: The VAT is asked by EU government, and it will be charged when you place the order even if you buy our products on our Amazon Store. There is no difference wherever you buy it, and the VAT is included in the price on those online shopping plates.
More detail: Shipping Policy | Warranty Policy
Click to View More Similar Monitors: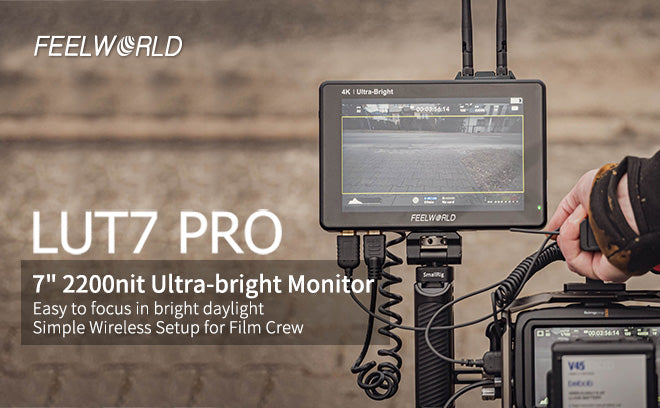 【Package Include】1× Mini/ Micro HDMI to HDMI Cable, 1× Tilt Arm, 1× Disassemble Wrench, 1× Manual 【Note: battery and power adapter not include, power adapter need purchase: 12V 3A】.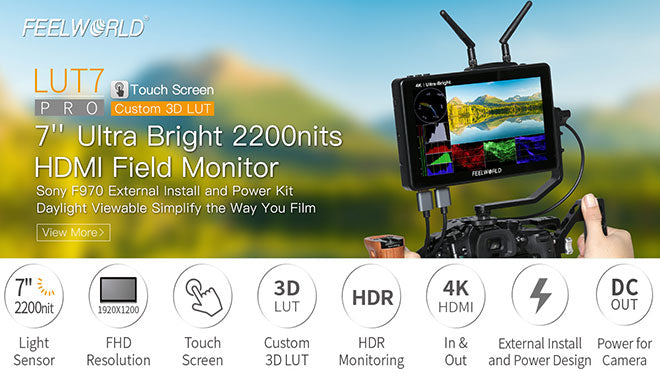 Ideal Filming Crew, Director, AC and DP Monitor
Easy monitoring and focus, flexible mobility on set
The LUT7 PRO equips filmmakers with the benefits of a large on-camera display without making the camera set up feel cumbersome. FEELWORLD LUT7 PRO is packed with high end monitoring features in a small, lightweight package that can be connected to virtually any camera. The front features a large high resolution, daylight viewable LCD touchscreen, there are video connections on the bottom and SD card slot on the side. There are an F970 battery plate and an install/ like wireless transmitter, LED light and others which equipped with Sony F970 battery plate. The outer frame features standard ¼" mount points on the bottom, left and right for attaching it to cameras and rigs. This design detail makes the LUT7 PRO easy to attach to a camera and easy to share with a team member or client on.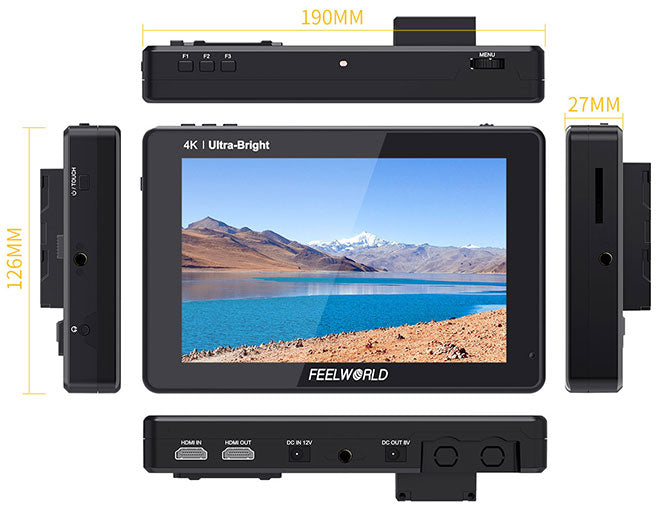 Innovative External Install and Power Design
Simplify your photography equipment
A Sony F970 external install and power kit design is added to the back of the monitor. The external kit can be used to install the external equipment, like wireless transmitter, LED light, video converter and others which can be powered by Sony F970 battery. This innovative external power supply design reduces the need for photographers to connect to external wireless transmission, LED light and other equipment, greatly saving the space occupied by the equipment and reducing the weight of photography equipment. The kit has two cross slots, you can adjust the position of the external device by loosening the screws. When you don't need the kit, you can directly loosen the screws to remove the kit.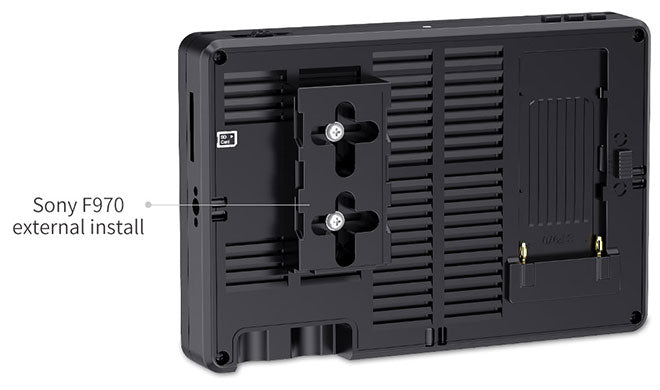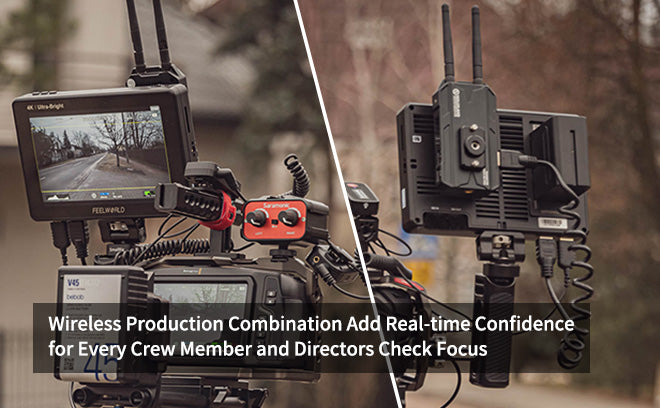 High Resolution, More Detail In Field Shooting
Viewing clearly and capture every detail
The FEELWORLD LUT7 PRO enables clear and precise field monitoring and image analysis during daytime shoots. It displays your stills and monitoring content at superior color fidelity and 1920 x 1200 maximum resolution on a 7-inch display. The panel is made of optically bonded glass with an anti-reflective coating, which allows comfortable daytime field monitoring. But what really sets it apart is its light-emitting diode (LED) backlighting, which outputs a brightness of 2200 nits and displays a 1200:1 contrast ratio and sRGB / Rec.709 Color Gamut, resulting in exceptional screen clarity even in intense lighting conditions. With the monitor displaying your content at 323 pixels per inch (PPI), you can shoot in broad daylight with confidence and refine your content on the spot. The wide 160º viewing angle makes it easy for multiple members of the crew to watch it at the same time.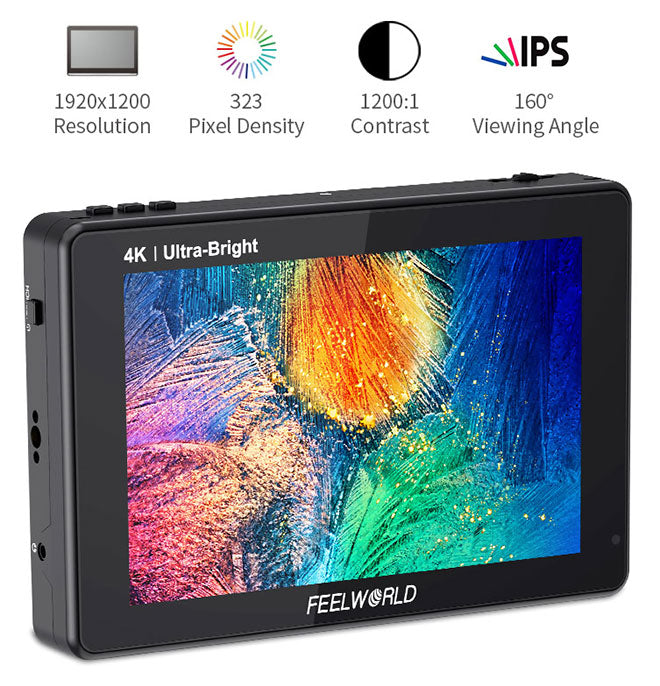 Accurate Color Reproduction
FEELWORLD monitor support ITU standards and HD video Rec.709 standard consistent color space, advanced image processing technology, so that the image clearly presented, the color is extremely natural, to ensure accurate color reproduction, to reproduce the physical nature of shooting, enabling users to accurately evaluate the quality of various input video signals.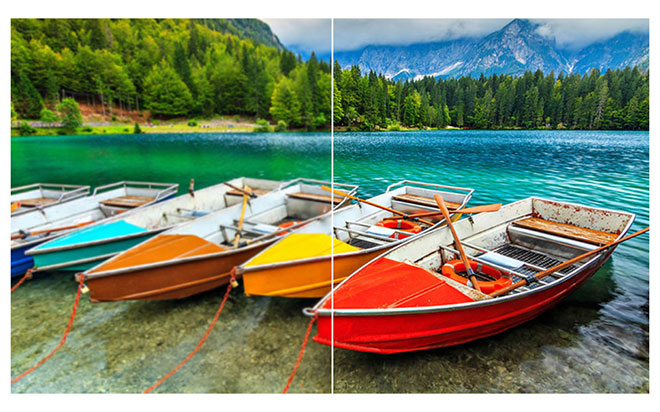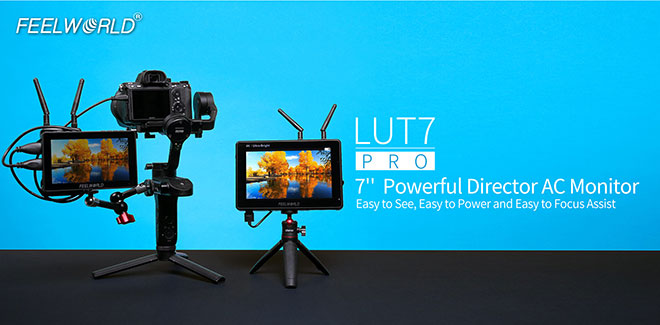 Load Your 3D LUTs,Preview Filming Look in Field Shooting
Support 50 custom LUTs
Some cameras can output logarithmic color space to preserve the dynamic range, which is great for later post production, however when these files are viewed on a monitor they can look flat and washed out. 3D LUTs solve this problem because they allow you to apply a "look" to the monitor so you get an idea of how the finished images will look like when editing. You could use built-in LOG or upload .cube files. LUT7 PRO allows you to load internally up to 50 custom LUTs, looks or profiles at any time via the SD Card Slot and instantly select between them, maintaining creative intent, always. (HDMI can't support output the LUT)

HDR Monitoring
What you see is what you get
LUT7 PRO has built-in HLG 2020, HLG 709, HLG P3 HDR 3D LUT, and Rec709 De-slog3 LUTs, includes SLOG2, SLOG3, LOGC, VLOG. The monitor can display an HDR (high dynamic range) signal for incredible clarity and detail, simplify the complexities of shooting Log and HDR, helping you to replicate post-production workflows at the moment when it matters most–while shooting.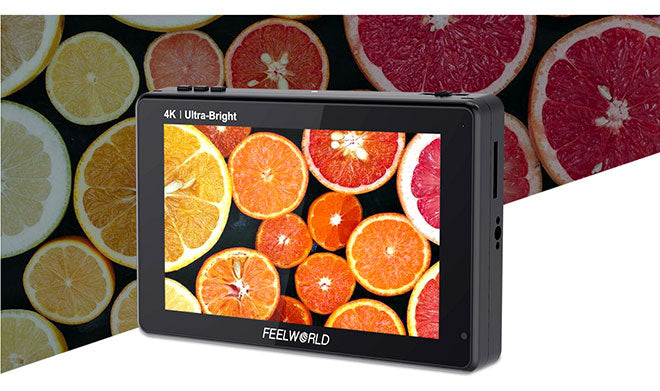 Support Touch Screen and Button Control Menu
You can also get a quick glance at your menu settings and features with an easy tap on the screen. It also supports physical buttons control. Tap/Rotate the wheel button for quick selection and function settings. Tap the power switch to turn off the touch function, designed to prevent misuse.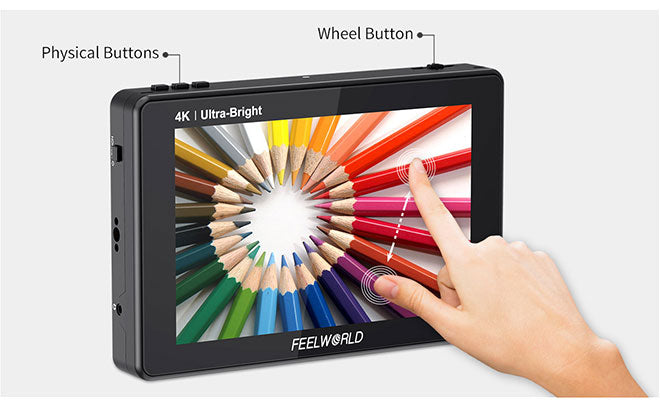 Power Your DSLR or Mirrorless Camer
The FEELWORLD LUT7 PRO is an ideal camera-top monitor for DSLR and mirrorless camera shooters. Because the LUT7 PRO provides auxiliary power out (DC OUT 8V); allowing shooters to power their cameras. With a battery adapter cable (Optional), the LUT7 PRO extends camera run-time, while providing a more usable display.
Barrel output for powering your camera with a separately available DC coupler via adaptor (NP-FW50 Sony & LP-E6 Canon & DMW-BLF19 Panasonic). More adapters coming soon.

Note: since different brands and models of cameras require different power for normal operation, the camera may not be able to take pictures or video normally. Therefore, when using batteries to power the monitor, in order to use the camera normally, it is recommended to use a large-capacity fully charged battery.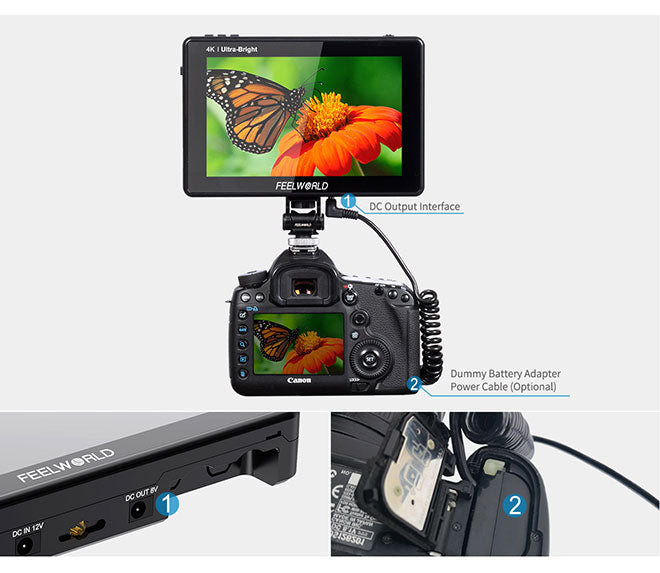 Convenient Mounting - Tilt Arm
Every LUT7 PRO monitor will ship with a cold shoe mounted Tilt Arm. Shooters will have a secure way to position their monitor while maintaining a low profile.
• The LUT7 PRO monitor can be rotated 360 degree with two different ways, for viewing convenience. (1.The monitor can be rotated 360 degree from up to down through the side mounting point of tilt arm; 2. The monitor can be rotated 360 degree from left to right through the bottom mounting point of tilt arm).
• Secure and lightweight mounting via shoe mount or 1/4"-20 thread.
• Includes a shoe mount of its own for accessories like a microphone, LED light, or wireless receiver, etc.
•There are two small dots on the tilt arm, which are aligned with the monitor for installation, the connection is more stable, just grab the monitor to rotate without loosening the screws.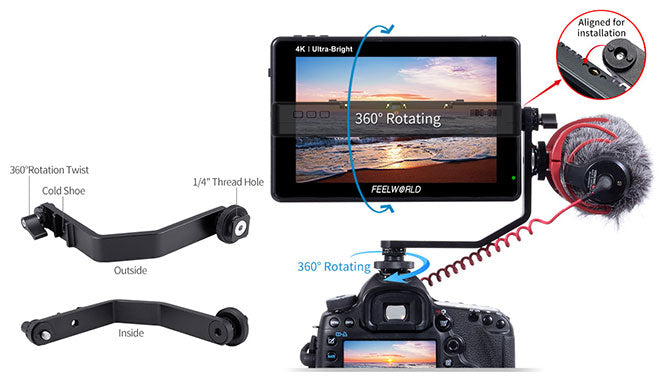 Flexible Power Supply Mode
There is a battery slot on the rear side of the monitor, which can be installed with standard Sony L series batteries to provide long-lasting power for your bright screen!
● Compatible Sony Battery: F970 F960 F950 F930 F770 F750 F730 F570 F550 F530 QM91D QM91 QM90D QM90 QM71D QM71 QM70D QM70 QM51D QM51 FM71 FM70 series. LUT7 PRO monitor have 2200nit bright, power consumption is greater than normal brightness monitors, we recommend you use the Sony F970 battery to power monitor. Used the F970 battery (7.4V 6600mah), the monitor can working about 3 hours.
Note: Different specifications of the battery have different capability. The working time for the monitor will be different. Higher capability (working time) will be longer. The battery not including, please purchase separately.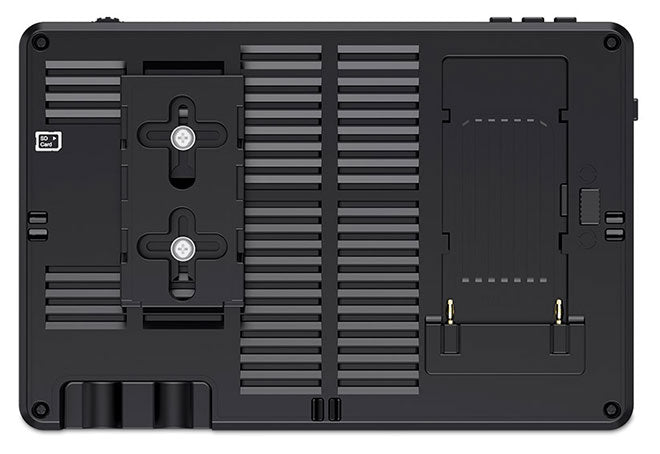 Package Include
Standard Accessories
1× Mini/ Micro HDMI to HDMI Cable
1× Tilt Arm
1× Disassemble Wrench
1× Manual
Video Assist Functions 
* Support 3D LUT Log to Rec.709, user 3D LUT Upload
* Support Touch Menu
* Parade (RGB, YUV, Y)
* All Waves
* Vector
* RGB Histogram
* Brightness Histogram
* Embedded Audio
* Peaking Focus (red, green, blue, white, yellow five peaking colors optional; 1~10 peaking level adjustable)
* False Colors
* Zebra Exposure (1%~100% adjustable)
* Check Field (Red, Green, Blue, Gray)
* Scan Mode (Under Scan, Over Scan)
* Anamorphic Mode (1.25x, 1.33x, 1.5x, 2.0x, 2.0x mag)
* Image Flip (H, V, H/V)
* Image Freeze
* Center Marker
* Safety Marker (70%, 80%, 90%, 16:9, 16:10, 4:3, 5:4, 1.85:1, 2.35:1)
* Ratio Marker (16:9, 16:10, 4:3, 1.85:1, 2.35:1)
* Marker Color (red, green, blue, white, black, yellow)
* Color Temperature Adjustment
* Nine Grid
* Zoom (100%~300%)
* Aspect Ratio
* Pixel to Pixel
User LUT Cube Import 
Provides S-log2/3, V-log, Log-C etc, to convert log mode to REC709 for all major cameras. The LUT loading function makes the color calibration work of the previous shooting easier and more intuitive, optimizes the workflow and improves work efficiency. User creative 3D LUT cube or calibration 3D LUT cube can be uploaded to monitor by SD card.

Video Analysis Assistant Pattern
Waveform / Vector scope / Histogram
Waveform
This essential feature assists with the calibration of professional video cameras. It shows the overall brightness of the image assisting the video professional in correcting exposure. The waveform feature also checks the evenness of the lighting when lighting a chromakey or background.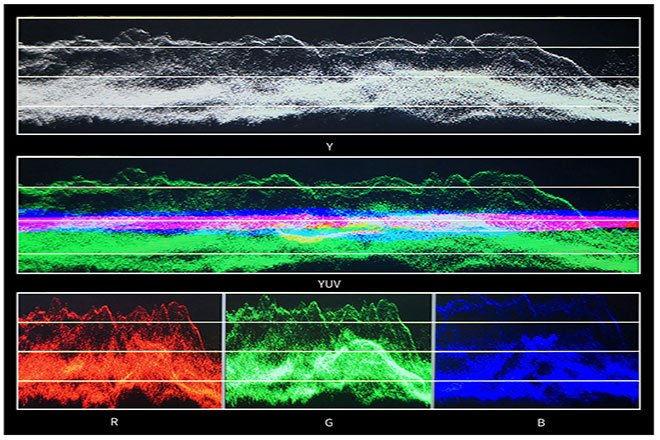 Vectorscope
Vector scope shows how saturated the image is and where the pixels in the image land on the color spectrum. It can also be displayed in various sizes & positions, that allows users to monitor color gamut range in real time.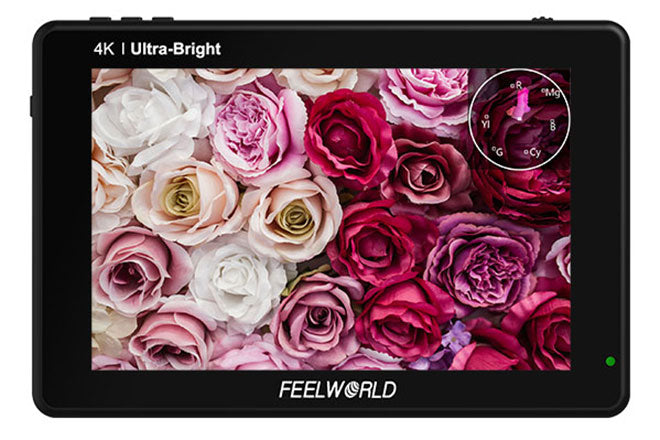 Brightness Histogram
The Brightness Histogram is a quantitative tool to check the picture brightness.The feature shows the distribution of brightness in an image as graph of brightness along the horizontal axis (Left:Dark, Right:Bright)and a stack of the number of pixels at each level of brightness along the vertical axis.
RGB Histogram
RGB histogram is a graphical display of the distribution of tones, shows the Red, Green and Blue channels histograms. Suitable for HD-SDI and HDMI signal monitoring.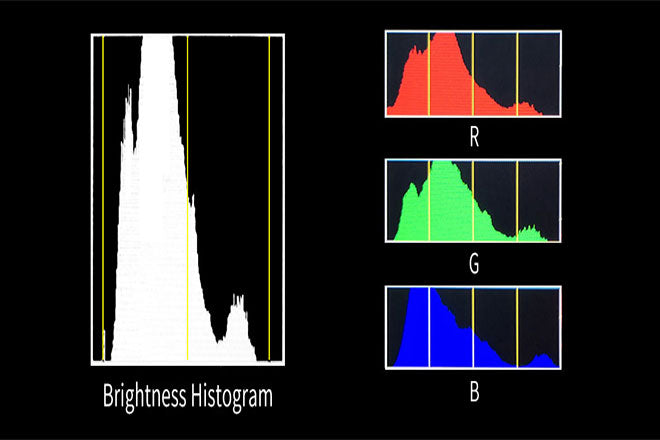 All Scopes Mode
This mode shrinks your video image to approximately the size of a 7" display and tiles your choice of waveform, vectorscope, histogram, and embedded audio on the border of your video.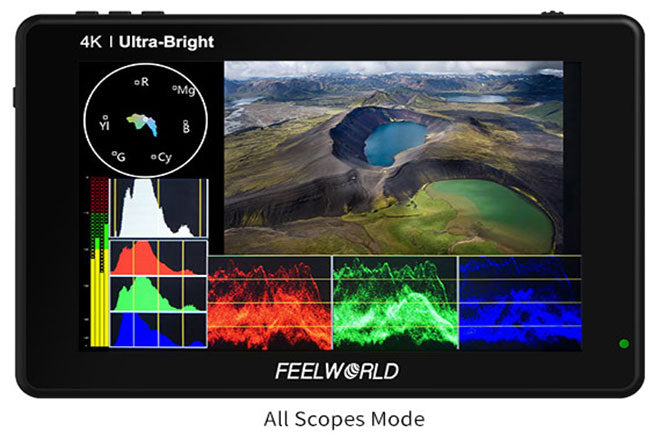 Audio Meter Monitoring
The Audio Level Meters provide numerical indicators and headroom levels. It can generate accurate audio level displays to prevent errors during monitoring. Under SDI audio, it supports 4-ch embedded audio meters display. Under HDMI audio, only 2 channels audio displays are supported..
Peaking Focus Assist
The Peaking Filter is used to aid the camera operator in obtaining the sharpest possible picture. When activated, the internal processor will display a colored highlight on the screen where sharp edges appear. You can switch the peaking color between yellow, red, green, blue, white according to different tone of the subject. The focus level can be adjusted from 1 to 10 levels.
False Colors
The False Color filter is used to aid in the setting of camera exposure. As the camera Iris is adjusted, elements of the image will change color based on the luminance or brightness values. This enables proper exposure to be achieved without the use of costly, complicated external test equipment.
Exposure (zebras)
The Exposure is used to assist in exposure adjustment in the mode of Zebra Pattern. It is considered overexposed and displays the moving warning lines onto the over exposed areas. There is a 1%-100% zebra value that can be adjusted.
Check Field
Check Field is an assistant function to adjust camera color settings. Under the check field mode, you can use red, green, blue or gray pixels to generate the image, because hue and saturation can be adjusted more quickly and accurately in this environment.
Zoom In (100%~300%) 
Image magnification is HD signal in any part, an amplification for high quality close-up. The touch panel can help you zoom in quickly, zoom out and move the image after zooming in.
Anamorphic Mode
Built-in selection of no squeeze, 1.25x, 1.33x, 1.5x, 2.0x or 2.0x mag allows you to use anamorphic lenses or adapters and see the image unsqueezed, even if your camera does not de-squeeze in camera.
Image Flip
Image flip is to flip the image horizontally, vertically, and horizontally/vertically. Simultaneously turning on the horizontally flip and the vertical flip can achieve horizontal/vertical simultaneous flipping.
Nine Grid
Nine grid is the most common and basic composition method. The area of the picture is divided into nine equal grids.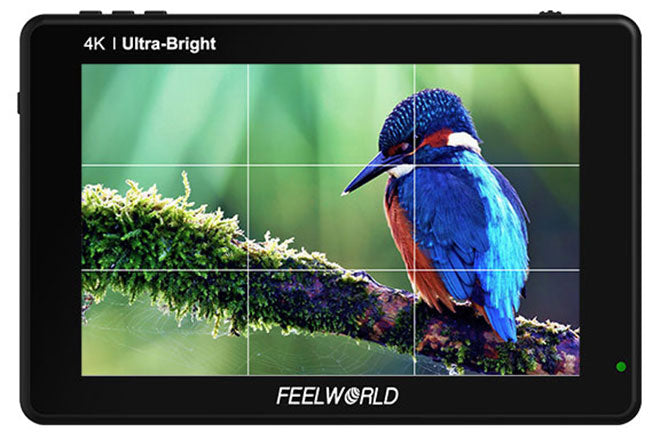 Pixel to Pixel
Enable the filmmaker to check the image from the 1:1 signal source without scaling.This feature is essential for capturing optimum detail.
Center Marker & Safe Marker
Safety Marker for View Finding and Composition (70%, 80%, 90%, 16:9, 16:10, 4:3, 5:4, 1.85:1, 2.35:1). You can switch the Mark color between Yellow, Red, Green, Blue, White and Black according to different tone of the subject.
Ratio Marker
There are a variety of ratio marker (16:9, 16:10, 4:3, 1.85:1, 2.35:1); the transparency of the ratio marker has 4 display effects optional (0%, 25%, 50%, 75%). You can switch the marker colors between yellow, red, green, blue, white and black according to different tone of the subject.
Specifications
Display Spec.
Screen Size:

 

7" IPS

Resolution: 1920x1200 pixels
Pixel Pitch: 0.07875 (H) x 0.07875 (W) (mm)
Aspect Ratio: 16:10
Brightness: 2200cd/m² (Light Sensor)
Contrast Ratio: 1200:1
Backlight: LED
Viewing Angle: 80°/80°(L/R) 80°/80°(U/D)
Input/ Output
I

nput: 

1 X 4K HDMI
Output: 1X 4K HDMI,

 

DC Output ( 

Barrel (3.5mm outer, 1.1mm inner) barrel output for powering cameras via camera specific adaptor)

Audio:  3.5mm Stereo Headphone

HDMI Input/ Output Support Format:
480i/576i/480p/576p
1080i (60/59.94/50)
720p (60/59.94/50/30/29.97/25/24/23.98)
1080p (60/59.94/50/30/29.97/25/24/23.98)
4K UHD 3840×2160p (30/29.97/25/24/23.98Hz), 4096×2160p (24Hz)
General
Input Voltage:

DC7~24V

Consumption:

 

≤16W

Working Temperature: 

-20°C~50°C

Storage Temperature: 

-30°C~60°C 

Install Way:

1/4"-20 Thread Socket (Left, Right, Bottom)

Unit Size:

190Lx126Hx27D (mm)

Battery Plate:  F970 Battery Plate

Compatible Battery: Sony F970, F960, F950,F930, F770, F750, F730, F570, F550, F530, QM91D, QM91, QM90D, QM90, QM71D, QM71, QM70D, QM70, QM51D, QM51, FM71, FM70 series.  Because the FEELWORLD LUT7 PRO monitor is the ultra bright, we recommend use Sony F970 battery,  F970 batteries

(7.4V 6600mah), the monitor can working about 3 hours.

(Note battery not include, need purchase separate)