. Stock in US, EU, JP, AU, CA, RU local warehouse and delivered by Amazon logistics

US/ CA/ RU: 3-7 days delivery
EU/ AU: 3-10 days delivery
JP: 2-3 days delivery
. Shiping Worldwide 200+ Country:7-10days delivery

. Warranty: One year warranty time and 14 days return and refund for US, EU, JP, AU, RU.
. VAT for EU customers: The VAT is asked by EU government, and it will be charged when you place the order even if you buy our products on our Amazon Store. There is no difference wherever you buy it, and the VAT is included in the price on those online shopping plates.
More detail: Shipping Policy | Warranty Policy
Click to View More Similar Monitors: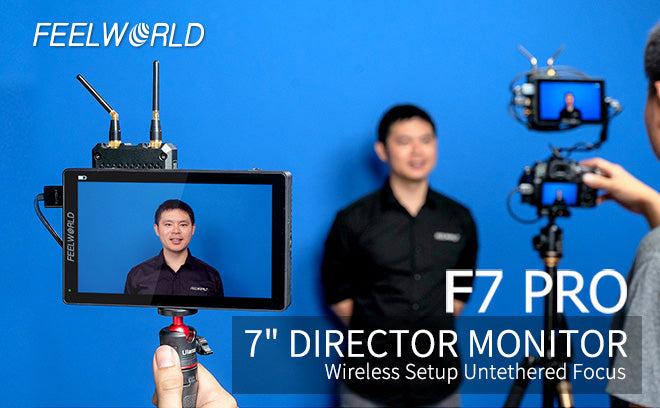 Ideal Monitor for Film Crew Director, Camera Assistant
Easy monitoring , power and focus, flexible mobility on set

Normally, equipment such as monitor, wireless transmission, photography light, etc., is needed to use in film and television crews. With so many equipments, it is troublesome to connect all kinds of cables. FEELWORLD F7 PRO 7-inch monitor, with full HD LCD touch screen, supports HDMI signal up to 4K 60Hz, professional and rich auxiliary composition tools, etc. The special feature of the F7 PRO is the F970 external install and power kit, it can install like wireless transmission, LED light and others equipped with a Sony F970 battery plate, and power for it. This design not only eliminates the trouble of arranging various cables but also combines the monitor and wireless video transmission, which is perfect for director monitoring, 1st AC to focus pulling in the film crew.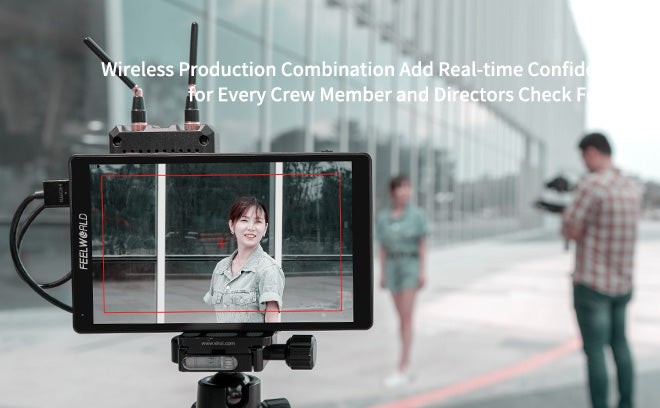 Easy to Monitoring Easy to Power
Ideal for Director and Camera Assistant

Many times when you want to use wireless video transmission, you always do not know where to put it on the monitor. With the F970 external install and power kit, not only solves this problem but also can be powered by a Sony F970 battery. The most important is that can use as a director monitor or 1st AC monitor, convenient to director monitoring or 1st AC to focus pulling, improve the efficiency of the film crew shooting.
7" LCD Full HD Resolution
Viewing clearly and capture every detail

The F7 RPO provides a 7-inch screen and sharp image, ideal for focus pulling and image analysis on set and in the field. With native 1920x1200 high resolution and 16:10 display, 500cd/m2 brightness, 1200:1 contrast ratio, delivers excellent detail. The 160°wide viewing angle is convenient for monitoring from multiple angles.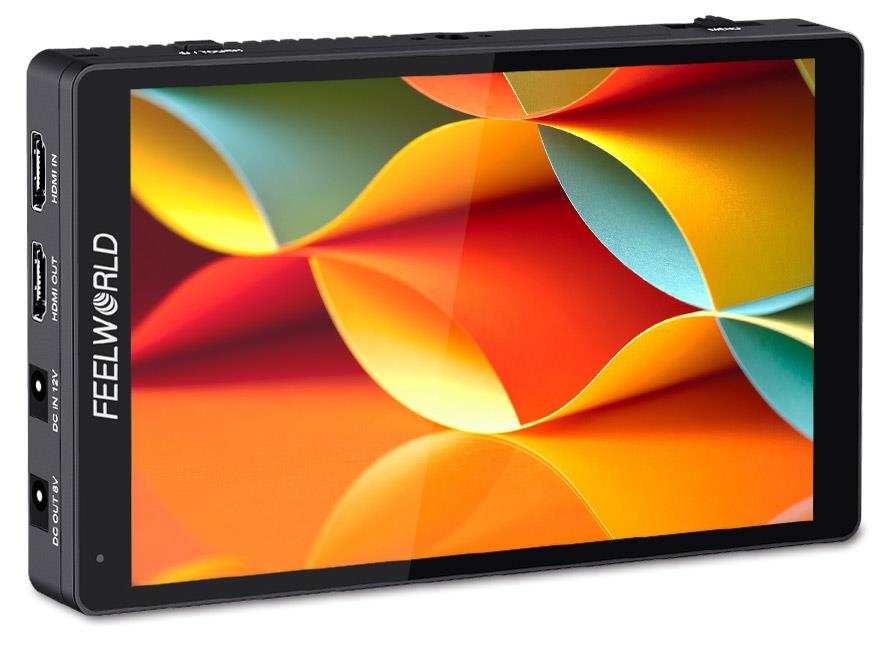 True Color. Professional Color Calibration
Use Rec.709 color standard

FEELWORLD uses the professional Rec.709 HD color standard, and uses the color calibration technology, with the professional instrument calibration at the factory, it can achieve monitor calibration efficiently and get accurate color reproduction easily, do not distort the color, show the real image when you shooting video.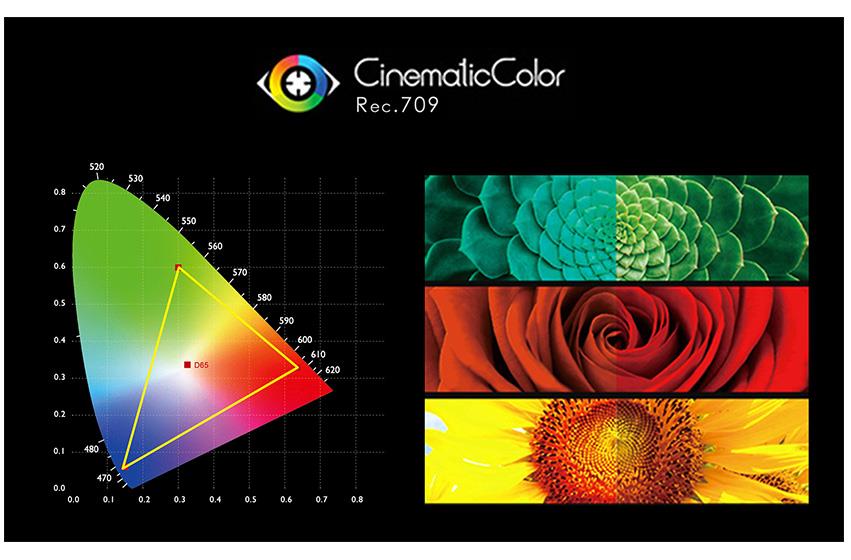 Accurate Color Reproduction

FEELWORLD monitor support ITU standards and HD video Rec.709 standard consistent color space, advanced image processing technology, so that the image clearly presented, the color is extremely natural, to ensure accurate color reproduction, to reproduce the physical nature of the shooting, enabling users to accurately evaluate the quality of various input video signals.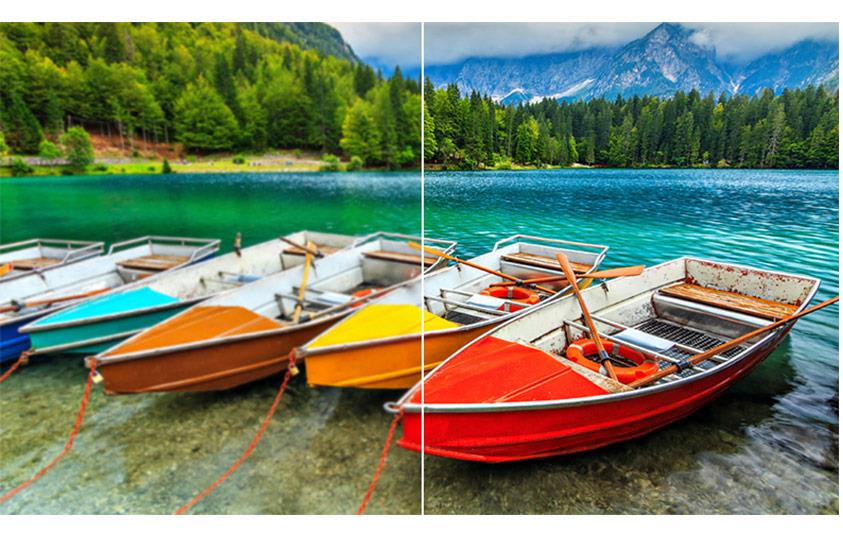 Power Your DSLR or Mirrorless Camera

The FEELWORLD F7 PRO is an ideal camera-top monitor for DSLR and mirrorless camera shooters. Because the F7 PRO provides auxiliary power out (DC OUT 8V); allowing shooters to power their cameras. With a battery adapter cable (Optional), the F7 PRO extends camera run-time, while providing a more usable display.
Barrel output for powering your camera with a separately available DC coupler via adaptor (NP-FW50 Sony & LP-E6 Canon & DMW-BLF19 Panasonic). More adapters coming soon.
Note: since different brands and models of cameras require different power for normal operation, the camera may not be able to take pictures or video normally. Therefore, when using batteries to power the monitor, in order to use the camera normally, it is recommended to use a large-capacity fully charged battery.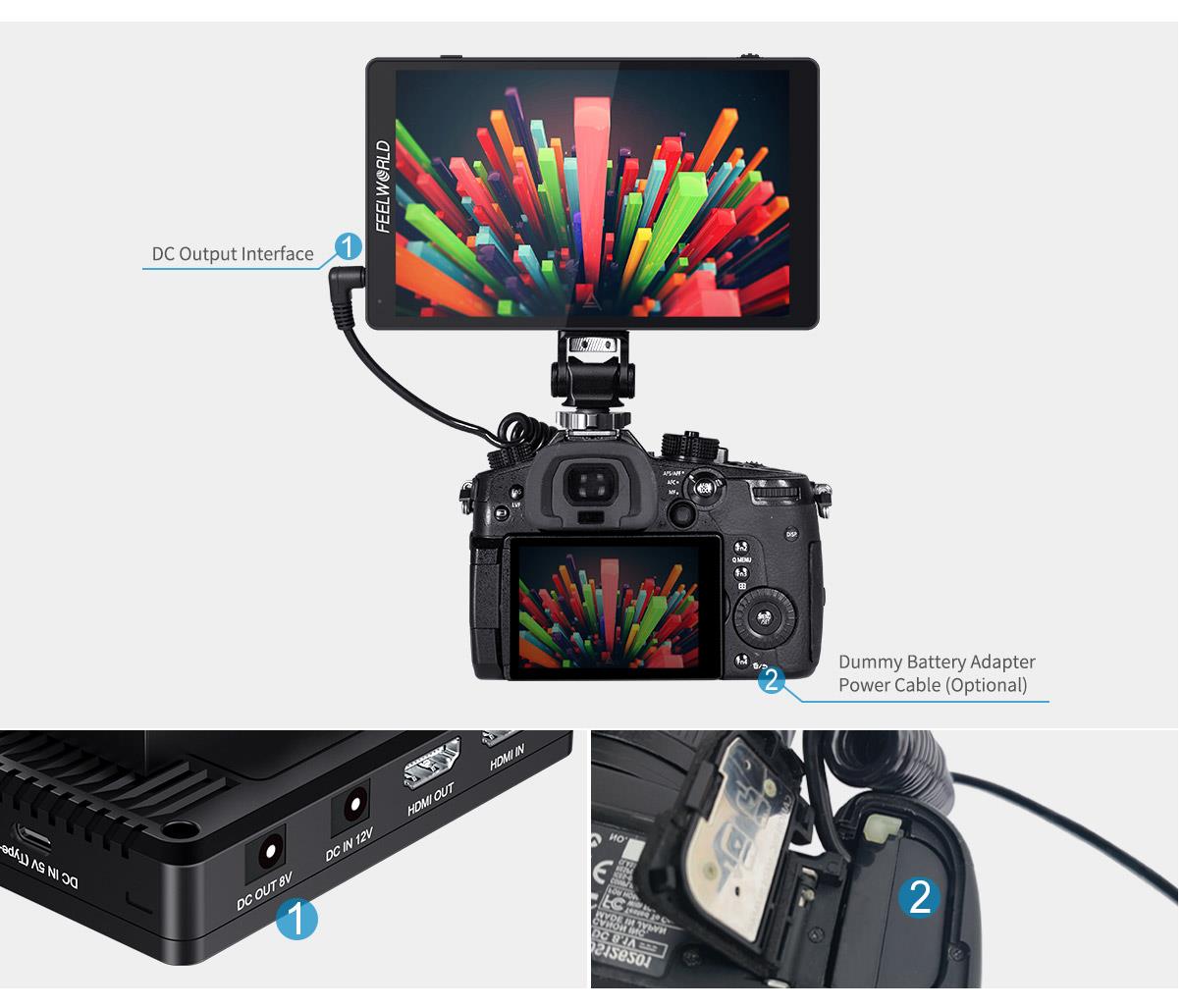 Rich and Professional Auxiliary Tools
Help director and camera assistant accurate exposure and focus

Our flexible OS is packed with an extensive suite of scopes, all 1-touch away and simple to use. The Video OS includes tools for focus, framing & exposure (waveform, RGB parade, vectorscope, RGB histogram, histogram, embedded audio, focus peaking, zoom, zebra, false color, safe frames, etc.) along with a flexible 3D LUT implementation (use built-in LOG to Rec.709 video or upload .cube files) and options for anamorphic de-squeeze monitoring.

Accurate waveform monitoring
Save your budget

When you need to analyze image quality more accurately than simply looking at the picture then use F7 PRO's built in waveform monitoring! Choose from waveform (RGB Parade, YUV Parade, Y Parade), vectorscope, histogram, audio phase and level displays, and get broadcast accurate waveform monitoring that shows everything you need to know technically about your video and audio signals. The functions can be opened separately, and also support one key to open all scope mode. F7 PRO is perfect for live production monitoring and removes the need for separate expensive scopes!

Flexible Mount on Cameras, Director Movie Carts or Hang It Anywhere

The standard sized mounting points make it easy to mount and are compatible with third party rigging equipment. F7 PRO equips mounting points located on the bottom, back, left and right separately. You can mount it on the camera with the attached mini hot shoe mount adapter, also can mount it on the other types of equipment with a magic arm, bracket, etc. for the entire crew to monitoring.


Mini Hot Shoe Mount Adapter
Upper with 180° viewing angle, base with 360° rotation

The standard accessory mini hot shoe mount adapter can quick release and attach to camera monitor, led light, flash, microphone, etc. Upper with 180° viewing angle and base with 360° rotation.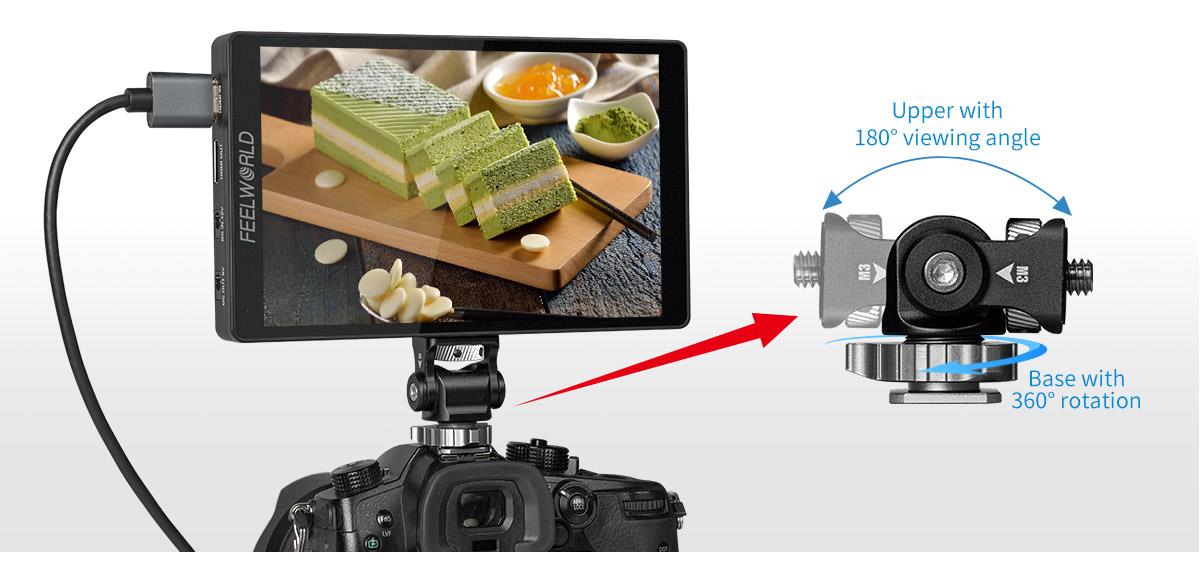 Portable Sun Hood Easy to Install

The monitor equips a sun hood, which allows the photographer to focus more on the video and avoid the interference of strong light, providing a better visual experience. The installation process is simple and fast, which is very suitable for outdoor shooting.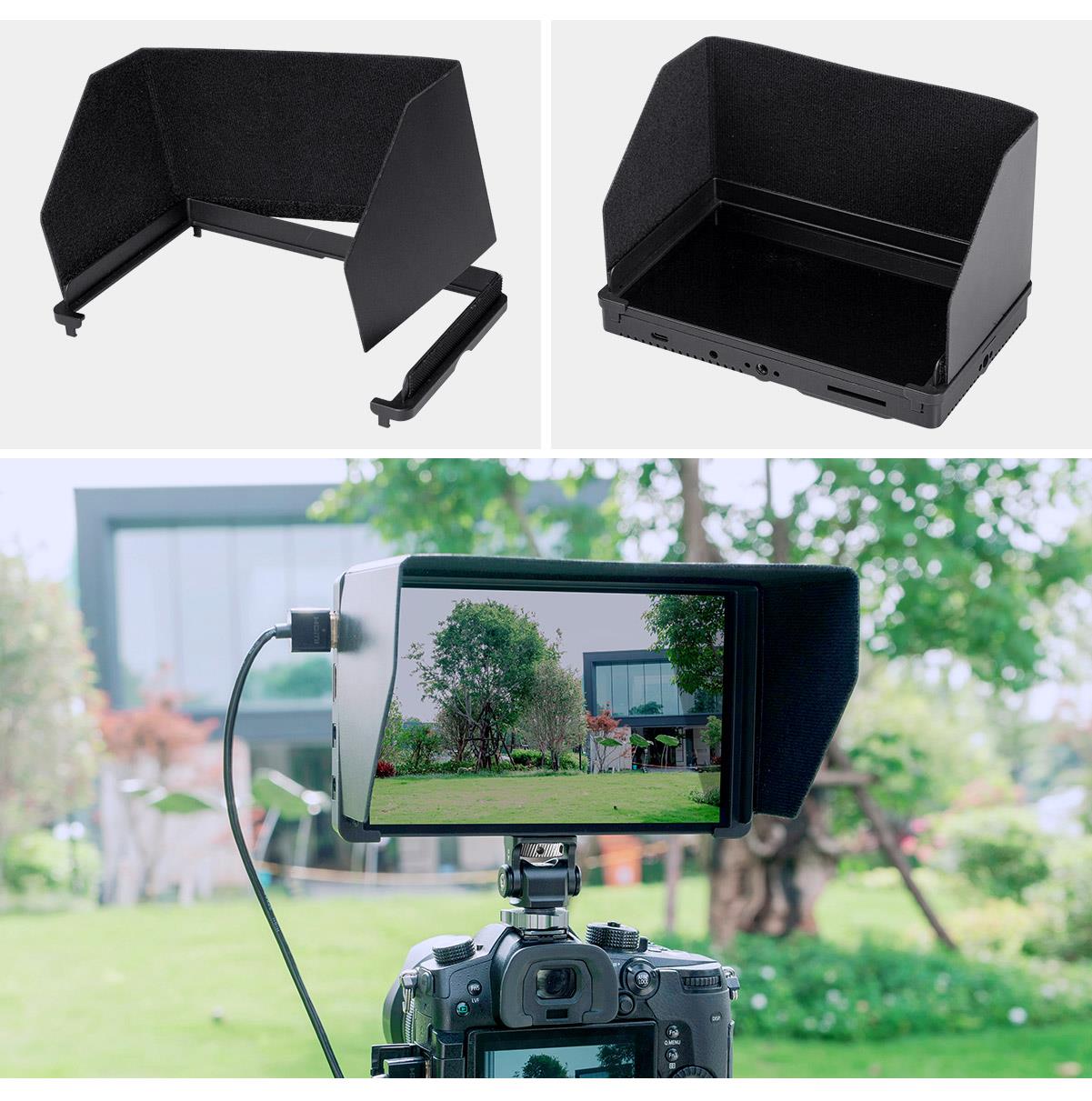 Package Include
Standard Accessories:
1× Micro HDMI Cable
1× Sunshade
1× Mini Hot Shoe Mount + Hex Wrench
1× Manual
Video Assist Functions
* Sony F970 external install and power kit design can be used to install and supply power to external equipment, easy to install and disassemble, simplify your photography equipment.
* Support 3D LUT Log to Rec.709, user 3D LUT Upload
* Support Touch Menu
* High Resolution: Full HD 1920x1200, High Contrast: 1200:1
* 160° wide viewing angles IPS Panel
* Provides auxiliary power out; allowing shooters to power their cameras
* Up to 4K@60Hz HDMI input and output
* Support HDR monitoring
* With Waveform, Vectorscope, Histogram, Focus Assist, Monochrome etc. functions, can help you accurately exposure and focus every shot.
* Stereo Earphone output
* DC 8V power out to power your DSLR camera or mirrorless camera
User LUT Cube Import
Provides S-log2/3, V-log, Log-C etc, to convert log mode to REC709 for all major cameras. The LUT loading function makes the color calibration work of the previous shooting easier and more intuitive, optimizes the workflow and improves work efficiency. User creative 3D LUT cube or calibration 3D LUT cube can be uploaded to monitor by SD card.

Video Analysis Assistant Pattern
Waveform / Vector scope / Histogram
Waveform
This essential feature assists with the calibration of professional video cameras. It shows the overall brightness of the image assisting the video professional in correcting exposure. The waveform feature also checks the evenness of the lighting when lighting a chromakey or background.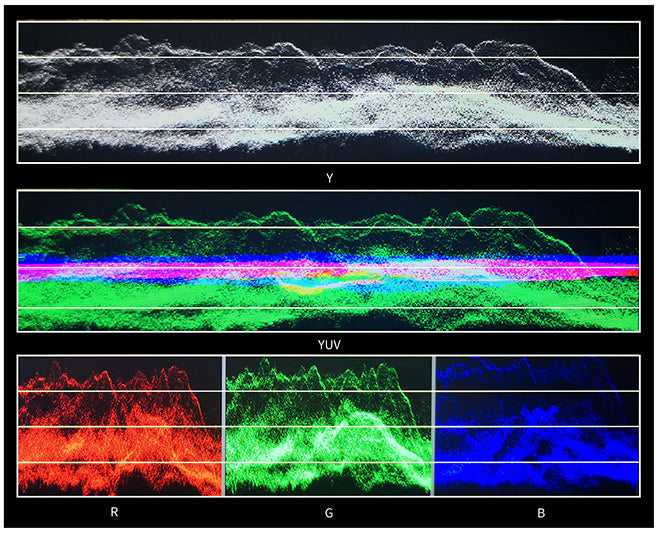 Vectorscope
Vector scope shows how saturated the image is and where the pixels in the image land on the color spectrum. It can also be displayed in various sizes & positions, that allows users to monitor color gamut range in real time.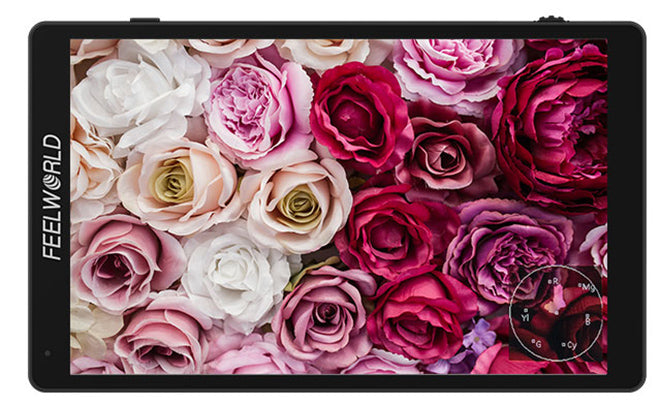 Brightness Histogram
The Brightness Histogram is a quantitative tool to check the picture brightness.The feature shows the distribution of brightness in an image as graph of brightness along the horizontal axis (Left:Dark, Right:Bright)and a stack of the number of pixels at each level of brightness along the vertical axis.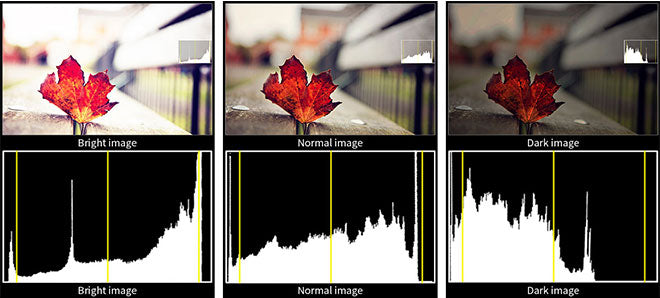 RGB Histogram
RGB histogram is a graphical display of the distribution of tones, shows the Red, Green and Blue channels histograms. Suitable for HD-SDI and HDMI signal monitoring.

All Scopes Mode
This mode shrinks your video image to approximately the size of a 6" display and tiles your choice of waveform, vectorscope, histogram, and embedded audio on the border of your video.

Audio Meter Monitoring
The Audio Level Meters provide numerical indicators and headroom levels. It can generate accurate audio level displays to prevent errors during monitoring. Under SDI audio, it supports 4-ch embedded audio meters display. Under HDMI audio, only 2 channels audio displays are supported.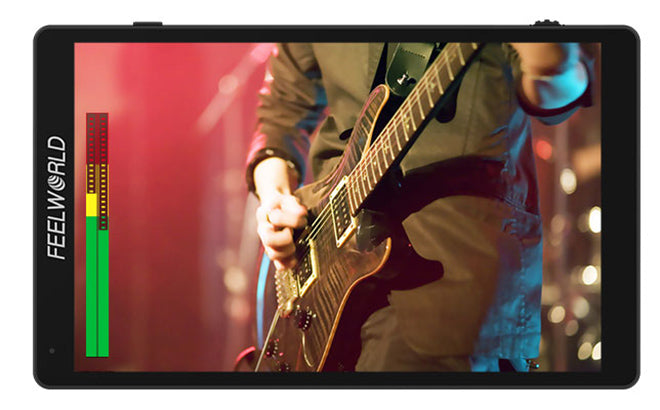 Peaking Focus Assist
The Peaking Filter is used to aid the camera operator in obtaining the sharpest possible picture. When activated, the internal processor will display a colored highlight on the screen where sharp edges appear. You can switch the peaking color between yellow, red, green, blue, white according to different tone of the subject. The focus level can be adjusted from 1 to 10 levels.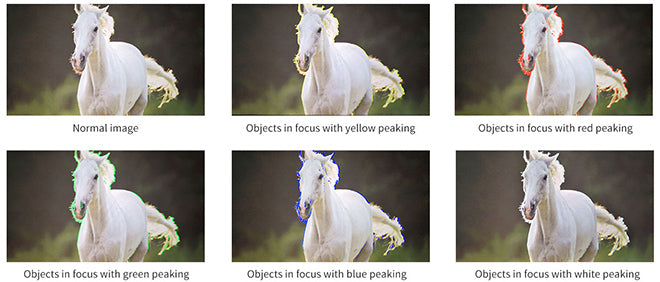 False Color
The False Color filter is used to aid in the setting of camera exposure. As the camera Iris is adjusted, elements of the image will change color based on the luminance or brightness values. This enables proper exposure to be achieved without the use of costly, complicated external test equipment.

 Exposure (Zebras)
The Exposure is used to assist in exposure adjustment in the mode of Zebra Pattern. It is considered overexposed and displays the moving warning lines onto the over exposed areas. There is a 1%-100% zebra value that can be adjusted.

Check Field
Check Field is an assistant function to adjust camera color settings. Under the check field mode, you can use red, green, blue or gray pixels to generate the image, because hue and saturation can be adjusted more quickly and accurately in this environment.

Zoom In (100%~300%)
Image magnification is HD signal in any part, an amplification for high quality close-up. The touch panel can help you zoom in quickly, zoom out and move the image after zooming in.
Anamorphic Mode
Built-in selection of no squeeze, 1.25x, 1.33x, 1.5x, 2.0x or 2.0x mag allows you to use anamorphic lenses or adapters and see the image unsqueezed, even if your camera does not de-squeeze in camera.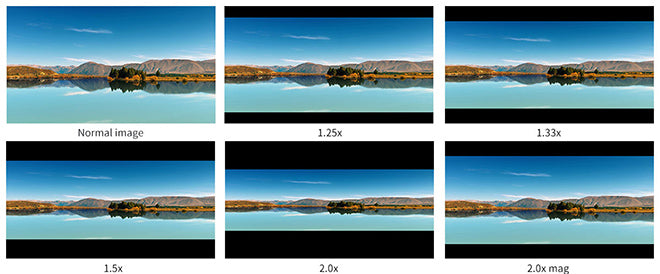 Image Flip
Image flip is to flip the image horizontally, vertically, and horizontally/vertically. Simultaneously turning on the horizontally flip and the vertical flip can achieve horizontal/vertical simultaneous flipping.

Nine Grid
Nine grid is the most common and basic composition method. The area of the picture is divided into nine equal grids.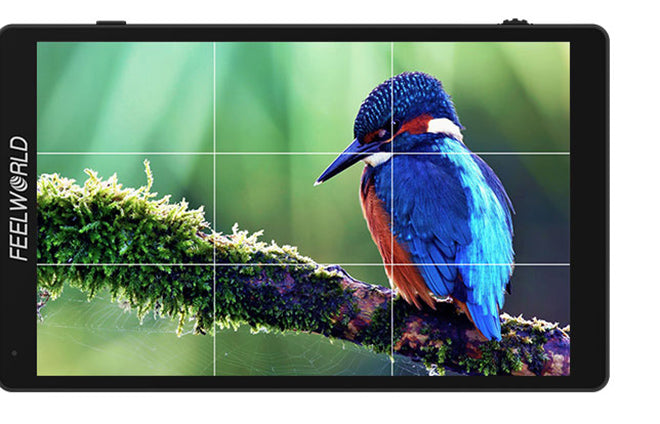 Pixel to Pixel
Enable the filmmaker to check the image from the 1:1 signal source without scaling.This feature is essential for capturing optimum detail.

Center Marker & Safety Marker
Safety Marker for View Finding and Composition (70%, 80%, 90%, 16:9, 16:10, 4:3, 5:4, 1.85:1, 2.35:1). You can switch the Mark color between Yellow, Red, Green, Blue, White and Black according to different tone of the subject.

Ratio Marker
There are a variety of ratio marker (16:9, 16:10, 4:3, 1.85:1, 2.35:1); the transparency of the ratio marker has 4 display effects optional (0%, 25%, 50%, 75%). You can switch the marker colors between yellow, red, green, blue, white and black according to different tone of the subject.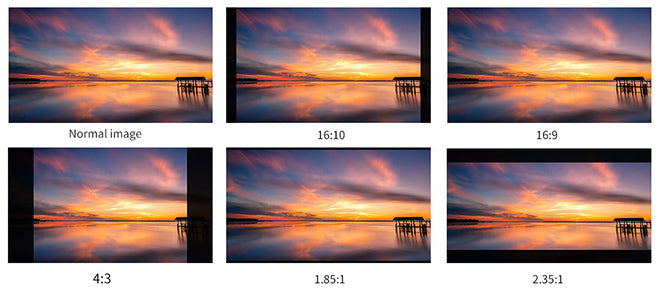 Specifications
Display Spec.

| | |
| --- | --- |
| Model |  F7 PRO |
|  Screen Size |  7" IPS |
|  Resolution |  1920x1200 pixels |
|  Pixel Pitch |  0.07875 (H) x 0.07875 (W) (mm) |
|  Aspect Ratio |  16:10 |
|  Brightness |  500cd/m² |
|  Contrast Ratio |  1200:1 |
|  Backlight |  LED |
|  Viewing Angle |  80°/80°(L/R) 80°/80°(U/D) |
Input
| | |
| --- | --- |
|  1 X HDMI |  HDMI |
|  1 X Type-C |  DC IN 5V Type-C (please use 5V/2A or more than 2A Type-C power supply) |
Output
| | |
| --- | --- |
|  1 X HDMI |  HDMI |
|  1 X DC |  Barrel (5.5mm outer, 2.1mm inner) barrel output for powering cameras via camera specific adaptor. |
Audio
| | |
| --- | --- |
| Audio |  3.5mm Stereo Headphone |
HDMI Input/ Output Support Format
480i/576i/480p/576p
1080i (60/59.94/50)
720p (60/59.94/50/30/29.97/25/24/23.98)
1080p (60/59.94/50/30/29.97/25/24/23.98)
4K UHD 3840×2160p (60/50/30/29.97/25/24/23.98Hz), 4096×2160p (24Hz)
General
| | |
| --- | --- |
|  Input Voltage |  DC7~24V |
|  Power Consumption |  ≤9W |
|  Working Temperature |  -20°C~50°C |
|  Storage Temperature |  -30°C~60°C |
|  Install Way |  1/4"-20 Thread Socket (Top, Left, Right, Bottom) |
|  Unit Size |  175Lx105Hx22D(mm) |
|  Unit Weight |  330g |
|  Color Box Size |  222L*158W*76H(mm) |
Collapsible tab
Collapsible tab