Broadcast  monitors is very necessary when you want to ensure that a broadcast production meets your quality standards.
When you are viewing video output through a monitor, it can show important information at a quick glance and verify the camera's in-focus and recording properly.
Our monitors can also handle both HDMI and SDI and more resolutions to accommodate any production equipment, which means it support differen input and output.
They also include advanced features including such as over scan, camera mode, waveform for determining exposure levels, image freeze and flip, custom zoom,vectorscope for calibrations and 3D LUTs for viewing raw footages and more functions.
How to choose a broadcast monitor?
At first, why do you need a broadcast monitor?What are you going to use it for?What you want from it?Here we have differen kinds of broadcast monitor that you may interested in:monitors for live streaming, easy to carry with, can be used in different situations.
You may also consider about these and more fuctions when you purchase.The size, 3D Lut, Image freeze, Zoom, standalone or rackmountable, Multiple input signals and formats supported on each monitor – SDI, HDMI, Composite, Component etc.
If you are looking for a monitor that have quad split display(1P, 2P LR, 2P TB, 2P PIP, 4P),we have ATEM156,ATEM156-CO,ATEM156S-CO,ATEM173S-CO,ATEM215S-CO,4K280-9HSD-CO,ATEM156S,ATEM173S,ATEM215S,4K156-9HSD.
Waveform for determining exposure levels, vectorscope for calibrations and 3D LUTs for viewing raw footages?Sure, we have ATEM156S-CO,ATEM173S-CO,ATEM215S-CO,LUT215s,ATEM156S,ATEM173S,ATEM215S
Filming and recording with 4K, you may consider about the signal's problem, we also have these models that can support HDMI input:ATEM156,ATEM156-CO,P173-9HSD-CO,4K215-9HSD-192-CO,LUT215,FS173-S4K,FS215-S4K,P133-9HSD,P173-9HSD,4K215-9HSD-192,4K156-9HSD. 
Looking for high contrast or high resolution monitor?We have P133-9DSW with 1000:1 and Lut215s with 3000:1, and 4K280-9HSD-CO has 4k resolution.Those monitors would be a good choice.
Those monitors are all 1920*1080 pixels and with 16:9, but we also have a special one with 1028*768 pixels and 4:3 -P150-3HSD.
The Live Streaming Monitor
For live streming, when you are busy at the shooting scene, you need to be able to easily control the equipment, ATEM156 and ATEM156-CO can meet your needs. They are equipped with a simple control panel, , allowing you to be comfortable in the shooting process.
When your switcher does not have a multiview function, such as ATEM Mini, then you may need an ATEM156.
When doing larger live productions with multiple cameras, you can first connect the camera to the ATEM156 monitor, check the shooting images of each camera on the ATEM156 monitor, and then put them to air, so you don't have to worry about the broadcast content.
Help you preview the image and avoid the "blind cut" channel status.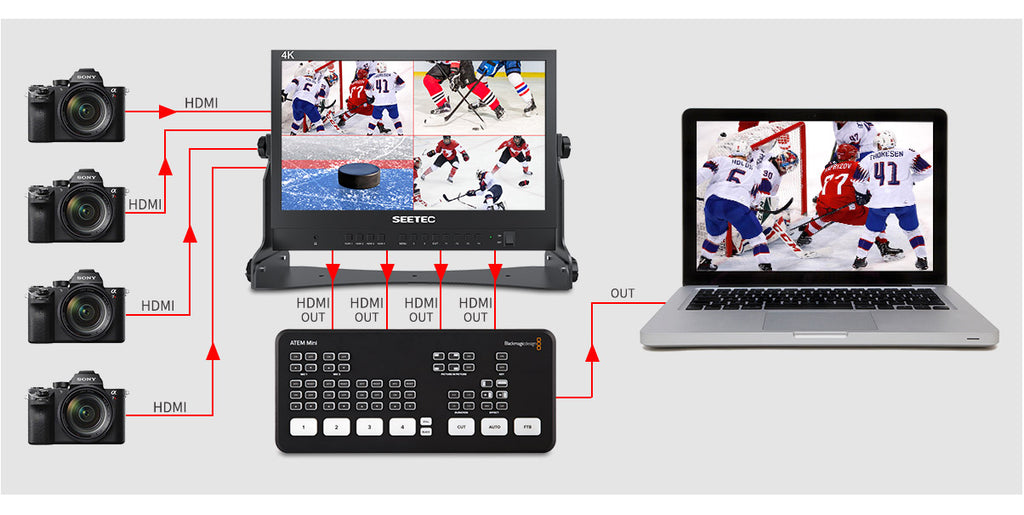 The difference between ATEM156 and ATEM156-CO is whether there is a shell or not, sure that it's easier to carry with if it has a shell.They are built for live streaming,if you are looking for a live streaming monitor, don't miss them, you can click to learn more:ATEM156, ATEM156-CO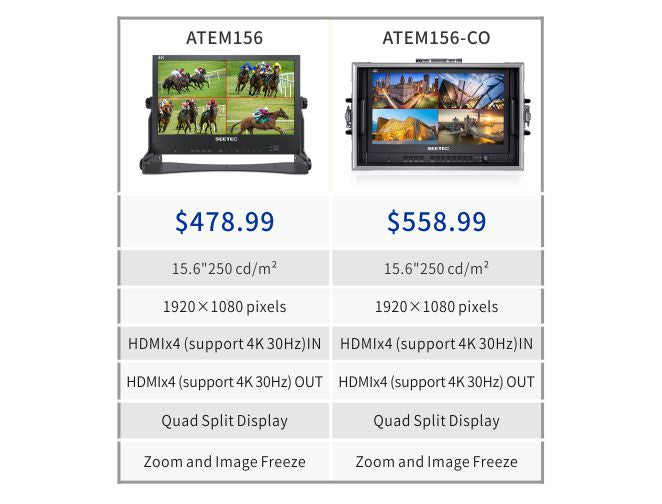 Carry-On Monitor
Time and Costs are important for film crews, director, studio. This becomes more obvious if there are frequent scene changes during production.
The Carry-On monitor is based on how monitors are being used by film crews. Whether packing down or setting up a simplified design makes this monitor ready for use quickly.
There are no complex setup processes to go through. This innovative design portable aviation aluminum case making it well suited for field production and handling to change the environments with speed.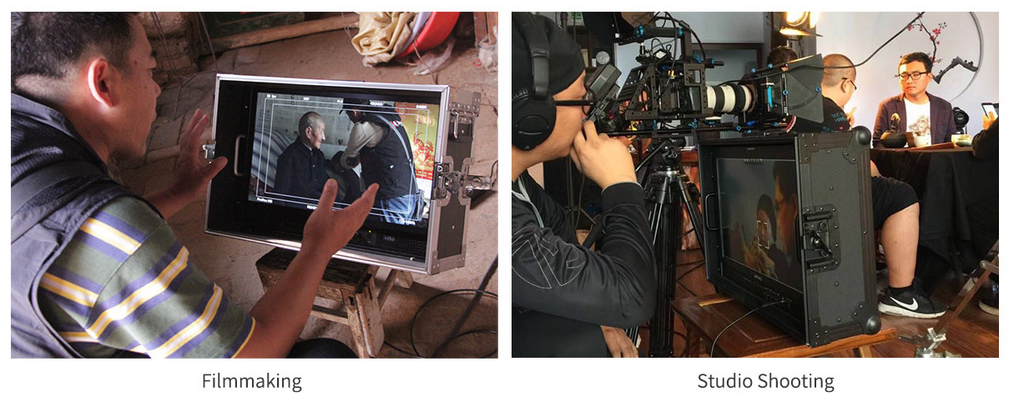 Suitable for the strict location shooting
.Carry-on Aluminium Case (hand-held for easy carry); 
.Easy for dissemble (front and rear cover disassemble easy for screen image monitoring and signal connection).
..Front and rear covers for quick assemble and disassemble, speed the frequent switch between scenes, save the time of preparation the photographic equipments, so that get into work fastly!

Carry-On Monitor is easy to carry with, suitable for director, crew and studio.Can be taking out and  work outdoors.For different size you may consider, we have 15.6 inch monitor, you can click to learn more:ATEM156-CO, ATEM156S-CO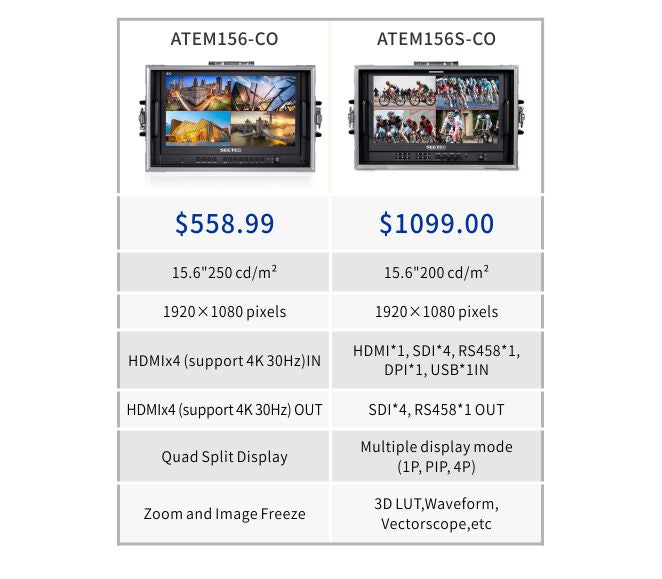 17.3 inch Carry-On Monitor, you can click to learn more:P173-9HSD-CO, ATEM173S-CO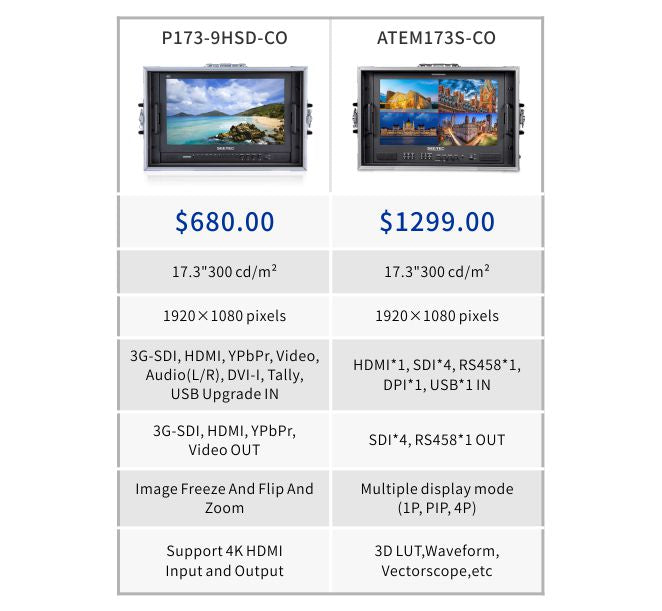 21.5 inch and 28 inch Carry-On Monitor, you can click to learn more:ATEM215S-CO, 4K215-9HSD-192-CO, 4K280-9HSD-CO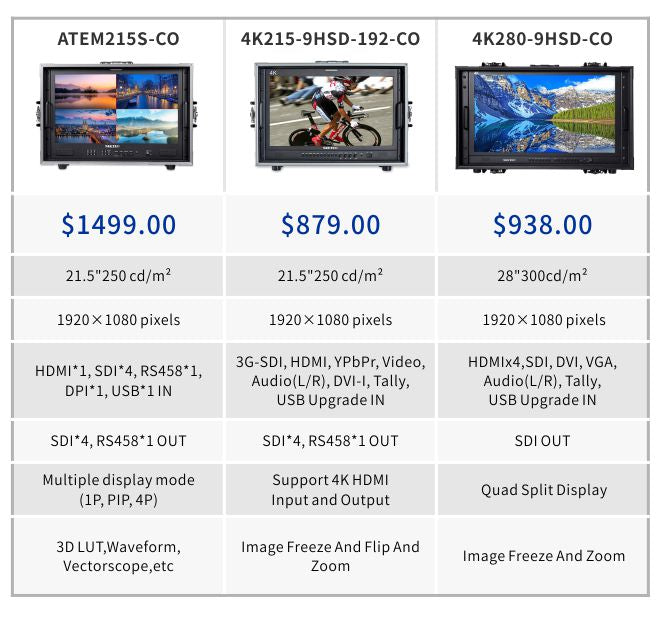 Rack Mount Monitor
Rack Mount monitor is the perfect professional monitor for any broadcast facility, mobile broadcast truck or even fly kit,can be rack-mounted but also wall-mounted installation.
As rack mount LCD monitors usually in a continuous working condition, all components including LCD panel must be accordance with industrial quality standard.
The full aluminum alloy frame not only make the device more solid and durable, but also solve the problem of heat dissipation. The equipped cast iron hand grips, easy to hold.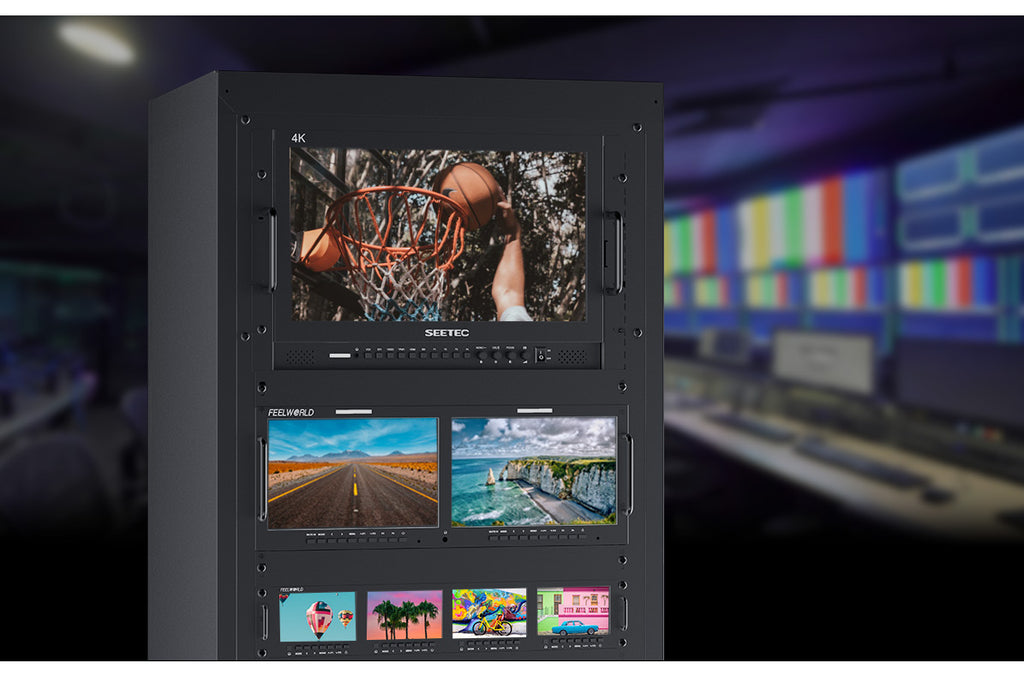 Rack Mount Monitor is easy to install and disassemble, and can be applied in different scenarios.If you and your crew need to filming at different places, don't miss it.Here is what you are looking for,you can click to learn more:T51, D71, P173-9HSD-RM, SC173-HSD-56.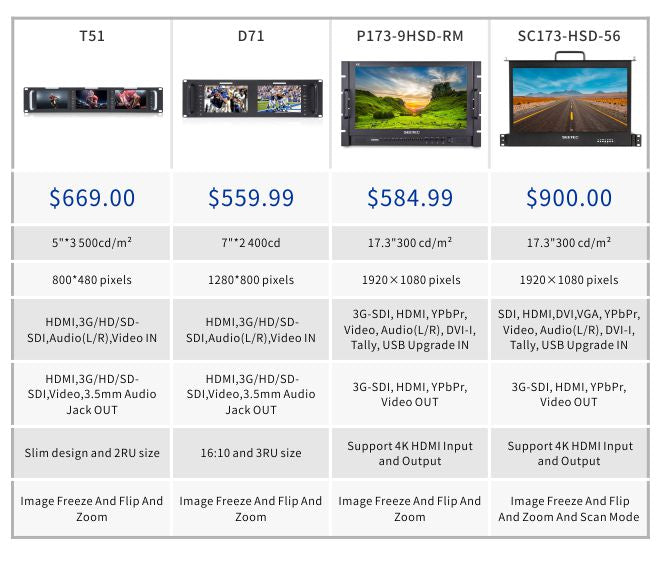 Post Production Monitor
Broadcast quality, allows you to see every pixel
We uses the professional Rec.709 HD color standard, and uses the color calibration technology, with the professional instrument calibration at the factory, it can achieve monitor calibration efficiently and get accurate color reproduction easily, do not distort the color, show the real image when you shooting video.
User 3DLUT cube upload
The monitor has built-in multi camera logs to Rec 709 conversion 3DLUTs, including C-log standard, C-log full, S-log2, S-log3, BMD-4Klog.
Support user 3DLUT cube files (support 17x17x17, 33x33x33, 65x65x65) to upload by USB, which is convenient for color creation during post-production monitoring. User can store up to 16 instantly selectable 3D LUTs.

GPI controls Red Tally and Green Tally, which not only can remind the photographer to enter the recording state, but also appreciate the convenience of TV shooting quasi-professional technology in your creation.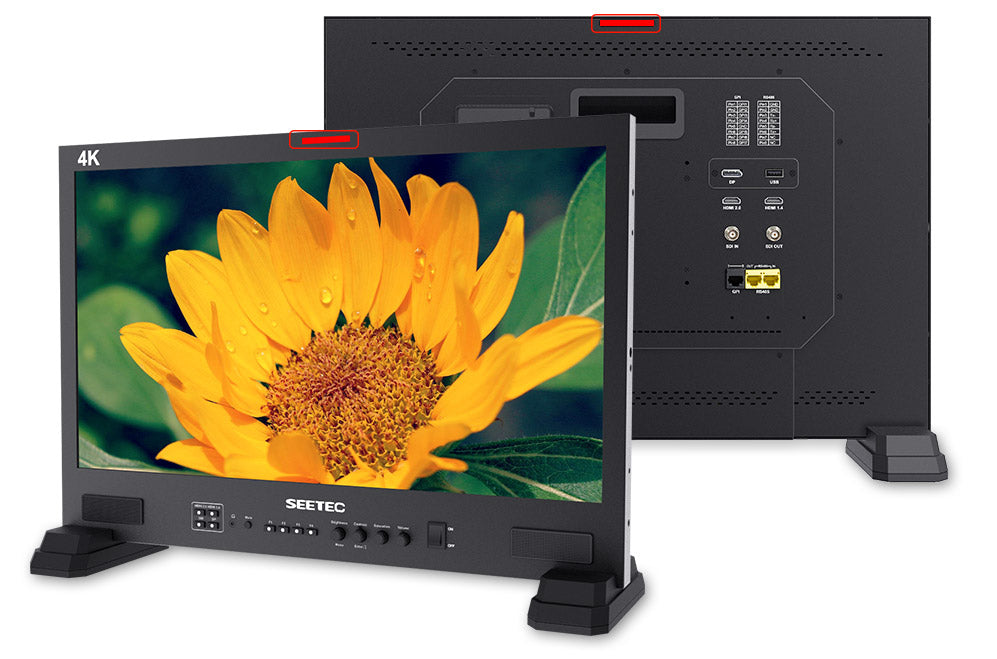 With so many and more fuctions, Lut215 is the best choice for post production, you can click to learn more:Lut215.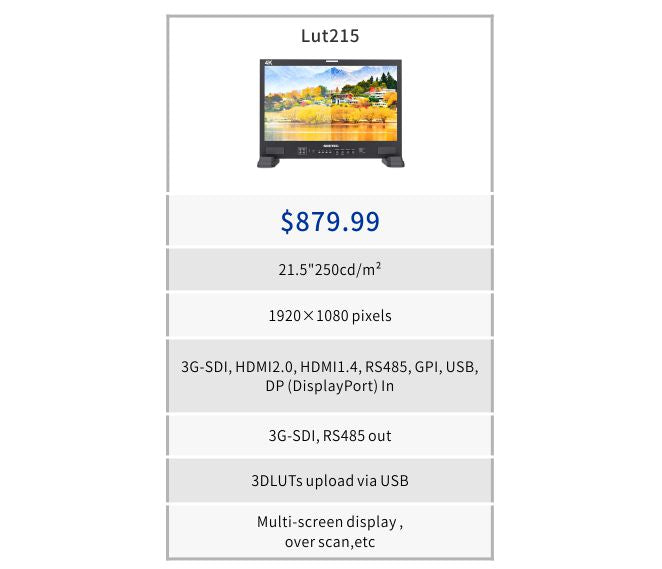 Director Monitor
Professional Broadcast LCD Monitor has been widely used in TV news production, broadcasting house, TV broadcasting truck and other fields. Since this series is working with other adjacent professional equipments, therefore, high stability, high reliability and electromagnetic compatibility are very important to make sure the whole system work smoothly.
Our Director Monitor is ideal for high end broadcast monitoring because they feature high quality focus assist function, also includes check field, image freeze, image flip, center marker, safe frame, color temperature adjust, assist users to accurately monitor when shooting, making and playing movies/ videos.
And suer its an affordable way to create incredible programs immediately from live events! It is very suitable for the use of broadcasters, live sports, concerts, lectures and seminars, eSports and gaming competitions, web broadcasters, and other scenarios. It can meet your indoor and outdoor multi-camera monitoring needs.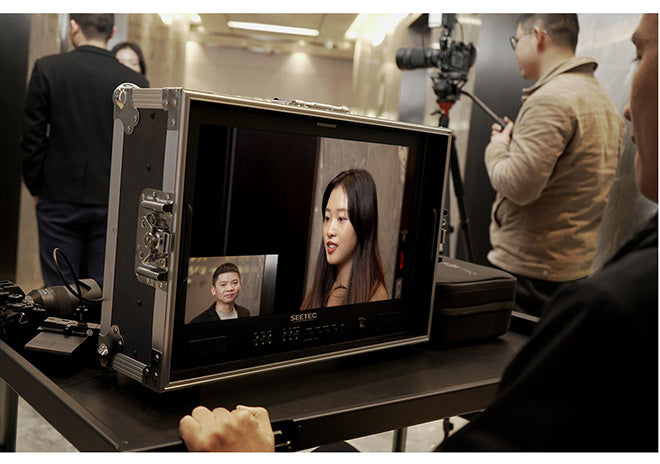 With different size and fuctions, we have serval director monitors for you to choose, 13.3 inch Director Monitor, you can click to learn more:P133-9HSD, P133-9DSW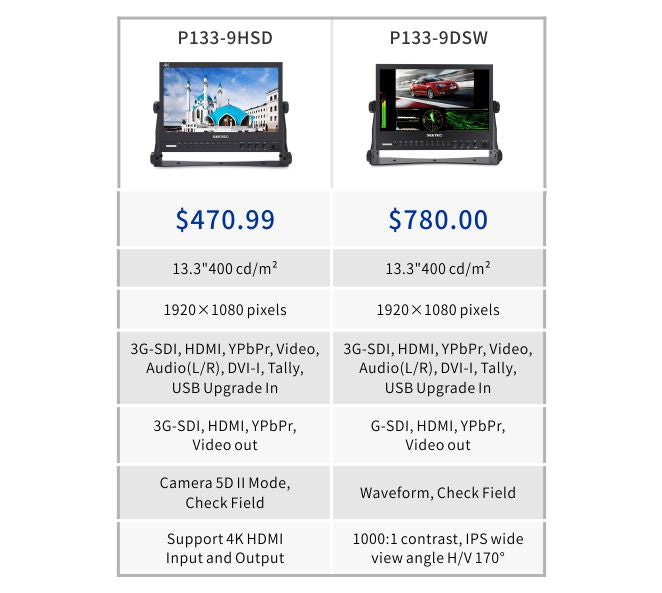 15 inch Director Monitor, you can click to learn more:P150-3HSD, ATEM156S, 4K156-9HSD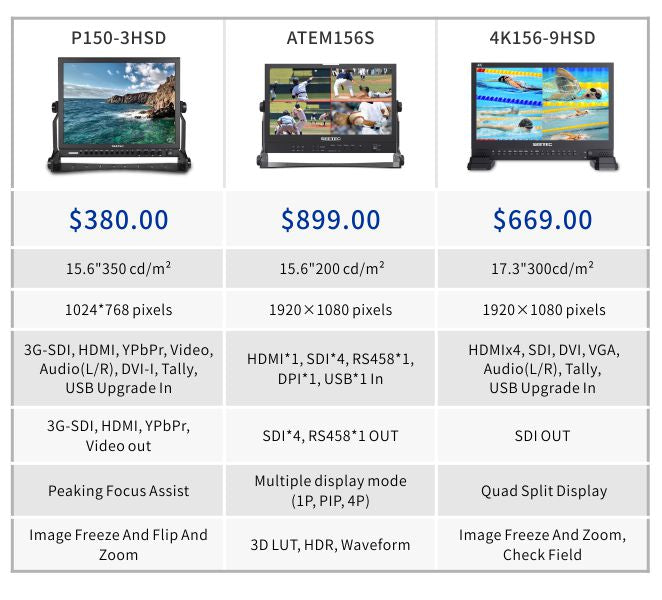 17.3 inch Director Monitor, you can click to learn more:ATEM173S, FS173-S4K, P173-9HSD, P173-9DSW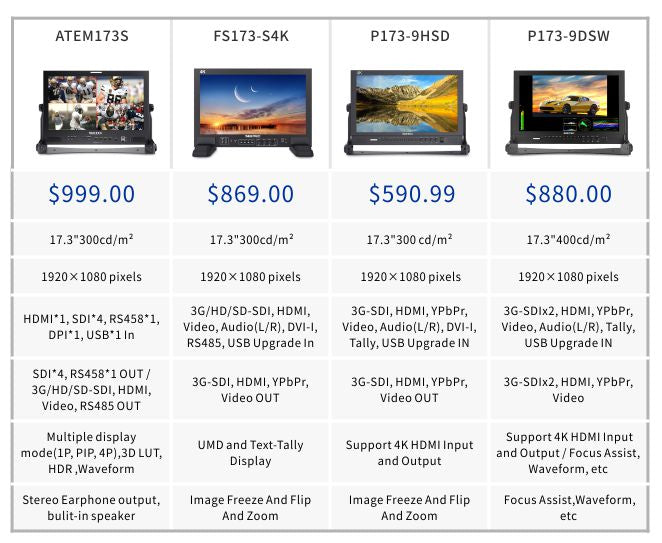 21.5 inch Director Monitor, you can click to learn more:ATEM215S, FS215-S4K, P215-9HSD-192-CO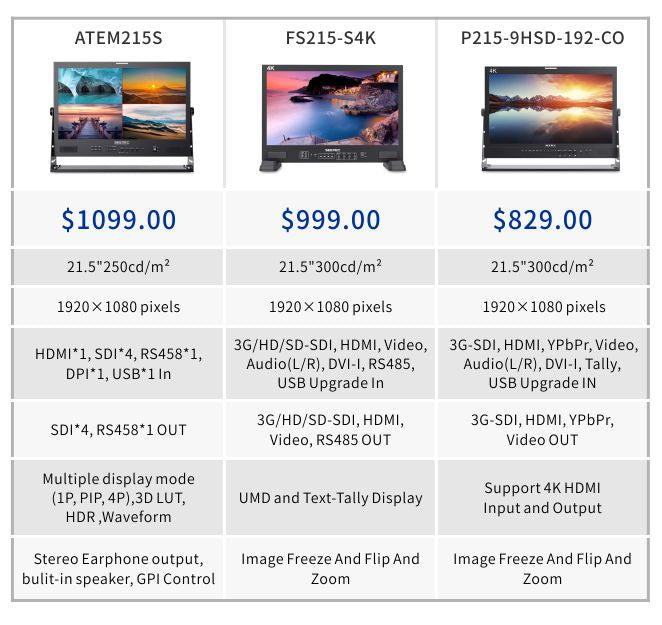 If you are looking for on camera monitor, and you can find it here.
 If you wan to purchase a video switcher, you can click here to know more.
Hope it can help you choose the broadcast monitor suits you.
If you have any question, feel free contact us, we glad to help you.
You can contact us via the email: lean@feelworld.cn