Content is king in the age of streaming and many platforms are becoming more and more known to the public with thousands of content being uploaded every day, so how do you get your content to get larger traffic and be supported and liked by your fans? Having dedicated cameras for live streaming, video chat and YouTube can really improve the quality of your online content and its professionalism. Getting yourself a camera with a big sensor and a nice lens will help you look your best before you go live, log into a Zoom session or launch your YouTube channel.
What needs to consider when choosing a live streaming camera?
Resolution - Most phones on the market now support 1920×1080 (i.e. 1080p) or even 4k shooting, so if your camera is below 1080p, it is not included in the selection.
The frame rate - choose a streaming camera you can pick according to the frame rate that suits you. If you use it for live corporate meetings you can choose 30 fps which will meet your basic requirements, if you want to live game on Twitch you usually have to match it and they are at 60 fps. Only if you're streaming at 60 frames per second is the frame/second that matters for gaming, if you're streaming at 30 frames per second, it's like you're watching a show on TV that's all shot at 30 frames per second. No matter how fast you're moving, those extra frames you're making can help you see fine details.
Low light performance - choose a camera that works well even in low light conditions. Because as a live streamer, you may not always have the perfect setup, but you can definitely have a camera with an image sensor.
Optical zoom - Get a live streaming camera with an optical zoom feature that allows the lens to zoom and avoid manual manipulation. It not only increases the ease of operation, but also maintains the quality of resolution.
After figuring out the elements of choosing a live streaming camera, let's take a look at a few of the major cameras on the market right now.
Webcam:
Webcams are USB powered devices that connect directly to your computer. The plug-and-play feature makes them highly user-friendly. Although the image quality of webcams is almost always inferior to that of "real" cameras, modern webcams can produce very good video, especially when properly illuminated. Advanced webcam features include digital zoom, facial recognition, and background replacement. Webcams often come with a clip that can be mounted on a laptop or computer monitor, and some even come with a tripod mount.
Razer Kiyo:
Max Resolution: 1080p| Max Video Frame Rate: 60 FPS | Price: $79.00
If you want a webcam with plenty of lighting, then this is the best option for your budget. the Razer Kiyo offers integrated lighting with a full HD display. One downside, however, is that the webcam has no external audio support. Nonetheless, it's a cool purchase for the price, especially since its integrated light ring contains 12 LEDs!
Logitech Brio 4k webcam:
Max Resolution: 4K | Max Video Frame Rate: 90 FPS | Price: $169.00
The Logitech Brio 4k webcam has been a popular choice for brands and content creators when it comes to live webcams. With not only low-light performance and a built-in microphone that delivers "beyond expectations" performance but also an optical zoom 5X, if you like to enhance your live streams with these instant zoom lenses, then this is what you need.
Scope of Application:
In-room/video conferencing/online video gaming/lecture narration.
DSLR and mirrorless cameras:
The growing popularity of live streaming and online video in 2020 has seen nearly all camera companies introduce software updates that enable mirrorless and DSLR cameras to connect to devices such as laptops and computers to transmit and upload HD (high definition) video.The lenses on these types of cameras are often interchangeable, providing opportunities for lens customization and fine cinematic effects. Cropped sensors and their detachable lenses mean better image quality. Switching from a webcam to a DSLR or mirrorless is a great way to improve the quality of streaming video. Many DSLRs display an overheat warning and shut down after about 30 minutes in live view mode. 
Canon EOS 80D:
Maximum resolution: 1080p|Maximum frame rate: 60FPS|Price: $899.00
The Canon EOS 80D is an impressive digital SLR camera that has become a favorite among live broadcasters thanks to its powerful autofocus and excellent ISO range. The camera offers excellent image quality with features like a 24.2 Megapixel (APS-C) CMOS sensor and Dual Pixel CMOS AF. It even has a smart viewfinder with about 100% coverage. So it can be one of the best cameras for live streaming at an affordable price.
Panasonic Lumix G7:
Maximum resolution: 4K|Maximum frame rate: 30FPS|Price: $597.99
The Panasonic Lumix G7 is a great deal. This Micro Four Thirds mirrorless camera (trapped in a DSLR body) offers great image quality. The external 3.5 mm audio input makes it easy to route professional audio through the camera, avoiding AV sync issues. The G7 is simple to set up and use, and it's not fussy when it comes to output settings. All these features combined with the price make the G7 a great value camera for live streaming.
Tip: Be sure to check out any known issues online before purchasing a DSLR/RLR for live streaming.
Scope of application: video blogging/live performance/webinar/travel.
Camcorder:
If your goal is to record long videos,then camcorders are your most trusted and reliable live streaming companion. They offer zoom options, a wide range of I/O ports and, of course, a longer lifespan than most other products in their class.The camcorders are also highly versatile and easy to use thanks to their ergonomic design.
Canon XA15:
Max Resolution: 1080p | Max Video Frame Rate: 120 FPS | Price: $1,699.00
Highly recommended for event coverage and live streaming, this professional camcorder from Canon captures HD video with its outstanding HD CMOS Pro image sensor and DIGIC DV 4 image processor. Equipped with a truly impressive 20x HD optical zoom lens for superior efficiency, it's a great choice for those looking for advanced features and full HD video.
Panasonic AG-CX350:
Max Resolution: 4K | Max Video Frame Rate: 60 FPS | Price: $3700.00
Aside from boasting all the standard professional features, this camera also offers unique networking features. The AG-CX350 has built-in streaming, which means you can stream directly from it using standard streaming protocols without a PC or an encoder unit. The camera features an Ethernet port through which you can stream directly to the Internet. An optional USB wireless adapter allows you to stream wirelessly. 4G/LTE connectivity is also possible using third-party dongles.
The CX350 has preinstalled support of NDI, which provides automatic discovery and ease of use, and built-in support for NDI via NDI|HX. It also allows ultra-low latency streaming, and supports camera control and tally.
Scope of Application:
Beginner videographers (more affordable models) / Large live productions such as concerts, conferences, live news programs, etc. / Events where camera operators are present or can be brought in.
PTZ Camera
PTZ (Pan, Tilt and Zoom) cameras are cameras that can be operated remotely. These cameras typically have a flat base and can be securely mounted on a shelf, ceiling or tripod. PTZ cameras are widely used in churches, conference and concert halls, lecture halls and other large spaces for permanent installations.
These cameras offer ample optical and digital zoom and 60 fps streaming, making them a viable solution for sports streaming. One camera operator can remotely control multiple PTZ cameras at the same time. 
FEELWORLD USB10X/POE 20X/NDI 20X 
Max Resolution: 1080p | Max Video Frame Rate: 30/60/60FPS | Price: $319.99/$698.99/$998.99
FEELWORLD USB10X and FEELWORLD POE10X and FEELWORLD NDI20X
Similarities:
1. Excellent HD CMOS sensor with lossless optical zoom and excellent image quality, as well as excellent color and accuracy.
2. Advanced 2D/3D noise reduction technology ensures high image clarity while further reducing noise to easily produce professional videos
3. Up to 255 preset positions, a recipe for more efficient meetings
4. Auto-focus, intelligent frame capture each person.
5. Keep faces bright even when shooting in dim lighting conditions
6. Multiple control protocols and network protocols, low-power hibernation function, absolutely the best choice for your PTZ camera.
Differences: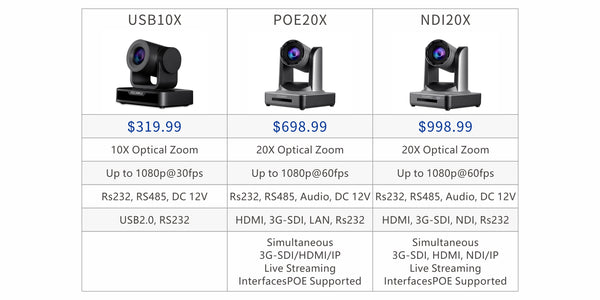 Scope of Application:
Large spaces (churches, lecture halls, lecture, concert and conference venues, stadiums) / Remote operation scenes/ automatic object tracking.
To summarize:
Choose a live camera that best suits your needs according to the way we recommend for you to professionalize your live broadcast, increase content flow and show your best live performance. If you want to achieve multi-camera live streaming, you can combine the FEELWORLD L2 PLUS live streaming switcher to achieve gimbal control and 4 HDMI inputs to achieve multi-camera live streaming for easy and professional live streaming.Here is the setup for multi-camera live streaming of weddings and two person interview, click to learn more.