Atem Mini, a video mixer switcher that many live streamers hold dear.
Compact design and comprehensive functions. The button for audio mixing skillfully integrates the control panel and various interfaces. The ATEM Mini Pro model also has control buttons for recording and streaming live broadcast, as well as output selection buttons.All these, make Atem Mini popular among live streamers. But there still something else that Atem Mini can not do.You still need a screen to monitor the footage in real time, and here comes Atem156/Atem156-CO.
Why Atem156/ATEM156-CO suits Atem Mini?
Due to the compact design of the Atem Mini, there is no room for a screen on it so streamers will need a extra monitor when live streaming to check all the signals and real time monitoring. And Atem156/Atem-CO just can help you solve this problem.
Four 4K HDMI Input and outout,can connect up to 4 cameras, game consoles, computers and other equipment. At the same time, it can also loop out 4 HDMI signals to other devices, such as ATEM Mini or ATEM Mini Pro.
Realize ATEM Mini Multiview Monitoring,When doing larger live productions with multiple cameras, you can first connect the camera to the ATEM156 monitor, check the shooting images of each camera on the ATEM156 monitor, and then put them to air, so you don't have to worry about the broadcast content. Help you preview the image and avoid the "blind cut" channel status.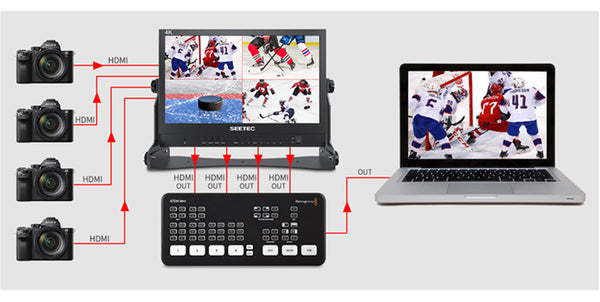 Multiview:quad view, dual view, and single view monitoring functions.No matter what kind of monitoring method or picture, you can adjust it as you like.
Flexible Power Supply and flexible installation mode, suitable for various scenarios.Equipped with a 12V DC power input and a V-mount battery plate,for outdoor shooting, you can use an external battery, and you can connect a standard DC power supply when using it in a shed or post-production room.Attach to Camera Support or Hang It Anywhere, also included VESA mount points, can mount in cubicles, on walls or anywhere you need.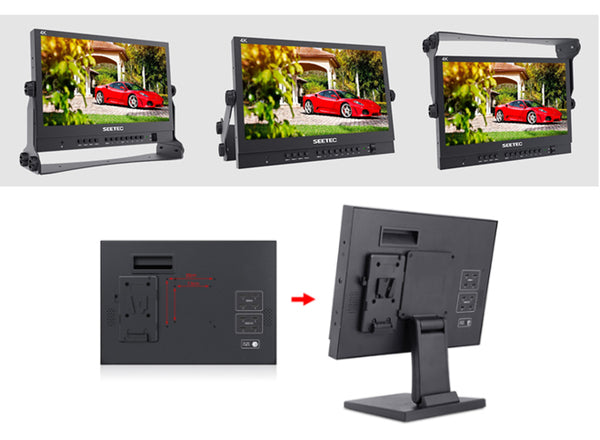 You can click here to know more.
If you want know more about our broadcast monitors, please click here.