. Stock in US, EU, JP, AU, RU local warehouse

US/ RU: 3-7 days delivery
EU/ AU: 3-10 days delivery
JP: 2-3 days delivery
. Shiping Worldwide 200+ Country
7-10 days delivery.

. If the local warehouse out stock, we will send the email inform to you that local warehouse estimated in stock date. According to the customer needs, you can choose the wait the local warehouse in stock or shipment from the China at once. 

More detail: Shipping Policy | Warranty Policy 
【Package Include】1× Micro HDMI Cable, 2× Sunshade, 1× Hot Shoe, 4× Transmission Antenna, 1× Type-C to USB, 1× Handle, 2× Screw, 1× Lanyard, 1× 1/4 C-ring Screw, 1× Small Carrying Case, 1× Manual【Note: battery and power adapter not include】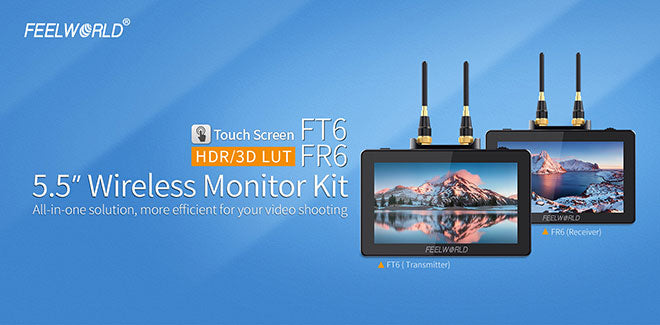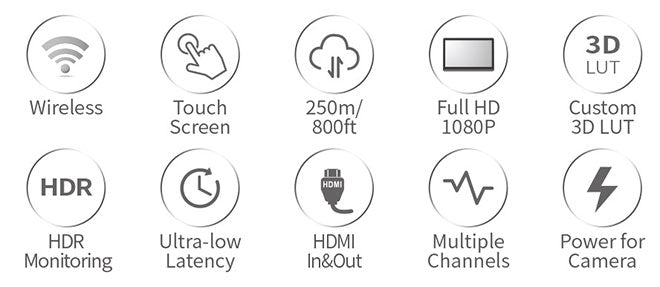 Designed for Simplicity
All-in-one director's monitor solution
Combining a wireless video transmission and high-quality HD monitor, the FEELWORLD FT6, FR6 wireless monitor gives you complete mobility on set. Using 2*2dBi antenna technology and H.264 encoding and decoding technology for professional image processing, clearer image and lower latency.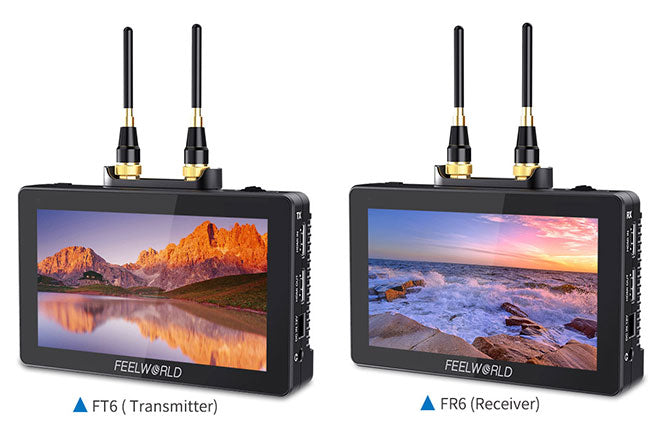 Portable Size and Lightweight
Although built-in wireless image transmission, the FT6 and FR6 maintain a slim shape. 5.5 inches small size and only 370g weight, which is the ideal for on-site mobile shooting.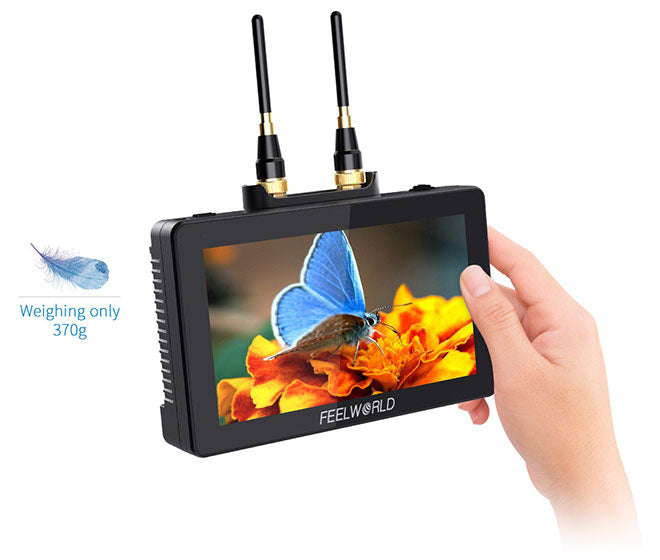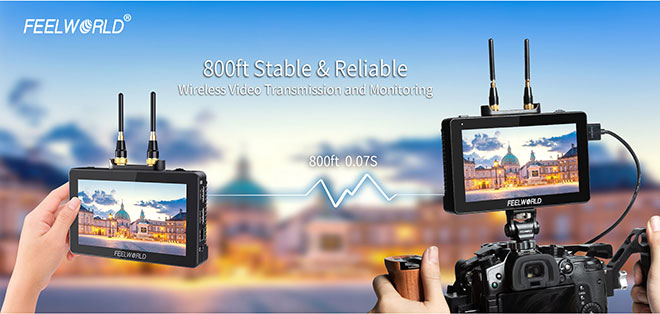 Synchronous Output for Easy Monitoring
FR6 receives the video from FT6 can be output to other monitors (same screen display) through HDMI OUT, convenient for the director and photographer to monitor at the same time.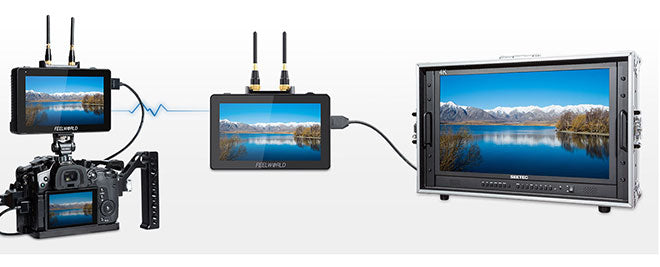 Innovative Power Supply Design
Support dual F970 batteries power supply
You can use the 12V power adapter and F-serier battery to power. Just need to double-tap the battery icon on the upper right corner of the monitor, after about 3 seconds, it change batteries without interrupting monitoring. The one F970 battery (6600mah) can work about 2 hours, two F970 batteries work about 4-5 hours.
Compatible Battery: Sony F970, F960, F950,F930, F770, F750, F730, F570, F550, F530, QM91D, QM91, QM90D, QM90, QM71D, QM71, QM70D, QM70, QM51D, QM51, FM71, FM70 series. (Note: the battery not including, please purchase separately)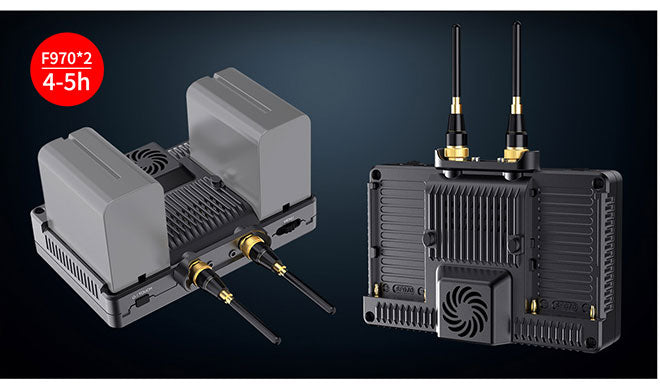 Battery Level Display
White icon indicates the working battery, gray icon indicates not working battery. Double-tap the gray battery icon and it will be switched in about 3 seconds. There will be a red prompt when the battery is almost dead, please replace the battery in time.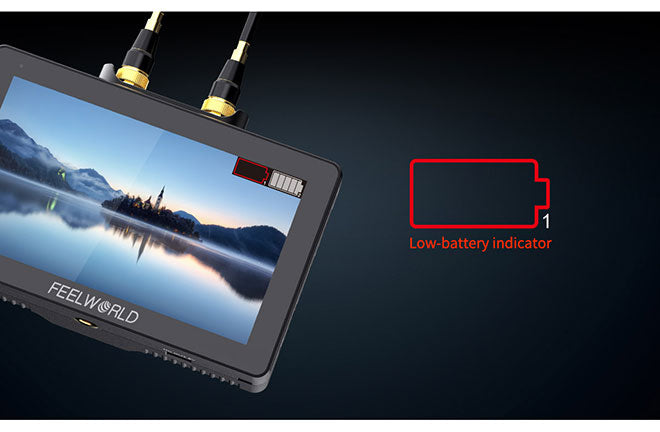 Portable Sunshade Easy Install
The FT6, FR6 wireless monitor with a sunshade, which allows the photographer to focus on the video and avoid the interference of strong light, providing a better visual experience.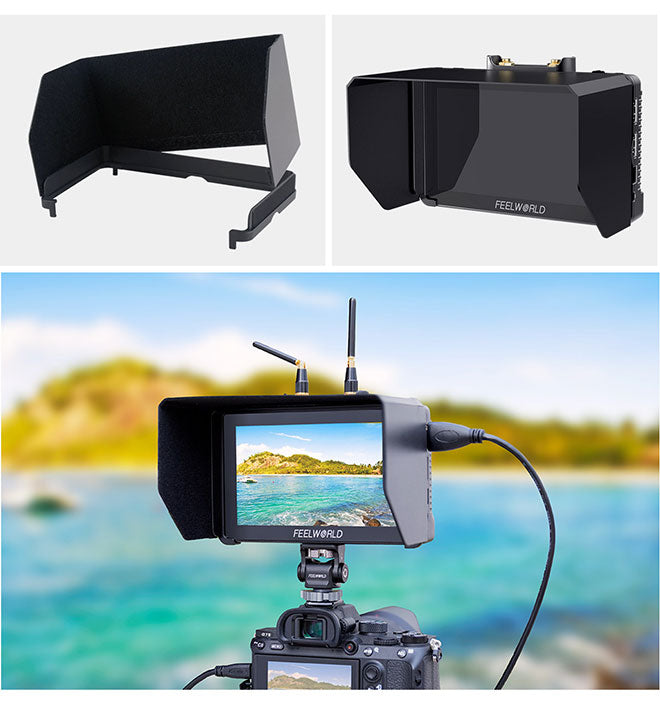 Innovation Handle, Easier to Hold
The receiver FR6 with an wooden handle, which makes the monitor easier to hold and make director and camera assistants more convenient to focus follow, the screen more stable.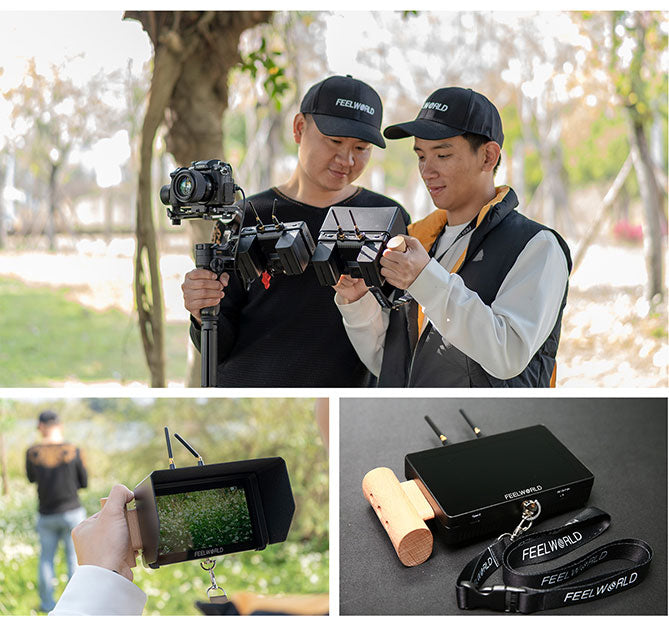 Exquisite Lanyard
The FR6 receiver has an exquisite lanyard, which allows you to free your hands while preventing the monitor falling. Move flexibly on site and improve efficiency.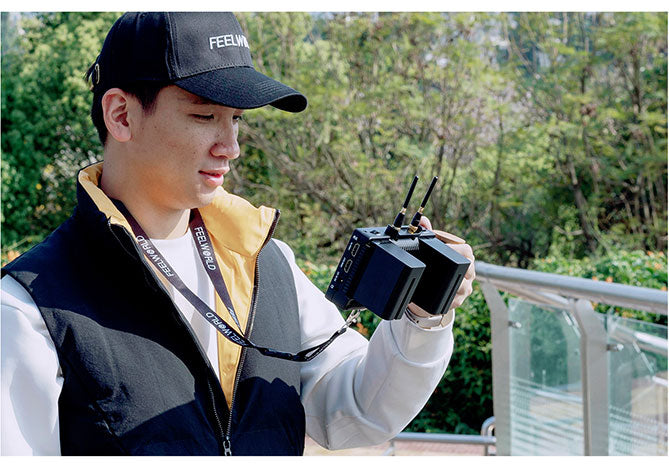 Portable Small Carrying Case
The FT6 FR6 wireless monitor with a portable small carrying case, which is convenient for you to move anytime and anywhere and can better protect the monitor.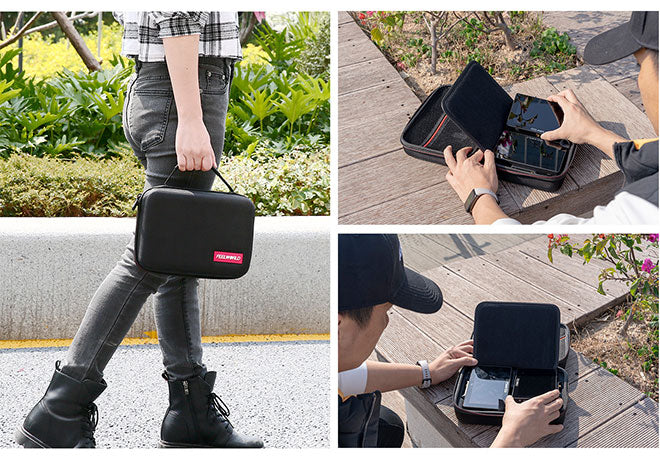 Video Assist Functions 
* Up to 250m/800ft transmission range (LOS)
* Ultra-low latency: 70ms
* Up to 1080P60Hz
* Support 11 channels selection
* Support frequency modulation on either the wireless monitor TX or RX.
* Support the opening and closing function of the wireless transmission module, which can be used as a monitor alone or as an integrated wireless monitor
* 5.5 inches 1920x1080 full HD IPS screen, touch screen menu operation
* Support 3D LUT Log to REC.709 and user 3D LUT upload
* Support HDR monitoring
* All Waves display, Parada, Vector, Histogram, Focus assist, False color and other functions, help you accurately expose and focus.
* Stereo Earphone output
* DC 8V power out to power your DSLR camera or mirrorless camera
* External sunshade, sunlight readable
Video Analysis Assistant Pattern
Waveform / Vector scope / Histogram
Waveform
It shows the overall brightness of the image assisting the video professional in correcting exposure. The waveform feature also checks the evenness of the lighting when lighting a chromakey or background.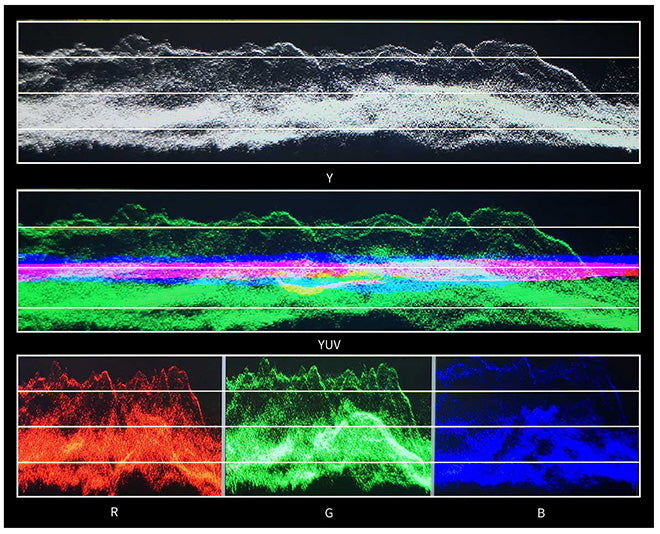 Vectorscope
Vector scope shows how saturated the image is and where the pixels in the image land on the color spectrum. It can also be displayed in various sizes & positions, that allows users to monitor color gamut range in real time.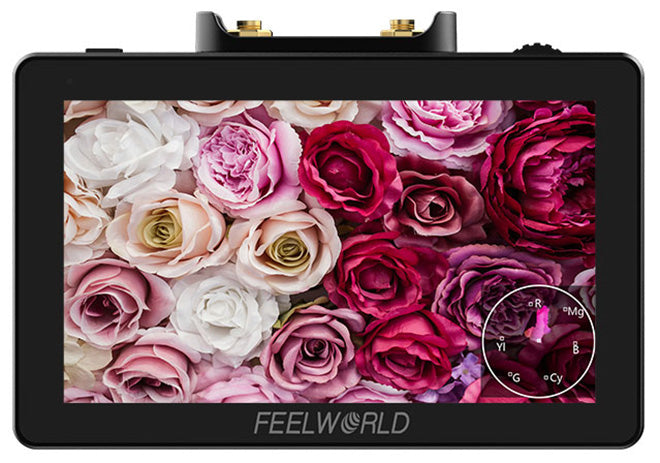 All Scopes Mode
This mode shrinks your video image to approximately the size of a 5.5" display and tiles your choice of waveform, vectorscope, histogram, and embedded audio on the border of your video.

Audio Meter Monitoring
The Audio Level Meters provide numerical indicators and headroom levels. It can generate accurate audio level displays to prevent errors during monitoring. Below -18dB column shows green; -18dB~-08dB column shows yellow; above -08dB shows red.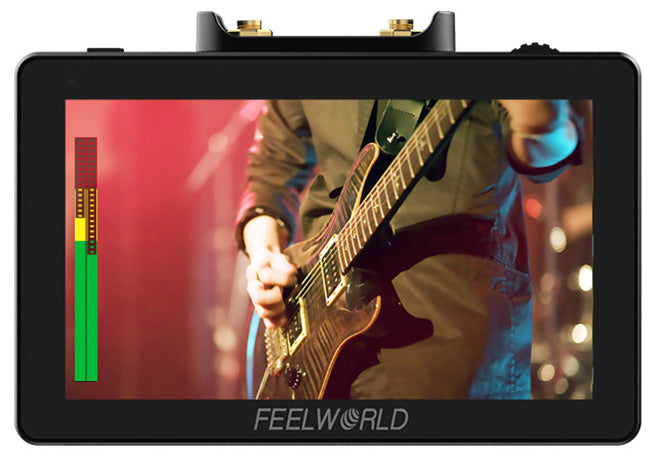 Peaking Focus Assist
The Peaking Filter is used to aid the camera operator in obtaining the sharpest possible picture. When activated, the internal processor will display a colored highlight on the screen where sharp edges appear. You can switch the putline color between red, green, blue according to different tone of the subject.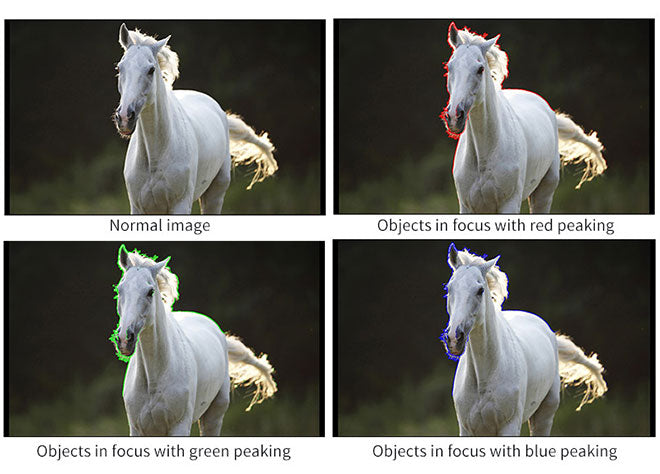 False Color
The False Color filter is used to aid in the setting of camera exposure. As the camera Iris is adjusted, elements of the image will change color based on the luminance or brightness values. This enables proper exposure to be achieved without the use of costly, complicated external test equipment.

Exposure (zebras)
The Exposure is used to assist in exposure adjustment in the mode of Zebra Pattern. It is considered overexposed and displays the moving warning lines onto the over exposed areas. 1-100IRE adjustable.

Zoom In (100%~300%)
Image magnification is HD signal in any part, an amplification for high quality close-up. The touch panel can help you zoom in quickly, zoom out and move the image after zooming in.

Auto Mirror
After auto-mirror is turned on, rotate the monitor vertically, and the picture will be adjusted upside down automatically.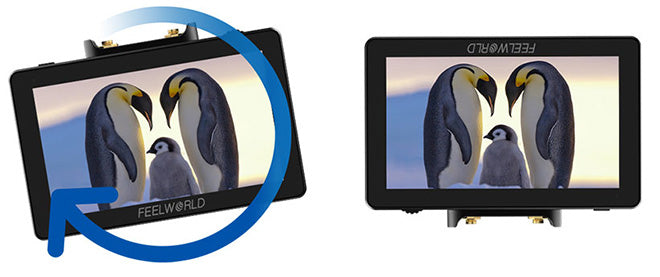 Nine Grid
Zoom one of the images to realize the full screen. You can switch the Mark color between Red, Green, Blue, White, Black according to different tone of the subject.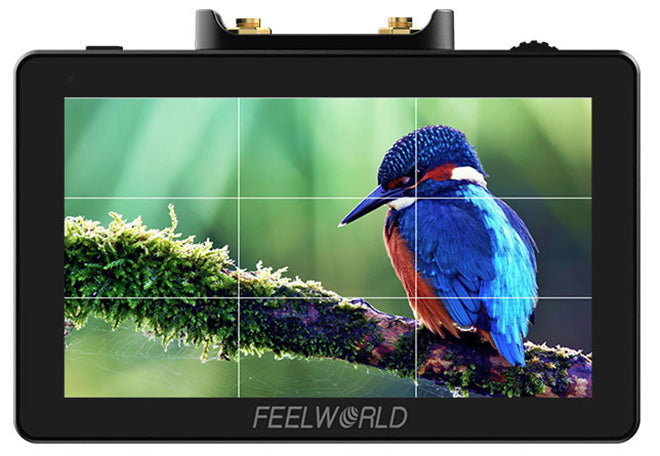 Specifications
Display Spec.
Screen Size: 5.5" Touch Screen Resolution: 1920x1080 pixels
Resolution: 1920x1080 pixels
Pixel Pitch: 0.0639 (H) x 0.0213 (W) mm
Aspect Ratio: 16:9
Brightness: 500cd/m²
Contrast Ratio: 1000:1
Backlight: LED
Viewing Angle: 80°/80°(L/R) 80°/80°(U/D)
Input/ Output
Input: 1 X HDMI
Output: 1 X HDMI, 1 X DC Output
Audio: Stereo Headphone
HDMI Input/ Output Support Format
Wireless Transmission Turn off
480P,576I,576P
720P60/59.94/50
1080I50/59.94/60
1080p23.98/24/25/29.97/30/50/59.97/60
Wireless Transmission Turn on
480P,576I,576P
720P60/59.94/50
1080I50/59.94/60
4K UHD 3840×2160p (30/29.97/25/24/23.98Hz)
DCI 4K 4096×2160p (24Hz)
General
Input Voltage: DC7~24V
Power Consumption: ≤18W
Power Connector: DC
Working Temperature: -20°C~50°C
Storage Temperature: -30°C~60°C
Install Way: ¼-20 thread points (top, bottom, right)
Unit Size: 148Lx103.5Hx41W (mm)
Unit Weight: 370g
Collapsible tab
Collapsible tab