SEETEC P133-9HSD 13.3 Inch 1920x1080 Broadcast Director Monitor with SDI 4K HDMI
Product image 1

Product image 2

Product image 3

Product image 4

Product image 5

Product image 6

Product image 7

. Stock in US, EU, JP, AU, CA, RU local warehouse

US/ CA/ RU: 3-7 days delivery
EU/ AU: 3-10 days delivery
JP: 2-3 days delivery
. Shiping Worldwide 200+ Country
7-10 days delivery.
. Warranty: One year warranty time and 14 days return and refund for US, EU, JP, AU, RU.
. VAT for EU customers: The VAT is asked by EU government, and it will be charged when you place the order even if you buy our products on our Amazon Store. There is no difference wherever you buy it, and the VAT is included in the price on those online shopping plates.
More detail: Shipping Policy | Warranty Policy

Click to View More Similar Broadcast Monitors:
P133-9HSD | 4K156-9HSD | P173-9HSD | P215-9HSD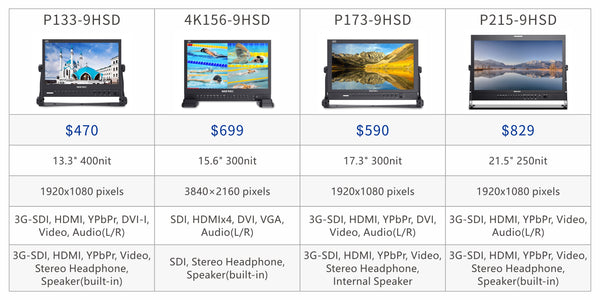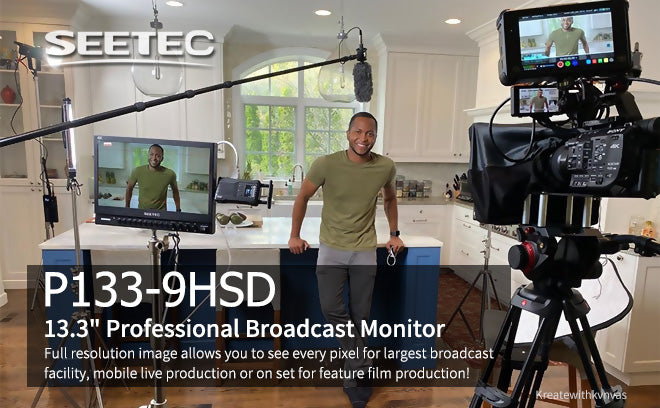 Let Your Video Shooting Become Easier
SEETEC has been committed to providing the comprehensive broadcast monitoring and solutions for the professional filmmakers.
Whether the upgrade of the excellent display technology from HD to FHD or to UHD 4K resolution, SEETEC aims to support the professional creators to obtain the greater benefits and to create more exciting stories, with the most advanced technology to improve the production efficiency.
Stability and Reliability
SEETEC Professional Broadcast LCD Monitor has been widely used in TV news production, broadcasting house, TV broadcasting truck and other fields. Since this series is working with other adjacent professional equipments, therefore, high stability, high reliability and electromagnetic compatibility are very important to make sure the whole system work smoothly.
The full aluminum case not only makes the product more solid and durable, but also solves the problem of heat dissipation. Full aluminum case improves the anti-interference capability!
1920X1080 IPS Full HD Panel
With the P133-9HSD's 13.3-inch 1920×1080 IPS Full HD panel what you see is truly viewing angles outputting crisp, clear shots on the field, which means less time in the editing room. The P133-9HSD's IPS Full HD Panel is the tool of choice for high quality color reproduction.
IPS 170° Wide View Angle
High Quality: no brightened dot, no streaking
  170° Wider View Angle: enjoy consistent images from any perspective.
More Precise Color Restoration: wide color gamut LCD panel ensure the monitor more precise color restoration exquisite picture quality more rich color levels.
True Color · Professional Color Calibration
Use Rec.709 color standard
Accurate color reproduction
Hassle-free Power
Monitoring anywhere you need it!
We've made it easy to power the monitor. P133-9HSD can be powered in two ways: with an DC adapter or lithium batteries. The P133-9HSD has a flexible battery system that supports V battery plate (standard), Anton Bauer battery plate of your choice.
Mounting Points
Attach to camera support or hang it anywhere
There are 3 mounting points located on the U-shaped bracket. The standard sized mounting points make it easy to mount and are compatible with third party rigging equipment.
Video Assist Functions 
* Peaking Focus Assist (Red highlight over parts of the monochrome image in focus)
* Check Field (Red, Green, Blue, Mono)
* Camera Mode
* Image Flip (H, V, H/V)
* Image Freeze
* Center Marker
* Screen Marker (80%,85%,90%,93%,96%,2.35:1)
* Color Temperature Adjustment
* Aspect Ratio (Nonsupport in 4K input)
* Pixel to Pixel (Nonsupport in 4K input)
* Zoom All (0~100 adjustable) (Nonsupport in 4K input)
* U/D Zoom (0~100 adjustable) (Nonsupport in 4K input)
* L/R Zoom (0~100 adjustable) (Nonsupport in 4K input)
Peaking Focus Assist
The Peaking Filter is used to aid the camera operator in obtaining the sharpest possible picture. When activated, the internal processor will display a colored highlight on the screen where sharp edges appear. It's shows Red highlight over parts of the monochrome image in focus.
Check Field
Check Field is an assistant function to adjust camera color settings. Under the check field mode, you can use red, green, blue or mono pixels to generate the image, because hue and saturation can be adjusted more quickly and accurately in this environment.
Camera Mode Function
It will be full screen under camera mode.
Pixel to Pixel
Enable the filmmaker to check the image from the 1:1 signal source without scaling. This feature is essential for capturing optimum detail.
Center Marker & Safe Marker
Safe Mark for View Finding and Composition (80%, 85%, 90%, 93%, 96%,2.35:1)
Image Flip
The Horizontal,Vertical and Hor&Ver of the image around flip.
Specifications
Display Spec.
Screen Size:13.3" IPS

Resolution: 1920x1080 pixels 

Pixel Pitch: 0.1533(H)×0.1533(V) mm

Aspect Ratio: 16:9

Brightness: 400cd/m² 

Contrast Ratio: 1000:1

Backlight: LED 

Viewing Angle: 85°/85°(L/R) 85°/85°(U/D)
Input/ Output
Input: 3G-SDI, HDMI, Y/Pb/Pr, Video, Audio(L/R), DVI-I, Tally

Output: 3G-SDI, HDMI, Y/Pb/Pr, Video

Audio: 3.5mm Stereo Headphone, Speaker

SDI Support Format: 480i/576i; 720p (60/59.94/50/30/29/25/24/23.98); 1080i (60/59.94/50); 1080p (60/59.94/50/30/29.97/25/24/24sF/23.98/23.98sF)

HDMI Support Format: 480i/576i/480p/576p; 1080i (60/59.94/50); 720p (60/59.94/50/30/29/25/24/23.98); 1080p (60/59.94/50/30/29.97/25/24/24sF/23.98/23.98sF); 4K UHD 3840×2160p (30/29.97/25/24/23.98Hz), 4096×2160p (24Hz)
General
Input Voltage: DC9~24V

Consumption: ≤12W

Working Temperature: 

-10°C~50°C

Storage Temperature: 

-20°C~60°C 

Unit Size: 315.5L×231H×26.4D mm (W/O Bracket)

Unit Weight: 1.64kg (W/O Bracket)/ 1.96kg (W/Bracket)
Package Included
Standard Accessories



1× Mini HDMI Cable
1× Sunshade
1× 1.5A DC Power Adapter
1× V-Mount Battery Plate
1× Tally Kit
1× U Bracket
1× Operation Manual