Roaring reds and triumphant yellows are what we picture when we talk about sunsets. This special time of the day is favored by photographers because of the sun's low angle, which skips across the landscape with graceful highlights and long shadows. It's also known as the "golden hour," because it's a time when we see the warmer tones of the sunlight in the sky.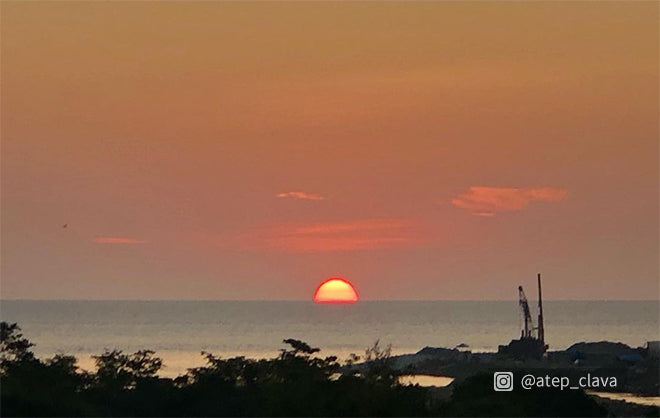 You may be curious about how to capture the beauty of a gorgeous sunset? Here we'll take a look at the key aspects of creating beautiful sunset pictures.
While it's true that stunning sunset images can be taken spur of the moment, planning ahead can give you an advantage. Scout out ideal locations ahead of time. Try to look for places that have a great vantage point, and interesting elements to include in your compositions. Check the sunset times, and plan to be there early to set up and get ready.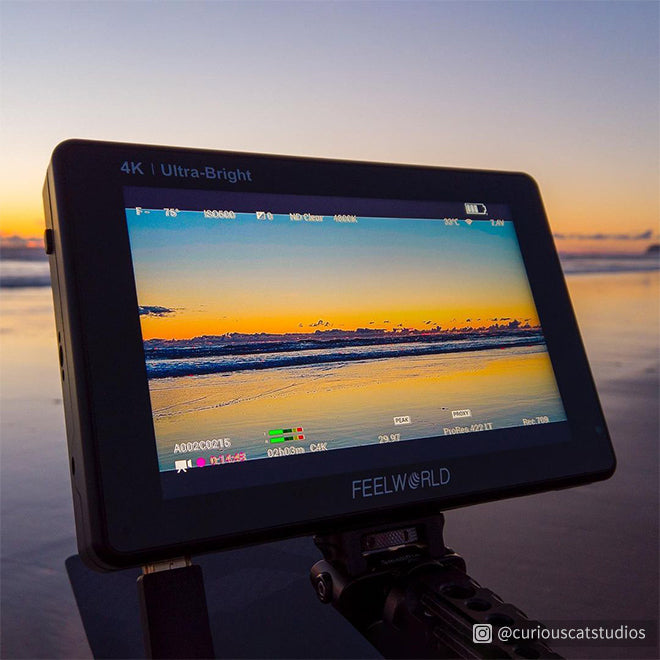 Compositional Tips
One of the main challenges with sunset photography is finding ways to create an interesting composition.
Find a Strong Focal Point: A strong focal point is an important part of the composition. When photographing sunsets, look for points of interest like rocks, trees, boats on the water, or even silhouettes to create strong and visually intriguing images. The setting sun can also serve as a focal point, especially when it's partially obscured behind an object.
Consider the Rule of Thirds: Consider the rule of thirds when photographing sunsets. This rule can help you to create a well-balanced image. Avoid placing focal points, or the horizon line dead center. Instead, try to place these elements towards the side.
The nine grid is widely used when shooting and filming, if you need a field monitor with this function, FEELWORLD monitor is a good choice.
Look for Compositional Opportunities: Watching an amazing sunset unfold right in front of you can be captivating, but don't forget to turn around! As the sun sets, it casts everything in a beautiful golden light, presenting a number of excellent photographic opportunities all around you.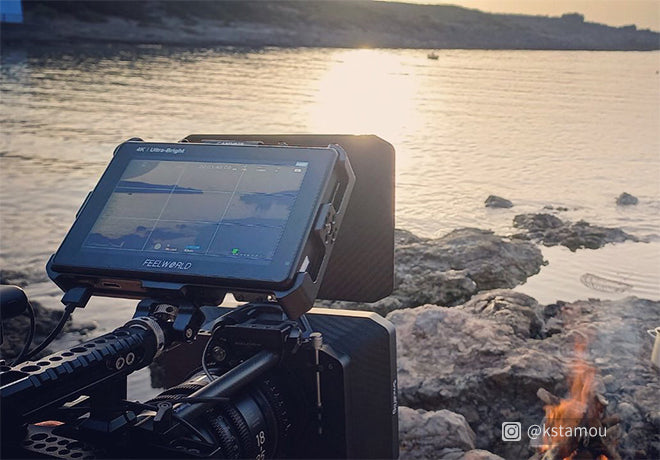 Camera Settings and Gear for Sunset
When left to its own devices, the camera will often render an image differently than we would like. Sunsets are a great opportunity to get out of auto mode and use settings that will give you more control over your images.
Set Your Shooting Mode: Aperture priority is a good choice when you want complete control over the depth of field in an image. Or choose shutter priority for absolute control over the exposure. And of course, try to shoot in the lowest ISO possible (often ISO 100) to avoid grainy images.
Experiment With Exposures: Switching into shutter priority mode allows you to start with a faster shutter speed, and work down into slower ones, allowing you to experiment with a number of different exposures. Clouds and water can especially benefit from a long exposure time, as the slow shutter speeds will render these elements as soft and streaky, with a painting-like quality. When shooting long exposures, be sure to use a tripod to steady the camera and reduce image blur.
Opt for a Graduated Neutral Density (ND) Filter: While exposing for the sky will give you amazing colors, this can cause the foreground to be dark and underexposed. Consider using a graduated neutral density (ND) filter, which will help you to get the exposure just right.
Set the White Balance: When shooting sunsets, you're going to want to ditch the auto white balance. Instead, opt for 'shade,' which will help to draw beautiful warm golden hues out of the sunset. Shooting in RAW is always a good idea since this will allow you to adjust the white balance in post-processing.
Use Different Focal Lengths: For sunset photography, a wide-angle lens is a great option. These lenses create more distance between the foreground and background elements, increasing the sense of depth in a photo, and helping the foreground elements to stand out. On the other hand, telephoto lenses cause elements in an image to appear more compressed, reducing the sense of depth in a photo.