What is a video switcher?
A video switcher is an important component of video production and live streaming. But what exactly is a video switcher. Simply put, a video switcher is a piece of equipment used to switch between different video or audio sources. A video switcher is also known as a production switcher or video mixer. Although the main functionality of the device is for selecting between the sources of audio or video, it's sometimes used in mixing video, setting compositions, and adding footage, graphics, or special effects on a secondary source.
How does a video switcher work?
The way it works is the video switcher selects between multiple incoming video signals from various sources (camera, PowerPoint feed, etc.) and directs one of those signals to a single output that could be a streaming device, video recorder, display device (i.e. a monitor or screen) or all the above. Video switchers can create different visual effects, ranging from simple mixes and transitions like dissolve to elaborate special effects. During a shoot, you can control the switcher, analyzing the various incoming camera angles, and selecting the best view to output.
Why we need a video switcher?
If you're looking to enhance the value of your live stream, integrating multiple camera angles using a video switcher is a great way to get started! Next I will use FEELWORLD LIVEPRO L1 V1 as an example to let you see how it make your streaming more professional and easier.
PVW and PGM
Through the USB interface of FEELWORLD LIVEPRO L1 V1, you can connect to a computer or monitor to independently set PGM and PVW. You can choose to set any of them as PVW or PGM according to your needs.The preview bus allows you to choose which shot will show up on the program bus next. On the preview bus, you can cue up your shot, load the graphics and titles and frame the shot exactly how you want before you send outlive.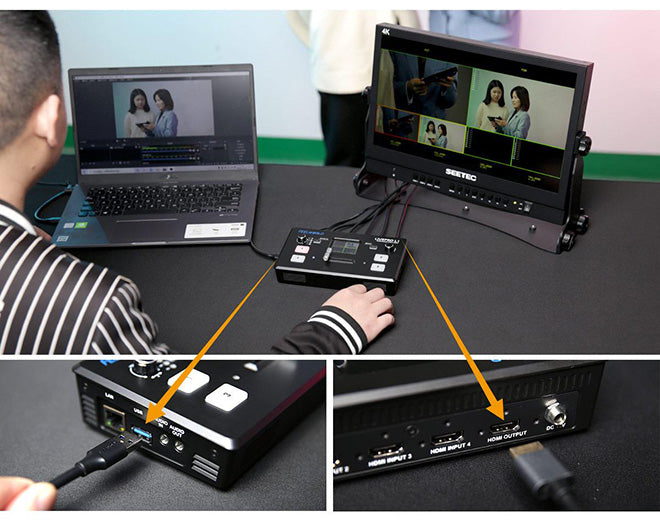 Fading In and Out
Press the SW key to open the transition effect menu, use the knob to select the desired transition effect icon, and lightly press the knob to confirm. You can also choose the type of effect you want, including a mix that makes a smooth transition between sources, and a gradient that fades in and out by color during the transition. So as to realize the value of professional production.
Faster Video Production & Live Streaming
The USB 3.0 output of LIVEPRO L1 V1 connects to any computer and looks like a built in webcam, so all streaming software for social media platforms work! With up to 4 HDMI inputs you can set up multiple camera angles such as wide shots along with independent close ups of each person in the performance. Or you can connect to a computer with a PowerPoint slide show, video clip playback, websites or gaming consoles. All switching is in real time so you can live stream to any social media platform such as Youtube, Facebook, Tik Tok, Douyu TV and many more!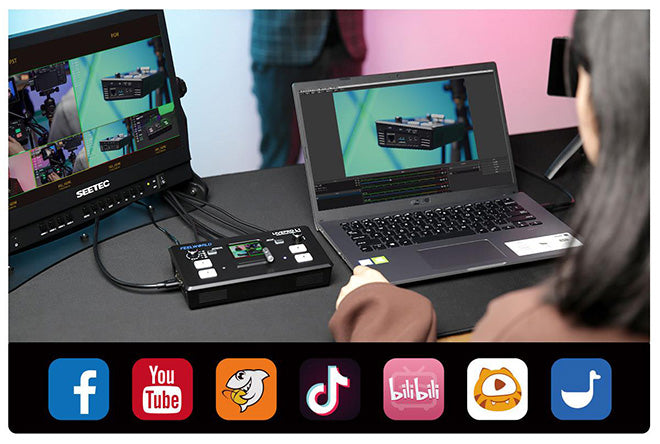 Picture-in-Picture Effects
When the switcher is connected with an external expansion screen, L1 V1 can preview real-time monitoring on 6 pictures, including PGM, PST and 4-channel HDMI input signals, and the audio column is displayed. Plus, you can set 9 layouts for PIP (Picture in Picture) mode. You can use this picture-in-picture effect to insert an additional video or image into your main video to help you further illustrate or highlight parts of your story.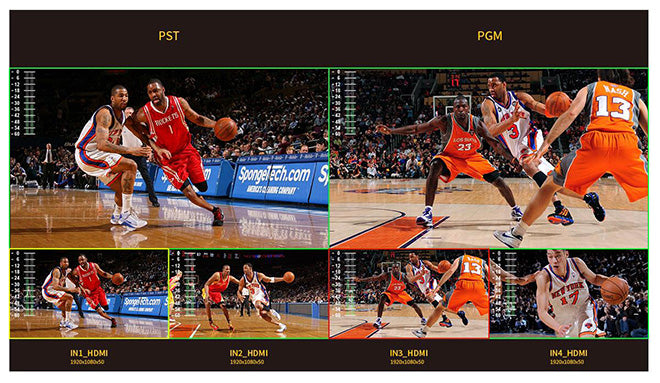 Know more details about FEELWORLD L1 V1:
Shop Now: FEELWORLD LIVEPRO L1 Video Switcher
FEELWORLD Official Store: www.feelworld.ltd