SEETEC ATEM156S 15.6 Inch 1920x1080 Production Broadcast Monitor LUT Waveform HDMI 4 SDI In Out
Product image 1
Product image 2
Product image 3
Product image 4
Product image 5
Product image 6
Product image 7
. Stock in US, EU, JP, AU, CA, RU local warehouse

US/ CA/ RU: 3-7 days delivery
EU/ AU: 3-10 days delivery
JP: 2-3 days delivery
. Shiping Worldwide 200+ Country
7-10 days delivery.
. If the local warehouse out stock, we will send the email inform to you that local warehouse estimated in stock date. According to the customer needs, you can choose the wait the local warehouse in stock or shipment from the China at once. 

More detail: Shipping Policy | Warranty Policy
Click to View More Similar Broadcast Monitors:
ATEM156S | ATEM173S | ATEM215S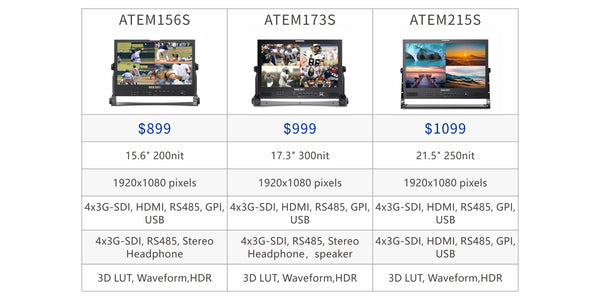 15.6"3G-SDI/HDMI Broadcast Monitor
Complete monitoring solution for live production, broadcast and post production
SEETEC ATEM156S is a full HD broadcast monitor, equipped with 4x3G-SDI inputs and outputs, 1 x HDMI input interface and RS485, GPI control interface. Adopts Rec.709 color standard, display vivid images and professional effects. Rugged and durable aluminium housing; With 3D-LUT, waveform, vectorscope, histogram, peaking focus and other wonderful functions, all of functions can be easily operated and controlled via the front panel buttons. It supports VESA standard, and can be bracket-mounted or wall-mounted installation. It is an ideal monitor for live production, broadcast and post-production!
15.6-inch Full HD LCD
The ATEM156S adopts a 15.6-inch LCD panel, with high resolution 1920x1080, accurate color reproduction, provides you natural and clear image; 800:1 contrast ratio, 170° wide viewing angle, allows you to see clearly no matter you monitor from which angle.
Rugged and durable, easy to dissipate heat
The full aluminum alloy frame not only make the device more solid and durable, but also solve the problem of heat dissipation.
Accurate Color Reproduction
Use Rec.709 color standard
Accurate color reproduction is one of the important indicators for measuring professional monitors. ATEM156S built-in 3D-LUT, adopts the professional Rec.709 HD color standard, and uses the color calibration technology, with the professional instrument calibration at the factory to ensure the consistency of color reproduction of each monitor.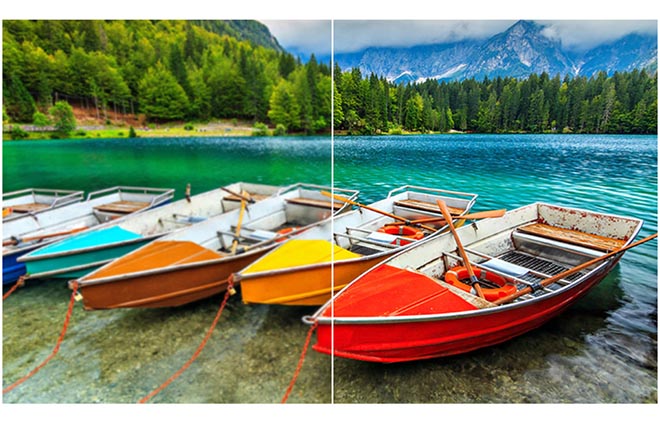 Flexible and Intuitive Button Operation
When you are busy at the shooting scene, you need to be able to easily control the equipment, and the ATEM156S can meet your needs. It can switch between one-button sources, custom shortcuts, and quickly adjust brightness, contrast, volume, etc. to make shooting easier. The backlight button design makes it easier for you to distinguish the current input signal and the shortcut keys used, easy to use even in dimly lit studio or outdoor environments.
Standard VESA Mounting Points
The ATEM156S is equipped with 4 standard VESA mounting points,you can mount it in a rack or hang it on a wall. Flexible mounting for a busy newsroom.
Note: The bracket not included, please purchase separately
4X3G-SDI Inputs and Output
Perfect SDI monitoring
ATEM156S monitors are the perfect choices to add SDI monitoring anywhere you need it. It comes with 4x3G-SDI signal inputs and outputs, suitable for multicamera shooting in crew, and simultaneous monitoring by multiple persons. In addition, it also with a HDMI input, RS485, GPI control interface, meet different needs.
Multiple Power Options
Long-lasting Power Shooting
The monitor provides 12V DC power interface, XLR connector and Sony V-mount battery plate for options.
Note: The battery plate default is V-mount Plate, the client can choose Panasonic Anton Plate for optional.
Professional On Set Monitoring Tools
Accurately focus and efficient monitoring
The monitor provides a series professional auxiliary monitoring tools, such as waveform, 3D-LUT, peaking filter, histogram, vectorscope, audio meter, time code, anamorphic mode, etc. All of functions can easy to select and operate from menu, also can set shortcut button or via GPI control. Effectively improve the efficiency of on-site shooting and post-production.
3D LUT, Recreate Film Looks
Supports up to load 36 custom LUTs
3D-LUT is a table for quickly looking up and output specific color data. By loading different 3D-LUT tables, it can quickly recombine color tone to form different color styles. Built-in 4 DE-log LUT , you also can load the custom .cube file via USB flash disk (up to load 36).
HDR Monitoring
What you see is what you get
Supports HDR (high dynamic range) monitoring, for incredible clarity and details, effectively enhancing the overall picture quality. When HDR is activated, you can select Gamma and Gamut corresponding to the company Sony, Canon, Panasonic, Fujifilm, Bolex, RED, ARRI.
Accurate waveform monitoring
Save your budget
Built-in waveform monitoring, you can choose from waveform (RGB Parade, YUV Parade, Y Parade), vectorscope, histogram, audio phase and level displays, and get broadcast accurate waveform monitoring that shows everything you need to know technically about your video and audio signals. The functions can be opened separately, and also support one key to open all scope mode (can be right/left adjustment). ATEM156S becomes the ideal choice for live production monitoring, so you no longer need to use a separate expensive scopes!
Gynamic UMDTSL3.1/4.0 Protocol
ATEM156S supports UMD of TSL 3.1/4.0 protocol, with 0-126 TSL address selection, and Max 16 letters displayed. The UMD inputs via RS485 port and outputs via RS485 port.
Tally Lights
GPI controls Red Tally and Green Tally, which not only can remind the photographer to enter the recording state, but also appreciate the convenience of TV shooting quasi-professional technology in your creation.
Multiple Display Mode
Meet different monitoring needs
The screen can be set to full screen, picture-in-picture and quad to meet different monitoring needs. In the picture-in-picture mode, the size and position of the sub-window can be adjusted. In the quad screen mode, supports SDI signal simultaneously display 4-channel audio meter and 4 time code.
16-Channel Audio Level Meters
The monitor can de-embedded audio from SDI and HDMI. Support select any 2 channels audio to output via 3.5mm headphone jack. Under SDI audio, it supports max 16-ch embedded audio meters display. Under HDMI audio, only 2 channels audio displays are supported.
Custom Menu Setting
ATEM 156S provides 4 groups custom menu setting, which will be automatically saved after setting, and there is no need to reset when you turn on next time, saving time cost.
Portable Sunshade
New extended screen sun hood, to acquire the ideal visual effect in almost all environments
Flexible and Useful Bracket
The monitor attached a U-shape bracket, it featured 3 standard 1/4-inch mounting points to help you easily complete installation and compatible with the third party rigging equipment. You can connect to magic arm to hang it on the other equipment or install it on the camera stand for the entire crew to monitor . You also can place it on the workbench for monitoring.
Brightness Histogram
The Brightness Histogram is a quantitative tool to check the picture brightness.The feature shows the distribution of brightness in an image as graph of brightness along the horizontal axis (Left: Dark, Right: Bright)and a stack of the number of pixels at each level of brightness along the vertical axis.
Peaking Focus Assist
The Peaking Filter is used to aid the camera operator in obtaining the sharpest possible picture. When activated, the internal processor will display a colored highlight on the screen where sharp edges appear. You can switch the putline color between red, green, blue according to different tone of the subject.
False Color
The False Color filter is used to aid in the setting of camera exposure. As the camera Iris is adjusted, elements of the image will change color based on the luminance or brightness values. This enables proper exposure to be achieved without the use of costly, complicated external test equipment. 
Exposure (zebras)
The Exposure is used to assist in exposure adjustment in the mode of Zebra Pattern. It is considered overexposed and displays the moving warning lines onto the over exposed areas. Zebra value that can be adjusted. 
Check Field
Check Field is an assistant function to adjust camera color settings. Under the check field mode, you can use red, green, blue or gray pixels to generate the image, because hue and saturation can be adjusted more quickly and accurately in this environment. 
Zoom In (4X, 9X, 16X)
Image zoom is to enlarge the image to 4X, 9X even 16X high-quality close-up, or you can customize left / right / up / down magnification (0 ~ 100).
Anamorphic Mode (1.25X, 1.33X, 1.5X, 2.0X, 2.0X mag)
You can choose 1.3x, 2.0x, 2.0x mag, User-defined adjustment: 1.20x~2.00x. Built-in selection of no squeeze, 1.3x or 2.0x allows you to use anamorphic lenses or adapters and see the image unsqueezed, even if your camera does not de-squeeze in camera. A 2.0x mag mode, magnifies the center of your image so you can check the focus of your scaled image.
Pixel to Pixel
Enable the filmmaker to check the image from the 1:1 signal source without scaling.This feature is essential for capturing optimum detail.
Key Features:
* 15.6-inch 1920x1080 full HD large screen
* Rugged aluminium housing, durable
* Flexible and intuitive button operation, easy to use)
* Mulitple display modes (single, PIP, quad)
* Supports 3D LUT Log to REC.709 and user 3D LUT upload (up to 36)
* With Waveform, Vectorscope, RGB Histogram, Focus Assist, Monochrome etc. functions, can help you accurately exposure and focus every shot.
* Multiple interfaces, meet different needs (4*3G-SDI inputs and outputs, 1*HDMI input, RS485, GPI)
* Stereo Earphone output
* VESA standard mounting points support for bracket or hang wall installation
Functions:
*Focus Assist (Yellow, Red, Green, Blue, Whitefive colors optional highlight over parts of the image in focus)
*Zebra (70IRE, 80IRE, 90IRE,user)
*Monochrome (gray, red, green, blue)
*False Color
*Timecode
*Nine Grid
*Safety Marker ( 70%, 80%, 90%, 16:9, 16:10, 4:3, 5:4, 1.85:1, 2.35:1,user)
*Center Marker
*Marker Mat(16:9, 16:10, 4:3, 1.85:1, 2.35:1)
*All Waves (can be adjusted left or right)
*Parade(OFF, RGB Parade, Y, YUV Parade)
*Vector
*Histogram
*RGB Histogram
*Audio Meter
*HDR
*3D-LUT
*Scan Mode (Under Scan, Over Scan)
*Video Aspect (auto, 16:9, 16:10, 4:3, 5:4, 1.85:1, 2.35:1, user)
*Anamorphic Mode (1.25X, 1.33X, 1.5X, 2.0X, 2.0X mag)
*Zoom (4X, 9X, 16X)
*Freeze
*Pixel to Pixel
*Colortemp (6500K, 9300K, user)
*Display Mode(full screen, PIP, quad)
| | |
| --- | --- |
|  Model |  ATEM156S |
|  Screen Size |  15.6" IPS |
|  Color Depth |  16.7M |
|  Resolution |  1920×1080 pixels |
|  Pixel pitch |  0.17925(W) x 0.17925(H) mm |
|  Aspect Ratio |  16:9 |
|  Brightness |  200cd/m² |
|  Contrast Ratio |  800:1 |
|  Backlight |  LED |
|  Viewing Angle |  85°/85°(L/R) 85°/85°(U/D) |
| | |
| --- | --- |
|  4 X 3G-SDI |  3G-SDI (support 2K) |
|  1 X HDMI |  HDMI (support 1080P) |
|  1 X RS485 |  RS485 |
|  1 X GPI |  GPI |
|  1 X USB |  USB (upgrade and LUT import) |
| | |
| --- | --- |
|  4 X 3G-SDI |  3G-SDI (support 2K) |
|  1 X RS485 |  RS485 |
720p (60/59.94/50/30/29/25/24/23.98)
1080i (60/59.94/50)
1080p (60/59.94/50/30/29.97/25/24/24sF/23.98/23.98sF)
2048x1080i (60/59.94/50)
2048x1080p (60/59.94/50/30/29.97/25/24/23.98)
480i/576i/480p/576p
720p (60/59.94/50/30/29.97/25/24/23.98)
1080i (60/59.94/50)
1080p (60/59.94/50/30/29.97/25/24/23.98)
| | |
| --- | --- |
|  Input Voltage |  DC 12V |
|  Power Consumption |  ≤21W |
|  Working Temperature |  0°C~50°C |
|  Storage Temperature |  -20°C~60°C |
|  Unit Size  |  372L×262H×28.4D (mm) (W/O bracket)  |
|  Unit Weight |  1.81kg |
|  Outer Carton Qty |  2 |
|  Outer Carton Size |  625*288*520 (mm) |
|  Gross Weight |  13kgs |
* Built-in Multi camera Delog LUTs
* User 3DLUTs upload via USB (up to 36)
* Support GPI control
* Support dynamic IMD, support TSL 3.1/4.0 and IMAGE VIDEO protocol
* Support TALLY
* Support 16-ch embedded audio meters display
* Histogram
* HDR
* Focus Assist  (Red, Green, Blue three colors optional highlight over parts of the image in focus)
* False Colors
* Zebra (70IRE, 80IRE, 90IRE)
* Timecode Display
* Picture in Picture (Adjustable Horizontal or Vertical Wipe Position)
* Under Scan, Over Scan
* Anamorphic Mode (1.25X, 1.33X, 1.5X, 2.0X, 2.0X mag)
* Pixel to Pixel
* Center Marker
* Safety Marker (70%, 80%, 90%, 16:9, 16:10, 4:3, 5:4, 1.85:1, 2.35:1,user)
* Marker Mat (16:9, 16:10, 4:3, 1.85:1, 2.35:1)
* All Waves
* Parade (RGB Parade, Y, YUV Parade)
* Image Freeze
* Selectable Color Temperature Presets
Live Broadcast
The perfect monitoring for multi-camera production of studio
When you are working on a multi-camera studio production, you need to see all of your sources, graphics and program displays at the same time. The multiview monitoring mode of ATEM156S lets you see everything. Tally is included in monitors so you get red or green indicate light for on air and preview status indication on the monitor itself. The amazing clarity of the HD resolution screen means you can easily check focus and watch for color consistency across all of your cameras.
Post Production
Get a full overview of your monitor
ATEM156S is the perfect solution for seeing all of the video. All of SDI video inputs are with loop out, and supports 2K video format. Allows you get a real time overview of your all screens.
Broadcast News
Flexible mounting for a busy newsroom
The ATEM156S is equipped with standard VESA mounting points mean you don't have to rack mount, but also mount hang it on a wall or any where you need! ATEM156S can be mounted on articulated arms over news desks, editing and graphic workstations. Simply connect SDI video signal and DC power cable.
Complete Monitoring Solution
With full HD large screen, supports 3D LUTs to adjust and calibrate color, HDR, histogram, vectorscope, peaking focus, etc. functions, collocate with the attached sun hood, yo can also clearly seeing the screen even outdoor. ATEM156S is the perfect monitor for on-set shooting and post production. The important is you can also make one-key all waves monitoring, so you know real time the true quality of incoming video feeds. ATEM156S is your complete monitoring solution of program production.
On Set Monitoring for Multi-camera
Great choice for director in crew
ATEM156S is equipped with 4 3G-SDI inputs and outputs, which makes it more suitable for professional crew shooting . With multiple display modes, let the director can not only monitor each shot in real time, but also monitor more details on the full screen, so as to better communicate with the photographer in time.