. Stock in US, EU, JP, AU, CA, RU local warehouse

US/ CA/ RU: 3-7 days delivery
EU/ AU: 3-10 days delivery
JP: 2-3 days delivery
. Shiping Worldwide 200+ Country
7-10 days delivery.
. Warranty: One year warranty time and 14 days return and refund for US, EU, JP, AU, RU.
. VAT for EU customers: The VAT is asked by EU government, and it will be charged when you place the order even if you buy our products on our Amazon Store. There is no difference wherever you buy it, and the VAT is included in the price on those online shopping plates.
More detail: Shipping Policy | Warranty Policy
FEELWORLD W1000S V1.19 Main Contents Update
 Version
Content Update
V1.19
Optimized the signal delay and the image abnormal mosaic phenomenon because of 24/25hz recognition error
V1.15

1.Optimize the problem of audio and video out of sync

2.Optimize the frame loss problem, default to turn off the full deplex, can be turn on manually if needed

V1.14

1. Added Chinese on language

2.Modify the battery level display of battery

3.Modify the default image quality priority, which used to be the latency pripority
Please click here to donwload the update.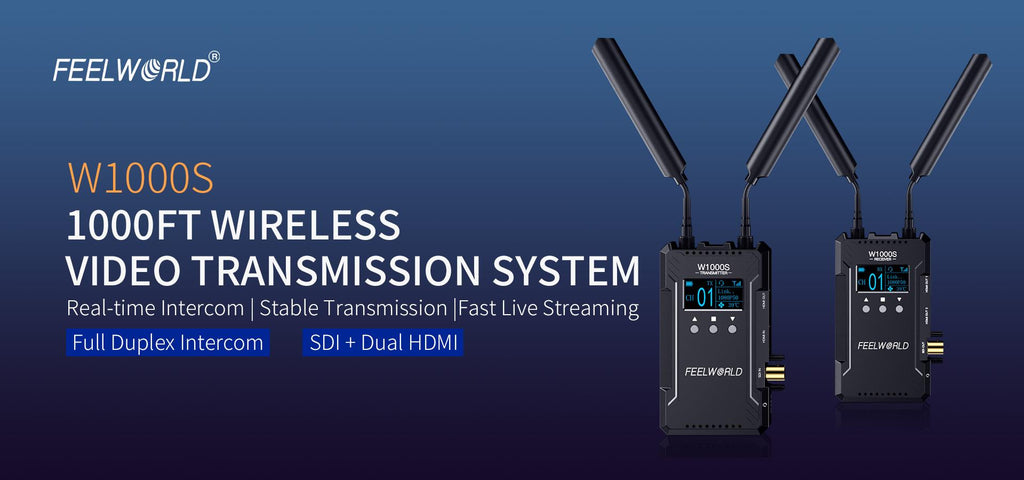 All-in-one Wireless Video Transmission System
Brings Video Transmission to the next level
FEELWORLD W1000S TX/RX set is a real-time wireless video transmission system integrated with intercom and live streaming. With 8Mbps high data rate, SDI and dual HDMI ports and other features built for professional filmmaking, the W1000S empowering filmmakers, crews, and content creators everywhere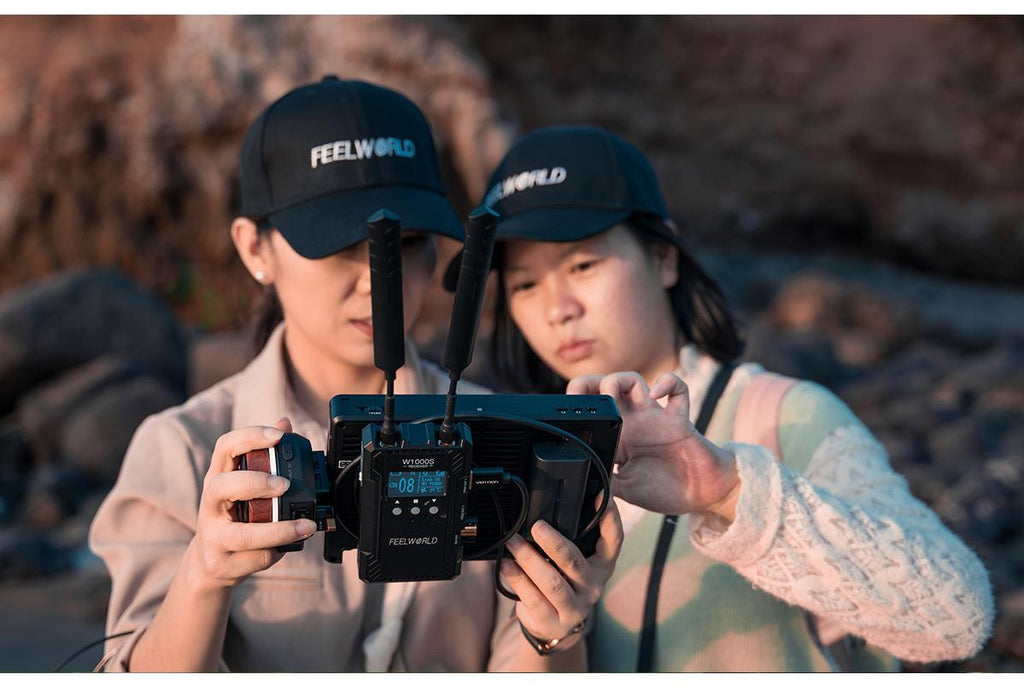 Full Duplex Wireless Communication
Meet the real-time intercom between the director and the photographer
The one of highlights for W1000S is its full duplex intercom, which enable communication between the director and the photographer, save your time and costs to set an extra intercom system.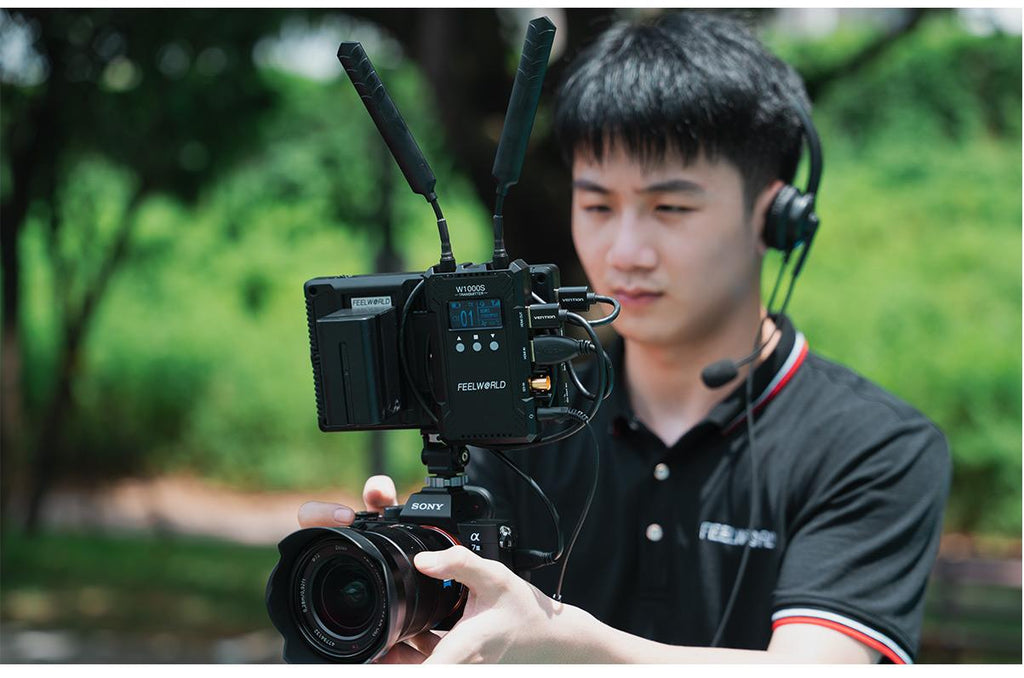 Direct Video for Live Stream
Supports static IP and route IP
With the Type-C to Ethernet adapter accessory, video feed straight out of RX (the receiver) will be used for live streaming on OBS, VLC on our personal computer without further encryption and decryption via a video capture device.
Note: The Type-C to Ethernet adapter is optional
Compact and Lightweight
The W1000S is compact, lightweight, and small enough to mount anywhere. Both at the bottom of transmitter and receiver come with a single ¼"-20 mounting point for mounting camera arms, cold shoes, etc.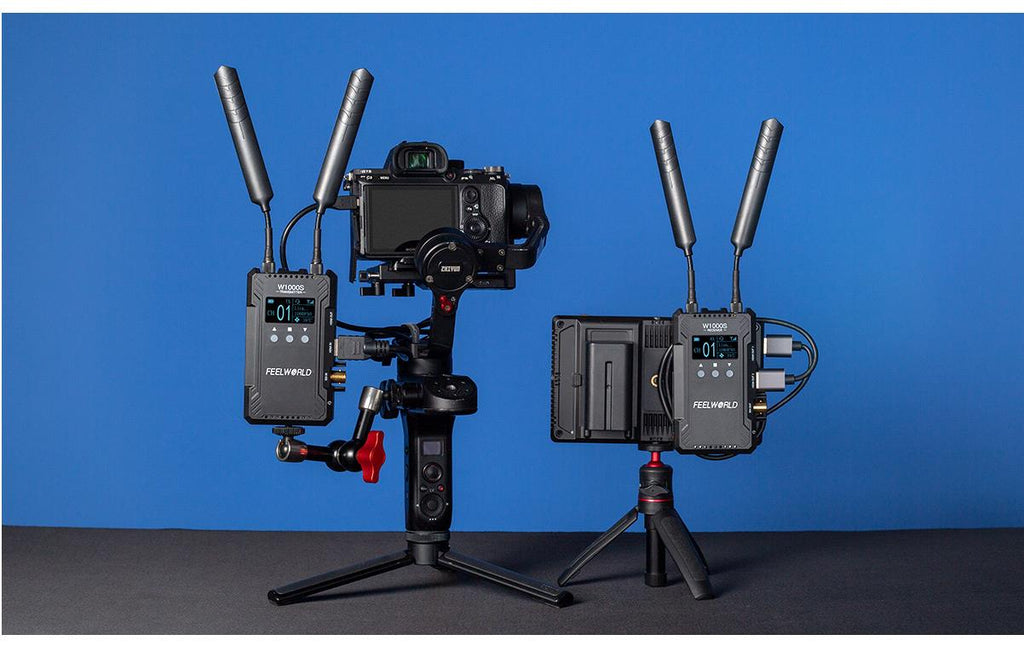 1000FT Transmission Range with 0.08S Low Latency
The W1000S has more than 1000ft hassle-free and reliable range for wireless video and audio transmission; 0.08S achievable latency for real-time monitoring that enables.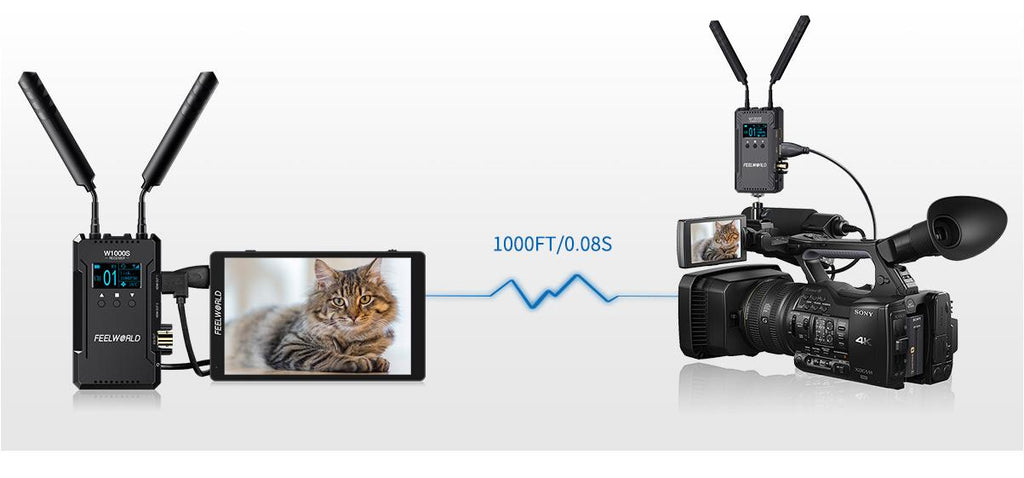 Dual HDMI + SDI Ports
Meet your different needs
SDI input HDMI input and output on TX; SDI and dual HDMI output on RX
Note: When switching the sources between HDMI and SDI on the transmitter, SDI input is selected by default if both HDMI and SDI sources are connected.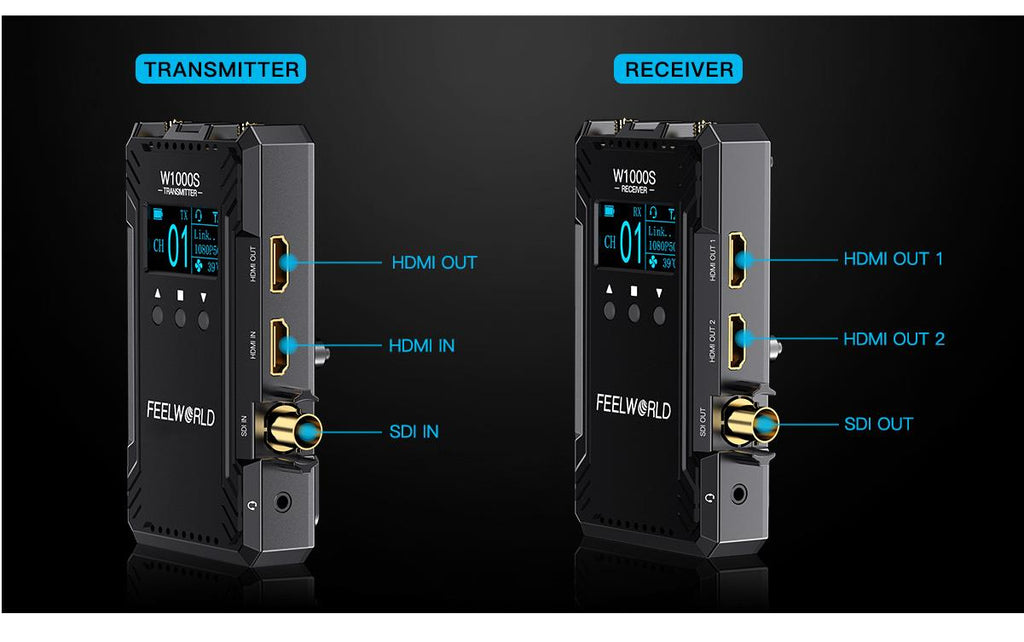 One Device Dual Uses
More flexible and costs-effective
The transmitter can be switched as a receiver at will, define working mode freely, fulfill multiple use cases.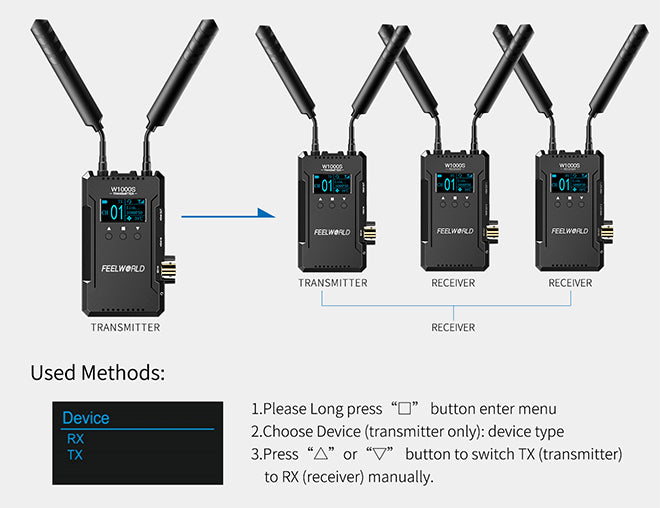 Innovation OLED Screen Design
Reading status and control system easily
The W1000S has a creative OLED screen so you can check out all device status and control the system with displayed information on the screen.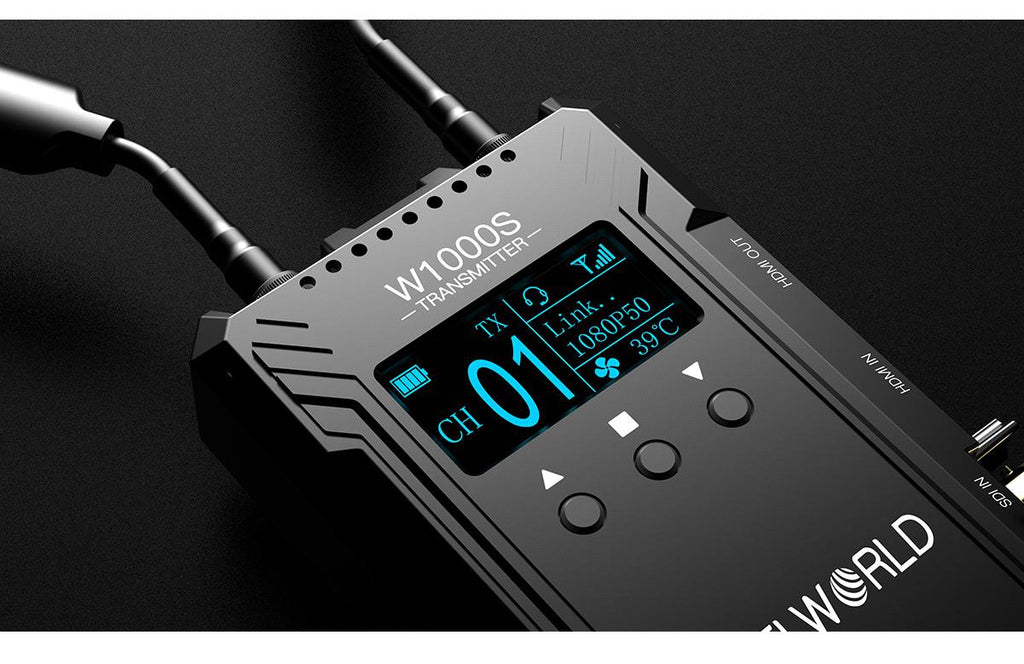 1080P HD Image Quality
The resolution supports 1080P60,1080i60 and under 1080P60 format, provide a higher quality image.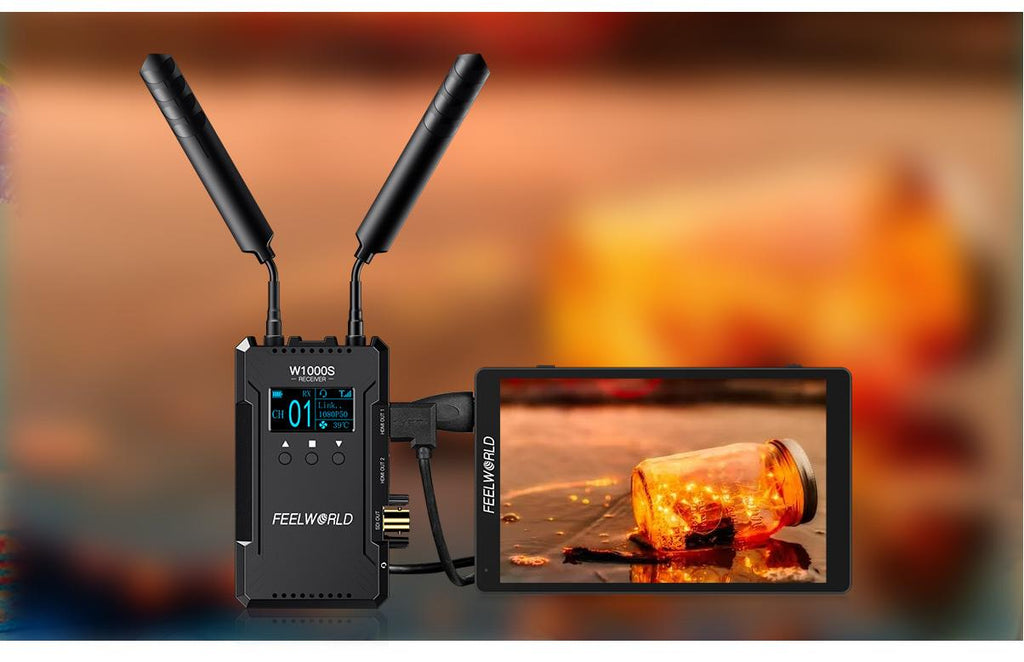 One Transmitter to Multiple Receivers
Monitoring for everyone on set
More than one device can "join the party". W1000S allows you have up to four receivers bound to one transmitter that efficient your crew monitor every shot as it happens.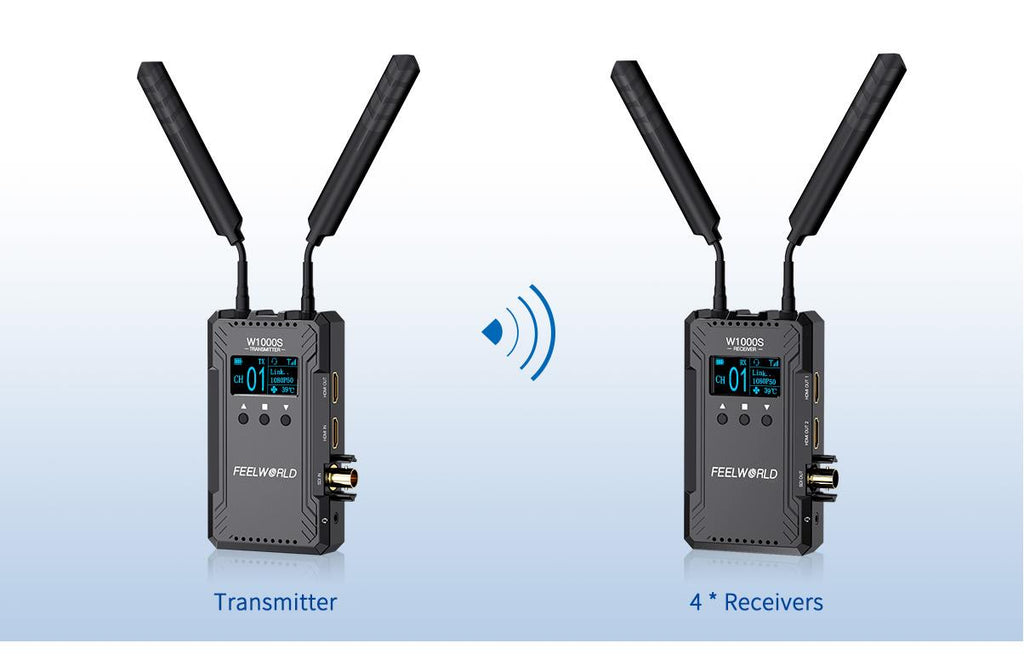 13 Frequency Channels, AUTO Scan
Make the shooting screen more stable
There are 13 frequency channels. Automatically scan the current environment to find out available channels and avoid the channels with interference.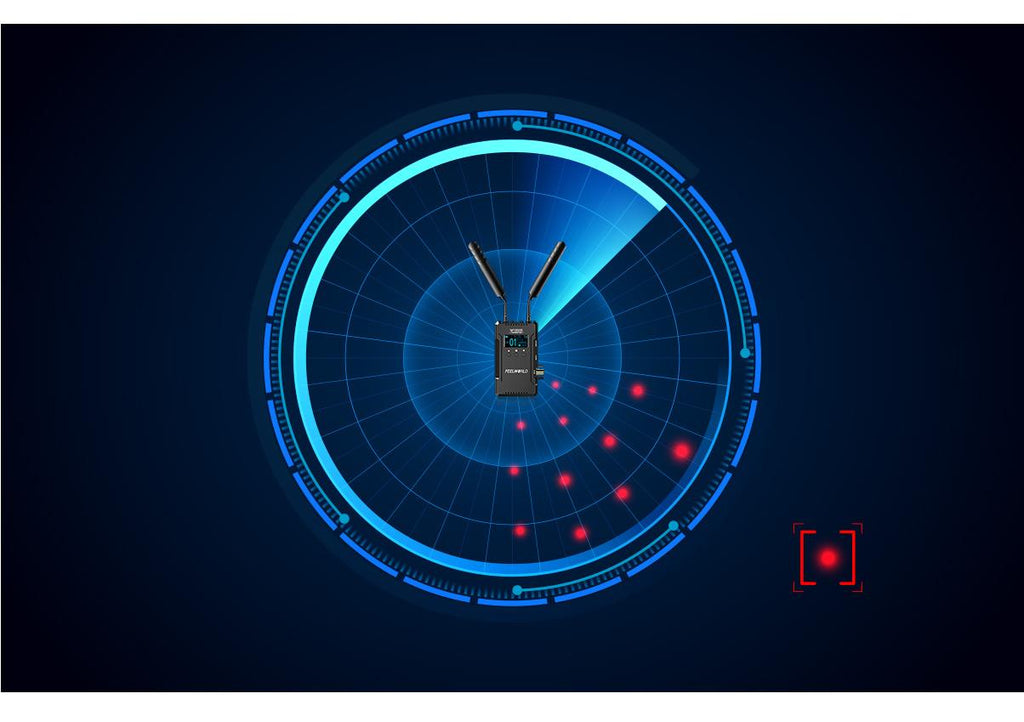 Scene Modes, Switch Freely
Each channel can choose image quality priority or latency priority, switch freely as needed to help you easily cope with different occasions.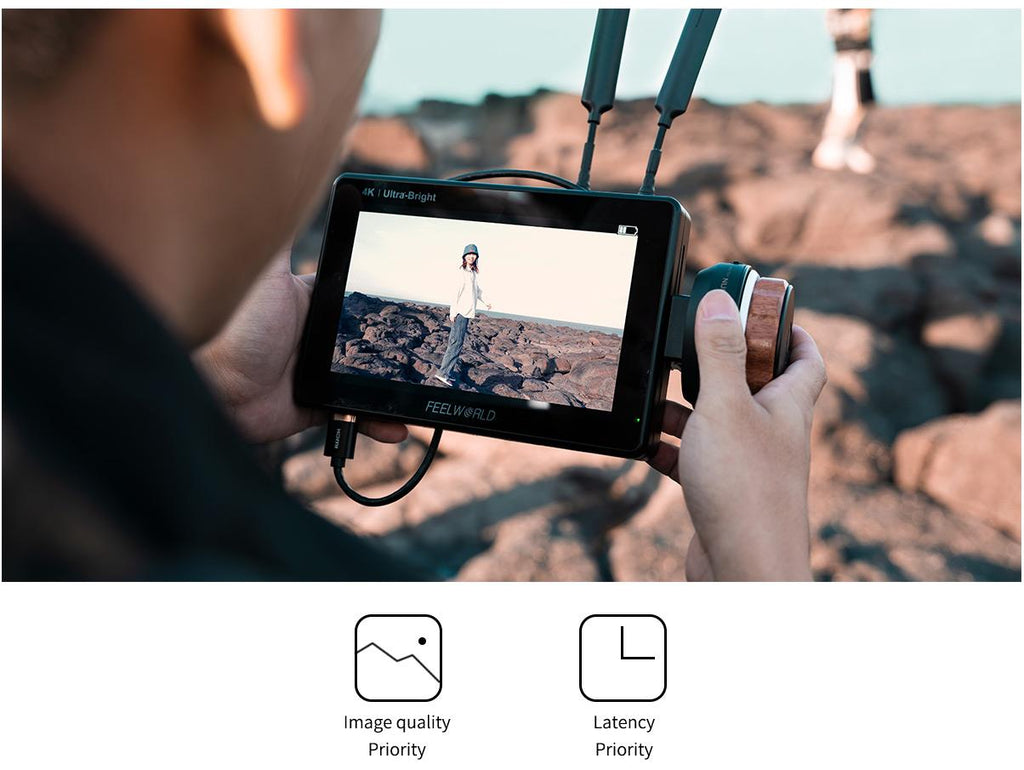 Built-in Fan, Effective Cooling
The excellent cooling design enable the device working long time in hot environment as well.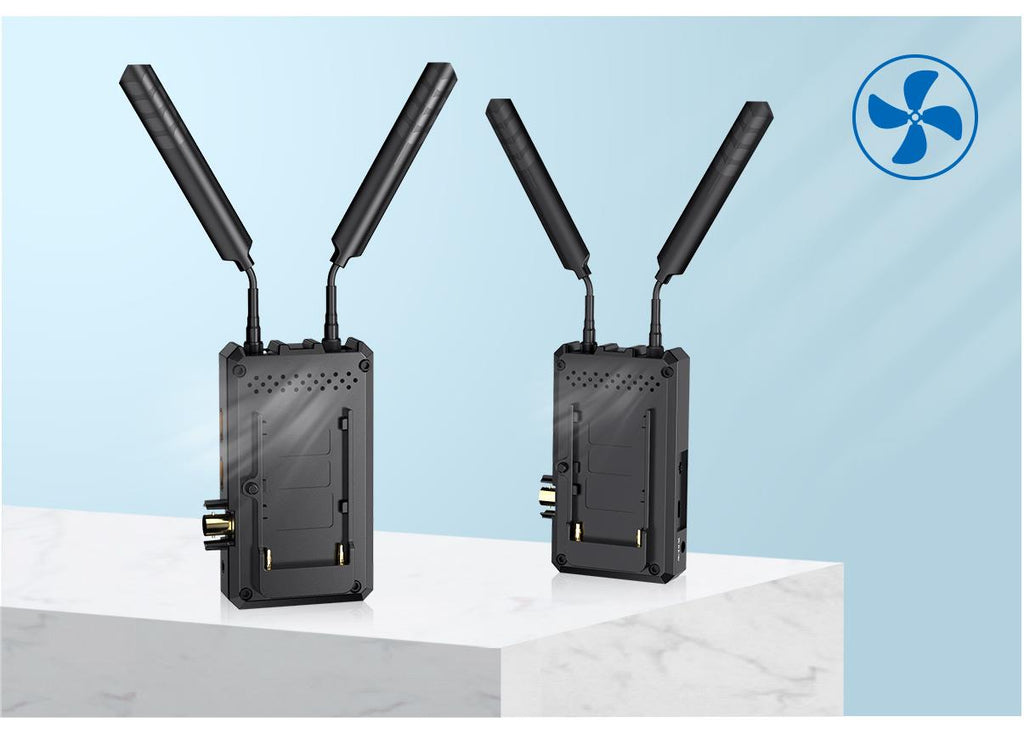 Real-Time APP Monitoring
Support Android/iOS system
Supports both Android and IOS system APP monitoring, up to 4 phones or tablets real-time monitoring with professional monitor features, such as monochrome, false color and center mark(other features are under development).
IOS users can search " feelworld" on APP store to get APP (name: MMonitor)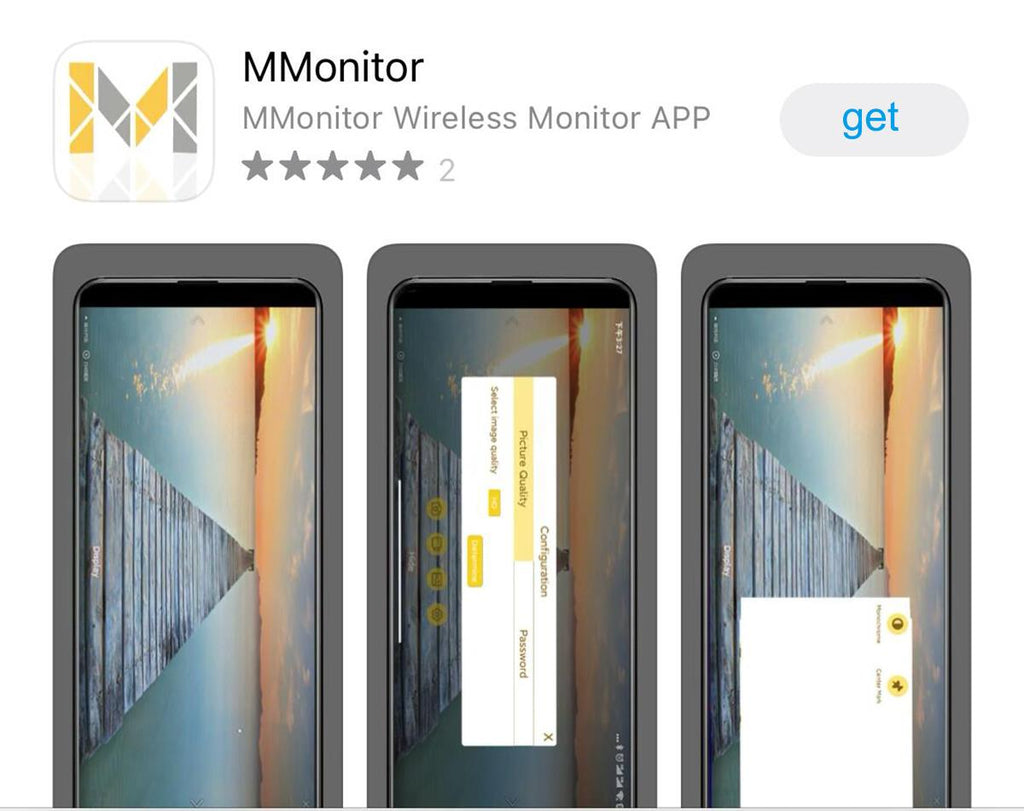 Android APP (name: Feelworld Wireless ) can be downloaded in the "Download" section of the W1000S details page or scan the QR code to download.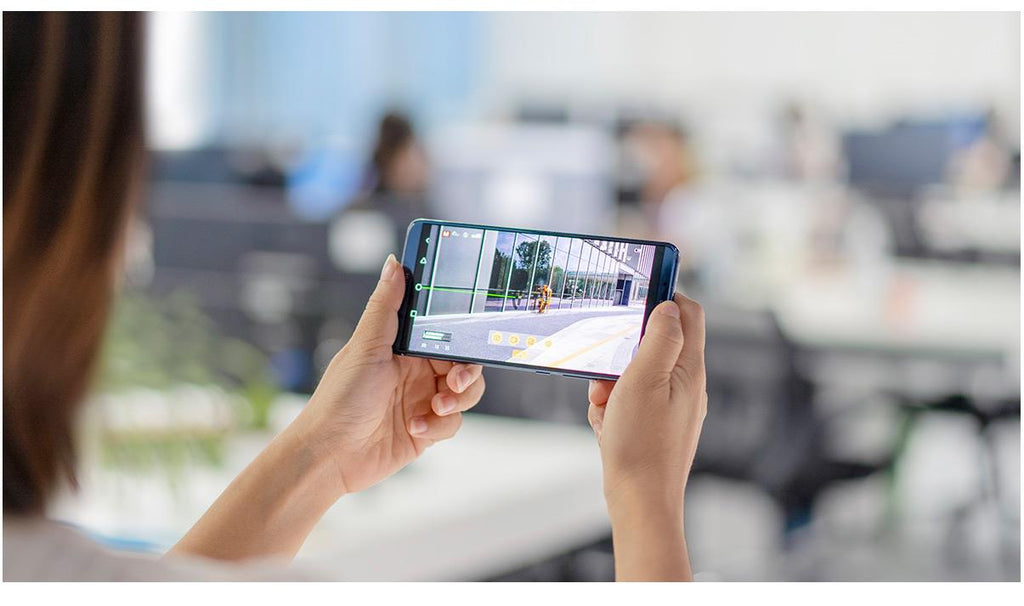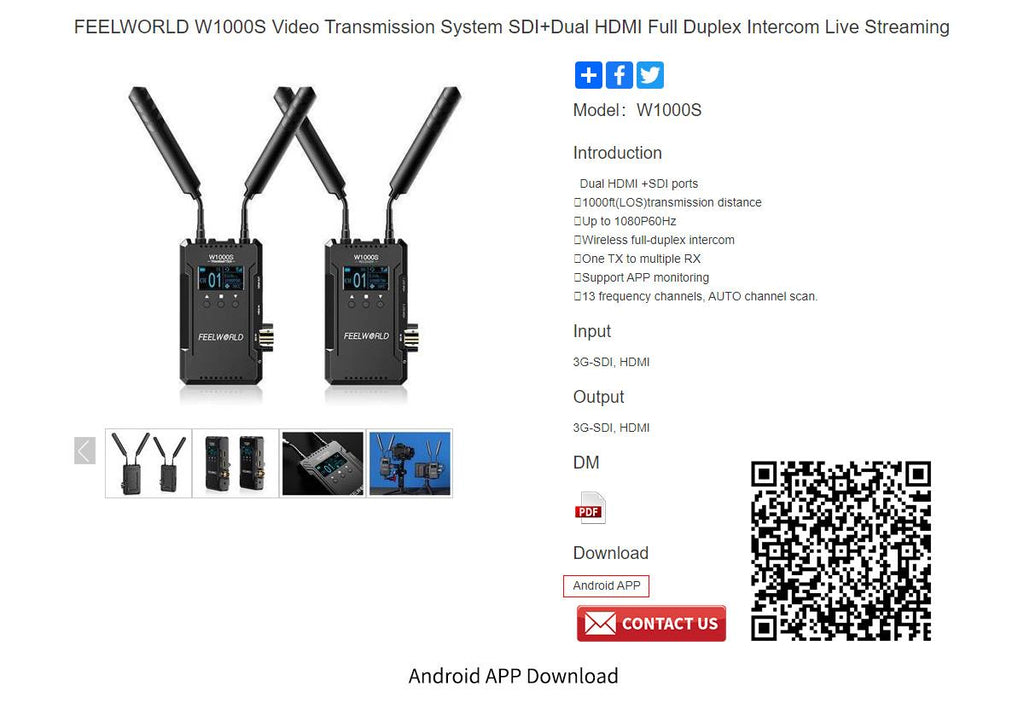 Multiple Power Options
Long-lasting power for your shooting
The W1000S is equipped with Sony F970 battery plate to be powered by standard F970 battery, Type-C ( 5V/1.5A ) charging and 6-16V DC power options.
Note: Due to the actual output of some batteries will be greater than 16V, which may burn the machine. Please ensure that the actual output voltage of the battery used is less than 16V.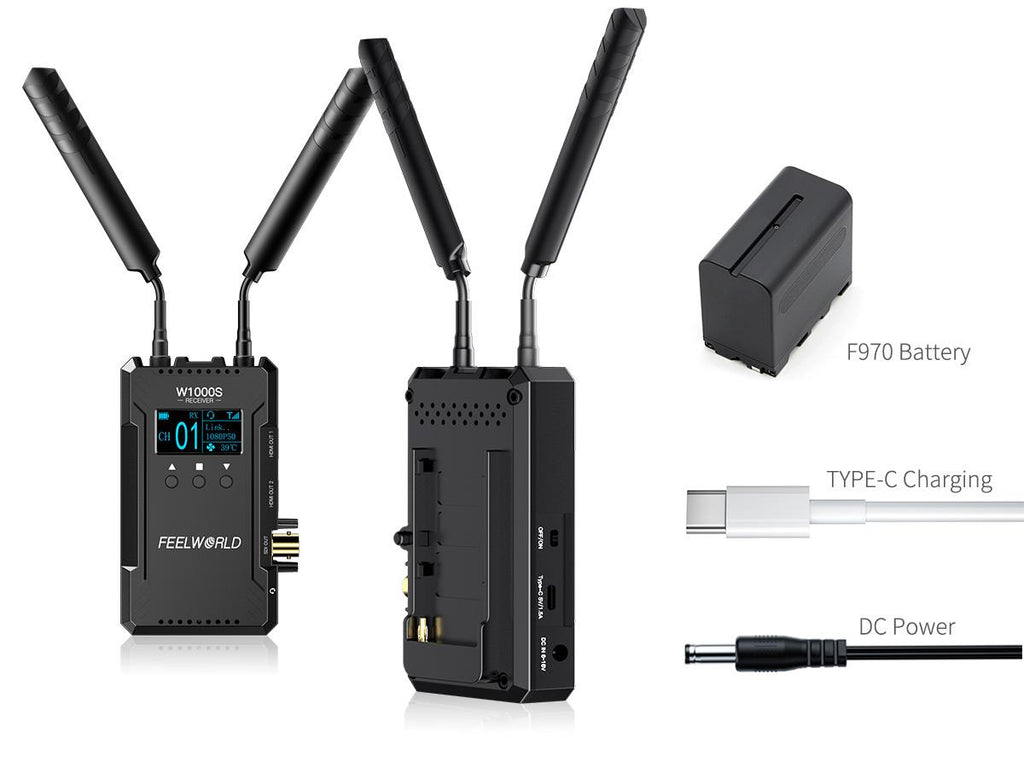 Wide Range Application
The W1000S is widely used in the areas of filmmaking, sports events, wedding live broadcast, church live streaming, corporate events etc.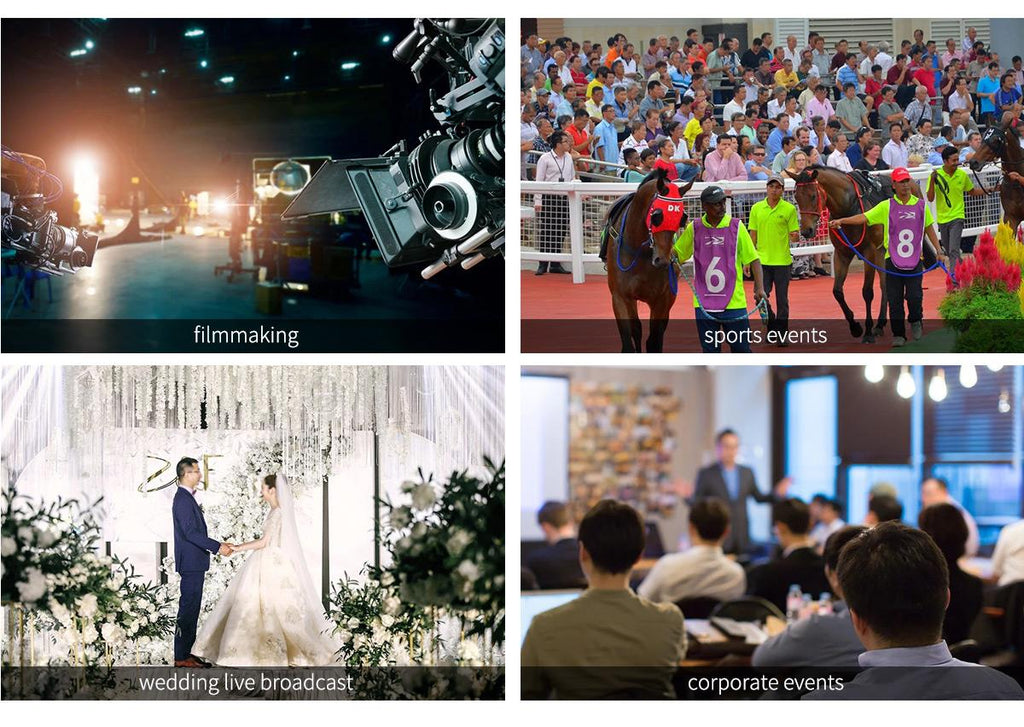 Collapsible tab
Collapsible tab