FEELWORLD TP2A Portable 8" Teleprompter supports Tablet Prompting Smartphone DSLR Shooting
Product image 1

Product image 2
Product image 3
Product image 4
Product image 5
Product image 6
Product image 7
Product image 8
 . Stock in US, EU, JP, AU, CA, RU local warehouse
US/ CA/ RU: 3-7 days delivery
EU/ AU: 3-10 days delivery
JP: 2-3 days delivery
. Shiping Worldwide 200+ Country
7-10 days delivery.
. Warranty: One year warranty time and 14 days return and refund for US, EU, JP, AU, RU.
. VAT for EU customers: The VAT is asked by EU government, and it will be charged when you place the order even if you buy our products on our Amazon Store. There is no difference wherever you buy it, and the VAT is included in the price on those online shopping plates.
More detail: Shipping Policy | Warranty Policy
More detail: Shipping Policy|Warranty Policy
[Package Include] 1× Tablet/smartphone clamp, 1x Magnetic smartphone clamp, 8× Lens adapter, 1× Remote controller, 1× Drawstring bag, 1× Microfiber cloth, 1× Manual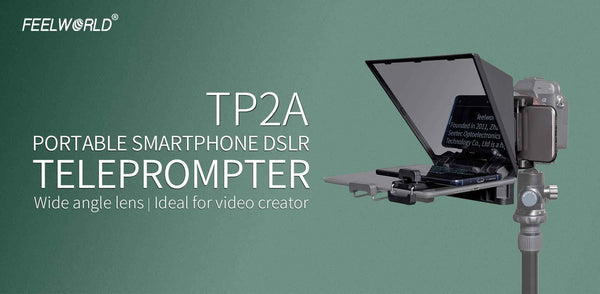 Ideal Teleprompter for Video and Program Creator
Confidence and Charming! No More NG!
Nowadays, the live broadcast especially the short video is popular. In order to make the live broadcast more professional and efficiency, the teleprompter has become an indispensable auxiliary device. It can help users to express their language smoothly and further shorten the distance between the anchor and the audience. FEELWORLD TP2A is a lightweight and portable teleprompter which developed for video shooter. It can be prompted via smart phone or tablet while DSLR camera is recording, allows you to clearly read scrolling text while looking directly into the camera. Supports wide angle lens, Android/iOS app, bluetooth remote control, the operation is easy and convenient, make the video faster and easier. It is the ideal teleprompter for video, program creator.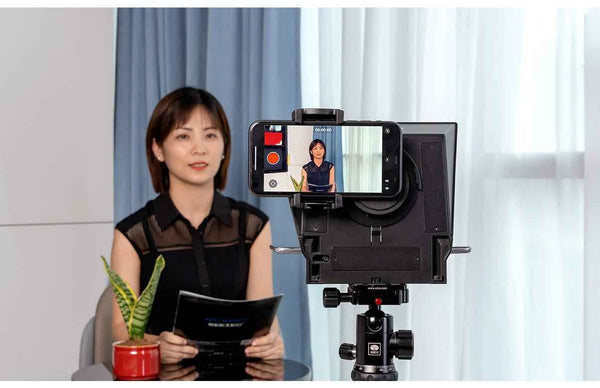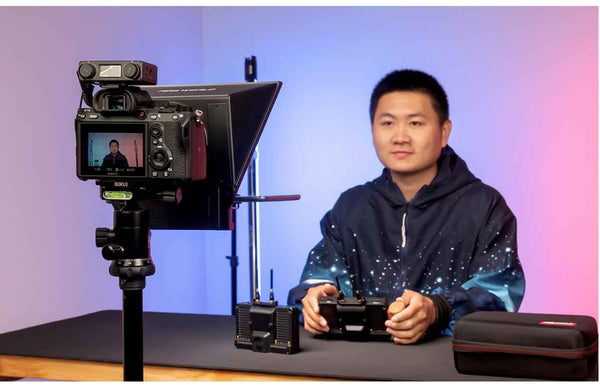 Multiple Collocation Methods
TP2A is compatible with multiple collocation methods for optional. Perfect for vlog, live broadcast, online class, video recording, interviews, video studio, news, presentation, etc.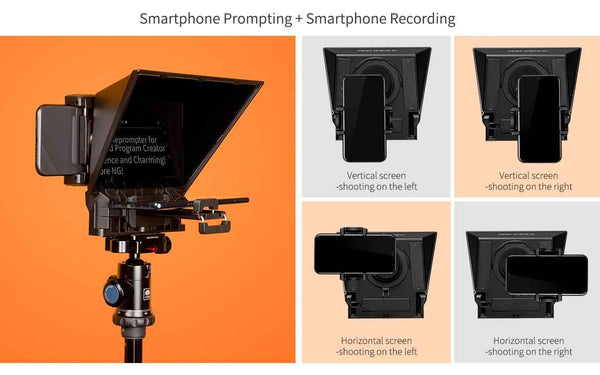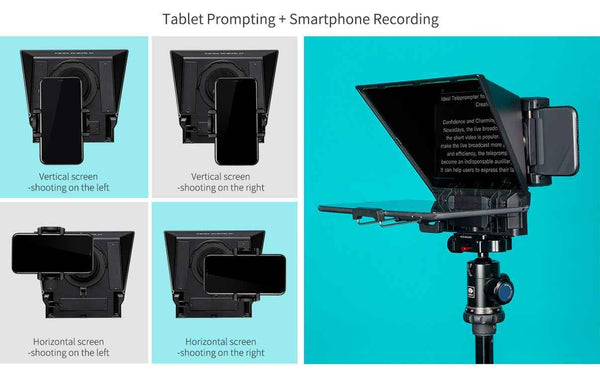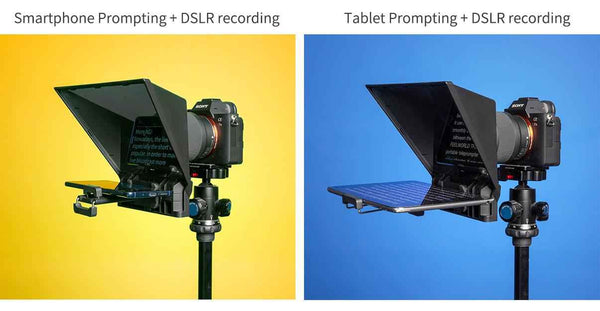 Compact and Portable Design
The TP2A teleprompter uses environmentally ABS industrial plastic material, which is sturdy and durable. The compact and portable design, easy to carry, suitable for quickly using in various occasions.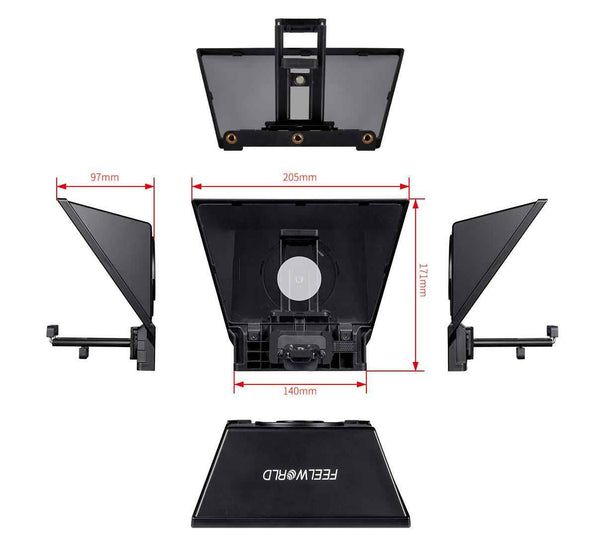 Support Wide Angle Lens
Larger vision without vignetting
TP2A supports shooting with wide angle lens, providing larger vision without vignetting. When the camera shooting with horizontal screen, for smartphone prompting supports more than 28mm focal length , and for tablet prompting supports more than 35mm focal length ; when the camera shooting with vertical screen, for smartphone prompting supports more than 40mm focal length, and for tablet prompting the focal length needs to be more than 50mm.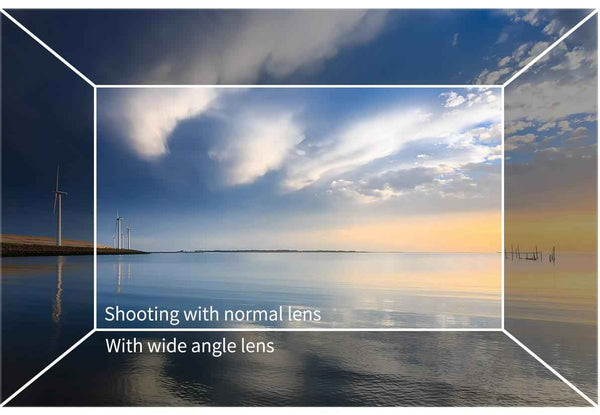 Smartphone/Tablet Clamp, Easy to Install and Disassemble
Supports up to 8"smartphone/tablet
The TP2A equips with a smartphone/tablet clamp, you just need to install it which the side suitable for smartphone or tablet on the teleprompter. Then push the "PUSH" lock to left to lock the clamp. When you don't need it, you can push the "PUSH"lock to right to remove the clamp. It is simple and fast operation.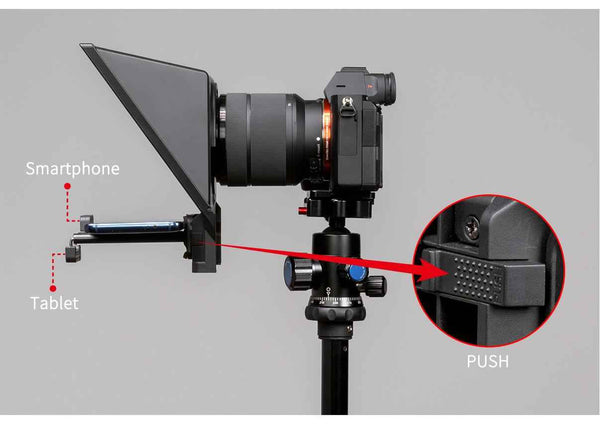 Magnetic Smartphone Clamp

Convenient to Shooting and Monitoring

When you use smartphone shooting , the magnetic smartphone clamp included with the TP2A can not only hold the smartphone on the teleprompter for shooting with horizontal or vertical screens, but also make it easy to take the smartphone out to monitor the shooting effect.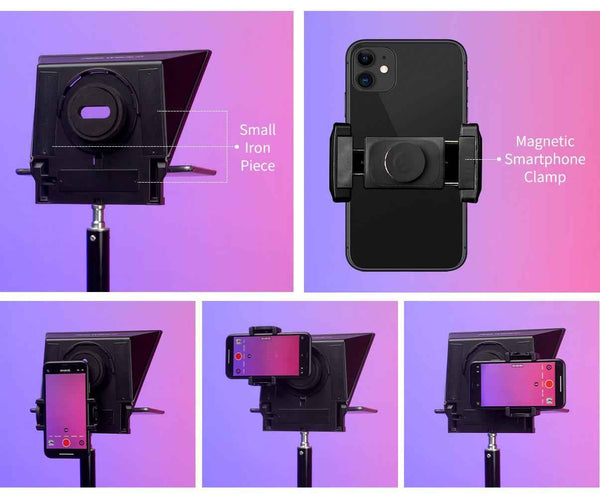 Lens Adapter Ring

The TP2A with standard 49/52/55/58/62/67/72/77mm eight lens adapter rings. You can choose one which suit for your camera lens.
Remark: When installing the adapter ring, you need to remove the UV mirror from the lens, otherwise the adapter ring may be locked together with the UV mirror and cannot be removed.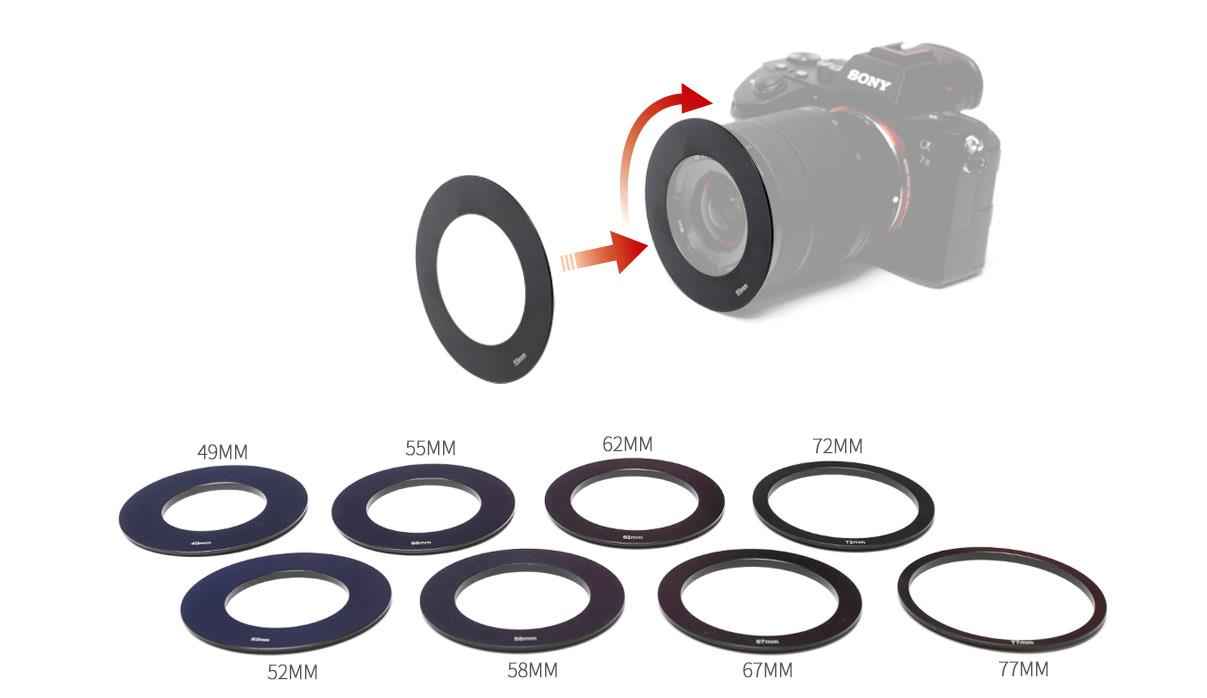 Teleprompter APP + Bluetooth Remote Control

The TP2A equips APP for smartphone/tablet which suitable for Android & IOS system. With bluetooth remote control, you could easily play & pause, speed up & slow down, change the text and background color, etc.
Remark: IOS user can search "FEELWORLD" on APP STORE to download APP
Android smartphone APP (name: FEELWORLD) can be downloaded in the "Download" section of the TP2A details page or scan the QR code to download.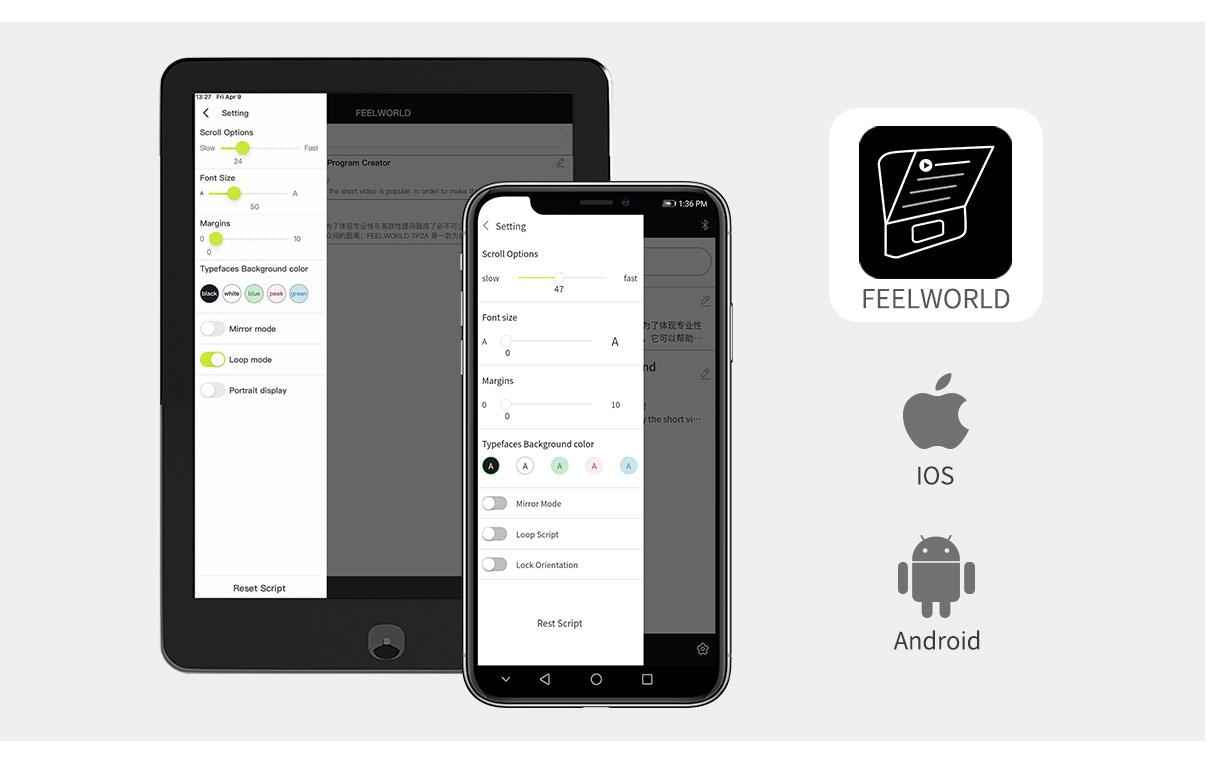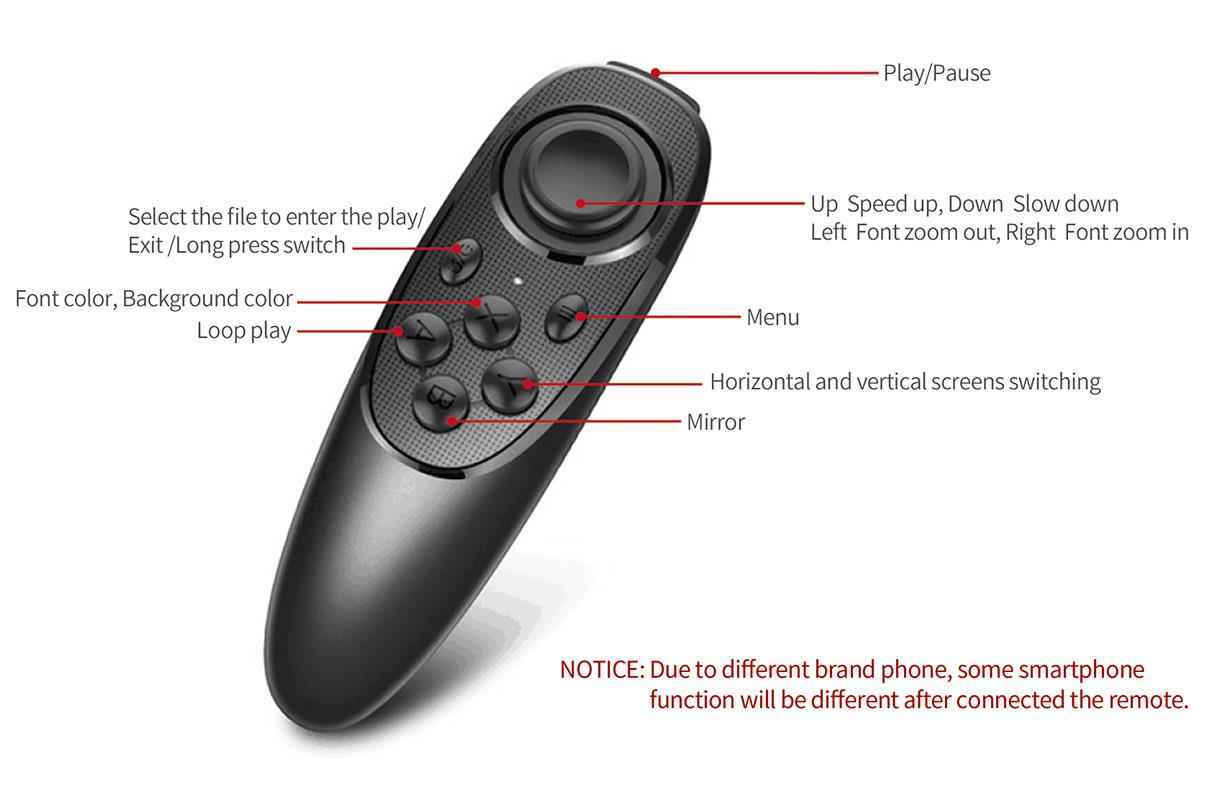 1/4 Standard Mounting Hole

At the bottom of the teleprompter with 1/4 standard size mounting hole, which can be connected to tripod, light stand,etc.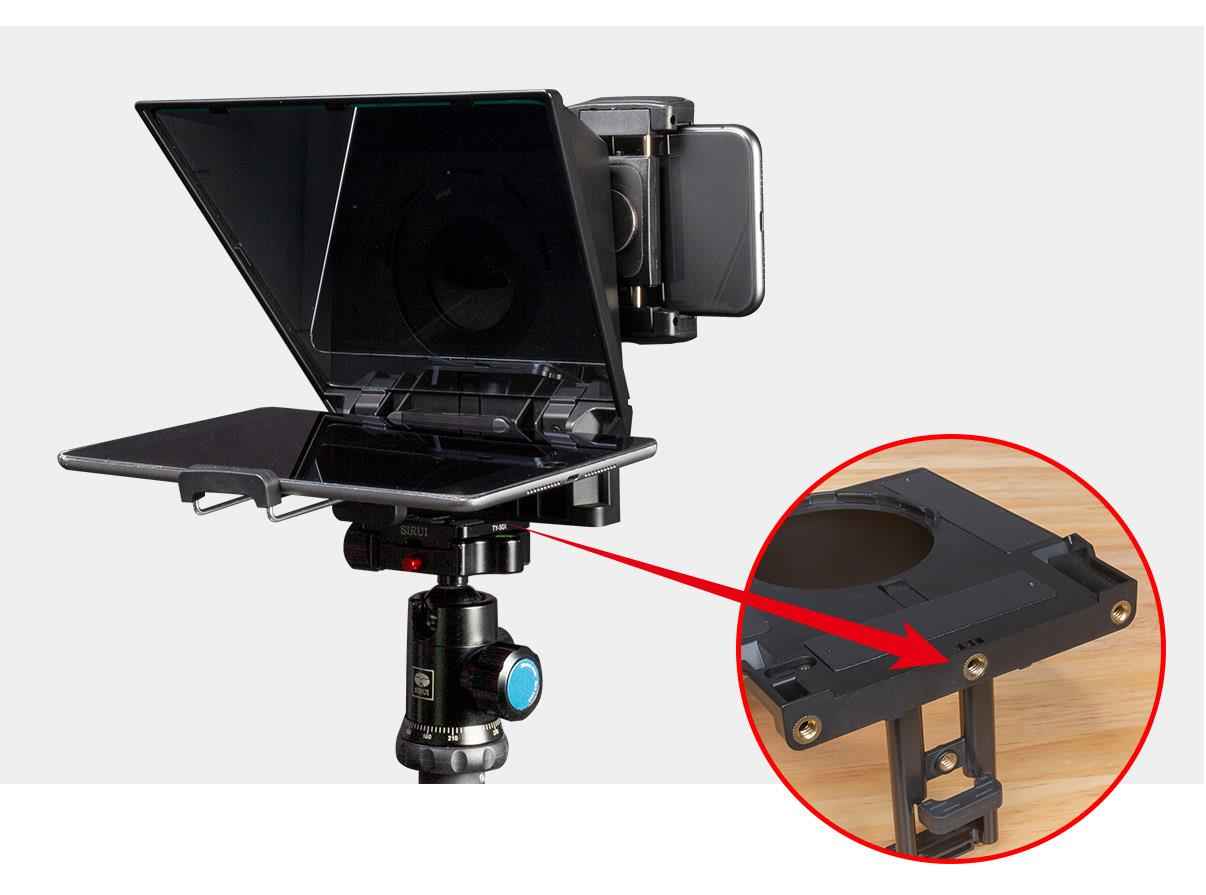 Compact and Light Weight, Easy to Portable

The TP2A is compact in size and weighs only 300 grams, which is easy to put into a attached drawstring bag to protect the teleprompter while also allowing quick transition. In addition, the attached microfiber cloth can keep the teleprompter clean at all times.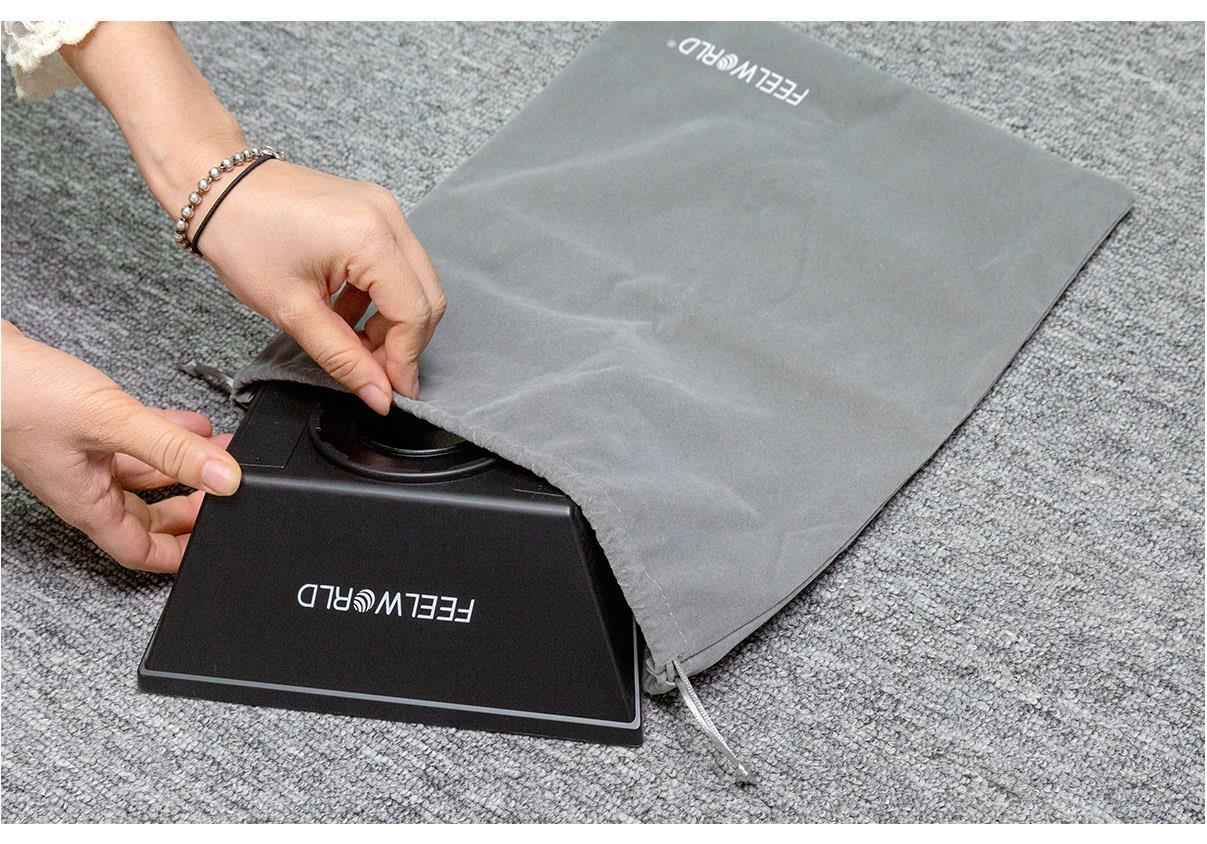 Features
* Smartphone/tablet prompting, DSLR camera shooting.
* Smartphone/tablet prompting, smartphone shooting.
* Support wide angle lens, larger vision without vignetting
* With 49/52/55/58/62/67/72/77mm eight lens adapter rings
* Magnetic smartphone clamp supports smartphone recording with       horizontal screen and vertical screen
* Support android/iOS APP, bluetooth remote control
Specification
 Model  TP2A
 Main Material  ABS
 Tablet/smartphone  clamp support size  Up to 8"for smartphone/tablet
 Shooting Focal Length  No less than 35mm
 System Supporting  Android, IOS
 Control Way  APP, Bluetooth remote control
 Unit Size  205x97x171mm
 Unit Weight  300g
 Color Box Size  217L*177W*122H(mm)
 Outer Carton Qty  10
 Outer Carton Size  645*240*395 (mm)
 Gross Weight  12.4kgs