. Stock in US, EU, JP, AU, CA, RU local warehouse
US/ CA/ RU: 3-7 days delivery
EU/ AU: 3-10 days delivery
JP: 2-3 days delivery
. Shiping Worldwide 200+ Country
7-10 days delivery.
. Warranty: One year warranty time and 14 days return and refund for US, EU, JP, AU, RU.
. VAT for EU customers: The VAT is asked by EU government, and it will be charged when you place the order even if you buy our products on our Amazon Store. There is no difference wherever you buy it, and the VAT is included in the price on those online shopping plates.
More detail: Shipping Policy | Warranty Policy
Click to View More Video Switchers:
LIVEPRO L1  |  LIVEPRO L1 V1  |  L2 PLUS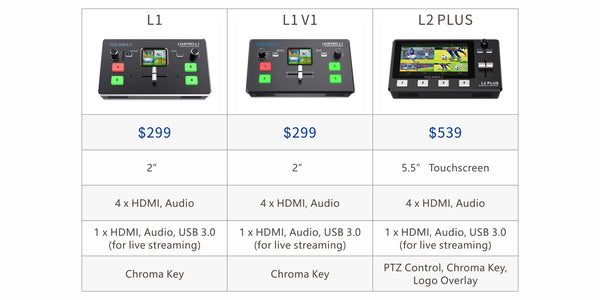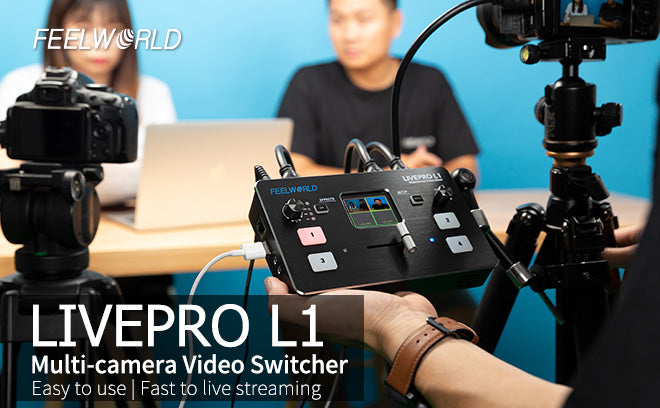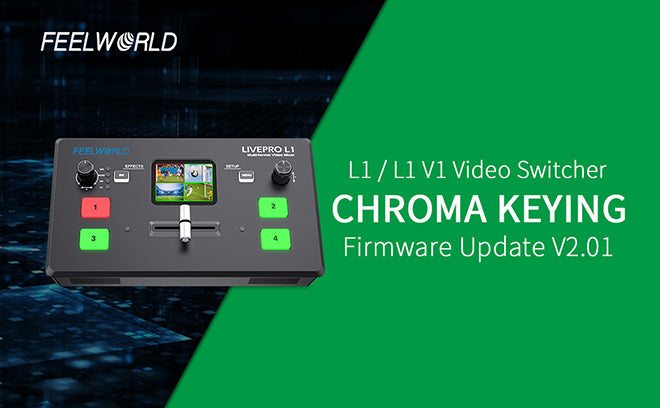 FEELWORLD L1 Video Switcher Can be upgraded Chroma Keying Firmware V2.01
Dear FEELWORLD user, thank you for use FEELWORLD video switcher, in order to improve user experience, we update the L1/ L1 V1 firmware with chroma keying feature.

Please note that all feelworld L1/ L1 V1 can update, and stock in amazon did not update chroma keying yet, but you can update firmware

Click Firmware update guide and download: 

 https://feelworld.ltd/blogs/news/feelworld-livepro-l1-v1-firmware-update-v2-01-chroma-keying-feature
You can download the XPOSE software, please don not put it in the system disk (C disk) after download.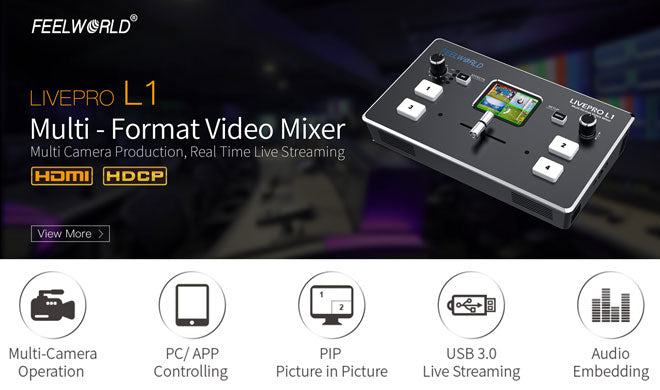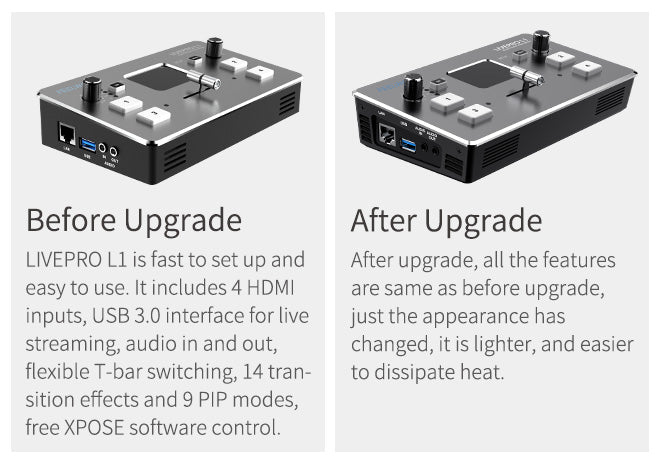 Low Cost, Multi Camera Live Production with Advanced Broadcast Features
LIVEPRO L1 with 4 CH HDMI inputs and 1 HDMI output, all of them support 1080p. For live streaming, there is a USB3.0 interface . And plus, the LAN port for controlling and upgrading; for audio, it has 2 interfaces, one for input, and the other one for output. All of these make it easy to create professional multi camera productions . It is able stream any one from the 4 HDMI inputs to any live broadcasting platform via third party live streaming software such as OBS . Simply connect LIVEPRO L1 and you can switch live between 4 high quality video camera inputs for dramatically better quality images. Or connect a computer for PowerPoint slides or gaming consoles.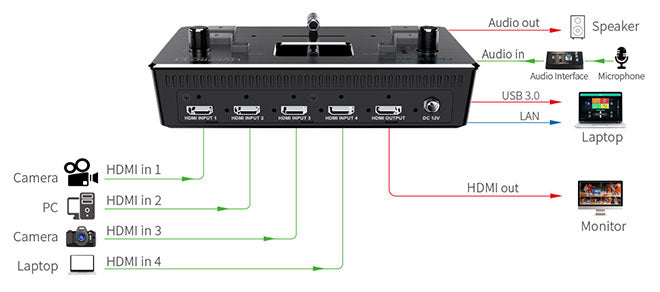 Exquisite and Flexible Control Panel
The LIVEPRO L1 has an exquisite and compact control panel. The 4 buttons are for selecting input signals, green flashing means the signal has been selected, then switch the T-Bar, the selected signal will be displayed on the screen seamlessly, the green button changed to red after switched. The Menu button is for menu setting, the SW button is for selecting different functions such as mixing, scaling, transition time setting and the other functions. The left knob is for voice volume controlling, the right knob is for menu setting as well. From the TFT screen, we can preview 4 HDMI signals and easily do menu setting.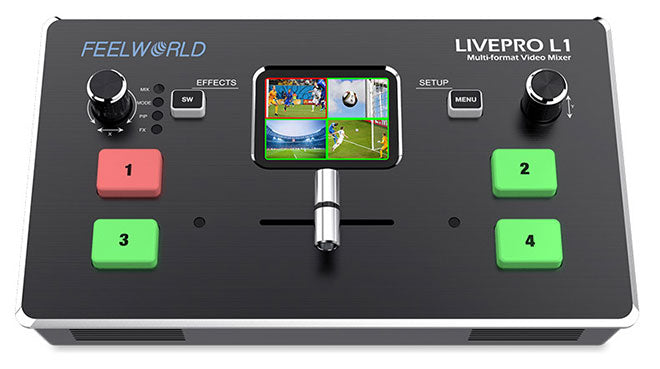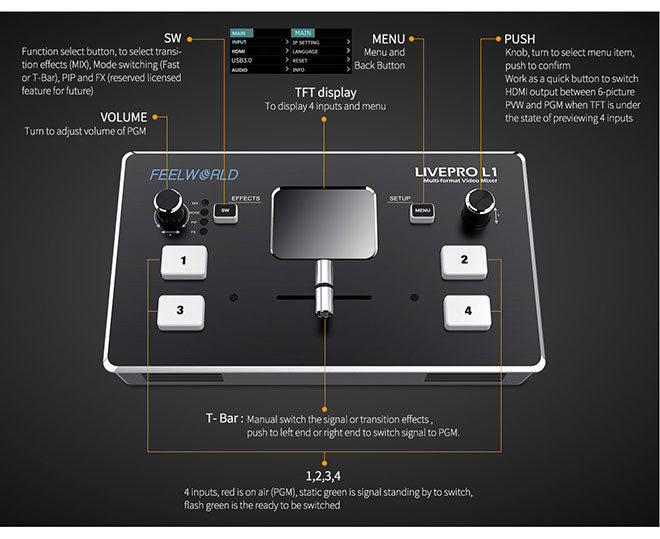 Compact and Light Weight Design
The LIVEPRO L1 is a mini switcher, that is small enough to fit into equipment cases and camera bags. Designed to integrate with typical video production workflows , the LIVEPRO L1 has a screw tap for standard video mounts and conveniently attached onto a tripod to stay out of the way. It is light weight design makes it ideal for mobile video applications too.
Multi- Application, One Solution
For normal people, they need smaller and simpler product to deal with the live applications. The LIVEPRO L1 can be done this , which is with simple and compact design, rich special effects switching function, the screw hole can be fixed the switcher on the tripod. with these, live streaming and multi signal control will be simpler and easier done by single person.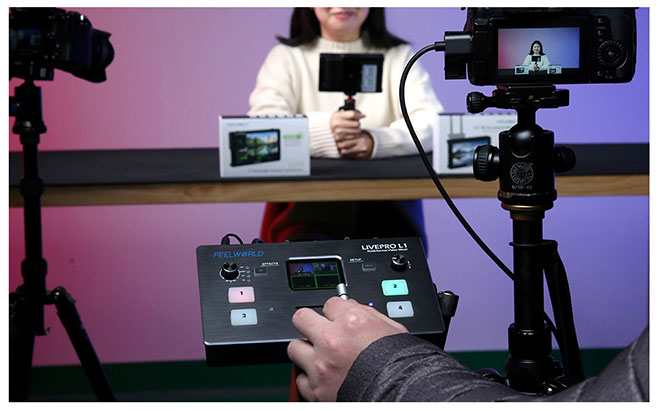 Faster Video Production, Plus Live Streaming
Live production is the fastest way to complete a finished program, plus you can stream it to a live global audience via Youtube at the same time. The USB 3.0 output of LIVEPRO L1 connects to any computer and looks like a built in webcam, so all streaming software for social media platforms work! With up to 4 HDMI inputs you can set up multiple camera angles such as wide shots along with independent close ups of each person in the performance. Or you can connect to a computer with a PowerPoint slide show, video clip playback, websites or gaming consoles. All switching is in real time so you can live stream to any social media platform such as Youtube, Facebook, Tik Tok, Douyu TV and many more!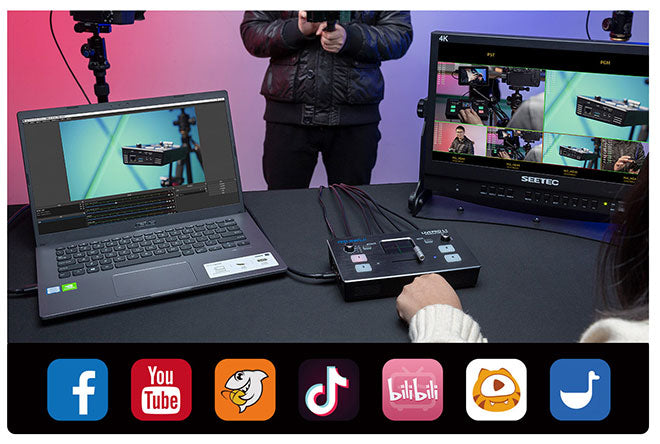 Flexible T-Bar Switching
The T-Bar of LIVEPRO L1 support 14 transition effects and signal switching. Under T-Bar mode, pushing green button, it will flash and push T-Bar to the end (left or right), the source will be switched with selected transition effect. After switching , green turns to red. It is very suitable for video special effects switching of small outdoor scenes to meet the needs of video switching such as radio and television, outdoor sports events, school courseware production, etc.
Note: When T-Bar is not in the end position, no source can be selected.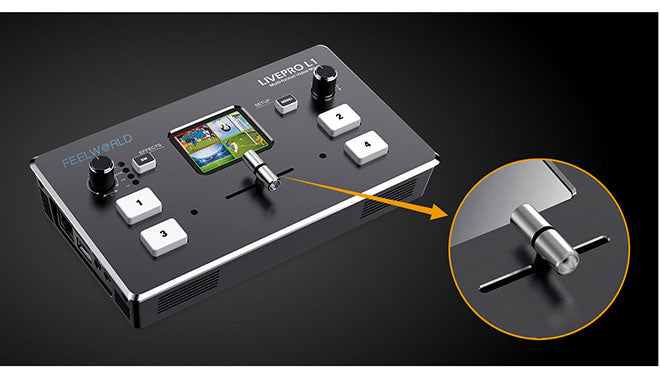 AUDIO IN and AUDIO OUT
LIVEPRO L1 with AUDIO IN and OUT. The output interface can be connected to speakers, headsets, etc.; The AUDIO IN interface is a linear input interface (LINE IN), which is connected to digital signal. The microphone collects analog signals, so when the microphone is connected to the LIVEPRO L1 audio input interface directly, there is no way to receive audio.
Solutions for live broadcasting audio problems:
• If there is microphone and sound adapter, please connect microphone to the sound adapter and and connect the output interface of the sound adapter to the AUDIO IN interface.

• If there is microphone but without sound adapter, please connect the microphone to the MIC interface of computer.

• If there is wireless microphone and it with earphone interface, please connect this interface to AUDIO IN of LIVEPRO L1. 

• If there is device of MIC to Line output, please connect to AUDIO IN of LIVEPRO L1

USB interface and HDMI output can set PVW and PGM independently
Allowing you to choose freely
The USB interface of LIVEPRO L1 also can be used as signal output except HDMI output. They can connect computer or monitor to set PGM and PVW independently . You can choose to set any of them as preview or PGM as you like.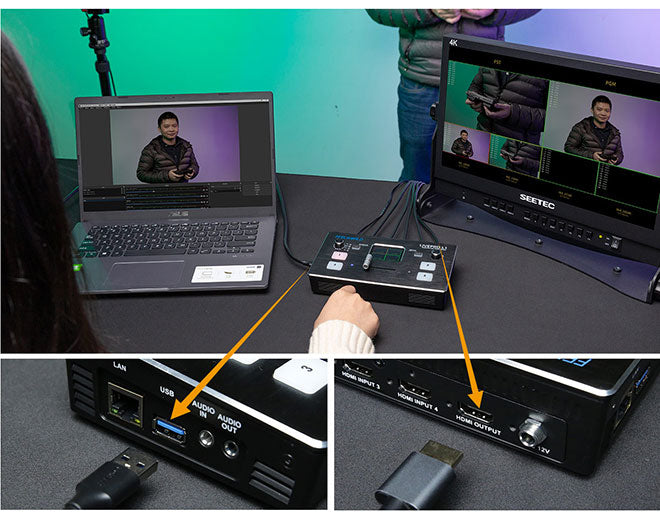 6 Picture PVW, PIP
When the switcher is connected with an external expansion screen, it can preview real-time monitoring on 6 pictures, including PGM, PST and 4-channel HDMI input signals, and the audio column is displayed.Plus, you can set 9 layouts for PIP (Picture in Picture) mode. This is very useful for large-scale multi stand field production.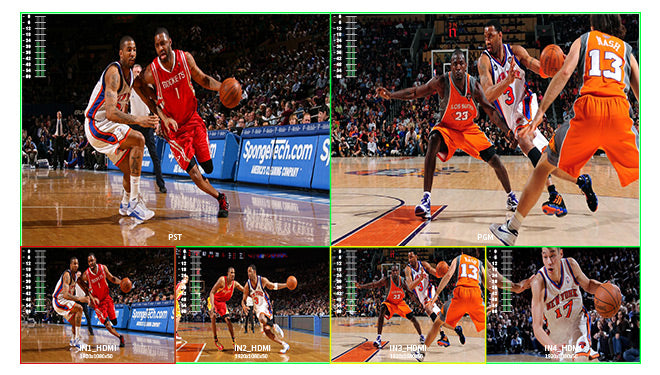 Make Live Brocasting More Convenient and Fast
To ensure maximum compatibility, LIVEPRO L1 features a USB connection that operates as a simple webcam source. That means you can plug in and instantly get working with any video software. The software is tricked into thinking the LIVEPRO L1 is a common webcam, but it is really a live production switcher! That guarantees full compatibility with any video software and in full resolution 1080HD quality. Choose any software you like, such as OBS software for live streaming, or conference software (Tencent conference and Yealink ) for business presentations. LIVEPRO L1 works with software and platforms such as OBS, acquisition software(AMCap, ECap, Potplayer), conference software (Tencent conference and Yealink) , Youtube, Facebook, Zoom, Tik Tok and more!
Note: OBS Streaming is available to download on  https:/obsproject.com/download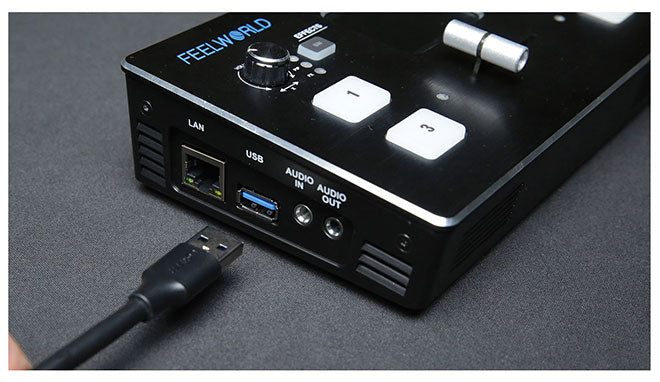 Multiple Application Scenarios Suitable
LIVEPRO L1 is widely used in sports events, e-sports competition, business presentation, wedding , character interview, education and training, etc.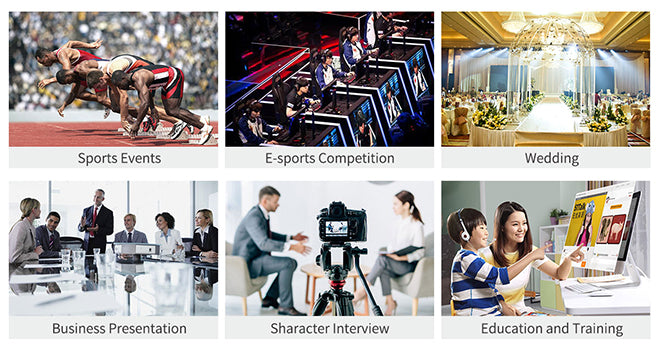 Add Exciting Video Effects
One of the benefits of LIVEPRO L1 is the professional production values that are possible using the range of built in video effects. Push button SW to open up the transition effect menu, use knob to select the desired transition effect icon and push the knob to confirm. The "cut" in menu ensures an instant cut when switching source. You can also select the type of effect you want including mix, which does a smooth transition between sources, and dip which fades via a color during the transition. The in MODE menu allowing 0 .5S~ 5.0S settings. Plus, you can select PIP mode.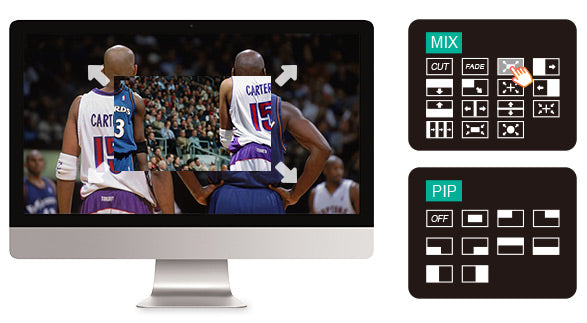 Package Include
1× 1.5A Adaptor
1× USB 3.0 Cable
1× Manual
Futuction
* 2"TFT display on board to live preview 4 inputs
* Auto cut and manual switch (T-Bar)
* USB capture video complying with UVC for live streaming
* Audio offers embedded or external source to select
* Support switch between 6-picture PVW and PGM to HDMI out
* Support PIP
* 14 transition effects on T-Bar
* Control by PC or Smart phone (via APP)
Specifications
Display Spec.
Model: LIVEPRO L1
Screen Size: 2.0" TFT Display
Backlight: LED

Input / Output
Input: 4 X HDMI
Output: 1 X HDMI, 1×USB TypeA ( USB 3.0 )

Audio
Audio In: 1×3.5mm Stereo Jack
Audio Out: 1×3.5mm Stereo Jack

Input Solution
HDMI
SMPTE 720p@50/60 | 1080p@23/24/30/50/60)
VESA 1024×768@60 | 1280×720@60|1280×768@60 | 1360×768@60

Output Solution
HDMI
SMPTE 720p@60|1080p@60|1080p@30/50
VESA 1024×768@60 | 1280×720@60|1280×768@60 | 1280×1024@60 |1360×768@60

General
Input Voltage: DC 12V / 1.5A
Max Power: 18W
Working Temperature: -30℃~50℃
Humidity: 10%~85%
Unit Size: 185(L) x 110(W) x 39(H)mm
Unit Weight: 648g
Collapsible tab
Collapsible tab