FEELWORLD TP16 16-inch Folding Teleprompter supports up to 16" Tablet Horizontal Vertical Prompting Bluetooth Remote Control
Product image 1
Product image 2

Product image 3
Product image 4
Product image 5
Product image 6
Product image 7
Product image 8

Product image 9
Product image 10
Product image 11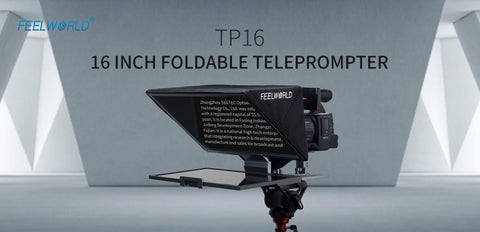 Speak in front of camera with confidence
FEELWORLD TP16 with larger beam splitter, easily installation, flexible control, made you speak in front of the camera with confidence, lesser on your script.Suitable for program recording, character interview, online course, vlog creation, commercial Ads shooting, ideal for video, program creators.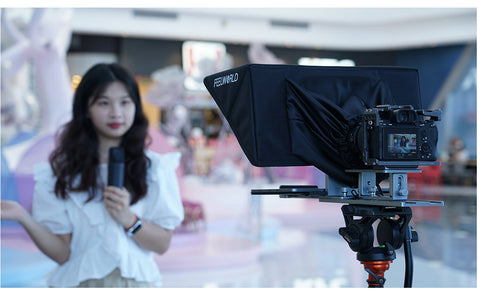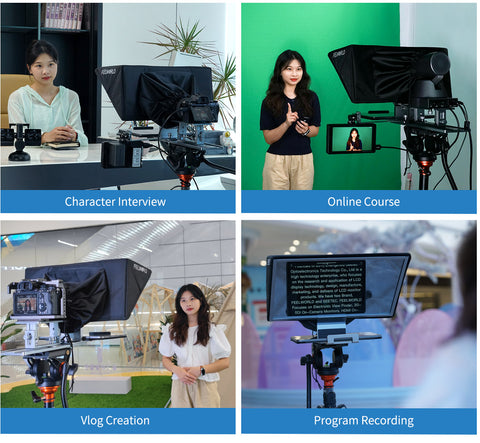 Foldable Design, Simple Assembly
Hinged glass frame tilts 135°to give speaker the best viewing angle, easy to assembly and quickly.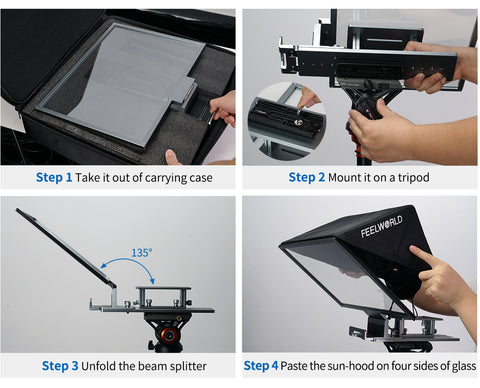 Clear Beam Splitter
The 16" high definition clear beam splitter glass has 70% light transmission and reflects your scripts clearly.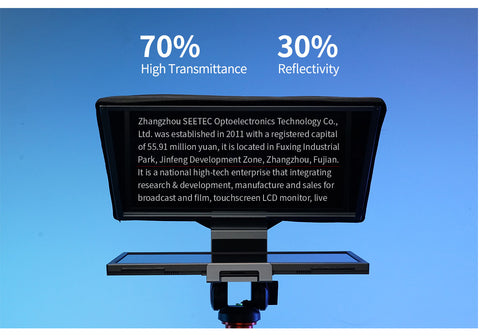 Durable All Aluminium Alloy Structure
Adopts full aluminium structure, the overall texture is delicate and upscale, sturdy and durable.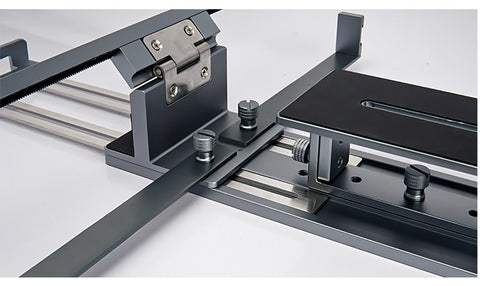 Compatible with Multiple Cameras
TP16 compatible with DSLR camera, small and medium camcorder, webcam shooting, you can fix the REC device on the teleprompter via customized 1/4 screw.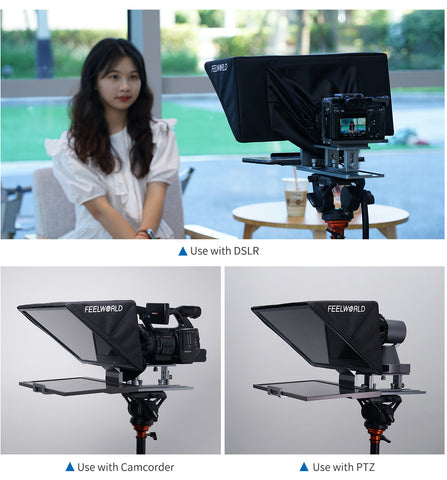 Use With Camera Vertical Shooting Bracket, More Shooting Possibilities
The camera shooting is default to horizontal mode, but you can use with a camera vertical shooting bracket to suit for the video creation of Tik tok,Instagram and other video platforms.
Note: Camera vertical shooting bracket need to purchase separately.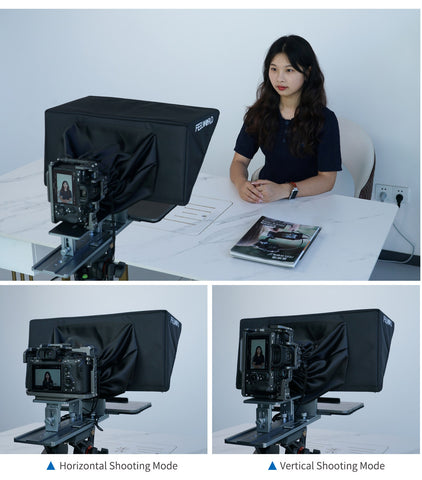 Horizontal/Vertical Prompting
Supports up to 16-inch prompting device
TP16 adopts telescoping prompting device clamp with a maximum extension distance of 255mm and support up to 16 inches prompting device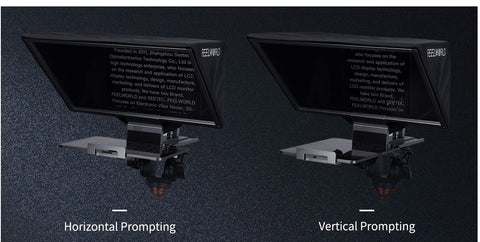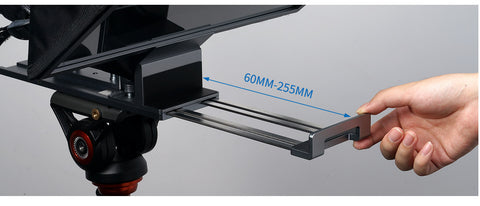 Lifting Mount, Adjust Lens Height
You can adjust the lens height of shooting device via TP16's lifting mount to avoid the edge of teleprompter and prompting device enter the lens.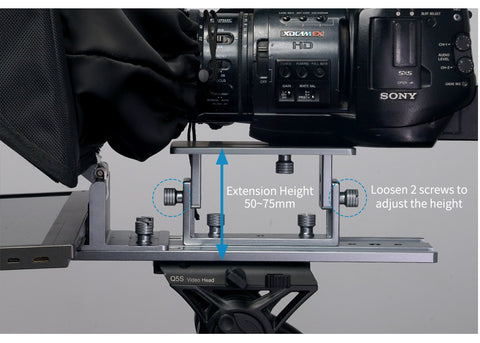 Wide Angle Shooting, Bigger Viewing
TP16 supports wide angle lens shooting, the viewing is bigger and allow to avoid the frame of teleprompter appear when shooting.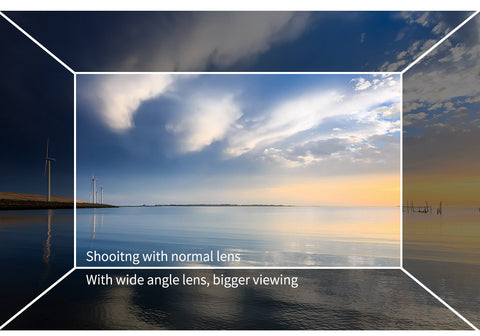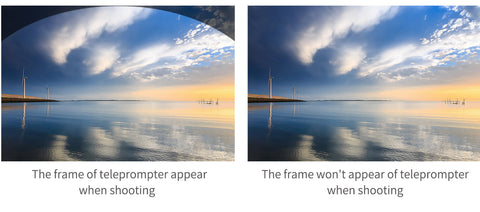 Exclusive Prompting APP
Compatiable with IOS &Android system
The teleprompter APP compatible with iOS & Android system, suitable for phone and tablet installation.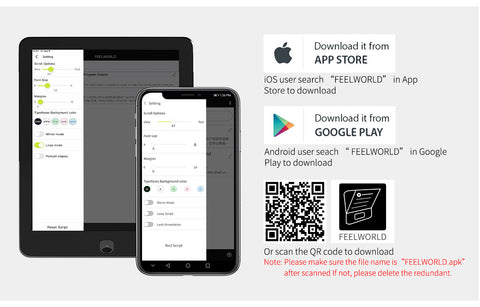 Bluetooth Control
The teleprompter is equipped with a bluetooh remote control which can remote control the prompting device within 100 meters. Supporting content in the APP play and pause, playing speed, font adjustment and other settings, which is easy to use.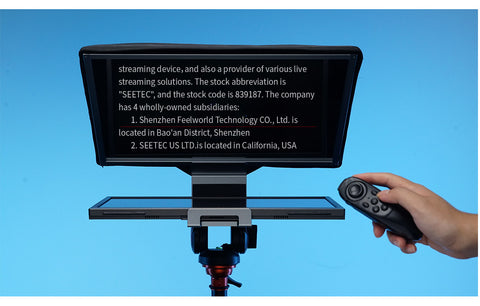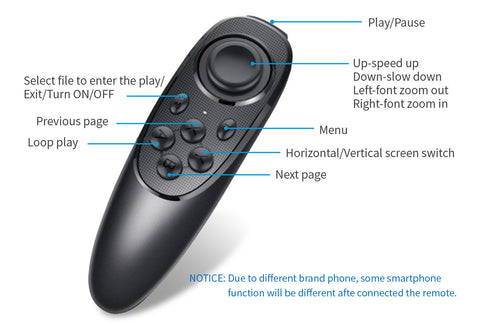 Removable Sun-hood
Removable sun-hood easy to assembly, effectively avoid light interference and make the prompted contents clearer.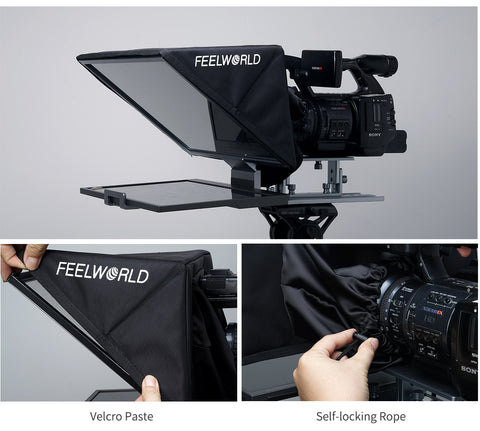 Expansion Clamp, Mount External Device
Equipped with 2 hot shoe interface expansion arms, which can be connected to external devices such as microphone and fill light, enriching your shooting experience.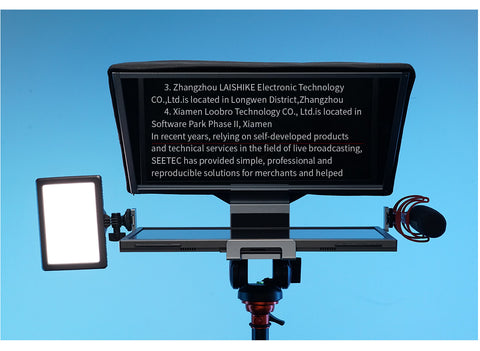 Portable Carrying Case
Portable and easy to carry, keep the equipment neat and organized
Equipped with customized portable storage case, with built-in foam to fix the teleprompter,effectively protect the teleprompter while on the go.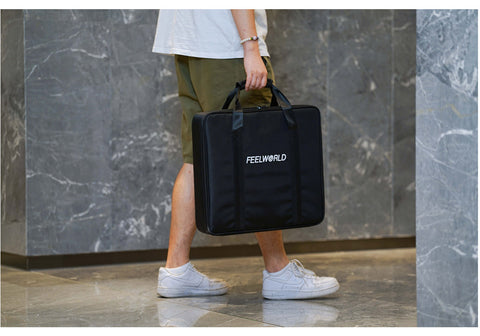 FEATURES
* Folding design, convenient to storage
* 16-inch Standard beam split glass with 70/30 visible light transmission
* Supports prompting device horizontal/vertical prompting
* Compatible with DSLR, small and medium camcorder, webcam shooting
* Supports wide angle lens shooting, provides larger vision
* Standard accessory extension clamp can be installed with microphone, fill light
* Exclusive prompting APP, bluetooth remote control, easy to operate
* Portable carrying case, better protect the device and more convenient to move
Specification
| | |
| --- | --- |
|  Model |  TP16 |
|  Main Material |  CNC |
|  Beam splitter transmission/reflection ratio |  70/30 |
|  Shooting Focal Length |  More than 24 mm |
|  Remote Controller Using Distance |  100m |
|  Supported Witdth for Prompting Device |  60-255mm |
|  System Supporting |  Android, IOS |
|  Control Way |  APP, Bluetooth remote control |
|  Unit Size |  383*362*70(mm) |
|  Unit Weight |  2150g |
|  Unit Packaing Size |  454*124*448(mm) |
|  Outer Carton Qty |  4 |
|  Outer Carton Size |  520*470*460 (mm) |
|  Gross Weight |  kgs |
Packaging List:
1× Teleprompter
1× Sun-hood
2× Extesion Clamp
7× 1/4 Customized Screw
1× Remote Controller
1× Microfiber cloth
1× Carrying Case
1× Manual