FEELWORLD NDI20X Simultaneous 3G-SDI HDMI NDI IP Live Streaming PTZ Camera with 20X Zoom Support PoE
Product image 1
Product image 2
Product image 3
Product image 4
Product image 5
Product image 6
 . Stock in US, EU, JP, AU, CA, RU local warehouse

US/ CA/ RU: 3-7 days delivery
EU/ AU: 3-10 days delivery
JP: 2-3 days delivery
. Shiping Worldwide 200+ Country
7-10 days delivery.
. Warranty: One year warranty time and 14 days return and refund for US, EU, JP, AU, RU.
. VAT for EU customers: The VAT is asked by EU government, and it will be charged when you place the order even if you buy our products on our Amazon Store. There is no difference wherever you buy it, and the VAT is included in the price on those online shopping plates.
More detail: Shipping Policy | Warranty Policy
Click to View More Similar Cameras: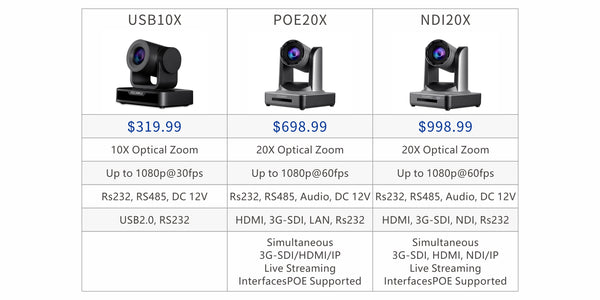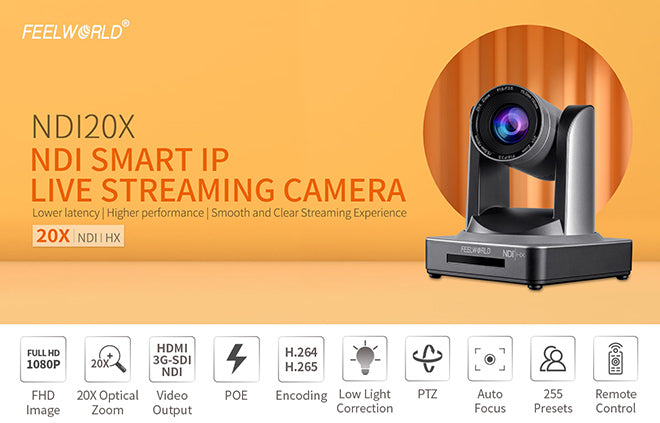 NDI Professional Live Streaming Camera
All-in-one Live Video Production Solution
FEELWORLD NDI20X is a full HD PTZ camera with 20x optical zoom, simultaneous NDI/IP, 3G-SDI, HDMI video output interfaces. Supports PoE , which allows you easily transmit all the informations and power for device only by one cable. It is ideal for video conferencing, education, live broadcasting, broadcasting and churches.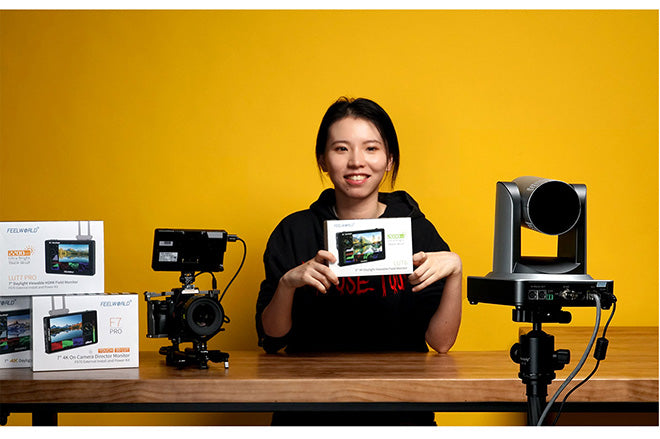 Multiple Video Output
Stream to Your Favorite Platforms
Simultaneous HDMI, 3G-SDI, and IP/NDI video output and multiplel network Protocol allow NDIX20 to easlily live streaming to your favorite platforms, such as YouTube, Fackbook, Twitch, etc.
Note: The 3G‐SDI is available for 100m transmission at 1080p60 format.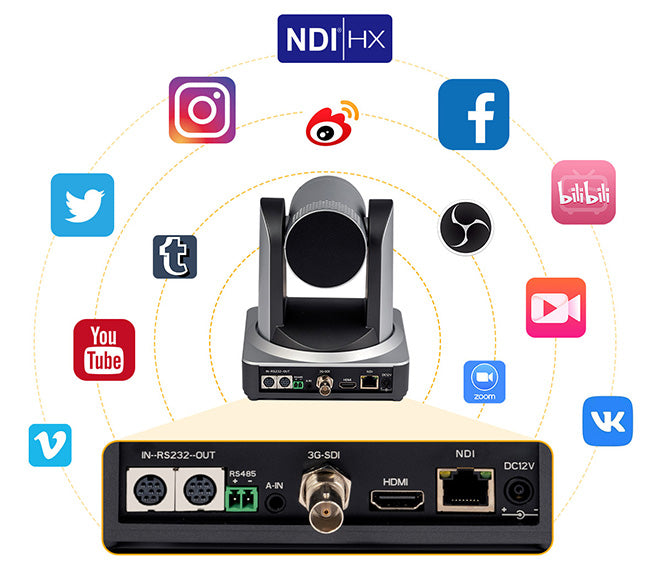 NDI|HX Live Video Production Support Protocol
NDI20X comes with NDI interface transmission protocol, with low-latency video and audio transmission, and reduces wiring costs and deployment time, satisfies the needs of studios and on-site multi-camera video production.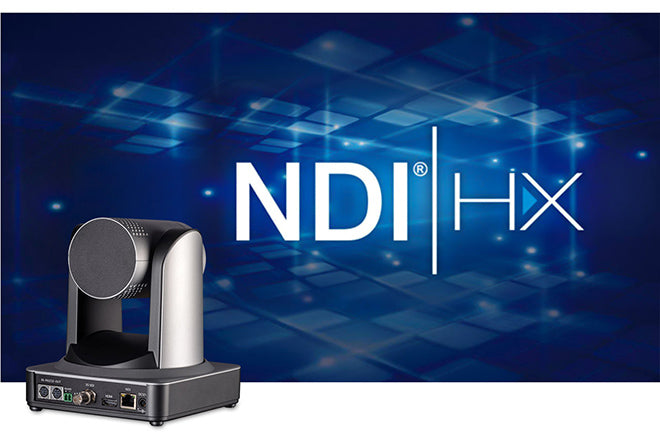 PoE Support
No more pesky wires
The PTZ camera supports PoE (Power over Ethernet), just one cable can be used for power, video/audio streaming and control.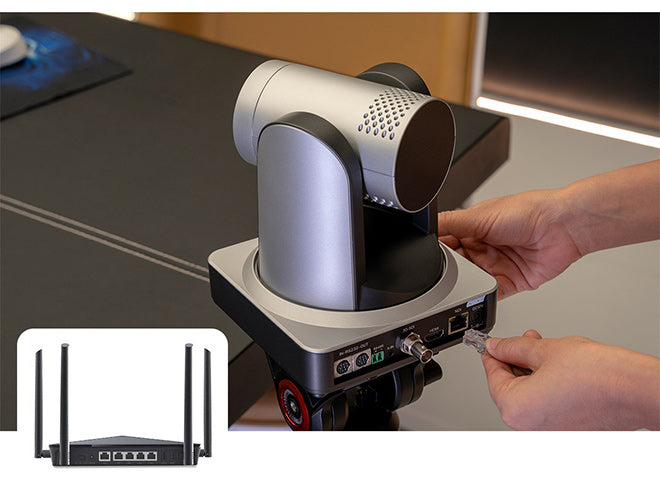 1080P@60 HD Image Quality + 20X Optical Zoom
Realize a Life-like Video Experience
The high resolution 1080P@60fps, outstanding color reproduction,20X zoom delivers premium optics and life-like video to create the experience of sitting together in the same room, even if you are a thousand miles away.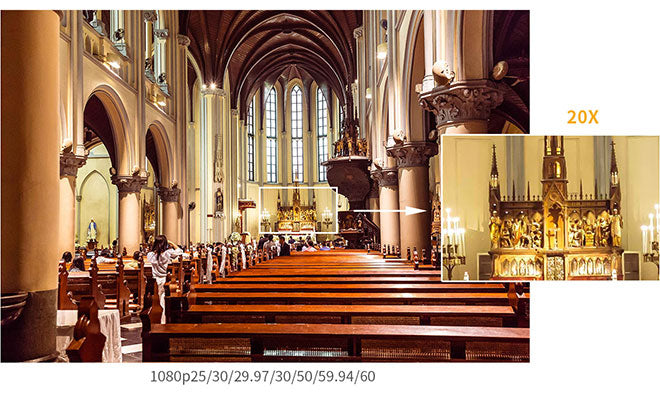 Low Light Correction
The low-light performance technology can automatically adjust the brightness level. Every moment can be seen clearly even in dark or back light condition. Outstanding performance and video quality make live recording extremely convenient.
H.264&H.265 Encoding, More Smooth and Clear Video motion
IP live streaming supports H.264&H.265 video compression, which makes motion video more fluent and clear under low bandwidth conditions.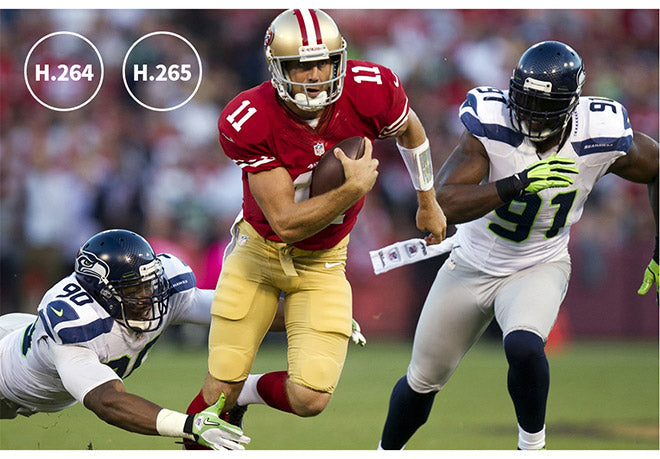 Auto Focus, Smart Frame Capture Everyone
Take close-ups on characters, details, and there is no need to worry about blurring your image when you're speaking choice.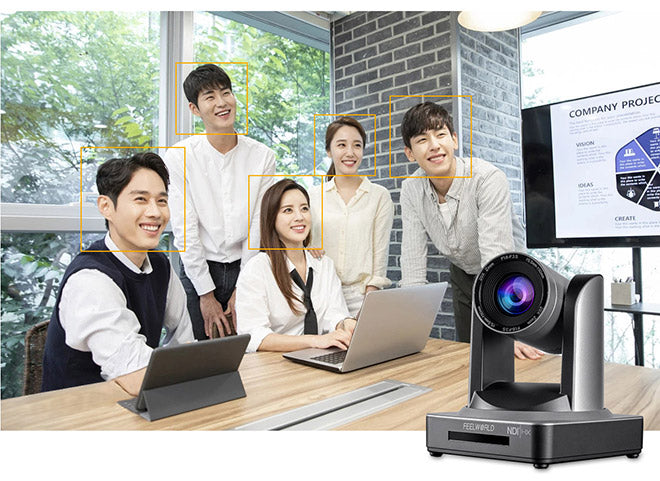 Accurate, Smooth and Silent PTZ Movement
Capture every person in the room with multi-angle
Built-in two-way high speed and silent pan/tilt, the lens can rotate 340° horizontally (±170°) and 120° vertically (-30°~+90°).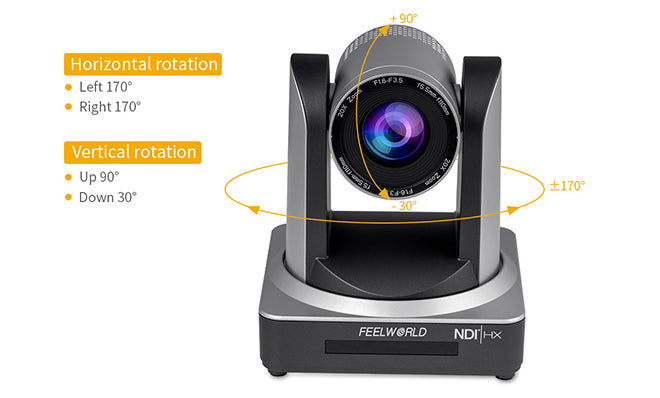 Low Noise and High SNR
Super high SNR image is achieved with low noise CMOS. Advanced 2D/3D noise reduction technology further reduces the noise while ensuring high image clarity.
Up to 255 Preset Positions
The secret to more productive meetings
10 preset positions by IR remote controller,that can save pan, tilt, and zoom settings, and smoothly transitions between them at the touch of a button. Up to 255 preset positions via WEBSEVER
Multi Ways to Control Your Camera
Operate Nearby or Far Away
You can Pan, tilt, and zoom with the hand-held remote to see everything in your workspace. You can also operate it from a remote location with WBESREVER software or FEELWORLD L2 PLUS video switcher.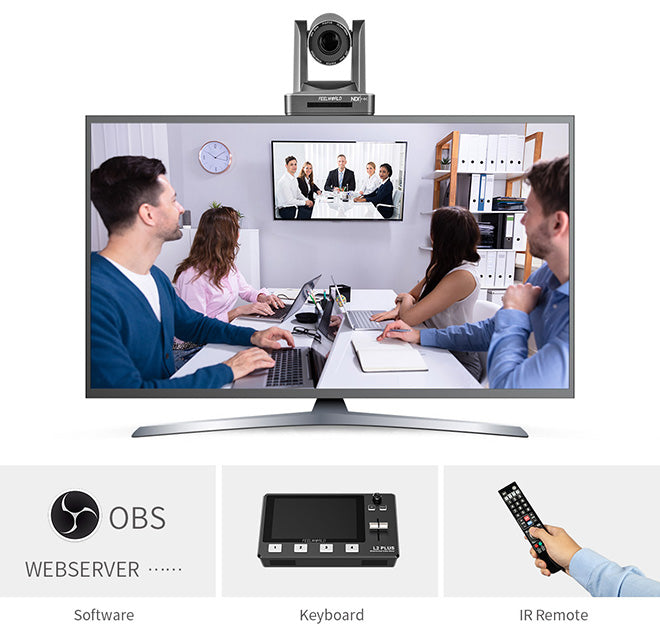 Multiple Mounting Options
NDI20X can be installed on any wall/ceiling/tripod to capture close-up shots for your every Live Video Production.
Note: Bracket not included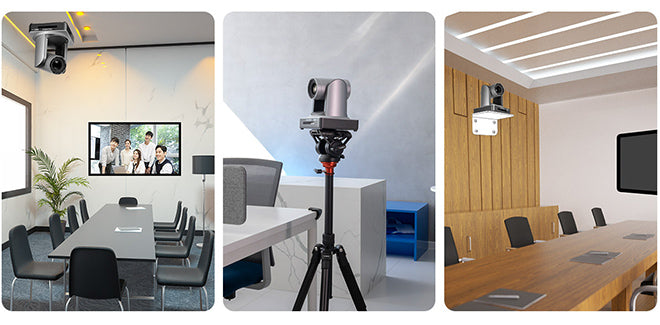 Multiple Application
NDI20X is widely used for church streaming, video conference, sports events, online education, ect.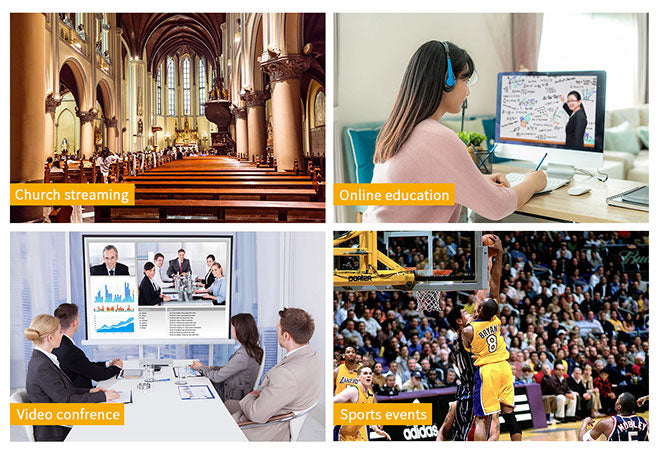 Product Display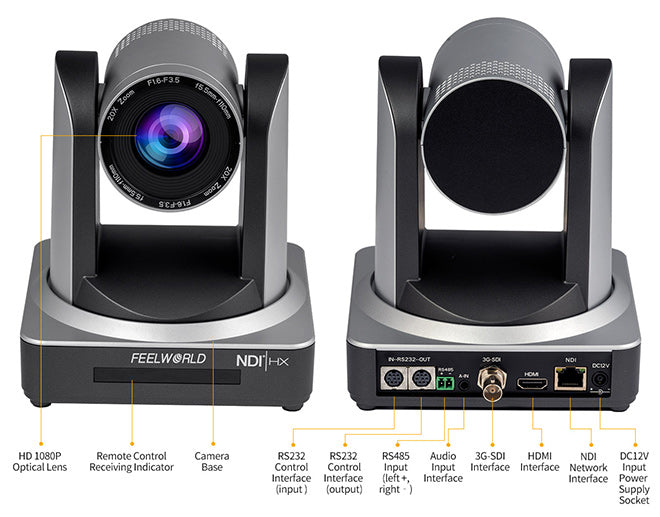 ACCESSORIES
1× Video Camera
1× Remote Control
1× RS232 Control Cable
1× RS485 Terminal Block
1× Power Adapter
1× EU Standard Power Cable
1× US Standard Power Cable
1× Manual
FEATURES
* 20X optical zoom professional full HD camera , suitable for larger occasion
* Up to 1080p@60fps, higher quality image
* Simultaneous 3G-SDI, HDMI, NDI/IP Streaming video out, easily for professional video production
* PoE(Power over Ethernet) supported
* Double track 3.5mm linear input for audio
* Auto focus, smart frame capture everyone
* Supports H.265/H.264 encoding which makes motion video fluent and clear even with less than ideal bandwidth conditions.
* Advanced 2D/3D noise reduction technology further reduces the noise while ensuring high image clarity
* High speed and silent pan/tilt, capture all the actions
* Multiple control protocol and network protocol
* Low-power sleep function
* Ideal for church live streaming, video confrence, sports events, online education, ect.
SPECIFICATIONS
Camera Parameters
| | |
| --- | --- |
|  Model |  NDI20X |
|  Sensor |  1/2.9 inch high quality CMOS sensor |
|  Effective Pixels |  2.07 megapixel, 16:9 |
|  Output Resolutions |  720p25/29.97/30/50/59.94/60 | 1080p25/30/29.97/30/50/59.94/60 |
|  View Angle |  3.3°~ 54.7° |
|  Focus Length |  f=5.5~110mm |
|  AV |  F1.6 ~ F3.5 |
|  Optical Zoom |  20X |
|  Minimum Illumination |  0.5 lux (F1.8, AGC ON) |
|  DNR |  2D & 3D |
|  White Balance |  Auto / Manual/ One Push/3000K/3500K/4000K/4500K/5000K/5500K/6000K/6500K/7000K |
|  Focus |  Auto / Manual/ One Push Focus |
|  Exposure |  Auto / Manual |
|  BLC |  On/Off |
|  WDR |  OFF/Dynamic level adjustment |
|  Video Adjustment |  Brightness, Color, Saturation, Contrast, Sharpness, B/W mode, Gamma curve |
|  SNR |  >55dB |
Input/output Interface
| | |
| --- | --- |
|  Video Interface |  HDMI, 3G-SDI, NDI |
|  Image Code Stream |  Double stream outputs simultaneously |
|  Video Compression Format |  H.264, H.265 |
|  Audio Interface |  Double track 3.5mm linear input |
|  Audio Compression Format |  AAC、MP3、G.711A |
|  Control Interface |  RS232 (IN/OUT), RS485 |
|  Control Protocol |  VISCA/Pelco-D/Pelco-P |
|  HD IP Interface |  100M IP port(10/100BASE-TX) |
|  Network Protocol |  RTSP, RTMP, ONVIF, GB/T28181, NDI |
|  Power Interface |  HEC3800 outlet (DC12V) |
PTZ Parameters
| | |
| --- | --- |
|  Pan Rotation |  -170°~+170° |
|  Tilt Rotation |  -30°~+90° |
|  Pan Control Speed |  0.1 ~60°/sec |
|  Tilt Control Speed |  0.1~30°/sec |
|  Preset Speed |  Pan: 60°/sec, Tilt: 30°/sec |
|  Preset Number |  255 presets (10 presets via remote control) |
Other Parameters
| | |
| --- | --- |
|  Input Voltage |  12V/1.5A |
|  Power Consumption |  Maximum: 12W |
|  Stored Temperature |  -40℃~+70℃ |
|  Storage Humidity |  20%~90% |
|  Working Temperature |  -10℃~+50℃ |
|  Working Humidity |  20%~80% |
|  Dimension (W*H*D) |  150mm×150mm×167.5mm |
|  Unit Weight |  1.4kg |
|  Outer Carton QTY |  4pcs |
|  Outer Carton Size |  52*29*50cm |
|  Gross Weight |  9.85kgs |