. Stock in US, EU, JP, AU, CA, RU local warehouse

US/ CA/ RU: 3-7 days delivery
EU/ AU: 3-10 days delivery
JP: 2-3 days delivery
. Shiping Worldwide 200+ Country
7-10 days delivery.
. Warranty: One year warranty time and 14 days return and refund for US, EU, JP, AU, RU.
. VAT for EU customers: The VAT is asked by EU government, and it will be charged when you place the order even if you buy our products on our Amazon Store. There is no difference wherever you buy it, and the VAT is included in the price on those online shopping plates.
More detail: Shipping Policy | Warranty Policy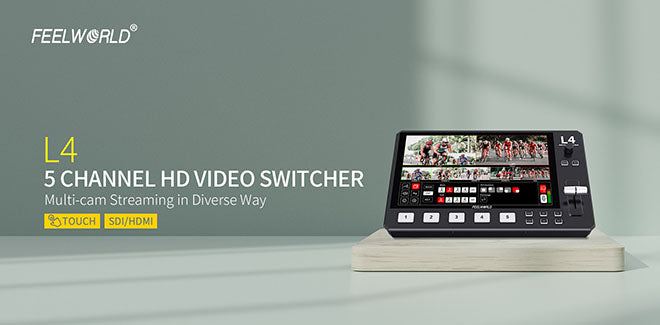 Multi-cam Live Production
For large summit, culture show, Sports Event often need multi camera filming, FEELWORLD L4 is equipped with 4 HDMI and one SDI inputs,meet more professional needs. That means you can simultaneously connect 5 signal sources for different views, easy to handle various multi-cam live production.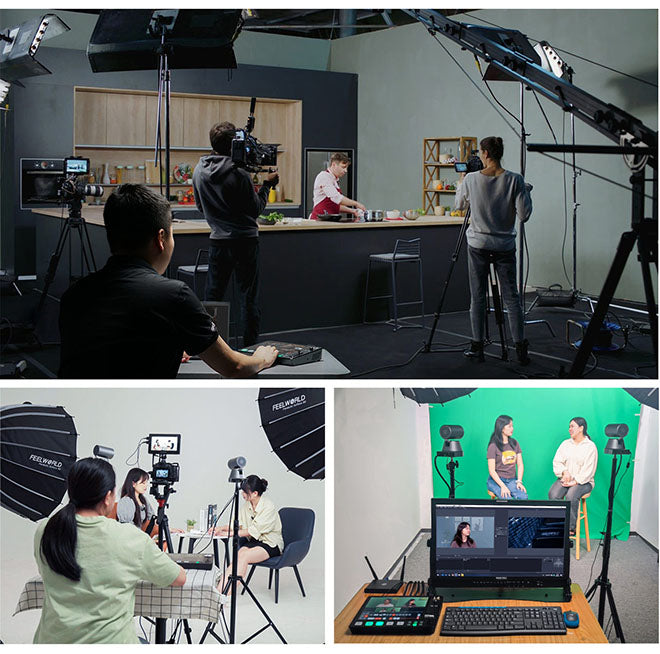 Plug and Play, Take Your Video Contents to Next Level
L4 is for video creators or anyone who wants to make broadcast quality multi-camera programs simply and quickly from anywhere. You can live streaming to YouTube/Facebook/Instagram or using Skype or ZOOM for innovative business presentations.Best of all, L4 is plug and play, you don't need to be a video professional to achieve great looking results.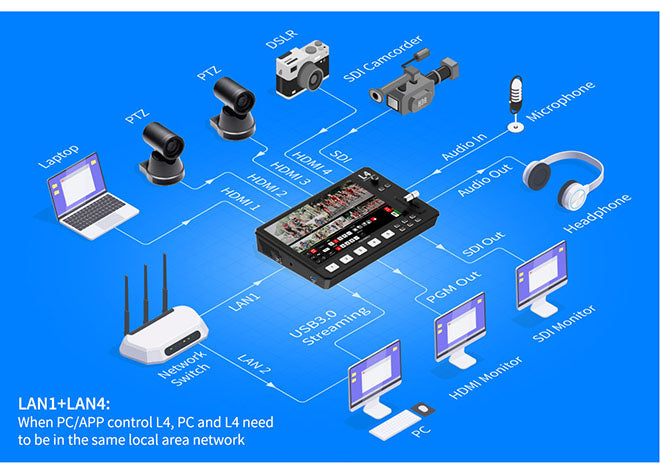 Stream Live.Your Content.Your Way
L4 is fit for wedding, church activity, sports events,E-class, live commerce and live concerts,ect .With its user-friendly large touch screen interface, intuitive and comfortable keys, you can easily master its functions in no time.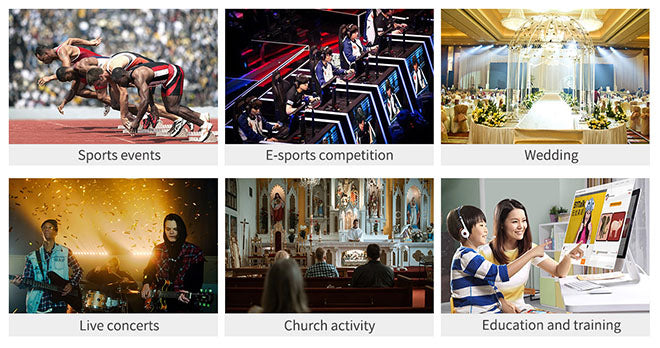 Medium to Large Live Streaming Solutions
1. Multi-cam connecting: L4 with 4 HDMI and 1 SDI,ideal for medium or large multi-cam live streaming.For medium live streaming, you can use 2 to 3 cameras,capture a close-up or panorama of different view, you can also connect PC to play PPT; for large live streaming, you can use 3 to 5 cameras,can also connect PC to play PPT or connect PTZ controller.All of pictures can be quickly switching via T-bar and buttons.
2. PTZ control: For large streaming, you can connect with a PTZ controller to control all PTZ.
3. Multi-view:L4 comes with 10.1-inch large touchscreen, you can preview all inputs and easy to finish all of setup on screen, you can also connect to external bigger display via PGM out to get bigger preview pictures and the audio status,or achieve to multi-person simultaneously monitoring .
4. Connecting to a computer through the USB 3.0 streaming interface allows for live streaming on your favorite platforms.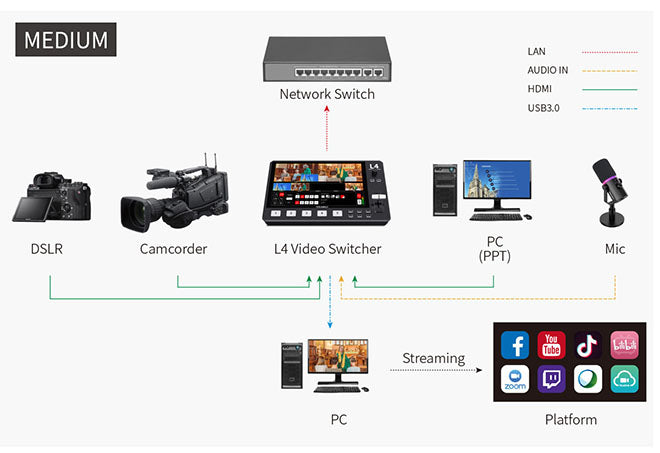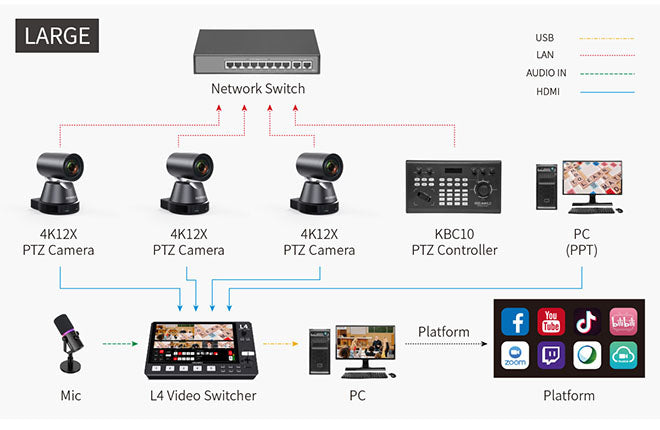 Flexible Control Panel
Easy to use and fast to learn
There is never been a switcher that's easier to use, you can simply control with full touch or use buttons, even beginners can easily handle it.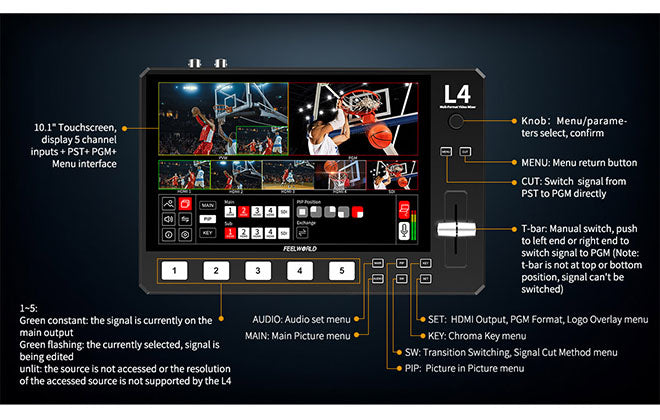 10.1-inch Touch Screen
Comfortable Monitoring and Easy Operation Anywhere
The biggest advantage of L4 is its 10.1-inch LCD touch screen, you can preview all the signals, preset and program out picture in real time, you can also easy setup the menu,and the menu interface will not cover the other picture. All of operation can be finished via your finger tapping,it is very convenient and comfortable.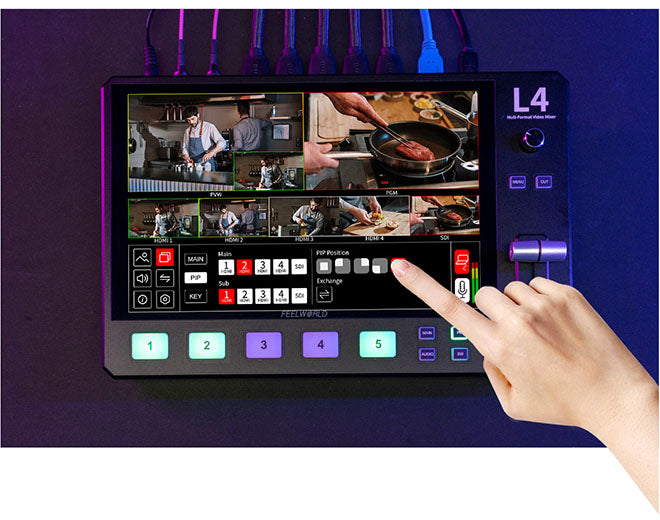 Intuitive,Smart UI Menu Interface
The menu operation interface of L4 is intuitive and easy to understand, so you almost don't need to spend more time learning how to use, even beginners can quickly get started.

Rugged and Durable Aluminium Housing
Adopting an all aluminum body design, it is more durable and overall slim and lightweight.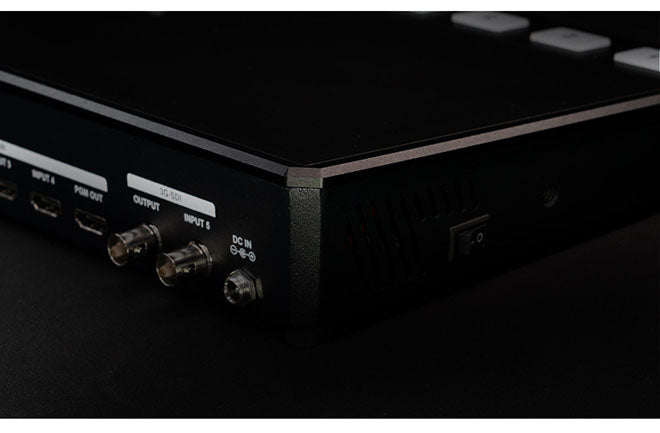 Built-in Cooler
L4 built-in cooler, it will runs automatically after L4 turned on, boost long-term live streaming.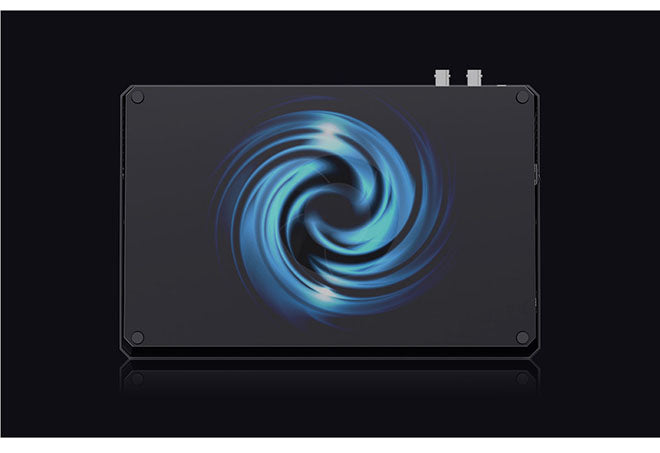 USB 3.0 Fast Live Streaming
The L4 features a USB 3.0 connection that operates as a simple webcam source. It can connect to any computer, so all streaming software for social media platforms work! Such as OBS software for live streaming, or conference software (Skype, ZOOM, Tencent conference and Yealink ) for business presentations. All switching is in real time so you can live stream to any social media platform such as Youtube, Facebook, Tik Tok, Douyu TV and many more!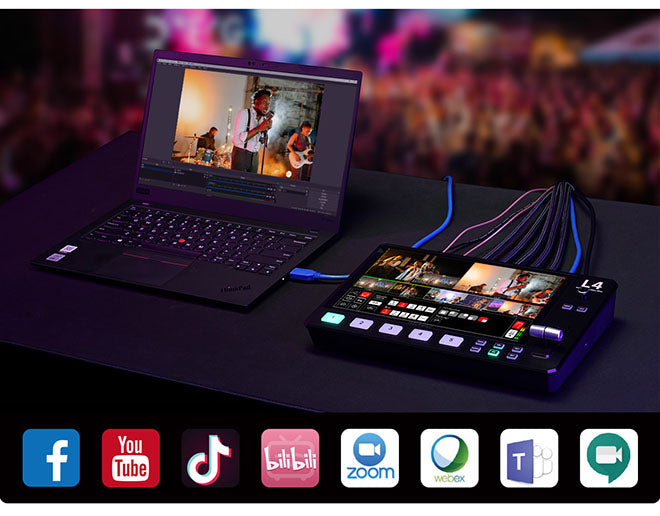 Audio Input and Output
Supports 2 channel mixing
With 3.5mm stereo audio input, you can connect the microphone to the L4 switching station, and all audio inputs can be displayed in real-time on the screen for better understanding of audio status. L4 also provides a standard 3.5mm audio output interface, and you can use an external speaker or headphones to monitor the main output audio signal of L4 in real-time. In addition, L4 also supports 2 channel mixing.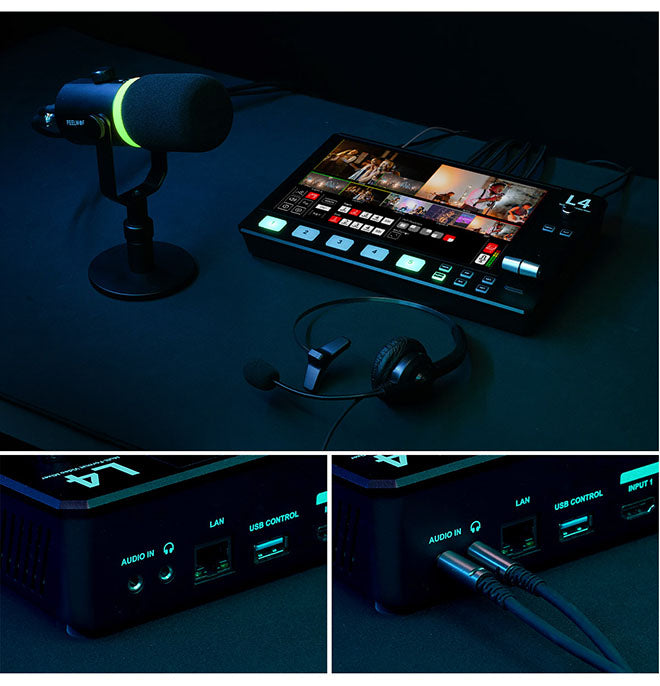 Chroma Key + Logo Overlay
Boost your brand,your video and your reach
For news or on-set presentation work,L4 is perfect as it features the powerful Chroma Key for any color screen keying effects. You get precise controls for edge and flare.You can even use the LOGO overlay function to create a title overlay effect.This isn't just an effective way to make your video more recognizable and personable, as well as protect your video's copyright;it's a fantastic way to promote your brand while helping you achieve your business goals.
Remark: 1.Chroma key is achieved by selecting the desired signal source as Body and Background layers, the color pick can be easily obtained by clicking on any position of the body signal source.
2. Logo image can be uploaded via APP (Feelworld Live Plus),image size should be within 256*128 pixels, only support to upload one image a time.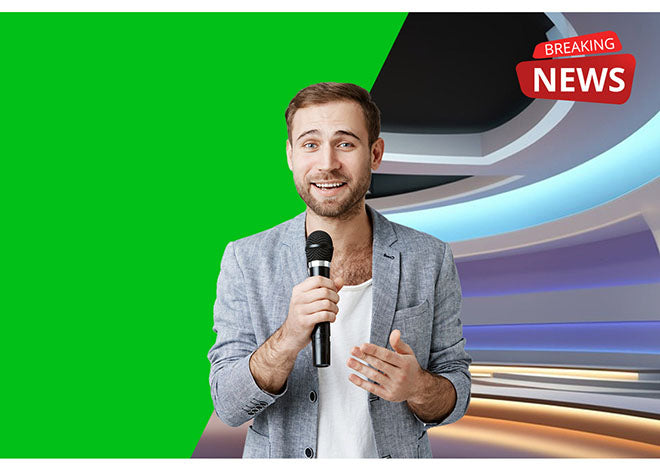 Picture in Picture
One of the benefits of using L4 with a multi-camera setup is that you can use the Picture-in- Picture function to display two inputs at the same time. Any of the five inputs can be used for a Picture-in-Picture effect over the program output, with selecting your favourite mode (5 modes for optional). You can also exchange the sub picture and main picture quickly.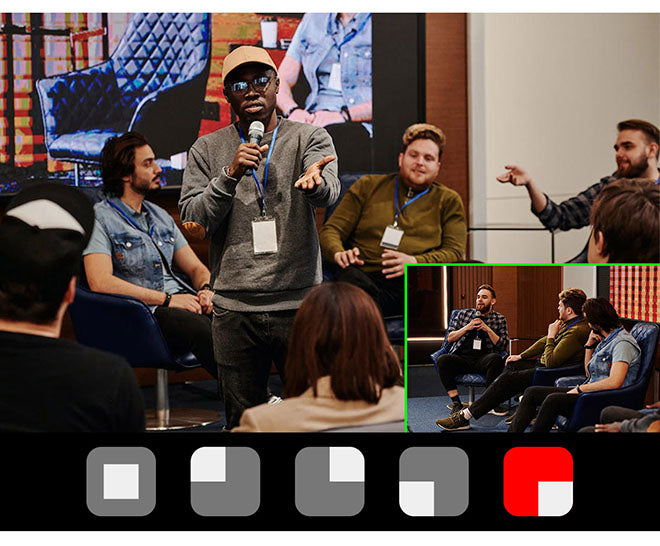 Add Exciting Transition Effects to Your Video
Supports 13 transitions
L4 includes a range of broadcast quality transitions effects, you can set set to switch transition effects from 0.5 seconds to 5 seconds, you can also use T-Bar to switch the special effects you want.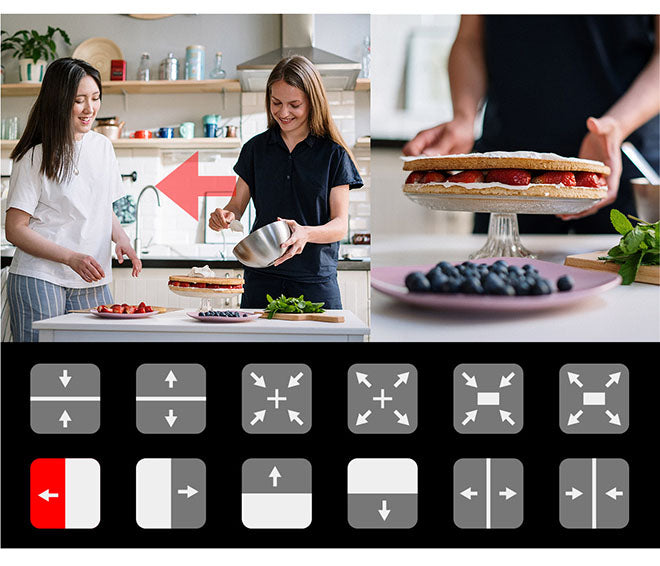 HDMI and SDI Output
For some application which need to multi-person monitoring, you can use a HDMI cable to connect the HDMI output of L4 to a monitor with an HDMI input interface so that you can see all cameras, audio meters, preview and final program output simultaneously, all switching is in real time. HDMI output supports resolution setting, and supports up to 1080p@60.
L4 is also equipped with an SDI output interface, which can output SDI signals separately.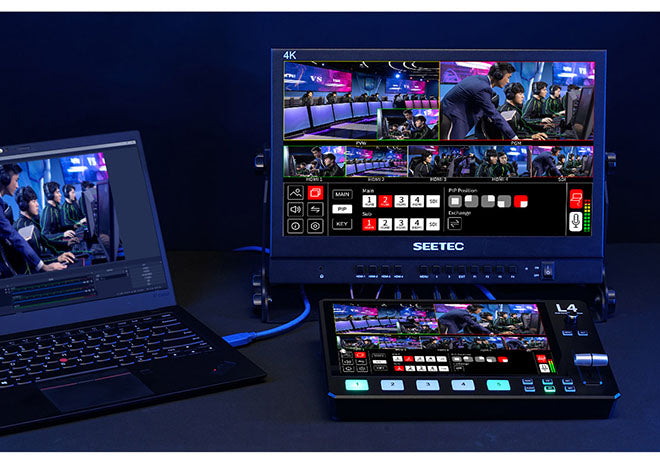 Computer/ Phone APP Controlling
After connecting the LAN port to the computer, you can control L4 via APP(Feelworld Live Plus). Feelworld Live Plus's operations very similar with L4's hardware, even the functions that are not possible with the L4 hardware. The smartphone also can remote controlling, just download the APP (Feelworld Live Plus) and connect the WIFI.
Note: Windows, MAC, Android system download the APP from details page of "Download" section
iOS user search "FeelworldLive Plus" in APP Store to install.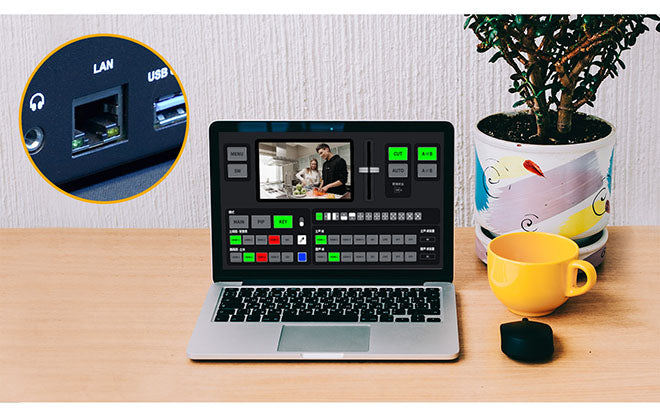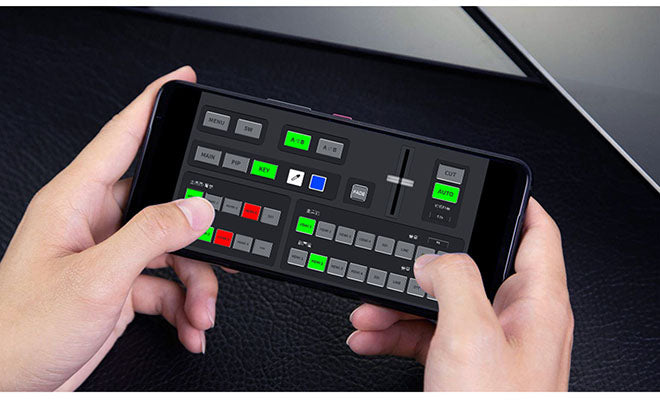 FEATURES
 *10.1-inch touchscreen, real-time preview 5 input sources +PST + PGM and operation interface
* Iconized touch operation, fast to learn; or buttons + knob operation
* Compatible with HDMI and SDI signal source, meet professional needs
* T-bar simply switch signal source or transition effects
* USB 3.0 fast to live streaming
* Embedded & Insert Audio with Sync
* Chroma key + LOGO overlay,creating an exciting studio
* Mix audio from multiple inputs
* Configurable PIP video overlay * Supports 13 broadcasting transition effects
* Remote control via PC/smartphone APP (Feelworld Live Plus)

SPECIFICATIONS
| | |
| --- | --- |
|  Model |  L4 |
|  Screen Size |  10.1" Touch screen |
|  Backlight |  LED |
 4 X HDMI

 HDMI 1.4

 1 X SDI

 3G-SDI

 1X USB TYPE-A

 USB2.0 (Firmware Update or LOGO file import)
| | |
| --- | --- |
|  1 X HDMI  |  HDMI 1.3 |
|  1 X SDI |  3G-SDI |
|  1×USB CONTROL |  USB 3.0 |
| | |
| --- | --- |
|  1xRJ45 |  LAN (suitable for CAT6 cable) |
| | |
| --- | --- |
|  Audio In |  1×3.5mm |
|  Audio Out |  1×3.5mm |
HDMI
SMPTE 720p@50/60 | 1080i@50/60 | 1080p@24/30/50/60 |2160p@30
VESA 1024X768@60|1280 X 720@60|1280 X 768@60| 1280X800@60 1280X1024@60 |1360X768|1366x768@60|1440x900@60| 1600x1200@60| 1680x1050@60 | 1920X1080@60 |1920 X 1200@60 3840×2160@23.97/24/25/30
SDI
720p (60/59.94/50/30/29.97/25)
1080i(60/59.94/50)
1080p (60/59.94/50/30/29.97/25/24/23.98)
HDMI
SMPTE 720p@50/60|1080p@25/30/50/60
VESA 1024X768@60|1280x720@50/60|1280X768@60|1280X1024 @60|1360x768@60|1920×1080@25/30/50/60
SDI
720p (60/59.94/50/30/29.97/25)
1080i(60/59.94/50)
1080p (60/59.94/50/30/29.97/25/24/23.98)
USB
720p50/60
1080p25/30/50/60
| | |
| --- | --- |
|  Power Input | DC 12V/3A |
|  Power Consumption | 27W |
|  Working Temperature | 0℃~60℃ |
|  Humidity |  10%~85% |
|  Unit Size |  290.2(L) x 189.5(W) x 55.7(H)mm |
|  Unit Weight |  1.48kg |
|  Color Box Size |  400*230*80mm |
|  Outer Carton Qty |  10 |
|  Outer Carton Size |  455*425*525mm |
|  Gross Weight |  kgs |
ACCESSORIES
Packaging List
1×
 Video Switcher
1×
 Power Adapter
1×
 USB3.0 Cable
1×
 Quick Start Manual
Collapsible tab
Collapsible tab