FEELWORLD T51 Triple 5 Inch 2RU LCD Rack Mount with SDI HDMI AV Input and Output Broadcast Monitors
Product image 1
Product image 2
Product image 3
Product image 4
Product image 5
Product image 6
. Stock in US, EU, JP, AU, CA, RU local warehouse

US/ CA/ RU: 3-7 days delivery
EU/ AU: 3-10 days delivery
JP: 2-3 days delivery
. Shiping Worldwide 200+ Country
7-10 days delivery.
. Warranty: One year warranty time and 14 days return and refund for US, EU, JP, AU, RU.
. VAT for EU customers: The VAT is asked by EU government, and it will be charged when you place the order even if you buy our products on our Amazon Store. There is no difference wherever you buy it, and the VAT is included in the price on those online shopping plates.
More detail: Shipping Policy | Warranty Policy
Triple 5" 2RU Rack Monitors
T51 are extremely thin and lightweight.5" 2RU Rack Monitors with triple 5" 800×480 screens, viewing SD, HD and 3G-SDI video on 2RU rack monitor.FEELWORLD Rack mount LCD monitor has been widely used in all levels of TV news production, post production, programme broadcasting and TV broadcasting trucks, special vehicles video surveillance and other fields. Since this series is working with other adjacent professional equipments, therefore, the high stability, high reliability and electromagnetic compatibility are very important conditions to make sure the whole system work smoothly.
5-inch 800×480 LCD
TFT Panel with LED backlight
The D51 is made of 3× 5-inch TFT LCD panel, with 800×480 resolution and LED backlight, 500cd/m² brightness and 500:1 contrast. The viewing angle is Horizontal: 140° / Vertical: 120°.

Easy to operate, time-saving
Consistent design style, the same function and operation mode setting is one of the features of the products. Users only need to know one product operation mode, you can operate the full range products, time-saving and convenient.

Multiple Inputs and Outputs
SDI / HDMI / CVBS / Audio
Each LCD of T51 monitor supports:
Input:
3G-SDI X 1
HDMI X 1
CVBS X 1
Auido (L/R) X 2
Output:
3G-SDI X 1
HDMI X 1
CVBS X 1
Audio:
Stereo Headphone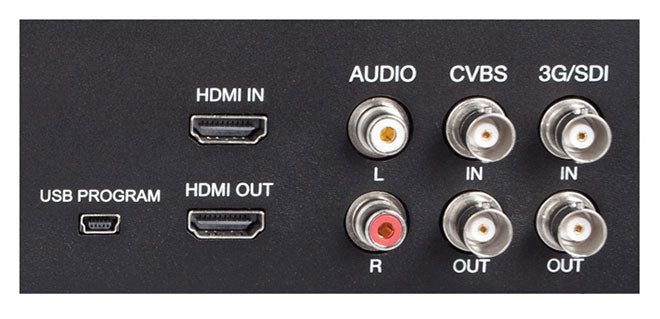 3-color Tally Light
DB-15 input signal
There are front TALLY lights for each screen, with 3 colors display (Red,Green,Yellow), and controlled via DB-15 ports on the rear panel.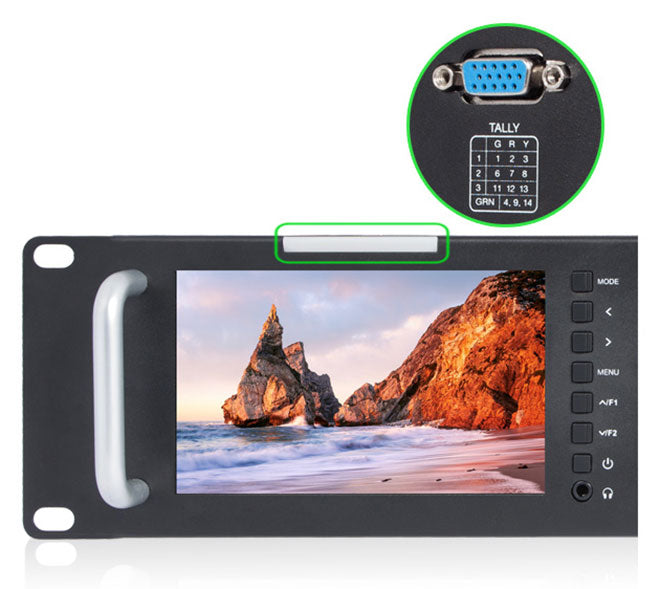 Stablity and Reliability
As rack mount LCD monitors usually in a continuous working condition, all components including LCD panel must be accordance with industrial quality standard. Full Metal case not only makes the product more robust, and durable, but also is a good solution to the heat dissipation problem.

Peaking Focus Assist
The Peaking Filter is used to aid the camera operator in obtaining the sharpest possible picture. When activated, the internal processor will display a colored highlight on the screen where sharp edges appear. It's shows Red highlight over parts of the monochrome image in focus.

Check Field
Check Field is an assistant function to adjust camera color settings. Under the check field mode, you can use red, green, blue or mono pixels to generate the image, because hue and saturation can be adjusted more quickly and accurately in this environment.

Pixel to Pixel
Enable the filmmaker to check the image from the 1:1 signal source without scaling. This feature is essential for capturing optimum detail.
Center Marker & Safe Marker
Safe Mark for View Finding and Composition (80%, 85%, 90%, 93%, 96%,2.35:1)

Image Flip
The Horizontal, Vertical and Hor&Ver of the image around flip.

Features
1. Wide view angle, high resolution 800 x 480, bright, colorful display
2. Slim design and 2RU size
3. 3G-SDI, HDMI, Video, Audio(L/R) and 3G-SDI, HDMI, Video loop-through output
4. Special Features:
* Peaking Focus Assist (Red highlight over parts of the monochrome image in focus)
* Check Field (Red, Green, Blue, Mono)
* Pixel to Pixel
* Center Marker
* Safe Marker (80%, 85%, 90%, 93%, 96%, 2.35:1)
* Image Flip (Horizontal, Vertical, Hor&Ver)
* Image Freeze
* Zoom All
* U/D & L/R Zoom
* Custom Color Temperature
5. Monitoring via front panel 3.5mm stereo headphone jacks
6. Built-in LED tally indicators (Red, Green, Yellow)
7. Power using included 12-volt supply or use standard 4-pin XLR
Display Spec.
Screen Size: 5"×3
Resolution: 800×480 pixels
Dot pitch: 0.045(W)×0.135(H) mm
Aspect Ratio: 16:9
Brightness: 500cd/m²
Contrast Ratio: 500:1
Backlight: LED
Viewing Angle: 70°/70°(L/R) 50°/70°(U/D)

Input (Each LCD)
1 X BNC: 3G-SDI
1 X HDMI: HDMI
1 X BNC: Video
2 X RCA: Audio(L/R)

Output (Each LCD)
1 X BNC: 3G-SDI
1 X HDMI: HDMI
1 X BNC: Video

Audio (Each LCD)
Audio Out: Stereo Headphone × 1

SDI Support Format
480i/576i
720p(60/59.94/50/30/29/25/24/23.98)
1080i(60/59.94/50)
1080p(60/59.94/50/30/29.97/25/24/24sF/23.98/ 23.98sF)

HDMI Support Format
480i/576i/480p/576p
1080i (60/59.94/50)
720p (60/59.94/50/30/29/25/24/23.98)
1080p (60/59.94/50/30/29.97/25/24/24sF/23.98/ 23.98sF)

General
Input Voltage: DC9~24V
Power Consumption: ≤25W
Power Connector: DC/ 4-pin XLR
Working Temperature: -20°C~55°C
Storage Temperature: -30°C~65°C
Install Way: Rack Mount
Unit Size: 482.6Lx88Hx34D mm
Unit Weight: 1570g
Standard Accessories:
1× 3A Power Adapter
1× Tally Kit
1× Operation Manual