How to Use PTZ Cameras for Educational Live Streaming
Share Knowledge More Freely and Easily
As the education industry continues to evolve, our learning is not limited to offline classes. More and more schools are offering online classroom education so that people who could not participate in the live session won't miss out.PTZ camera for classroom live streaming ​is very beneficial in cases of impromptu classes, tight schedules, or lockdown periods.Which has increased their applications in the education sector. Below are some of the ways they are used.
Online classes/Distance Learning Studio
Online classes/Distance learning provides innovative courses and versatile resources. It allows students to virtually visit a science lab or museum.Students can visually see the full range of presentations. That's why live online camera following is especially important.FEELWORLD UHD4K12X camera has AI human tracking function for real-time tracking or area tracking, capturing teacher's action in real time and enhancing classroom interactivity. At the same time, with the FEELWORLD L2 PLUS multi-camera switcher you can quickly switch with one click to get rid of boring and make your classroom more vivid.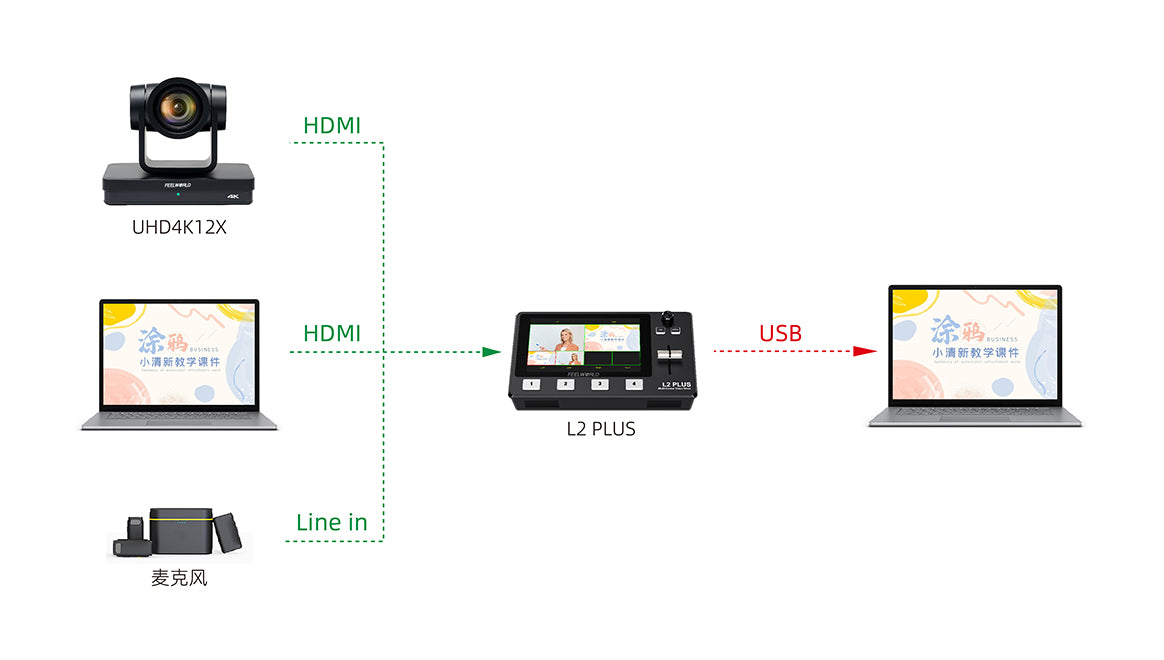 School event celebration
On the school event celebration, the live streaming will generally render the atmosphere of the scene by switching multiple cameras so that people can empathize with it. The FEELWORLD KBC10 PTZ Camera Controller can remotely control the 4 FEELWORLD NDI PTZ camera to dynamically capture the exciting moments (stage/host/guests/audience). At the same time, 20 times optical zoom, close-up images are still clear and natural. Through the FEELWORLD L2 PLUS video switcher HDMI OUT output can support live large screen monitoring / screen casting. Perfectly realize multi-camera picture-in-picture, panoramic and close-up images are equally wonderful.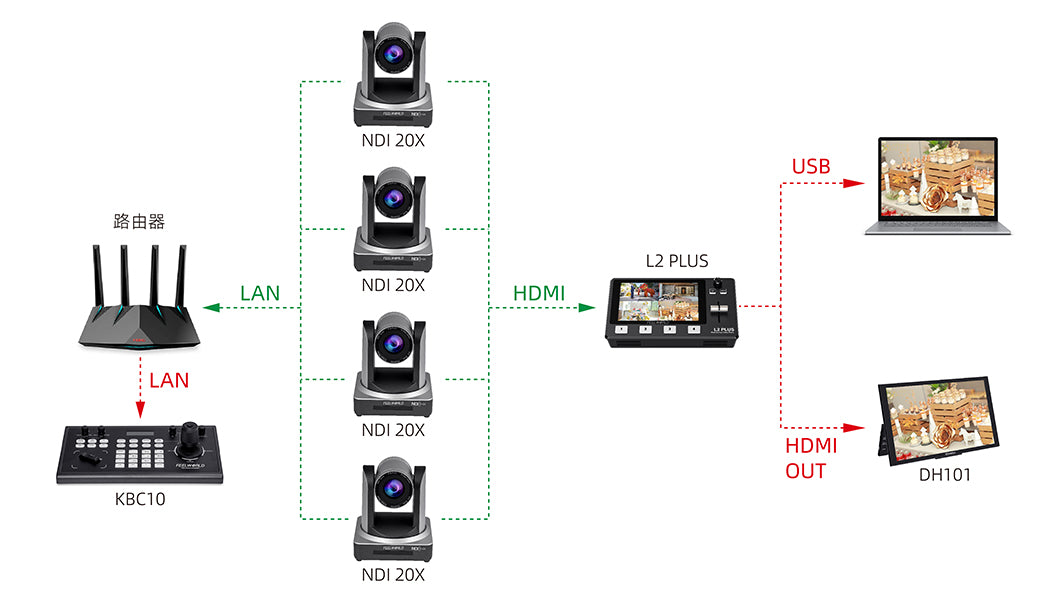 Educational seminars
Due to the number of educational discussion scholars, the importance of preset positions is reflected in the rapid alignment of the lens to the speaker. FEELWORLD UHD4K12X PTZ camera can set up to 10 preset positions, direct connection to computer devices.Use the PTZ remote control to quickly switch to panorama, presenter or speaker with one click, fast auto-focus. AI auto-tracking, easily capture every moment. Built-in microphone, synchronized sound and picture output, USB plug-and-play, no additional equipment, compatible with different live streaming platforms, more portable.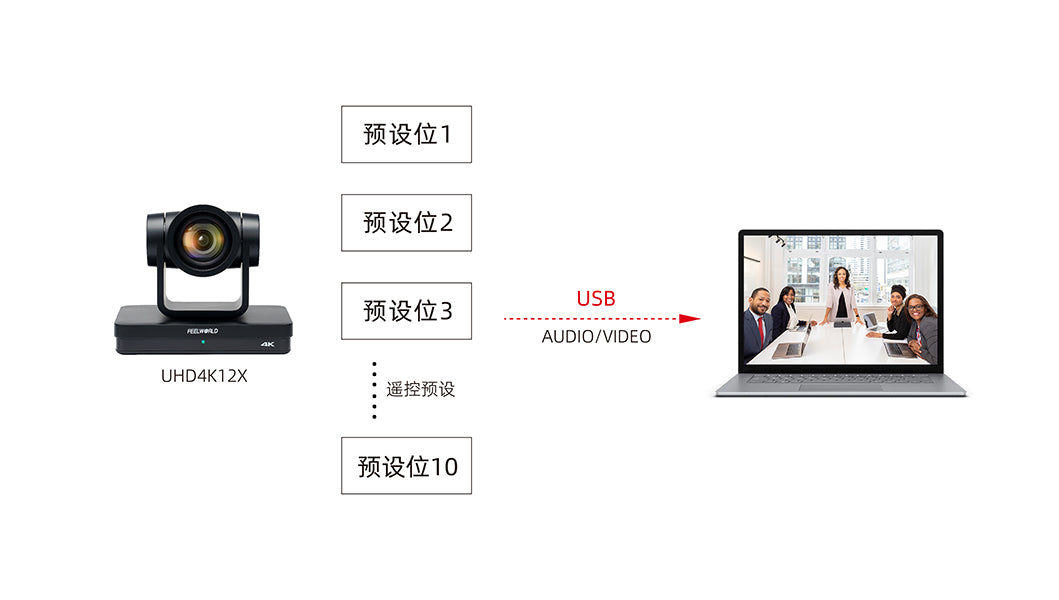 Virtual live streaming room
Use FEELWORLD POE PTZ camera with L2 PLUS video switcher green screen keying to create a different virtual live room. It also enables to play courseware/video at the background, and switch between close up, distant view and close-up at will, so as to say goodbye to boring teaching methods and easily create virtual classroom. At the same time,USB3.0 fast push stream, can be compatible with different live streaming platforms, stronger diversity. The anchor can also monitor in real time through HDMI OUT, adjust their own state in time to improve the quality of teaching and create a high-quality education live room.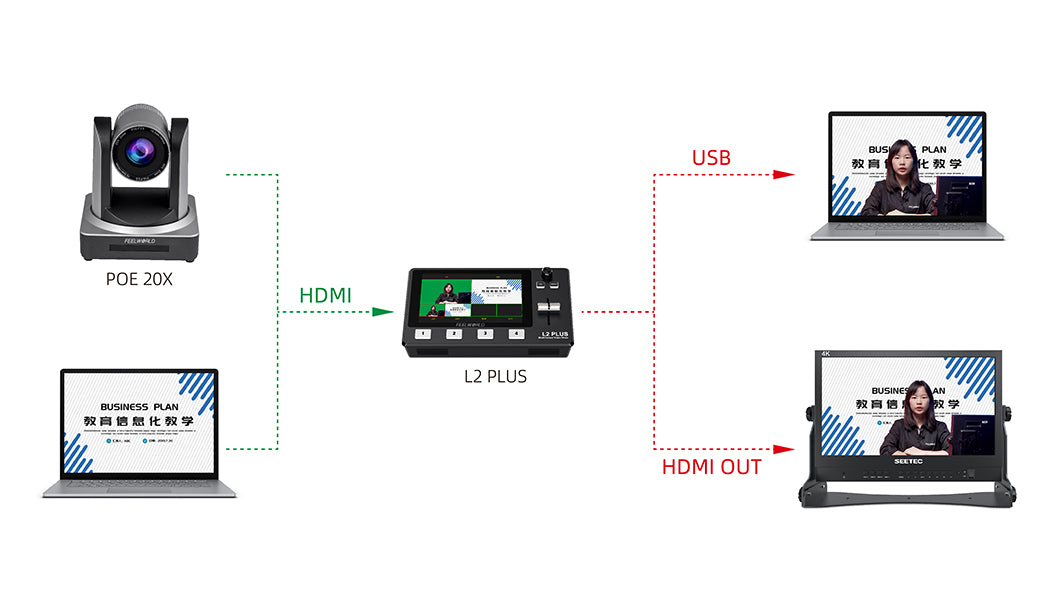 Here are some other major benefits of using PTZ cameras for education live streaming
-One teacher can control several cameras
-Can be mounted to a wall or ceiling to achieve unique viewing angles-Save space in crowded studios or rooms
-Easily pre-program specific panning or zooming shots
-Auto-follow technology enables camera pre-programming to automatically track motion on stage.
-Considerable cost savings, as compared to a professional-grade standalone camera, tripod, and operator.
-As you can see, PTZ live streaming cameras are great for small operations, complicate operations, or when you need a more dynamic stream.