If you frequently use your camera to make videos, a field monitor may be a helpful tool for you. By attaching a monitor to your camera, you can get a bigger picture of what your camera is seeing, giving you a better sense of focus and composition. In this article , FEELWORLD will introduce a new release product ---  F6 PLUSX high bright monitor.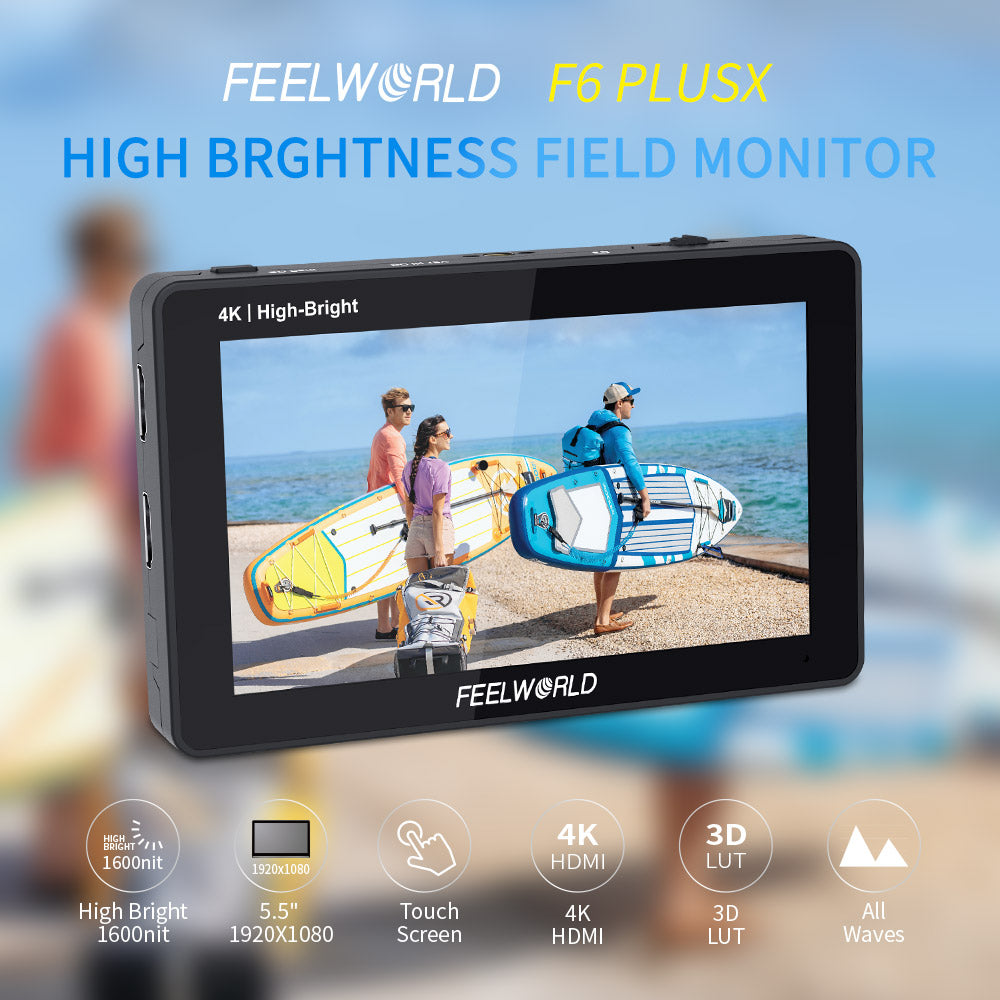 FULL HD IPS PANEL
FEELWORLD F6 PLUSX monitor, It features a 5.5″ 1920×1080 high resolution IPS panel display that contrast ratio of 1000:1, 16.7M(8bit) color gamut.
High resolution IPS panels provide excellent color accuracy and consistency, allowing for more vibrant and true-to-life colors. and have wide viewing angles, IPS panels maintain their image quality regardless of the viewer's position.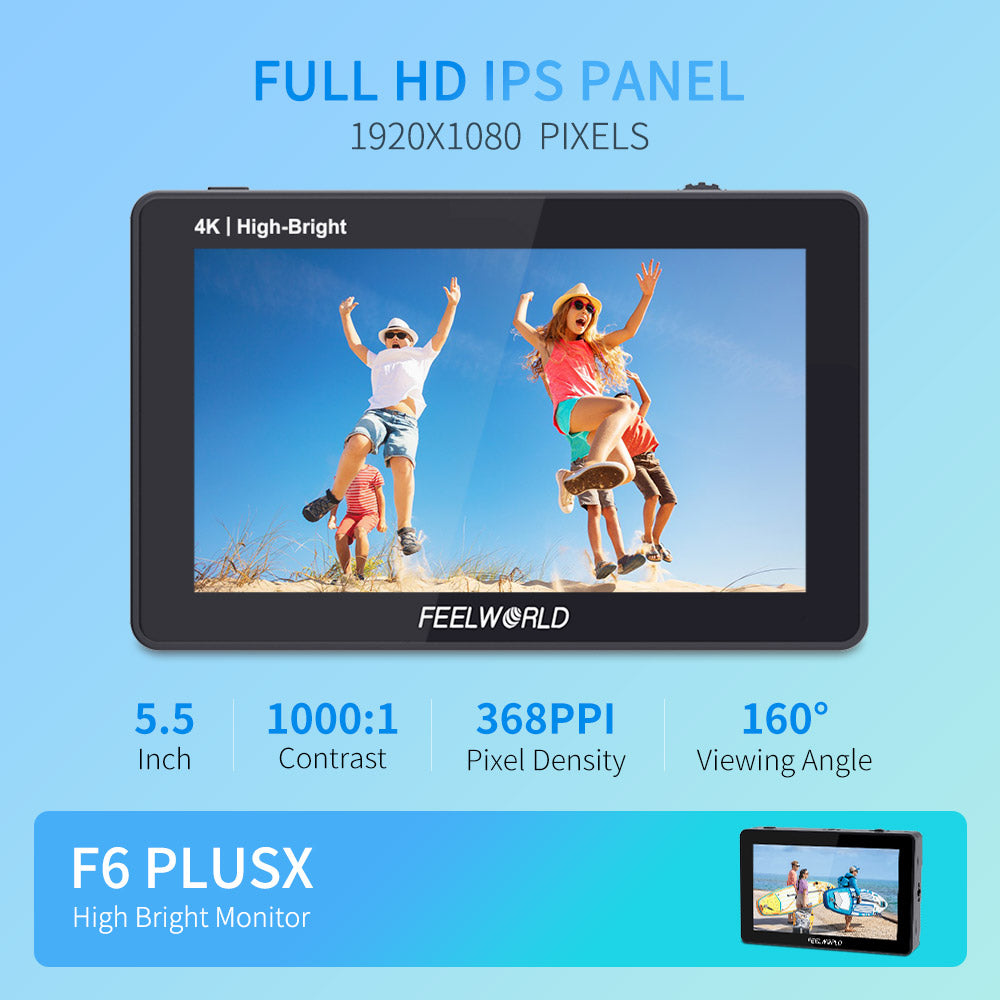 HDR MONITORING
With HDR monitoring, you can enjoy a more immersive viewing experience.
The combination of expanded dynamic range, improved color accuracy, and increased detail creates a more life-like and engaging image. Whether you're watching movies, playing games, or editing multimedia content, HDR monitoring enhances the depth, richness, and realism of the visuals.

Daylight viewable
FEELWORLD F6 PLUSX monitor is 1600nits of brightness.
High bright monitors feature significantly higher brightness levels compared to standard monitors. This allows for improved visibility and readability of the screen even in direct sunlight or brightly lit outdoor environments.
Whether you're shooting on location or presenting content at an outdoor event, a high bright monitor ensures that your visuals remain clear and easily viewable by the videographer.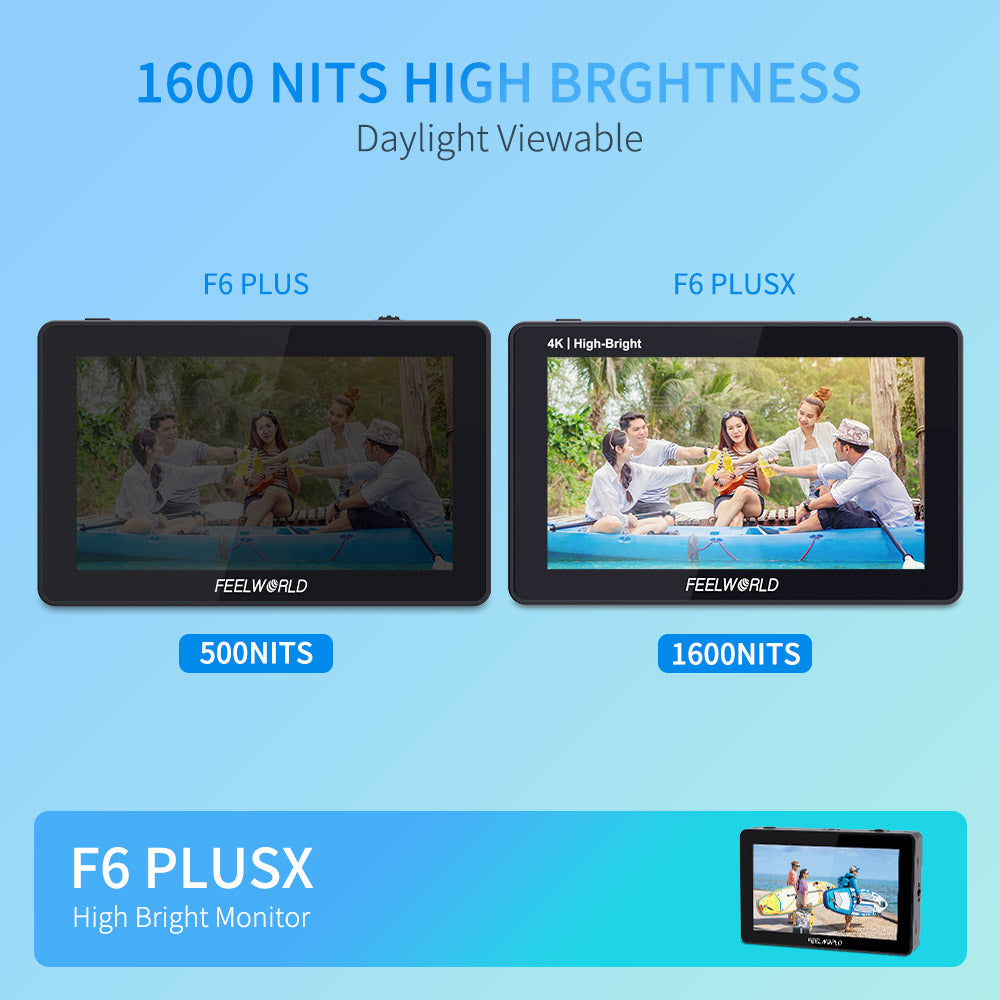 4K HMI INPUT & OUTPUT
At the left of the monitor, you'll find one 4K HDMI input and  one HDMI output. And the 4K HDMI support 4K@30Hz signal input and output.
HDMI interface offers signal integrity and hence it is possible to transmit HD contents without any degradation or alteration, transmitted without loss,and the screen is clearer.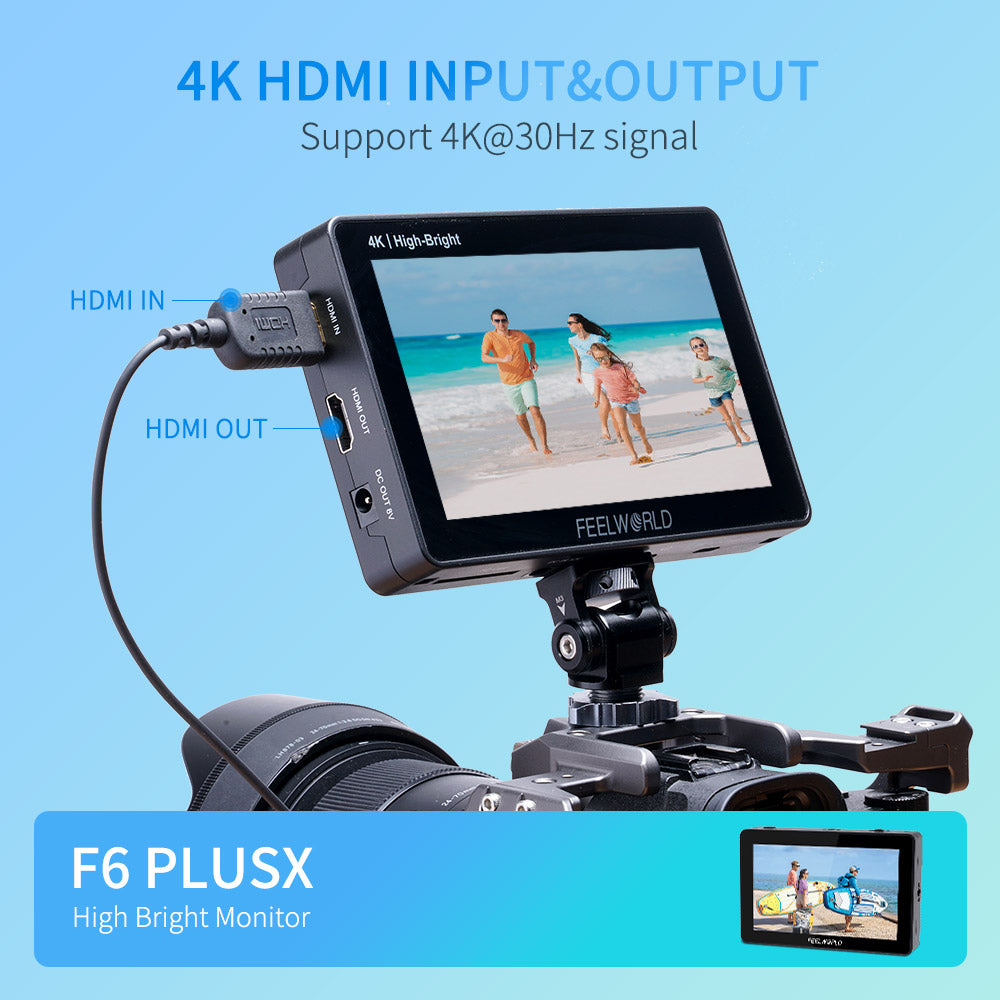 FULL-SCREEN TOUCH CONTROL
FEELWORLD F6 PLUSX is a touchscreen panel that uses simple tap and swipe gestures to adjust monitor functions without buttons.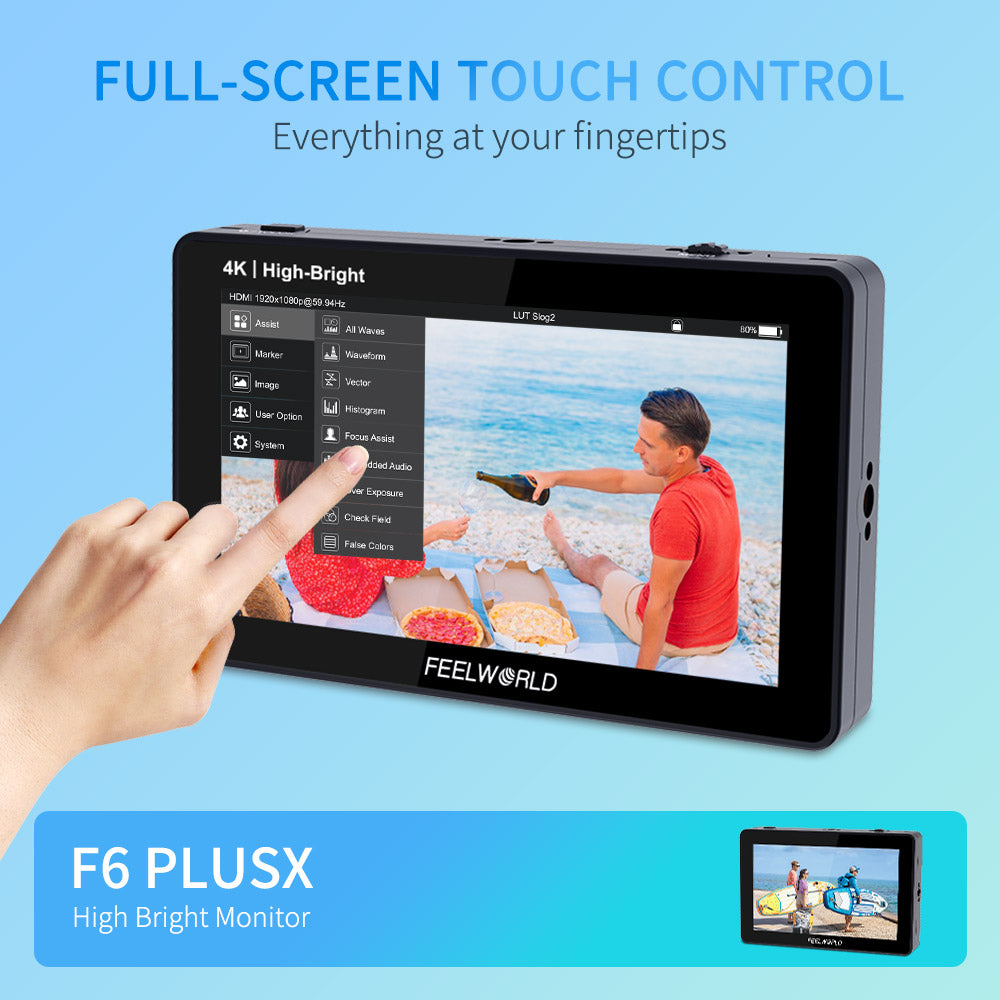 However, it also features physical buttons and scroll wheel, you can choose what you need.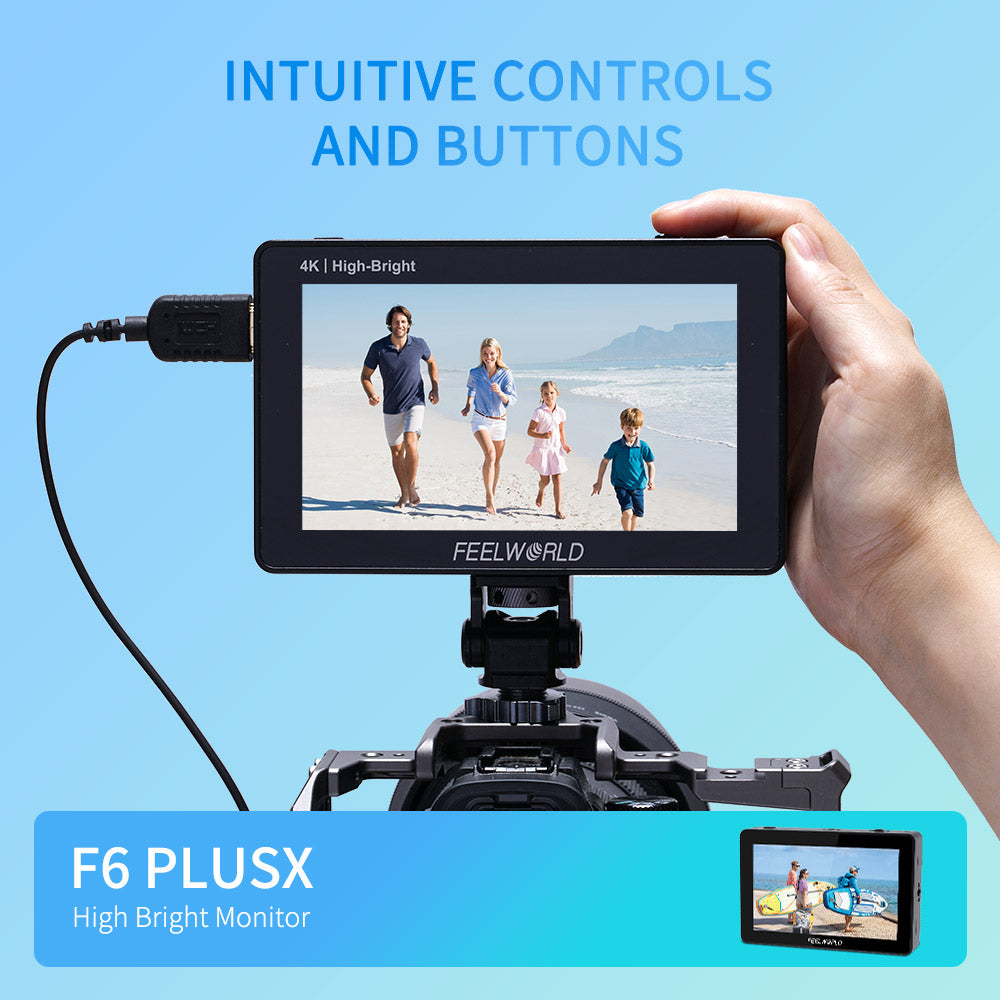 Multiple power supply ways
FEELWORLD F6 PLUSX has multiple power supply ways, providing strong power endurance.
1.Power supply through 12V DC power input (can be using 12V/1.5A adapter)
2.For outdoor shooting ,you can power supply by dual-purpose battery plate (compatible with Sony NPF series battery and Canon LP-E6 battery).
3.Supports 5V Type-C input, which can be powered by mobile phone charger or power bank. (At least 5V/2A).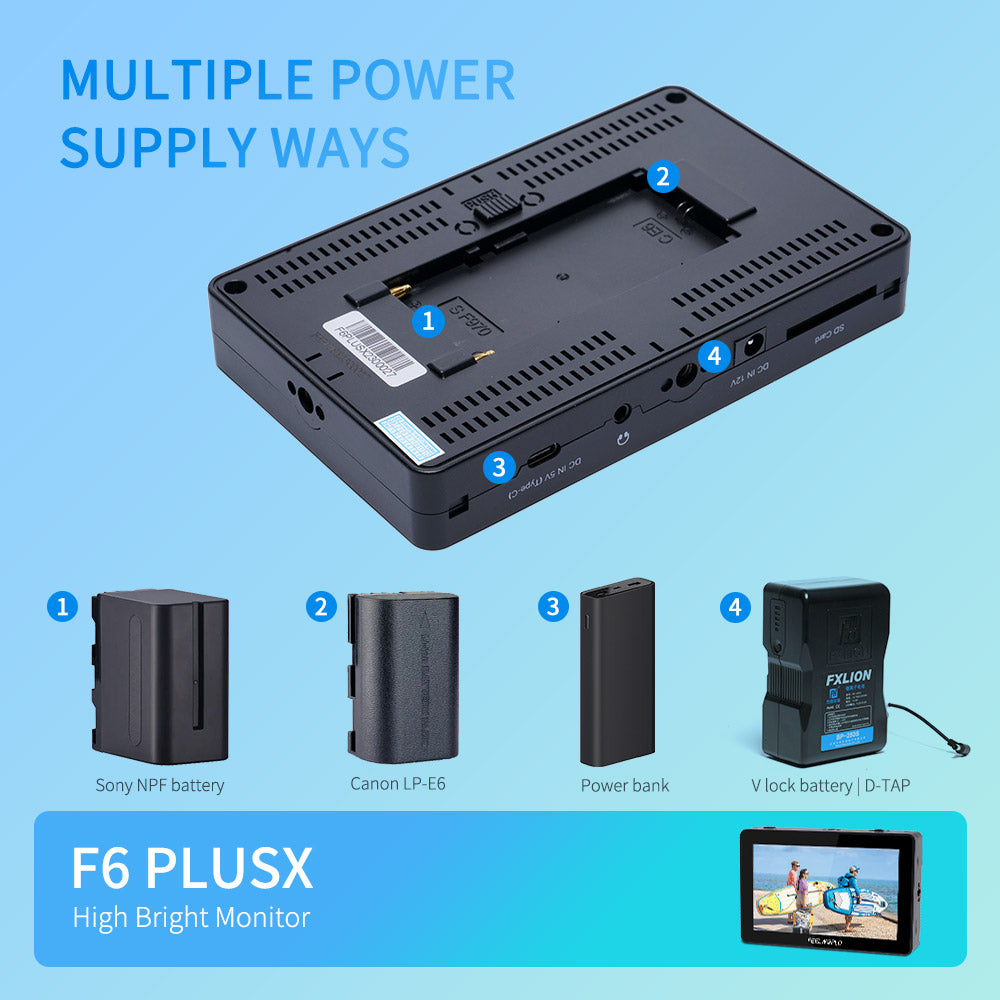 NO FAN, NO NOISE
FEELWORLD F6 PLUSX monitor is completely silent thanks to its fanless cooling design.
This contributes to recording clear sound in noise-sensitive situations such as interviews, dialogues and vlogs.

Professional Auxiliary Tools
FEELWORLD F6 PLUSX comes with all of the assist features we've come to expect with new, on-camera monitors.
* All waves  * Waveform (RGB, YUV, Y)  * VectorScope   * Histogram (RGB1、RGB2、Y)
* Peaking Focus Assist (red, green,blue, white, yellow five peaking colors optional; 1~10 peaking level adjustable)
* False Colors     * Zebra Exposure (10%~100% adjustable)
* Scan Mode (Under Scan, Over Scan)
* Zoom Mode(2X、4X、9X、16X)
* Anamorphic Mode ( 1.33x, 1.6x, 2.0x, 2.0x mag)
* Pixel to Pixel      * Nine Grid      * Center Marker
* Safety Frames (80%, 85%, 90%, 93%, 96%, 2.35:1)
* Ratio Marker (4:3、13:9、14:9、15:9、16:9、1.85:1、2.35:1)
* Marker Color (Red, Green, Blue, Black, White, Gray)
* Check Field (Red, Green, Blue, Mono)
* Image Flip     * Image Freeze
Supports upload 32 luts custom luts
FEELWORLD F6 PLUSX supports upload 32 custom LUTs.
Custom 3D LUTs allow for precise color correction and grading of footage. By creating a specific LUT tailored to your project's needs, you can achieve the desired color balance, contrast, and overall look. This level of control ensures consistency across different shots and scenes, maintaining visual coherence throughout your project.
With custom 3D LUTs, you have the freedom to create unique looks and styles that align with your artistic vision.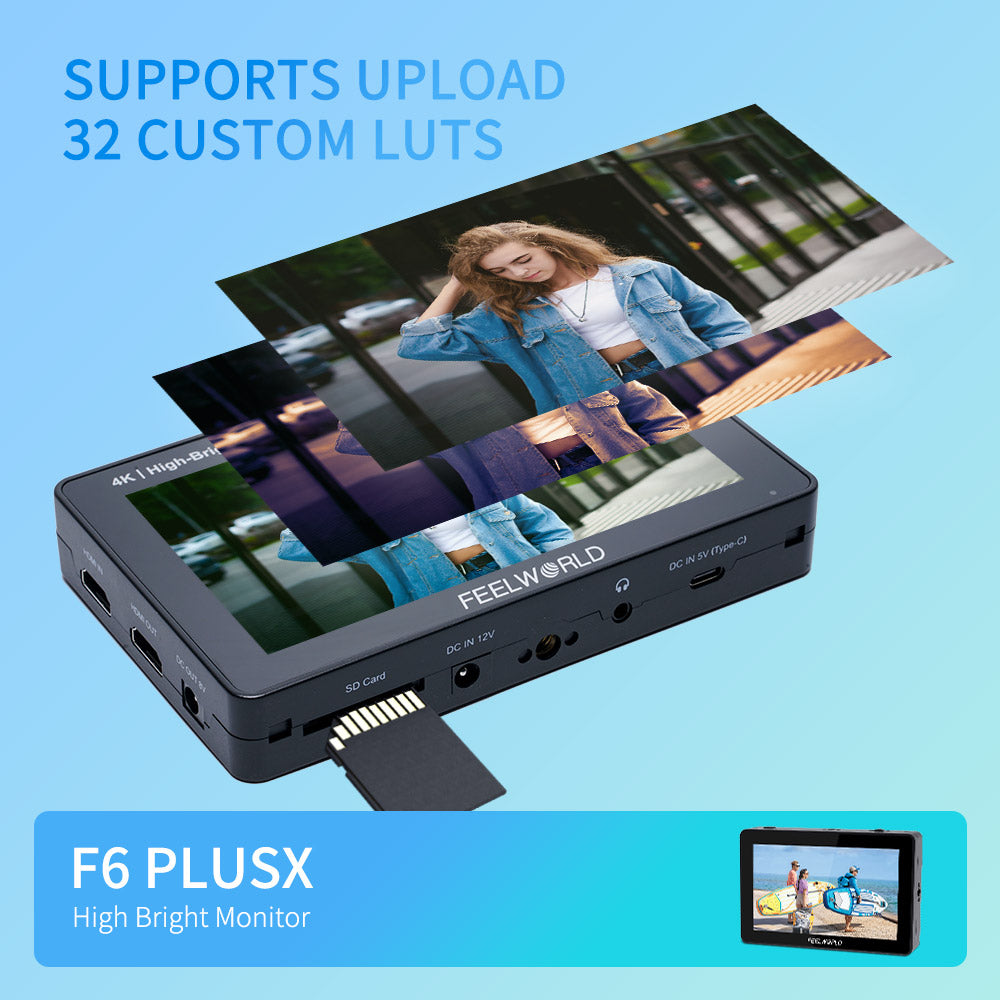 As a 5.5-inch 1600nit monitor, FEELWORLD F6 PLUSX has a high-quality screen and various monitoring functions. In actual use, it can provide photographers with a variety of solutions.
Hight Bright Comparison
 LUT5E | LUT6E | F5 PROX | F6 PLUSX