Visit us at booth #B01 from September 15-18 at the upcoming IBC Show in Amsterdam, Netherlands, IBC has established itself as one of the most prominent events in the media, entertainment, and technology industry, bringing together leading professionals, influencers, and innovators from around the globe.
FEELWORLD to showcase latest monitor products and live streaming equipment. Booth #B01 will showcase the latest generation of camera monitors, PTZ cameras, video light and live streaming gear.

Discover The Latest at Booth 11.B01
Camera monitor acts as a critical tool that photographers content creators to have make precise adjustments and ensures they capture the desired shot accurately, see and capture every detail with confidence via FEELWORLD monitor, accutately exposure and focus every shot.
1. Camera monitor is an essential tool for photographers and videographers, with the help of an external field monitor, you'll have access to a much larger screen for viewing the content you're shooting.
2. FEELWORLD camera monitor range from 5 to 7 inches. 5~6 inch screen is relatively compact and portable, and lightweight for gimbal setup and handheld camera setup. 7-inch monitor, on the other hand, provides a more expansive view, making it easier to see the details in your footage.
3. FEELWORLD camera monitor has 500nits~3000nits, it ensures clear and vivid visuals even in bright sunlight or outdoor environments. High bright monitor allows photographers and videographers to accurately assess exposure, composition, and focus without any visibility hindrances.
4.FEEIWLORLD monitors has also 4K HDMI,SDI interface, compatible with multiple devices, flexible for Your Creative.
5. Not only that, FEELWORLD monitor also supports recording playback (LV6), signal conversion (SH7) functions.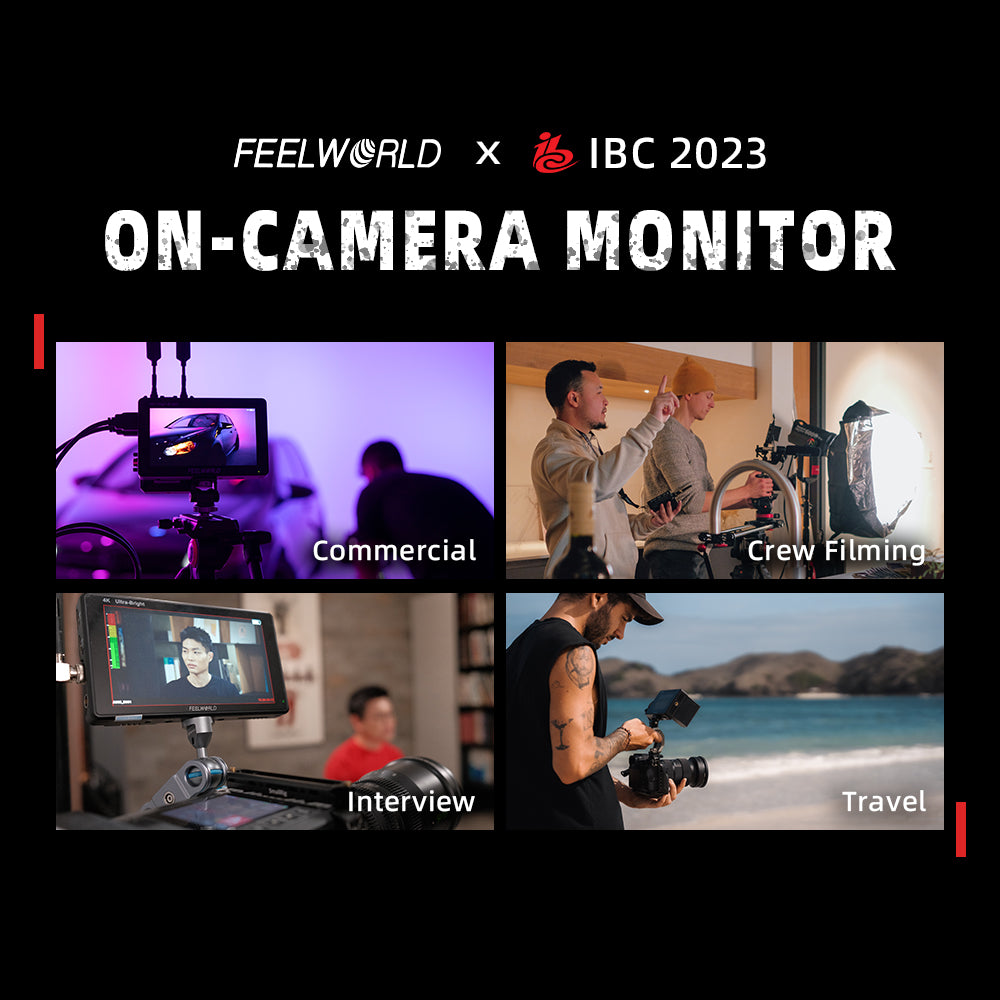 Broadcast director monitor offers several benefits that enhance the workflow and visual experience for directors and production teams.
1. FEELWORLD broadcast director monitor size from 15.6 to 32 inches,A larger-sized monitor provides a significantly larger viewing area, allowing directors to see finer details with greater clarity and accuracy.
2. It comes with HDMI、3G-SDI signal interfaces and so on, suitable for multicamera shooting in crew, and simultaneous monitoring by multiple persons, meet different needs.
3. Director monitors often support with custom 3D LUT and built-in professional auxiliary tools to assist directors in their making process. These tools may include waveform monitors, vectorscopes, focus peaking, and zebra patterns, among others.
In addition , FEELWORLD broadcast director monitor can be paired with FEELWORLD wireless transmission system, which enable communication between the director and the photographer, save your time and costs to set an extra intercom system.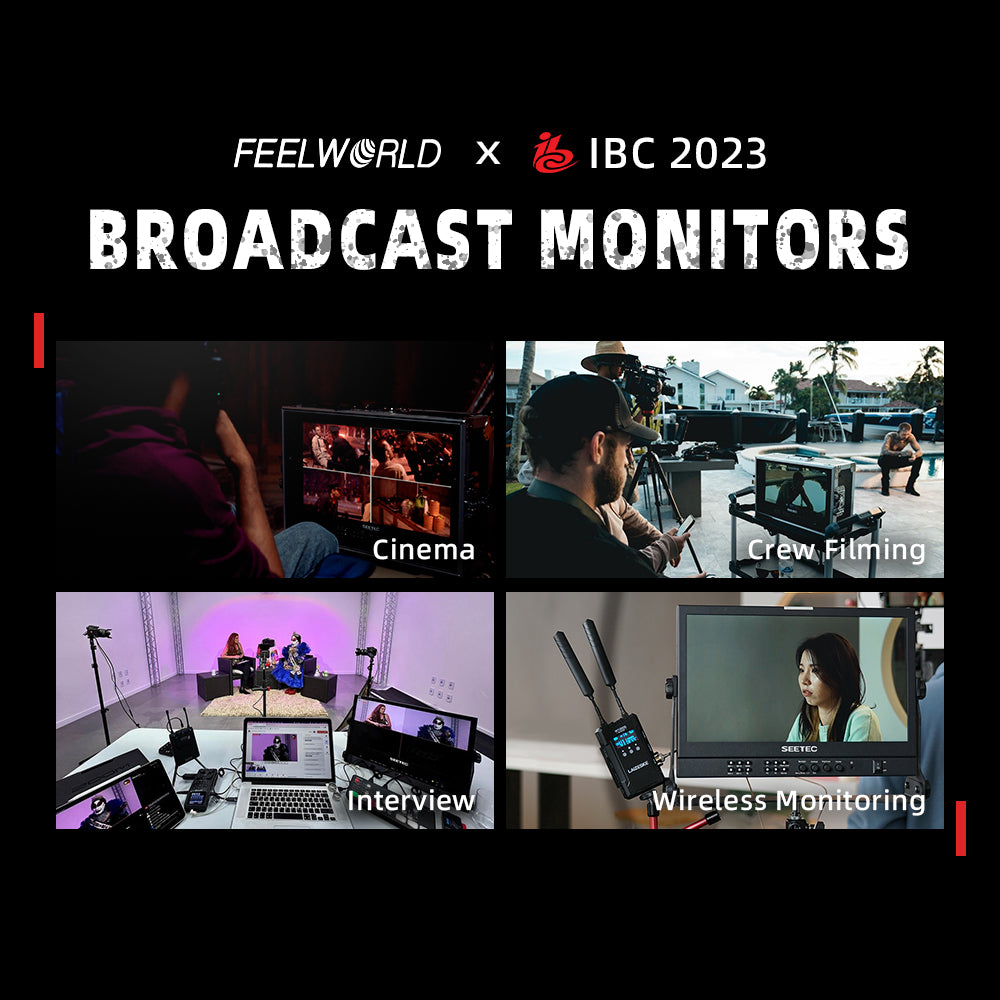 FEELWORLD release first point source video light.The feature of its accurate rendition, powerful output, flexible cct and cost-effective, offering more creative options with your personal style and imagination.
1. FEELWORLD video light include both bi-color and daylight light:
FL125D and FL225D are 5600k daylight-balanced, FL125B and FL225B are flexible bi-color option from 2700k to 6500k.
2. CRI 96+ and TLCI 98+ for more accurate color rendering and reproduction. Color temperature 2700K-6500K could meet your various shooting needs, and get better video and photos. It also saves the time of post-color mixing, and support 10 light effects.
3. The following 2 ways can be used to adjust the lighting parameters. 1) Use the light body panel to adjust the light parameters; 2)Use the cell phone app "FEELWORLD LIGHT" remote control.

Not only that, FEELWORLD has also developed 3 types of softboxes in different sizes:
Parabolic Softbox: FSP60 | FSP90
Rectangular Softbox: FSR90 | FSR120
Lantern Softbox: FSL65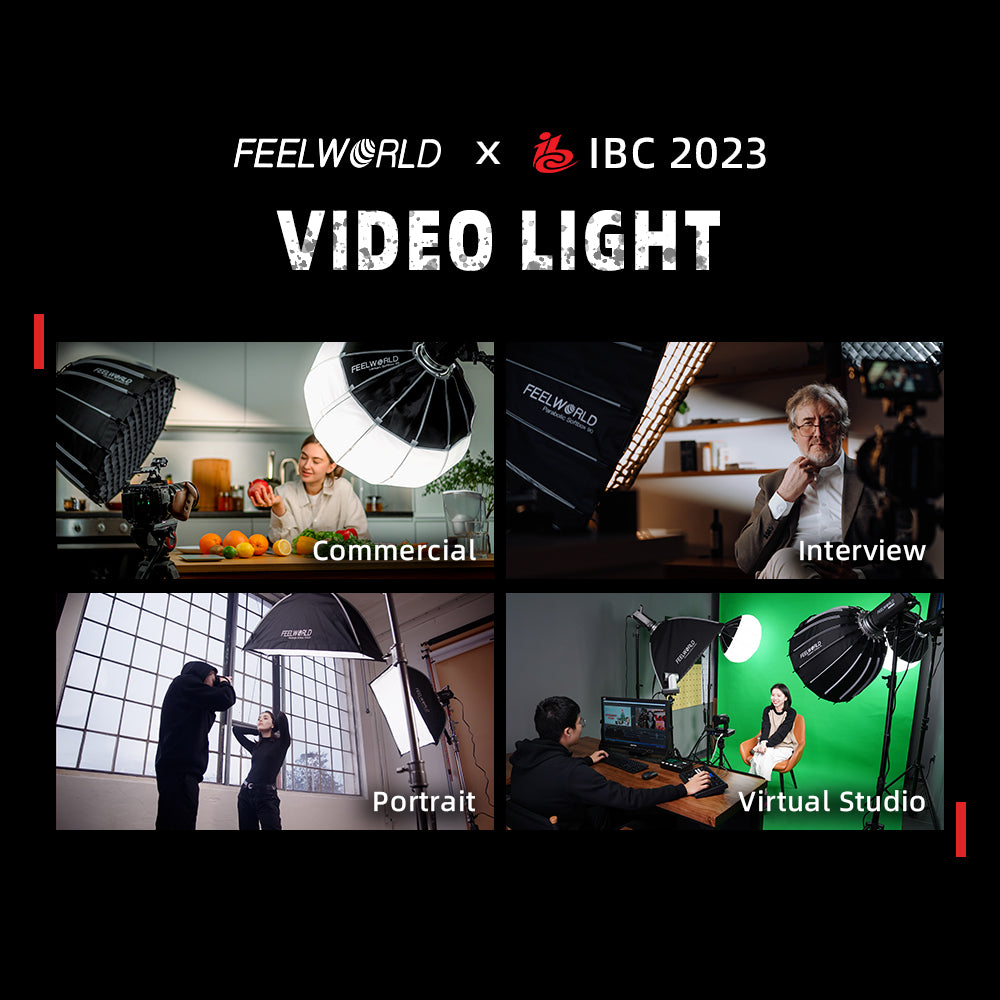 Are you ready to take your live streaming to the next level? Designed to enhance your streaming experience, FEELWORLD live streaming gear ensures professional-quality broadcasts that captivate and engage your audience.
1. PTZ CAMERA: FEELWORLD PTZ camera with 10~12x optical zoom lens.From smooth pan-tilt-zoom functionality to seamless integration into various setups and high-quality imaging performance, this camera is built to deliver professional-level visuals with ease. 
In Addition, Use KBC10 PTZ controller to control multiple PTZ camera, its multi-protocol network library make it compatible with most PTZ, and you can realize accurate control with its 4D Joystick and reasonable buttons.

2. VIDEO SWITCHER: FEELWORLD video switcher has 2~10.1 touch screen, and it has supports multiple interfaces, so you can easily connect it to your computer and streaming software for more features. The video switcher with multi features as transitions, chroma key and picture-in-picture.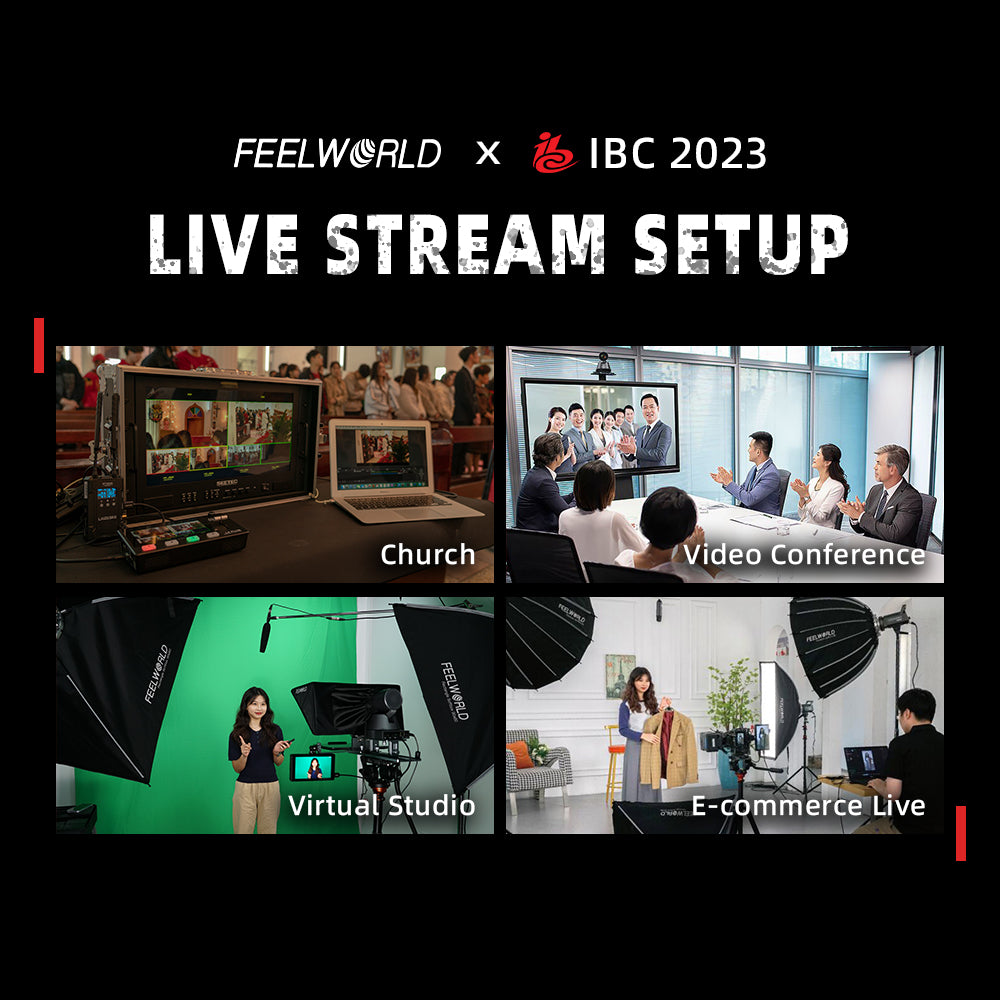 Glad to welcome the upcoming IBC 2023!! We have joined hands with Comic, LAOWA , ARTLIST, TILTA to organize an IBC Give Away with a bunch of prizes for all of you.
Online, you can follow @feelworld_monitor on Instagram the ins official account to participate in the giveaway.
At the exhibition site, visitors can go to the FEELWORLD booth to participate in the lucky draw.
There are a lot of surprises waiting for you at the exhibition.
We will be running a raffle online and offline, follow @feelworld_monitor for more information about the IBC2023 show!
We cannot wait to showcase our unwavering commitment to innovation and excellence at IBC 2023. We eagerly anticipate the opportunity to connect with you in person and share our latest advancements at booth 11.B01.