SEETEC P133-9DSW 13.3 Inch 1920x1080 Broadcast Director Monitor with Waveform SDI HDMI
Product image 1

Product image 2
Product image 3
Product image 4
Product image 5
. Stock in US, EU, JP, AU, RU local warehouse
US/ RU: 3-7 days delivery
EU/ AU: 3-10 days delivery
JP: 2-3 days delivery
. Shiping Worldwide 200+ Country
7-10 days delivery

. If the local warehouse out stock, we will send the email inform to you that local warehouse estimated in stock date. According to the customer needs, you can choose the wait the local warehouse in stock or shipment from the China at once. 

More detail: Shipping Policy | Warranty Policy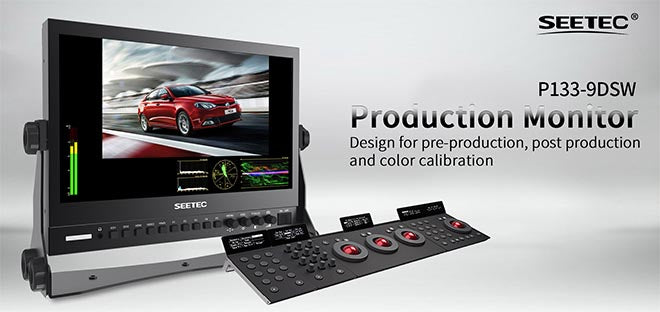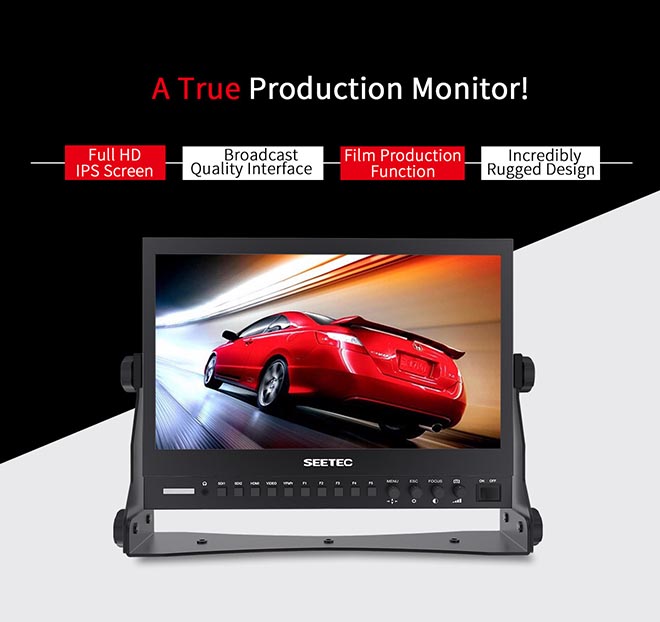 More Auxiliary Functions
More professional functions assist users to accurately monitor when shooting, making and playing movies/ videos.

Full HD Resolution
Broadcast quality,see every little detail in massive Full HD quality!
Experience Full HD 1080P, 16.7 million color images, more clearer and sharper details, showing powerful color display capabilities, what you see is truly what you get! Let pre-production and post production more accurate. 13.3 inch large size, allows you to see every pixel.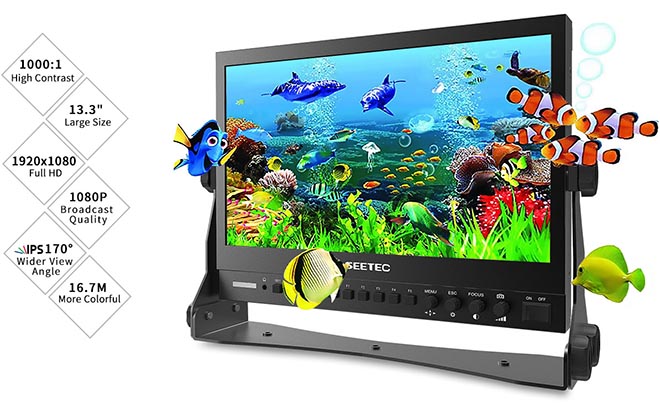 Wider View Angle
High Quality: no brightened dot, no streaking 
170° Wider View Angle: enjoy consistent images from any perspective
More Precise Color Restoration: wide color gamut LCD panel ensure the monitor more precise color restoration exquisite picture quality more rich color levels.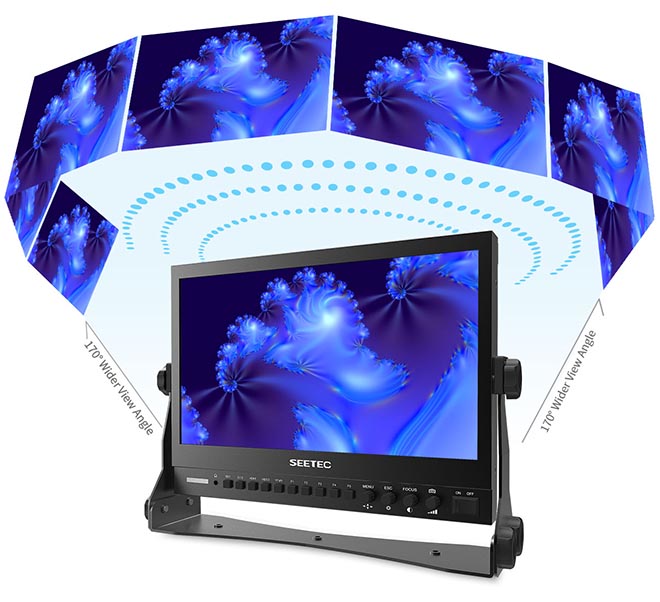 Innovation OSD Operation
Easy of Operation
Switch signals quickly: SDI 1, SDI 2, HDMI, VIDEO, YPbPr
Five assignable shortcut keys: F1, F2, F3, F4 and F5 for fast access to the functions you needs, Waveform, Vectorscope, Histogram, Peaking, False Color and other functions by mean of push button.
Four rotary encoder switches: immediate access to Menu, Brightness, Contrast, Focus, Camera Mode.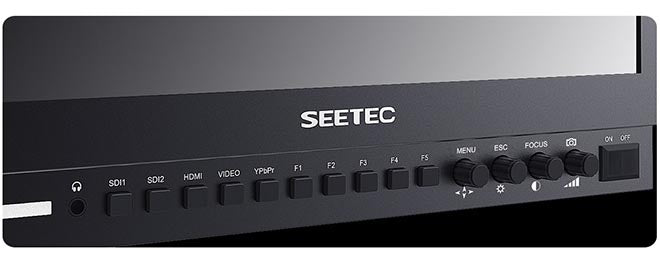 Professional Monitoring
Broadcast quality SD, HD and 3G monitoring!
P133-9DSW is an incredibly high quality monitor that's versatile enough to be used from the broadcast facility, mobile live production or on set for feature film production! The monitor comes with 2x3G/HD/SD -SDI, HDMI, Audio, Video input and output. Multiple input formats to meet all HD, SD, analogue video signal input and display demand Professional functions set.
When you need high quality monitoring, SEETEC monitors are the perfect solution!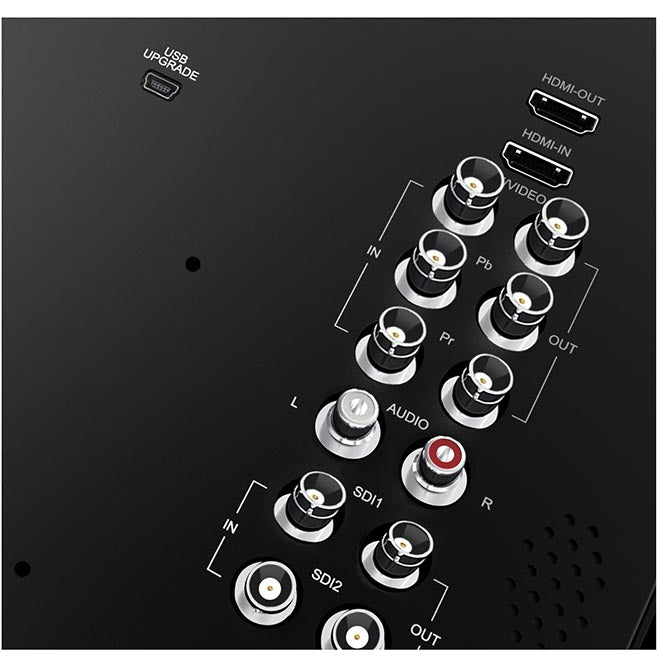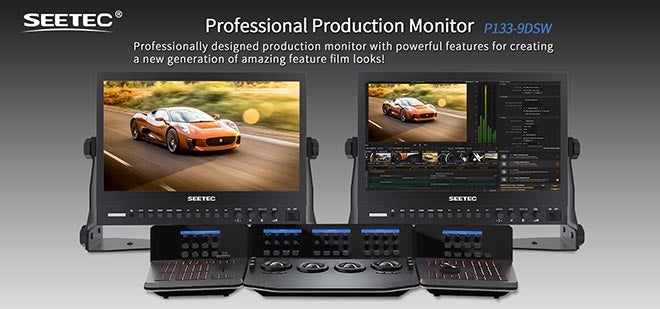 Broadcast Features
A true production monitor!
When you need to analyze image quality more accurately than simply looking at the picture then use P133-9DSW's built in waveform monitoring! You can view two independent sources simultaneously and conveniently switch between monitoring or scope views whenever you need! Choose from Waveform (RGB parade, YUV parade, Y parade), Vectorscope, Histogram and Audio Level Displays, and get broadcast accurate waveform monitoring that shows everything you need to know technically about your video and audio signals. P133-9DSW removes the need for separate expensive scopes!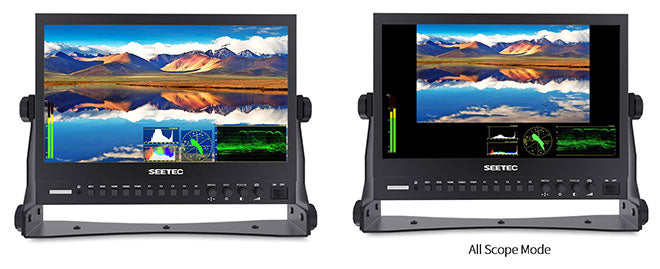 3-color Tally Light
Film Crew Shooting Convenient Control
There is front and rear TALLY lights for with 3 colors display (Red,Green,Yellow), and controlled via DB-9 ports on the rear.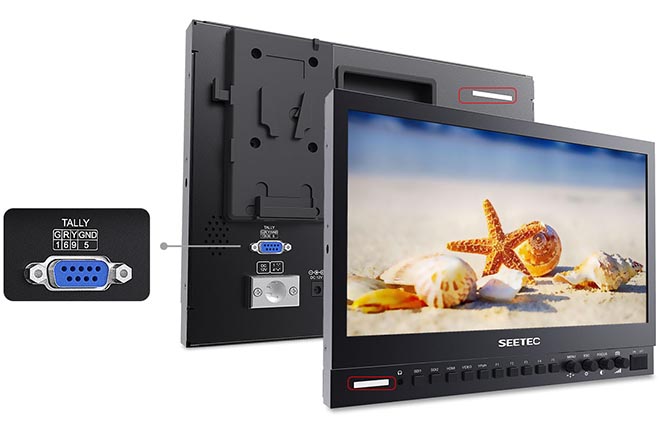 Hassle-free Power
Monitoring anywhere you need it!
We've made it easy to power the monitor. The P133-9DSW can be powered in two ways: with an DC adapter or lithium batteries. The P133-9DSW has a flexible battery system that supports V battery plate (standard), Anton Bauer battery plate of your choice.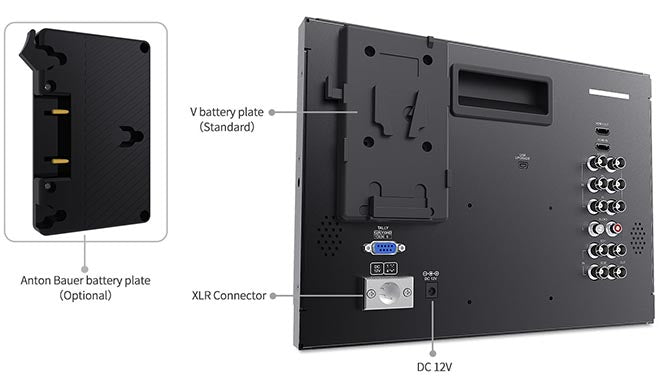 High Quality Sunshade
P133-9DSW Collapsable Sunshade design or easier viewing in bright environments, it offers an amazingly clear, bright image indoors or on-location with richer color saturation and contrast.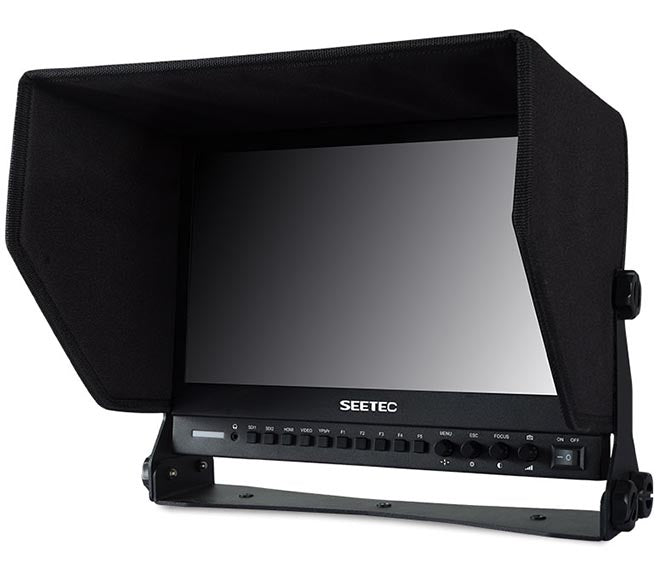 Standard Accessories:
1× Mini HDMI Cable

1× V Battery Plate
1× 1.5A Power Adapter
1× Tally Kit
1× Sunshade
1× U bracket
1× Operation Manual
Features:
1. 1920×1080 full hd resolution
2. 3G/HD/SD-SDIx2, HDMI, YPbPr, Video, Audio (L/R) inputs
4. Monitoring via front panel 3.5mm stereo headphone jacks, built-in speaker
5. Built-in LED tally indicators
6. Power using included 12-volt supply or use standard 4-pin XLR
7. Special Features:
*Waveform (RGB, YUV, Y (Luminance)
*Vector Scope
*Color Histogram
*Histogram
*Embedded Audio Meter
*Focus Assist (Red, Green, Blue, White four color optional highlight over parts of the image in focus)
*False Colors
*Zebra Exposure
*Check Field (Gray/ Red/ Green/ Blue)
*Internal Colorbar
*Camera Mode
*Scan Mode (Auto, Over Scan, Full Screen)
*Pixel to Pixel
*Real time video zoom-in (Standard, 4x, 9x,16x)
*Anamorphic Mode (1.3x, 2.0x, 2.0x mag)
*Image Flip (Horizontal, Vertical, Hor&Ver)
*Image Freeze
*Nine Grid
*Center Marker
*Safe Area (80%, 85%, 90%, 93%, 96%)
*Marker Type (16:9, 4:3, 2.35:1, 1.85:1)
*Marker Color (Red, Green, Blue, White, Gray, Black)
*Color Temperature Adjustment
Display Spec.
Size: 13.3" IPS
Display Colors: 16.7M (8-bit)
Resolution: 1920×1080 pixels
Pixel Pitch: 0.1989(H)×0.1989(V) mm
Aspect Ratio: 16:9
Brightness: 400cd/m²
Contrast Ratio: 1000:1
Backlight: LED
Viewing Angle: 85°/85°(L/R) 85°/85°(U/D)

Input
2 X BNC: 3G-SDI
1 X HDMI: HDMI
3 X BNC: Y/ Pb/ Pr
1 X BNC: Video
2 X RCA: Audio(L/R)
1 X USB: USB Upgrade
1 X DB-9: Tally

Output
2 X BNC: 3G-SDI
1 X HDMI: HDMI
3 X BNC: Y/ Pb/ Pr
1 X BNC: Video

Audio
Audio Out: Stereo Headphone, Speaker

SDI Support Format
480i/576i
720p(60/59.94/50/30/29/25/24/23.98)
1080i(60/59.94/50)
1080p(60/59.94/50/30/29.97/25/24/24sF/23.98/ 23.98sF)

HDMI Support Format
480i/576i/480p/576p
1080i (60/59.94/50)
720p (60/59.94/50/30/29/25/24/23.98)
1080p (60/59.94/50/30/29.97/25/24/24sF/23.98/ 23.98sF)

General
Input Voltage: DC7~24V
Power Consumption: ≤14W
Power Connector: DC/ 4-pin XLR
Battery Plate: V-Mount (Standard); Anton Bauer (Optional)
Working Temperature: -10°C~50°C
Storage Temperature: -20°C~60°C
Unit Size: 315.5L×231H×26.4D mm (Without Bracket)
Unit Weight: 1.37kg / 1.70kg (With Bracket)