SEETEC P215-9HSD-192-CO 21.5 Inch 1920×1080 Carry on Director Broadcast Monitor SDI HDMI
Product image 1
Product image 2
Product image 3
Product image 4
Product image 5
Product image 6
. Stock in US, EU, JP, AU, CA, RU local warehouse

US/ CA/ RU: 3-7 days delivery
EU/ AU: 3-10 days delivery
JP: 2-3 days delivery
. Shiping Worldwide 200+ Country
7-10 days delivery.
. Warranty: One year warranty time and 14 days return and refund for US, EU, JP, AU, RU.
. VAT for EU customers: The VAT is asked by EU government, and it will be charged when you place the order even if you buy our products on our Amazon Store. There is no difference wherever you buy it, and the VAT is included in the price on those online shopping plates.
More detail: Shipping Policy | Warranty Policy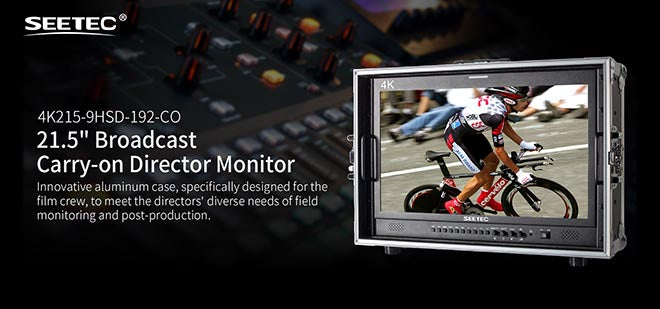 SEETEC Professional Broadcast LCD Monitor has been widely used in TV news production, broadcasting house, TV broadcasting truck and other fields. Since this series is working with other adjacent professional equipments, therefore, high stability, high reliability and electromagnetic compatibility are very important to make sure the whole system work smoothly.
Professional Auxiliary Shooting Functions
Now it's easy to get perfect focus and framing!
SEETEC monitor is ideal for high end broadcast monitoring because they feature high quality focus assist function, also includes check field, image freeze, image flip, center marker, safe frame, color temperature adjust, assist users to accurately monitor when shooting, making and playing movies/ videos.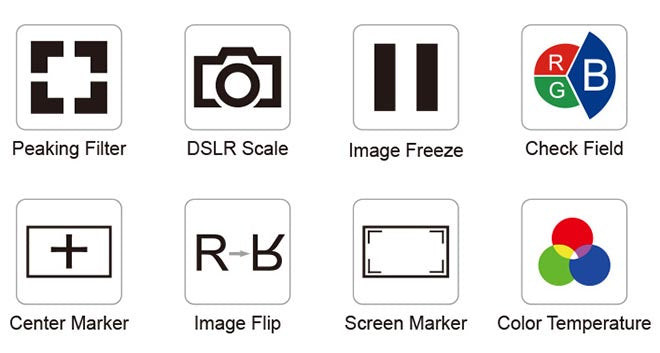 1920X1080 Full HD Panel
With the 4K215-9HSD-192-CO's 21.5-inch 1920×1080 IPS Full HD panel what you see is truly viewing angles outputting crisp, clear shots on the field, which means less time in the editing room. The 4K215-9HSD-192-CO's Full HD Panel is the tool of choice for high quality color reproduction.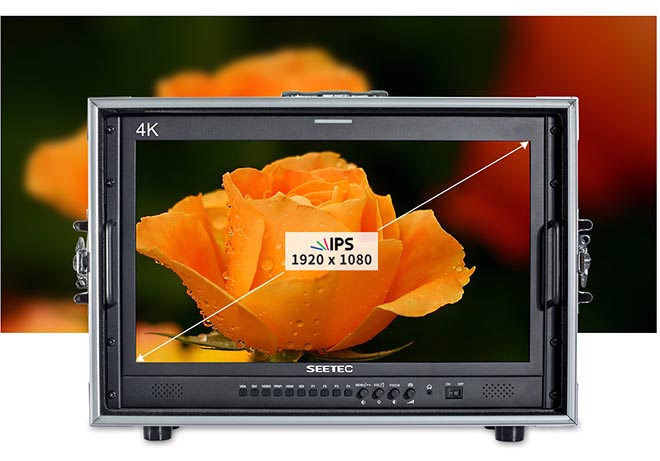 IPS 178° Wider View Angle 
High Quality: no brightened dot, no streaking 
178° Wider View Angle: enjoy consistent images from any perspective.
More Precise Color Restoration: wide color gamut LCD panel ensure the monitor more precise color restoration exquisite picture quality more rich color levels.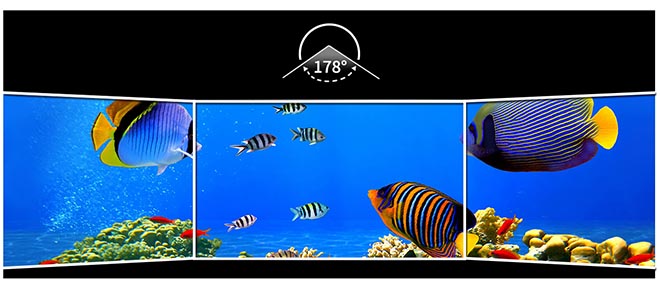 True Color . Professional Color Calibration
Use Rec.709 color standard
SEETEC uses the professional Rec.709 HD color standard, and uses the color calibration technology, with the professional instrument calibration at the factory, it can achieve monitor calibration efficiently and get accurate color reproduction easily, do not distort the color, show the real image when you shooting video.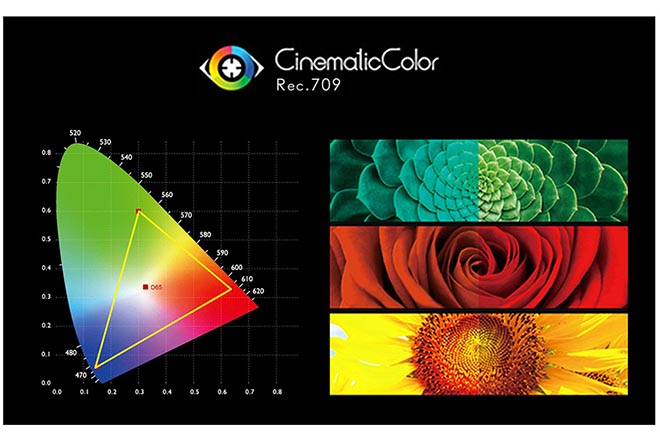 Accurate Color Reproduction
SEETEC monitor support ITU standards and HD video Rec.709 standard consistent color space, advanced image processing technology, so that the image clearly presented, the color is extremely natural, to ensure accurate color reproduction, to reproduce the physical nature of shooting, enabling users to accurately evaluate the quality of various input video signals.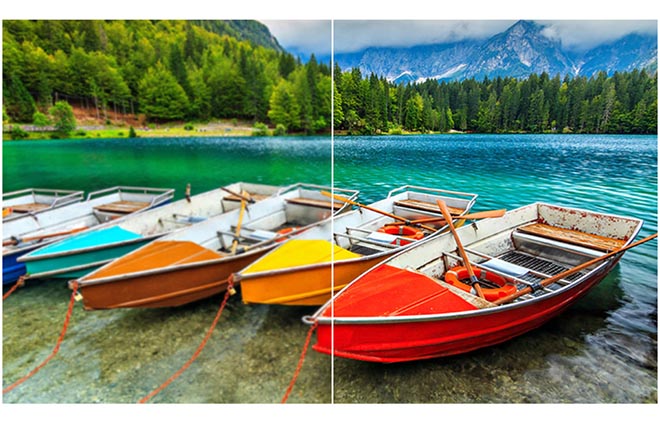 Innovation OSD Operation
4K215-9HSD-192-CO not only set up four "F key" for peaking focus assist, check field, camera mode function, pixel to pixel, Center Marker, Safe Marker, Image Flip and so on, reserves the knob for professional users. Double functions and knob type coding switch are SEETEC's exclusive technology feature, which will bring you more convenient and rapid operate feeling.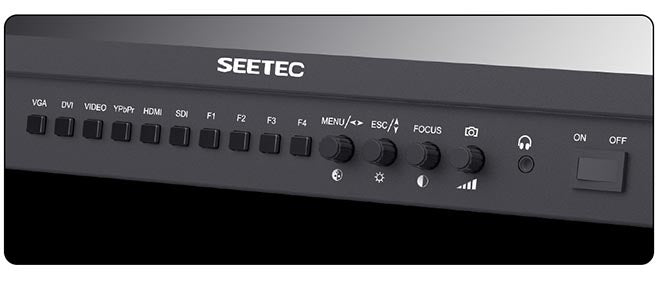 Professional Monitoring
4K215-9HSD-192-CO is an incredibly high quality monitor that's versatile enough to be used from the broadcast facility, mobile live production or on set for feature film production! The monitor comes with 3G/HD/SD-SDI, HDMI, YPbPr, Audio, Video, DVI inputs. Multiple input formats to meet all HD, SD, analogue video signal input and display demand Professional functions set.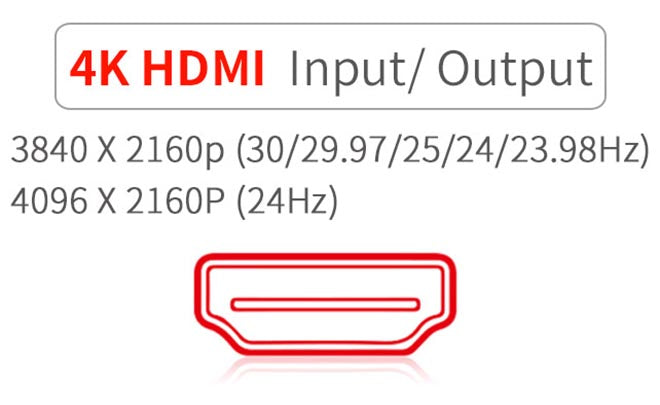 3-color Tally Light
Both front and rear side
4K215-9HSD-192-CO monitors feature clear LCD screens with tally so it's the perfect solution for live broadcasts. Unlike a simple tally light, 4K215-9HSD-192-CO includes tally lights on the front and near panel displayed in red, green or yellow tally signal. This means during live production you will always know when you are recording or on-air, or you can see which camera is cued up on your switcher's preview output. Tally is connected via an industry standard parallel pin connector on the rear panel.
Hassle-free Power
Monitoring anywhere you need it!
We've made it easy to power the monitor. 4K215-9HSD-192-CO can be powered in two ways: with an DC adapter or lithium batteries. The 4K215-9HSD-192-CO has a flexible battery system that supports V battery plate (standard), Anton Bauer battery plate of your choice.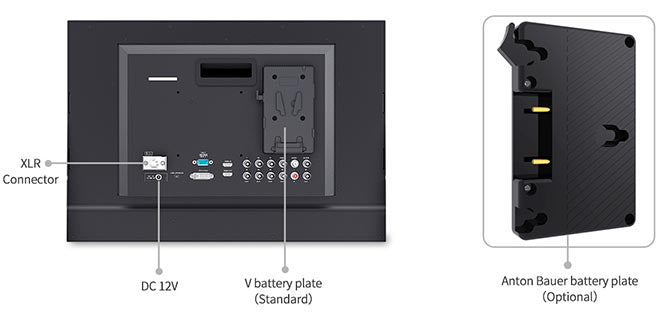 Extended Battery Time
Field production often uses DC power. The 4K215-9HSD-192-CO's V-Mount battery plate is compatible with 14.4v Broadcast Lithium-Batteries and can continuously operate for over 6 hours when using a 130Wh Broadcast Lithium-Battery (Optional). And have Panasonic Anton Battery Plate for you choice.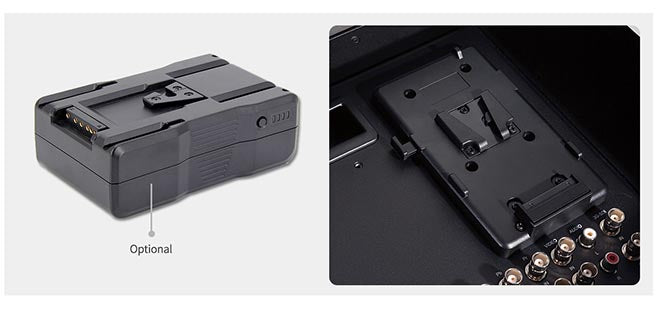 Innovative Carry-on Monitor
.Assembled with a portable aluminum case that can effectively protect the monitor and facilitate the transportation and carrying.
.4K215-9HSD-192-CO is 21.5'' full HD resolution 1920x1080 monitor, IPS panel wide viewing angle and super-thin full Aluminum case, which is specially suitable for field shooting and post production.
.Broadcast quality design, two-channel stereo headphone jack for director easy monitoring.
.HDMI, SDI HD signal input and output functions.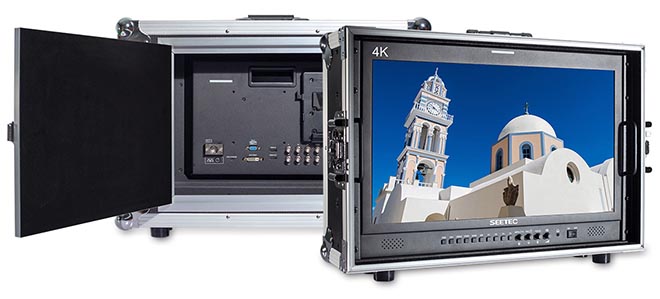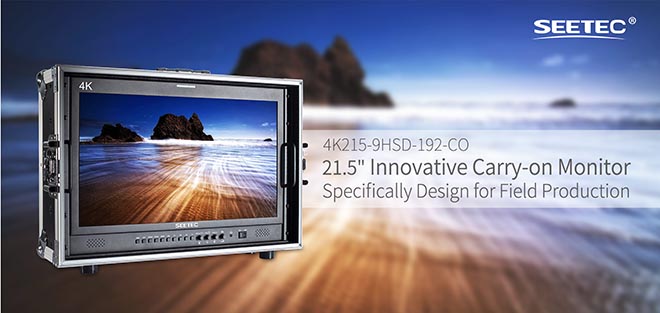 Carry-on Aluminium Case 
Suitable for the strict location shooting
.Carry-on Aluminium Case (hand-held for easy carry); 
.Easy for disassemble (front and rear cover disassemble easy for screen image monitoring and signal connection).
.Front and rear covers for quick assemble and disassemble, speed the frequent switch between scenes, save the time of preparation the photographic equipments, so that get into work fastly!

Unique Design for High Efficency
Time and Costs are important for film crews. This becomes more obvious if there are frequent scene changes during production.The 4K215-9HSD-192-CO is based on how monitors are being used by film crews. Whether packing down or setting up a simplified design makes this monitor ready for use quickly. There are no complex setup processes to go through. This innovative design portable aviation aluminum case making it well suited for field production and handling to change the environments with speed.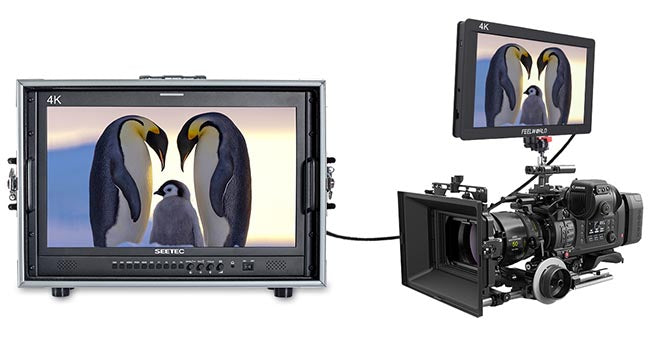 Portable Sunshade
New extended screen hood, to acquire the ideal visual effect in almost all environments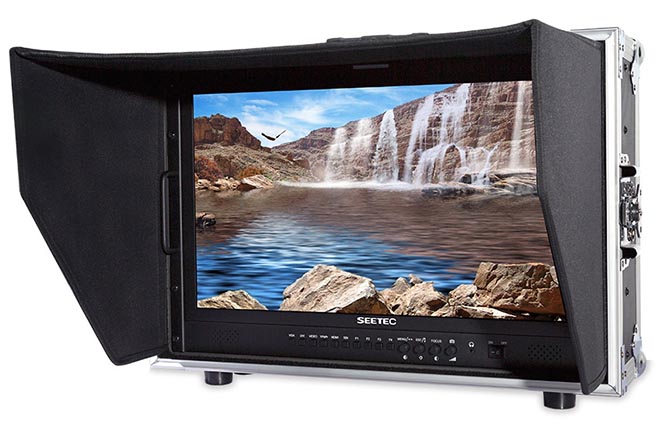 Standard Accessories:

1× Mini HDMI Cable
1× V Battery Plate
1× 3A DC Power Adapter
1× Tally Kit
1× Suitcase
1× Sunshade
1× Operation Manual
Features:
1. Wide view angle, Full HD 1920x1080, bright, colorful display

2. HDMI, 3G-SDI, Ypbpr, Video, Audio(L/R), DVI inputs and HDMI, 3G-SDI, Ypbpr, Video loop-through outputs
3. Special Features:
* Peaking Focus Assist (Red highlight over parts of the monochrome image in focus)
* Check Field (Red, Green, Blue, Mono)
* Camera Mode
* Pixel to Pixel
* Center Marker
* Safe Marker (80%, 85%, 90%, 93%, 96%, 2.35:1)
* Image Flip (Horizontal, Vertical, Hor&Ver)
* Image Freeze
* Zoom All
* U/D & L/R Zoom
4. Monitoring via front panel 3.5mm stereo headphone jack and built-in speaker
5. Built-in LED tally indicators (Red, Green, Yellow)
6. Power using included 12-volt supply or use standard 4-pin XLR
Display Spec.
Screen Size: 21.5" IPS
Color Depth: 16.7M (8-bit)
Resolution: 1920×1080 pixels
Pixel Pitch: 248.25x248.25 um
Aspect Ratio: 16:9
Brightness: 250cd/m²
Contrast Ratio: 3000:1
Backlight: LED
Viewing Angle: 89°/89°(L/R) 89°/89°(U/D)

Input
1 X BNC: 3G-SDI
1 X HDMI: HDMI
3 X BNC: YPbPr
1 X DVI-I: DVI-I
1 X BNC: Video
2 X RCA: Audio(L/R)

Output
1 X BNC: 3G-SDI
1 X HDMI: HDMI
3 X BNC: YPbPr
1 X BNC: Video

Audio
Audio: Stereo Headphone, Speaker

SDI Support Format
480i/576i
720p(60/59.94/50/30/29/25/24/23.98)
1080i(60/59.94/50)
1080p(60/59.94/50/30/29.97/25/24/24sF/23.98/ 23.98sF)

HDMI Support Format
480i/576i/480p/576p
1080i (60/59.94/50)
720p (60/59.94/50/30/29/25/24/23.98)
1080p (60/59.94/50/30/29.97/25/24/24sF/23.98/ 23.98sF)
4K UHD 3840×2160p (30/29.97/25/24/23.98Hz), 4096×2160p (24Hz)

General
Input Voltage: DC9~24V
Power Consumption: ≤15W
Working Temperature: -10°C~50°C
Storage Temperature: -20°C~60°C
Unit Size: 511.6Lx355.5Hx41.87D (mm)/ 590Lx410Hx260D(mm) (with suitcase)
Unit Weight: 14.5kg(with suitcase)